Crypto affiliate programs have become one of the most profitable in just a few years. Following another Bitcoin surge, crypto offers began to bring even more income.
If you already drove traffic to crypto offers,you probably came across shavers (even if you did not notice). Both affiliate networks and advertisers can shave. It is mainly advertisers who artificially reduce traffic and lead flows. To earn the most you can you need not only to skillfully collect leads, but also carefully choose an affiliate program.
The payouts in this niche are very seducing, so today we will analyze using examples:
features of crypto offers and binary options affiliate programs;
why the niche is profitable;
how to drive traffic correctly;
we'll select the top 6 affiliate programs;
and show 3 successful cases with income from $ 359.
On my own behalf, I will add that driving traffic to this niche also means bringing benefits to the user. Visitors begin to study the features of trading on the binary market, or other ways to make money on cryptocurrencies. Everyone wins: the webmaster, the advertiser and the user.
Why crypto offers?
There's a lot of reasons:
Because of the success of the crypto market itself.At the beginning of 2017, the Bitcoin exchange rate was approximately 1,000 US dollars. Then it began to grow rapidly and reached the $ 13,860 mark. Everyone has heard about bitcoin, and even though it's mentioned a bit less, there are more and more users who want to work with it. The average price of one bitcoin at the end of July 2020 was approximately $ 11,118.92.
The market is growing daily due to new deposits, and investors are investing both modest amounts and millions of dollars.
Not as many webmasters work in this niche as in the product affiliate programs. Crypto offers have a better reputation than other lucrative areas (forex, gambling, etc.).
Advertisers are various online services related to cryptocurrencies: trading platforms (exchanges), binary options, cloud mining services.
According to statista.com, the average number of daily Ethereum transactions = 1,073 thousand. The number of daily Bitcoin transactions = 299.73 thousand. At the same time, new participants are constantly appearing on the market.

The trend is only growing and an indicator of this is the abundance of training courses on working with electronic currencies. While Internet users are glorifying bitcoin, the niche remains relevant – and you can make money off that.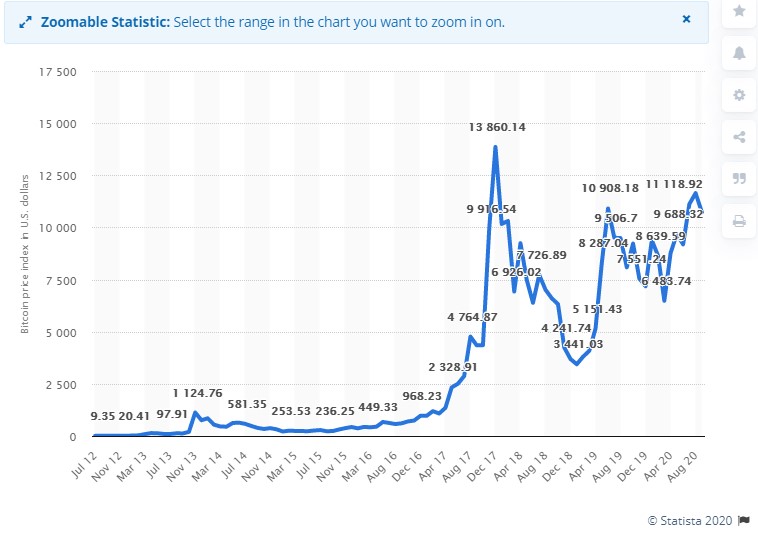 Features of crypto offers
Each affiliate program has its own system of payments and bonuses. One-time payments are usual for affiliate programs that promote products. For crypto offers it's either interest payments for all the operations the attracted client performs (or for the transactions he makes, depends on the exchange), or payment per deposit (for example, up to $250), or a one-time payment.
Some affiliate programs offer constant payments of a percentage of the commission (for example, 25%) charged by the exchange from the attracted client. Commission income is paid either for a certain period (from 3 to 9 months), or always.
If the client does not leave the site, then the advertiser receives regular income from that one client, therefore, the latter is inclined to provide generous rewards for attracted clients.
The GEO for crypto offers is most of the world's countries. Traffic surges are possible from both economically developed countries and developing parts of the world. The income of an affiliate depends on the country (it ranges from $300 to $800).
But there are some nuances or even drawbacks when it comes to this niche:
Quality traffic is hard to find. You need people who are at least a little financially savvy (or who just want to get rich and believe it's possible to do that on the internet).
Very often you can run into shaves. There are times when more than half of the leads are not confirmed by the advertiser, although in fact they are of high quality. Work with popular affiliate networks that definitely don't shave.
You can make good money on crypto offers, but this is a difficult niche where you need to take the preparation and ad setup seriously.
How to drive traffic to crypto programs and binary options
The list of possible tools for attracting potential leads is vast, and that's a good thing. You can use:
Push-notifications traffic;
contextual advertising in Google and Yandex;
thematic websites (sites, forms);
social media.
Push-notifications
Through numerous tests, we have found that Push-notifications are one of the most suitable tools for this niche. But for each type of affiliate program, you need to test and identify your approach. What works for binary options will not work for cloud mining. Also, if possible, push notifications should be clearly targeted by age and thematic areas.
Contextual ads
In terms of quality, contextual advertising is ranked first by the flow of search queries from a potential lead. It attracts genuinely interested, enthusiastic users.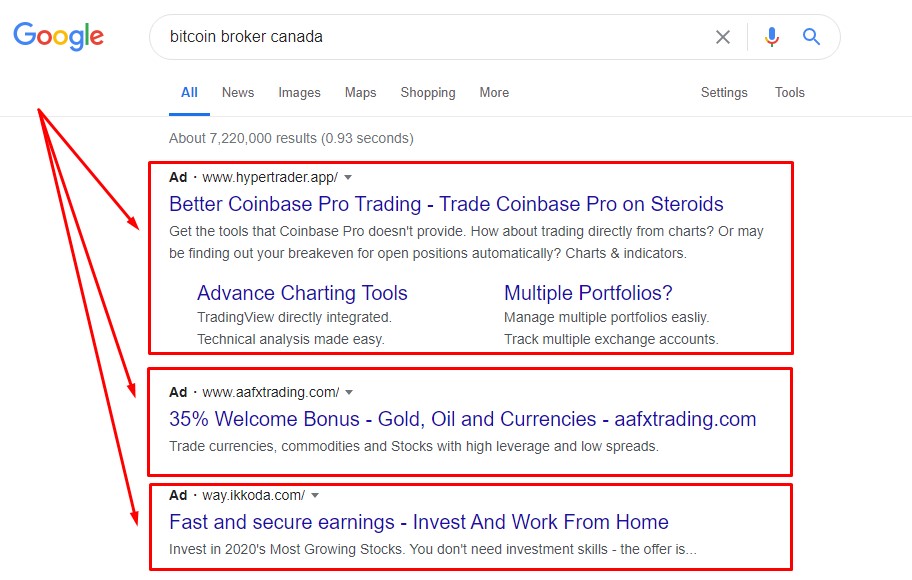 But before setting up ads, figure out which locations allow such ads and which don't. To sort this out, contact the affiliate program manager.
To use this type of traffic, select relevant keywords. To find out what queries users are looking for on the web, use the wordstat service. We recommend using low-frequency queries for your ads.
Thematic websites
The second place in terms of traffic quality is taken by thematic websites related to financial topics and making money on the Internet. From here we attract an active and lively audience. On these sites, we buy direct advertising, or, set up contextual ads for these sites, if possible.
Social media or your own website
Many of our cases of driving traffic through social media have borne fruit. It takes a couple of clicks to create a group, channel or page. Affiliates also often have to create websites, most often to track conversion statistics in order to reduce the cost of leads.
When creating a community (or channel), you need to clearly understand what target audience you are creating it for. Use only unique content, it should be genuinely useful to your target audience. Solve your subscribers' problems, it is best to use a blog format where a real person tells their story and shares their experience.
Don't neglect video content either. Video reviews are great motivators for action. A YouTube channel is a source of a quality financial audience.
The target audience
A person who is looking for a way to earn money with minimal costs (including time costs) is our ideal candidate. These are people who have evolved beyond online casinos, are ready to learn and take risks.
The target audience are men aged 25-45 who are looking for ways (or have already found them) to earn money on the Internet as their main or additional source of income.
Target users who are interested in finances, exchange rates, events affecting the economy.
Important: We are interested in solvent people in management positions, middle managers, oil workers, builders. Target rich cities with high average wages.
Note that the more negative you get in response to your ad, the worse you've selected the target audience.
Creatives
Types of potential clients:
newcomers to the field of electronic currencies, such people will be interested even in creatives that promise an easy way of making money;
users who are already familiar with the topic, show them graphs and diagrams.
Select ads depending on the advertising platform and the chosen target audience.
Money and other attributes of success (yachts, expensive cars, cash) work great in crypto creatives. Creatives should induce a person to at least ask where the money came from. Practice shows that images of people in ads find a better response from the audience.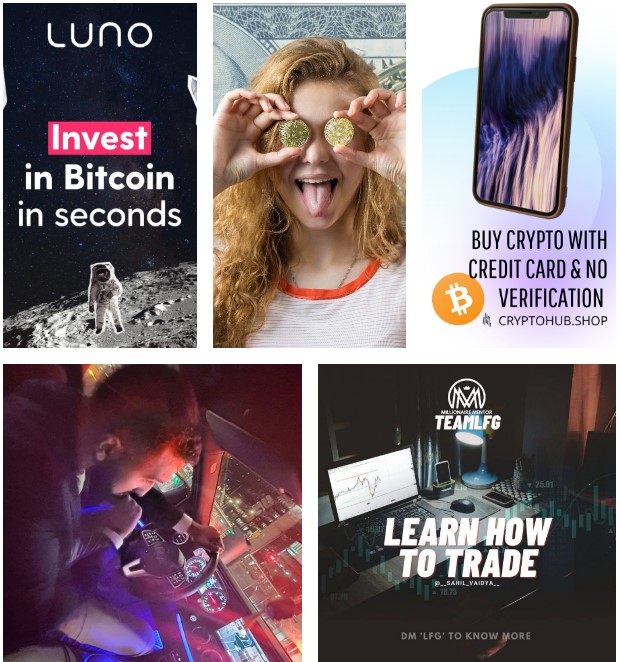 Since the audience is predominantly male, you can use photographs of girls to grab its attention.
Important: in your creatives use images of people from the country you are driving traffic from, as well as photos with local currency.
TOP-6 crypto offers
Let's move on to the main course – the list of the best crypto affiliate programs based on the results of 2020.
Bitcoin Revolution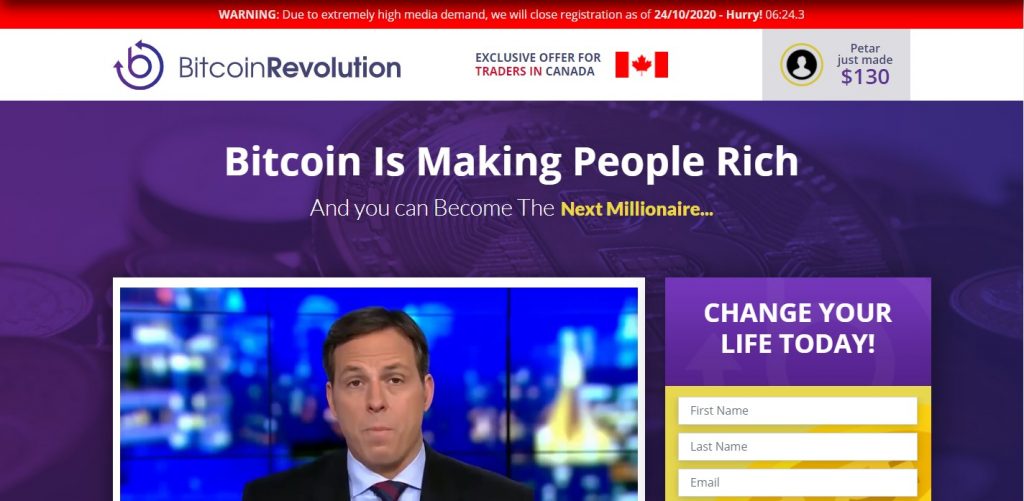 It is a piece of software for automated cryptocurrency trading. The application quickly analyzes the cryptocurrency market and places transactions in accordance with the received data, as well as parameters selected by the user. Thanks to this bot, even inexperienced traders can earn money and begin to comprehend the principles of successful trading.
The conversion rate is high due to competent traffic compression. High-quality videos featuring celebrities.
Payout for the attracted client's first investment (for $250): from $200 to $600.
GEO: 53 countries.
Allowed traffic sources: mobile ads, social media, email ads, contextual ads, PopUp/ClickUnder, apps, SEO, banners, push-notifications, Youtube.
Prohibited traffic sources: adult, motivated traffic, cashback, toolbar.
Cookie lifetime: 30-45 days.
OlympTrade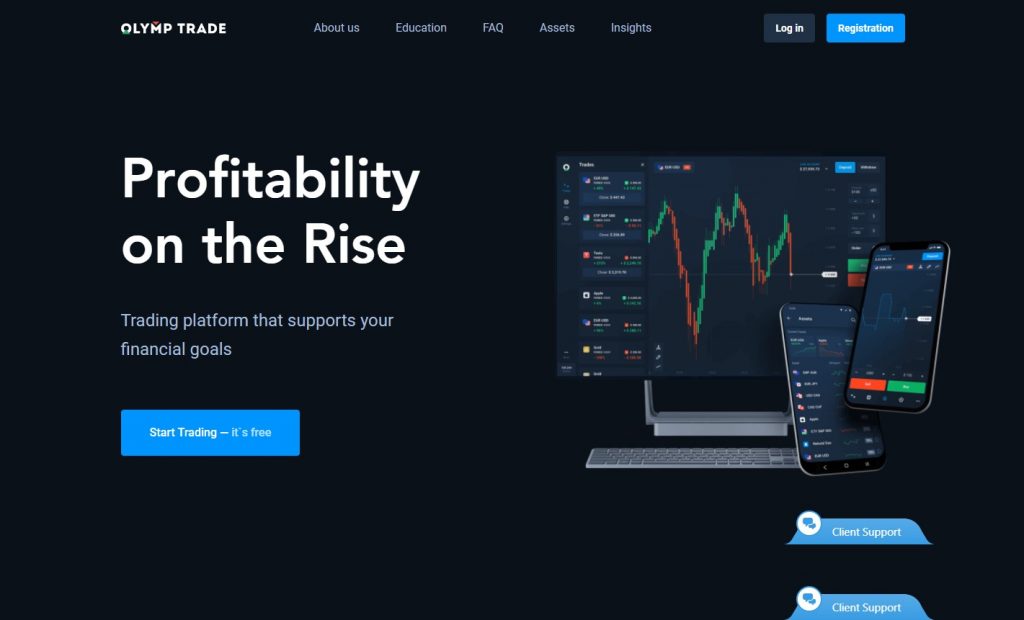 Another trading platform, one of the most popular in the world. Olymp Trade has a low minimum deposit ($10) and provides free training and analytics from professional traders. All in all, very appealing for the user. A platform being well-known is already plenty of reason for an affiliate marketer to consider choosing the program.
Website: https://olymptrade.com/
Pre-landing pages: http://preblogs.com/fin/ol/vn/pre_vn2/, http://preblogs.com/fin/ol/vn/bitkoin/, http://preblogs.com/fin/ol/vn/webtelegraph/, http://preblogs.com/fin/ol/vn/finance/, http://preblogs.com/fin/ol/id/style/
Target action: confirmed first deposit. Payouts: $13-88 depending on the GEO.
GEO: any except Europe.
Allowed traffic sources: mobile and contextual ads, ad networks and social media, email ads, apps, SEO, Youtube, cashback.
Prohibited traffic sources: branded traffic, motivated traffic, brokered traffic.
Hold: up to 45 days.
Cookie lifetime: 30-45 days.
Bitcoin Up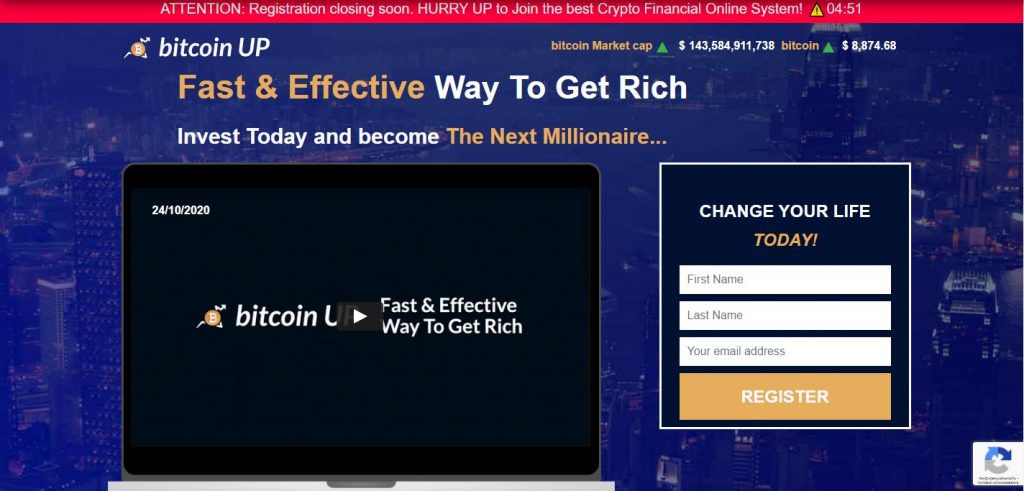 Bitcoin Up is a piece of software designed to analyze cryptocurrency news and then conduct trades based on this information. The good thing about this bot is that it is 100% automated. In other words, it is suitable even for beginners. The user only regulates the level of risk the rest of the processes are processed by the AI.
One-time payments of $ 600.
There are offers for English-speaking countries, as well as for Germany, Italy, Spain.
Allowed traffic sources: mobile and contextual ads, ad networks and social media, email ads, apps, SEO, Youtube.
Prohibited traffic sources: brokered traffic, motivated traffic, adult, cashback, toolbar.
Cookie lifetime: 30-45 days.
Binomo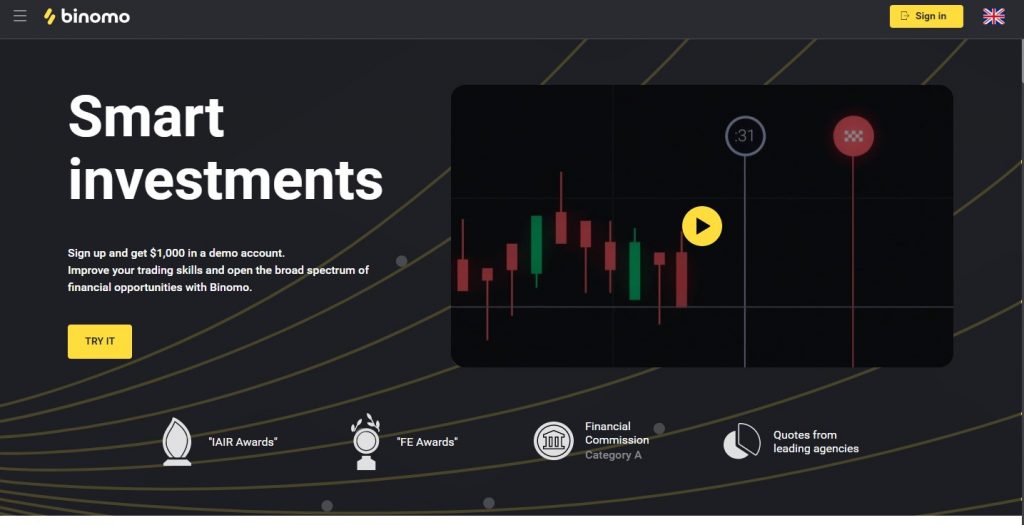 The company was registered in 2014, but is already considered one of the most advanced trading platforms. Binomo offers its customers the following benefits:
Easy and fast withdrawal of funds
Reliable trading platform
Trusted Regulator License
Favorable trading conditions
Free block training and analytics
Deposit insurance
For a webmaster, Binomo is a good choice due to its popularity and reputation. Users go to such offers more willingly than to little-known exchanges.
Website: https://binomo.com
Payment per first deposit: $8.
GEO: around 15 countries.
Allowed traffic sources: mobile and contextual ads, ad networks and social media, email ads, apps, SEO, Youtube.
Prohibited traffic sources: branded traffic, motivated traffic, cashback.
Hold: 7 days.
Cookie lifetime: 30-45 days.
Bitcoin Era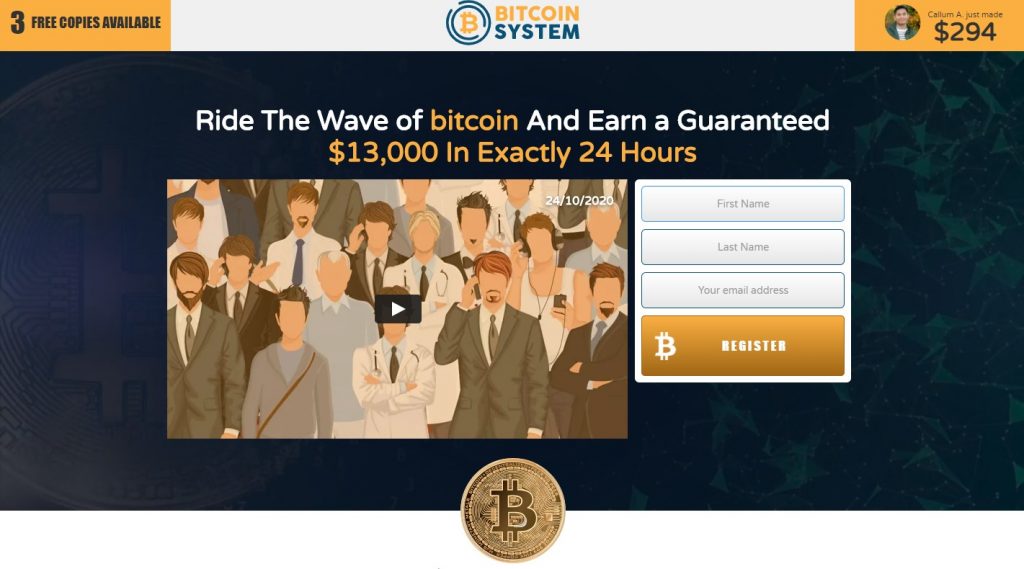 The offer is another automated crypto trading service. The minimum investment amount is $250, the maximum is $15,000. Trading in the cryptocurrency market, according to the creators of the platform, occurs automatically, and the bot is able to analyze and predict the market situation with great speed.
For the user Bitcoin Era guarantees transparency, fast payouts and a wide range of cryptocurrencies. The affiliate marketer, in turn, gets round-the-clock tech support and decent payments for leads than make a deposit.
Website: https://webtcsystemapp.com/
Payments from $350 to $600 for the first deposit or for Slovenia $300 for a confirmed application.
GEO: Europe (12 countries).
Allowed traffic sources: mobile and contextual ads, ad networks and social media, email ads, PopUp/ClickUnder, doorways, apps, SEO, banners, push-notifications, teasers, Youtube, cashback, Toolbar.
Prohibited traffic sources: adult, motivated traffic, branded traffic.
Cookie lifetime: 30-45 days.
Bitcoin Profit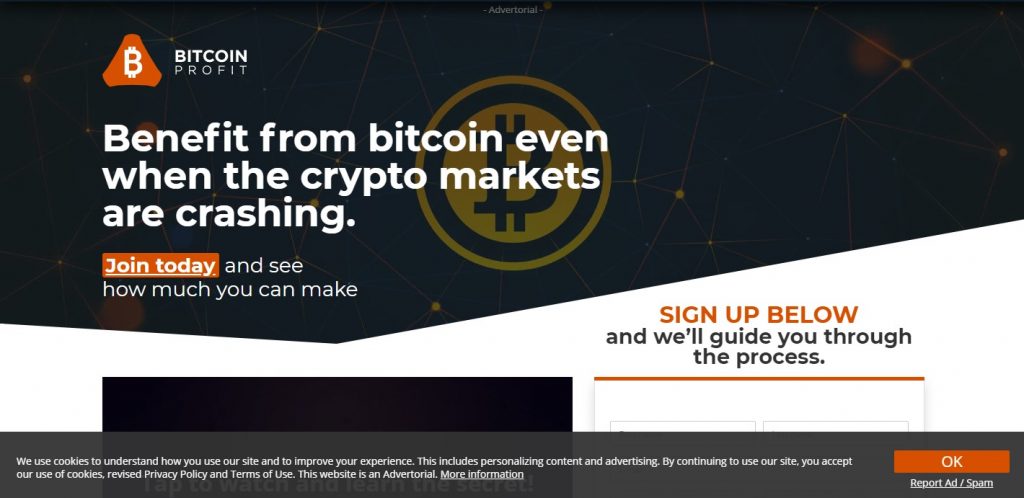 Another binary options affiliate program, where trading is controlled by artificial intelligence. The creators claim that the bot sees when the bitcoin rate goes up and when it goes down. A fairly well-known project that accepts traffic from Europe and partly Asia.
GEO: rich European and Asian countries.
Target action: confirmed first deposit. Payout: $600.
All traffic sources are allowed except motivated traffic.
Cookie lifetime: 30-45 days.
How much can you make off crypto offers
Possible earnings from crypto offers depend on the chosen affiliate program and the promotion strategy. With proper ad campaign setup, you can achieve ROI above 200%. Let's take a closer look at some of our cases.
Case 1
To competently promote crypto offers, how active should you be when setting up the ad campaign?
Offer: Bitcoin Revolution Multigeo (CPA);
GEO: Canada;
Costs: $690;
Income: $2,200;
Revenue: $1,510;
ROI: 219%.
I liked the offer right away because of its pre-landing page. A good success story, photos of receipts, the registration form right there, positive reviews. Such landing pages show excellent conversion rates, so we decided to test it out.
We decided to launch 4 different campaigns, where we used 2 creatives (each one had a mobile and desktop version). I chose the following creatives: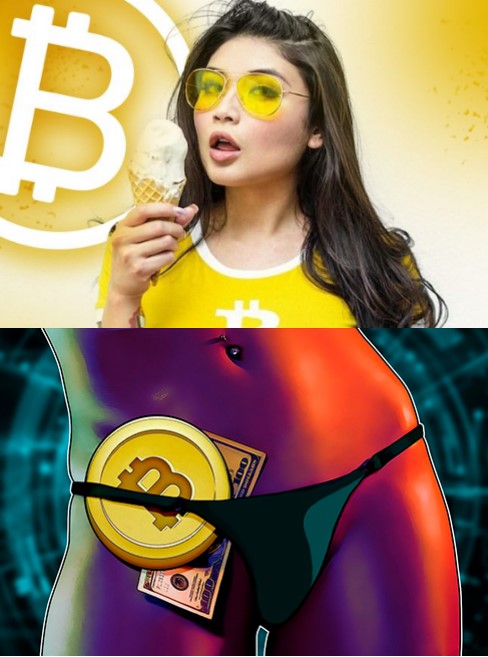 We got 2 desktop registrations, one of which made a deposit. We also got 3 mobile registrations, but no deposits, so we halted the mobile campaign.

We wanted to just quickly test the crypto offer but in the end we even managed to make a profit.
A positive result was obtained only from the Low Activity audience. This is a common scenario.
We didn't change anything else. But we didn't manage to drive traffic for a long time – the GEO we selected didn't have that many potential leads. The number of registrations plummeted after just a few days. Results: 15 leads, out of them 2 confirmed their applications.
Conclusions:
Engage with a Low Activity audience
If your budget is modest, it's better to test out the offer quickly without spending too much.
Case 2
Offer: BITCOIN UP СPA EN ES IT DE
Costs: $627
Income: $1,300
Revenue: $673
GEO: Australia
ROI: 107%
Period of traffic flow: 16.07.2020 — 22.07.2020
We started the crypto ad campaign in Australia and made good money there.
What is this crypto offer: Bitcoin UP is a classic bitcoin exchange. The minimum deposit is $250. But since we worked in Australia, a rich GEO, my payout was $650.
When choosing a grid to drive the traffic through we focused on 2 points:
The grids coverage. Australia isn't that large.
Traffic quality level. Here we based our approach off of our previous experience working with similar countries.
We drove traffic exclusively through push-notifications, and only on mobile devices.
We didn't choose an audience by activity level – just drove traffic to all of them simultaneously.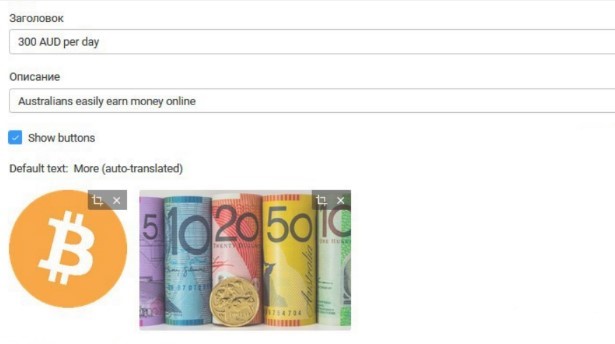 Due to the peculiarities of Australia we didn't produce a large number of ads. We just wanted to test it out, nothing major.
We also used one landing page, taken from the affiliate program, for Australia.

The ad campaign performed well at the start, but then slowly the pace slowed down and there were fewer leads. Here you need to constantly change up creatives and spread them according to user activity.
Australia is a small country where you can't roam much. Creatives become obsolete after 2-3 days. Therefore, you constantly need to make different creatives and different landing pages.
Case 3
GEO: India
Costs: $711
Income: $1,070
Revenue: $359
ROI: 51%
Period of traffic flow: 29.04.2019 – 9.05.2019
A few words about the offer. This is exactly the Olymp Trade application. Payment is made when the attracted client performs the target action – installs the app.
We only launched two campaigns with the same targeting settings: mobile devices.
The only difference was the used creatives.
Areas with 300 clicks but no conversions were later avoided.
When we were designing creatives, as usual, pictures with money came to the rescue; attributes of success (expensive watches, yachts, cars) also worked well.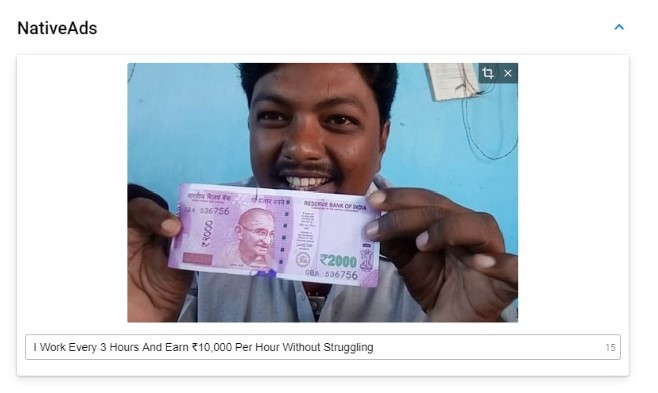 The creatives that were usedBoth creatives led to a pre-landing page which had a story of how people who installed the app became rich.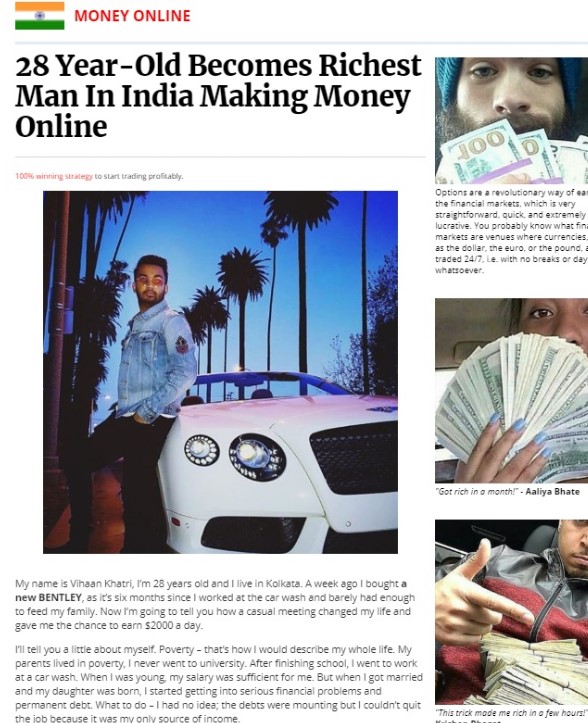 The apps page on the Play Market served as the landing page.
Our results:
First campaign: costs — $325; income — $479, revenue — $154.
Second campaign: costs — $387; income — $591, revenue — $205.

I suggest you try binary options offers that pay per deposit. The leads cost more here, but the payout is also bigger.
Coclusion
Crypto offers allow you to make money both with large ad budgets and with small ones. If you want to make money with a small investment, avoid competitive countries. Work on low-frequency queries and change creatives often. Test out your campaigns and cut out anything that isn't performing well.
You can and you should make money off crypto affiliate programs before the niche runs out of steam. Though this isn't expected any time soon. On the contrary, experts predict another surge of the Bitcoin's price.