How to Advertise with AdsKeeper & Leadbit on the Most Favorable Terms?
Native ad networks have become a popular source of quality traffic at reasonable prices. If you are looking for an ad network to promote nutra, dating, and binary offers, there is nothing that will suit you better than AdsKeeper. Especially in the light of our latest cross-promo with these guys.
This is how you can invest your hard earned ad dollars wisely
Choose a Leadbit adult offer;
Promote it in the AdsKeeper network;
Target any GEO you want;
And get from $1 to $5 to your payout, plus 10% cashback from your ad budget for this offer.
All you need to to do is go to your AdsKeeper dashboard and create your first campaign. Don't worry, we'll show you how.
Launching Your First Campaign with AdsKeeper
Step 1
Choose an offer and links to a landing and pre-landing pages. Let's imagine we are planning to promote this potency treatment product: EL-MACHO IT – 1EUR – POTENCY TREATMENT PRODUCT
Step 2
Sign into AdsKeeper. The registration is quite simple that's why we won't focus on it and move straight to step 3.
Step 3
Get started with the campaign.

First, you should give your campaign a name and make it meaningful. Then choose the campaign type, category, and language.

Step 4
Set GEO and device targeting.
Select the countries and regions you want to target. You can also choose whether you want to focus only on larger screen visitors, mobile, tablet visitors or everything from the list.
Since we have a real offer in this example, we choose Italy and both desktop and mobile devices.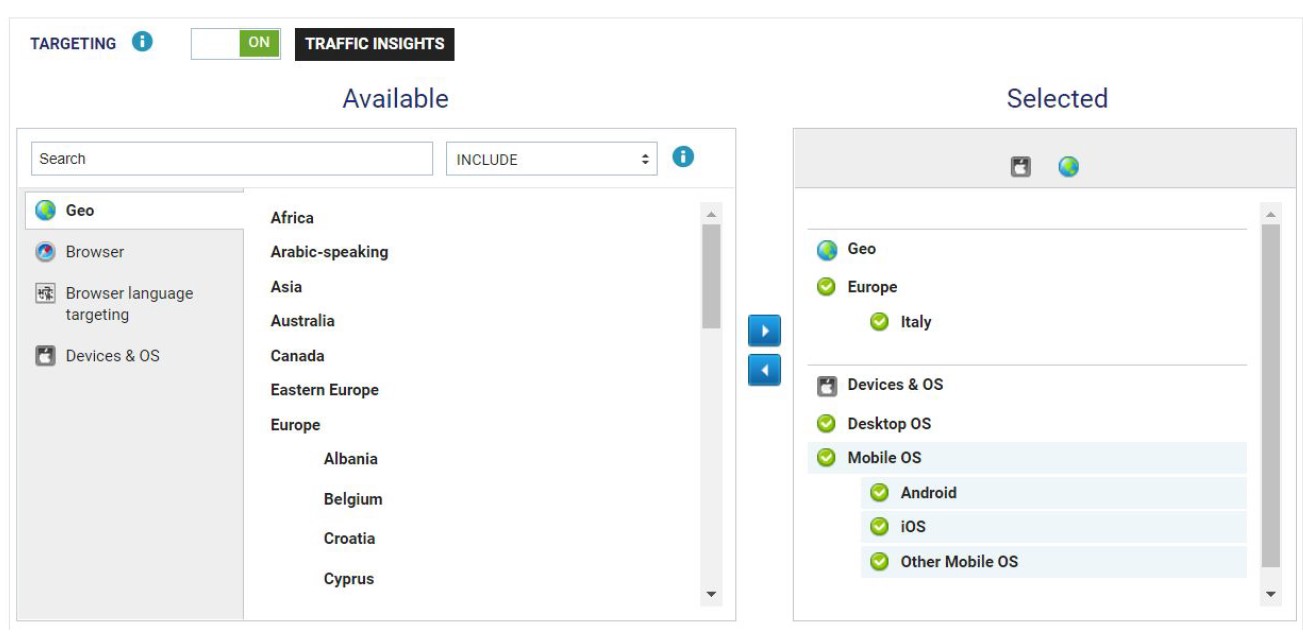 In case you want to get more detailed statistics on what GEOs and platforms to target, try AdsKeeper's Traffic Insights tool.

Smart algorithm advises you on targeting with low competition or better performing sources, allowing you get more traffic and, consequently, increase your ROI.
Speaking of nutra offers in general, the guys from AdsKeeper suggest paying attention to India, Indonesia, Vietnam, Thailand and Mexico.
Step 5
Schedule your campaign and set the limits.

Please note that the time zone in AdsKeeper is PST. Set daily budget limits to get relevant data for the campaign optimization.
Step 6
Add URLs, titles and images to your campaign.
Go to the Ads tab, paste your URL into the URL textbox and and follow the tooltips to create a teaser.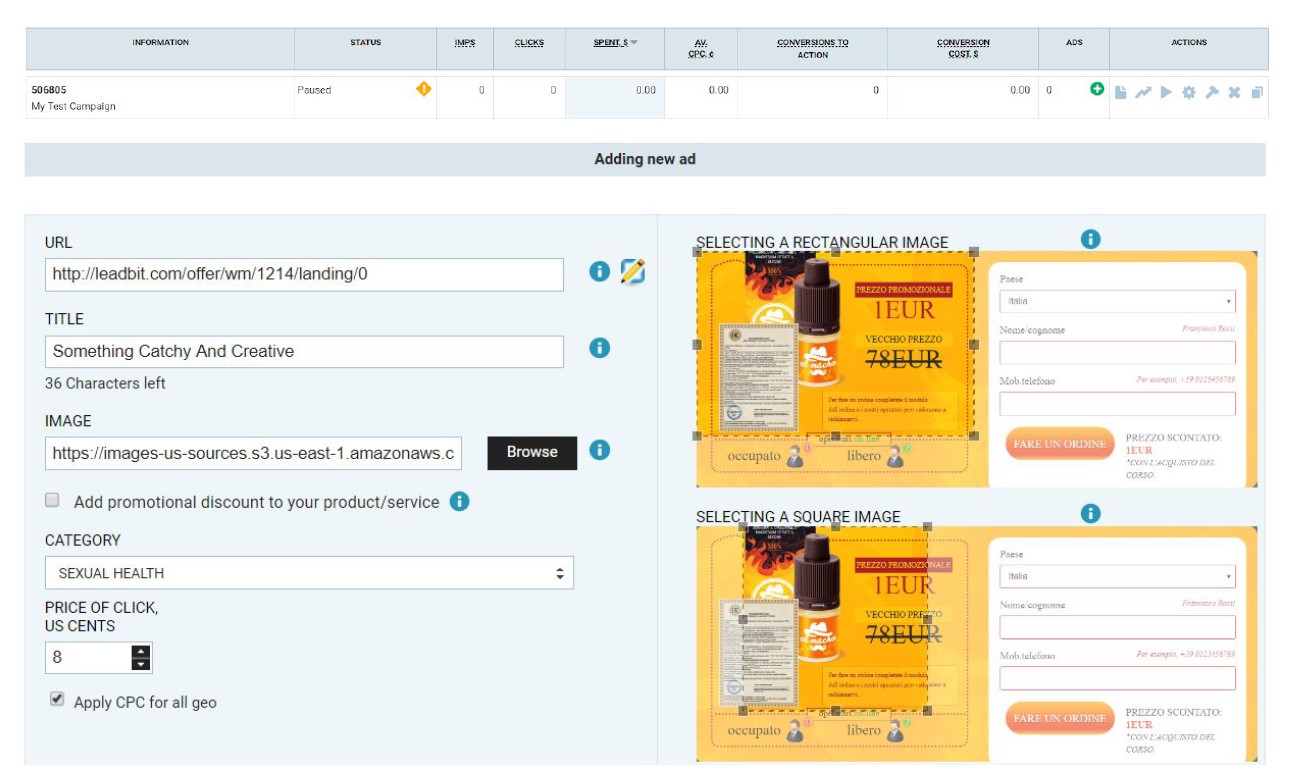 We obviously didn't put much effort into creating this example teaser. But you should, since it affects your CTR significantly. When planning your campaigns, please note, that the moderation may take up to 24 hours.
Step 7
Add funds.

If you want to test your campaign properly and have enough data for its optimization, deposit at least $100. If your overall budget is $500 and more, you'll get an account manager who will help you optimize your campaign and get the most out of it. Remember, you get a 10% cashback from your Leadbit adult offers!
Congrats, your first ad campaign in AdsKeeper is ready! It's not that hard, is it? We are sure you'll be more than happy with its results.
And do not hesitate to contact your account manager if you need help.