Google is rightfully considered a digital advertising colossus. And his project – Google Ads – is one of the most important platforms for affiliate marketing and marketing in the global network as a whole. Despite the popularity of social networks as platforms for collecting traffic (Facebook, Instagram, Twitter, Pinterest, TikTok and others), Google remains one of the leaders in the field.
And what is no less important, the search engine continues to improve day by day not only its search algorithms, but also methods of protection against malicious actions and fraud. And he often refers to the latter and cloaking. So can 2021 be successful in cloaking Google Ads? And why is this necessary in principle? We decided to deal with this issue thoroughly, so we conducted extensive research. We also collected the most popular services and trackers for cloaking, compiled a full-fledged guide to cloaking methods and found out how the service itself reacts to certain actions. And we have collected all this information in this review.
Google Ads and the basic principles of its work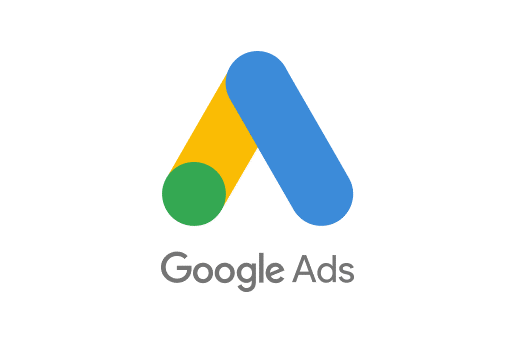 This is one of the most effective and successful search engine projects in principle. And according to many reputable sources, Google gets most of its profits from this channel overall.
In 2018, the service changed its name to the current one, previously it was called Google AdWords. And many old school webmasters are so accustomed to this name that they still continue to call it that. We explain so that there is no confusion, because they are one and the same.
Google Ads is a contextual advertising service. Accordingly, in this system, the appearance of a particular ad is associated with context. If a user google "buy a washing machine", then contextual advertising can offer him an advertisement of companies that are engaged in the sale of such household appliances. As well as repair services, because they are also contextually related to this topic. Ads have different placements, mainly on the SERP itself, as well as in the form of banners and teasers in special blocks on the websites of webmasters who have connected to the Google Ads contextual advertising system. Here the context is already defined in two components at once. The first is for what key request the user came to the site, the second is what is the topic of the site itself.
In order to place your ads, you just need to register with the service using your Google account. The system for setting up an advertising campaign does not fundamentally differ from analogues in social or advertising networks.
What is cloaking
Now let's figure out what cloaking is. This is a disguise process. So brief and general. But within this concept there is a mass of its own categories. The main type of cloaking, which was the ancestor of the entire field, is SEO cloaking. The process of spoofing a landing page depending on who is viewing it. Users see one, which is often called a black page. And bots and search engine moderators, when checked, end up on a completely different – white page. If we talk about SEO cloaking, then the white page differs from its analogue in that the page is heavily crammed with key queries so that search engines would consider it relevant. And the second page does not have search engine optimization so that users get interesting content.
But these are gray cloaking methods; in black cloaking, the second page may contain malware, links to prohibited goods or outright scam schemes.
In addition to SEO cloaking, there is cloaking in affiliate marketing – it is also a substitution of a landing page, but not for search engine optimization, but for promoting offers prohibited by the platform. Also worth mentioning is affiliate link cloaking. In principle, it does not imply the creation of several pages, it only masks the link itself for the transition. At least to improve its appearance, as well as to protect against theft of commissions, create additional security measures against competitors, and sometimes to deceive users (so that they do not understand which site they are going to). Thus, you can deceive the site itself, hiding the source from which traffic comes to the product sale page.
As you can see, cloaking is a voluminous concept that includes a lot of different categories. And we have to understand what kind of cloaking is used specifically in Google Ads.
Cloaking in Google Ads and SEO cloaking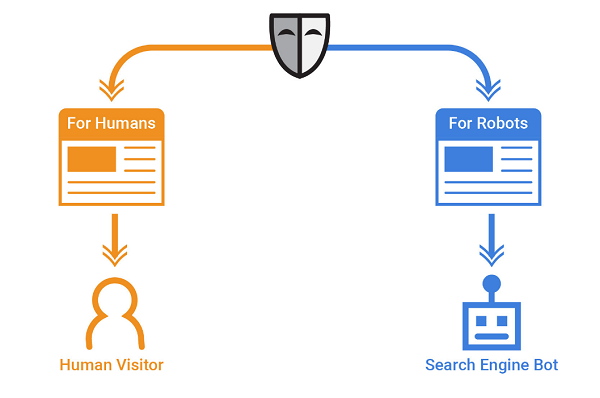 It is generally accepted that all cloaking methods that are associated with Google services are purely search cloaking. The very good old methods, from which cloaking appeared as a separate type of activity. But for verification, everything is completely different.
Google Ads mainly uses cloaking to hide the main offer and landing page from bots and moderators. Their system translates to a clean landing page that has no violations. Or, in principle, to a completely different offer from another company. Therefore, cloaking, which is used in Google Ads, is not fundamentally different from cloaking on Facebook or Instagram. Only more serious measures are needed, because Google is actually much more meticulous than its competitors, therefore it fights against cloaking very aggressively. But we will talk about the specific methods of its struggle below.
Affiliate link cloaking can also be used in Google Ads. This is no longer necessary for affiliates promoting advertising campaigns through the service, but for webmasters who give blocks on their website pages for advertising spaces. True, this is rare. After all, contextual advertising is dynamic, so the link is not permanent. And there are very few services that can cloach dynamic affiliate links. And there is little sense in this.
As for SEO cloaking, it is only used by webmasters for promotion in the Google search engine. This technique has nothing to do with the Google Ads service. But let's say a secret, cloaking is no longer relevant even for search engine optimization. Firstly, the search engine is now able to recognize the substitution even if you use the best services. Yes, this will not happen immediately, but sooner or later it will happen. Actually, if you are promoting a profitable, but forbidden offer through Google Ads, then even if you are revealed in 2-3 months, you completely beat off your profit. And then just register a new account, reconnect to the cloaking service and create a new advertising campaign.
And if cloaking methods are found on the site, then it will simply fly out of indexing. And then the whole project is covered with a "copper basin". This is the second reason why SEO cloaking fails.
And the last is that now it makes no sense to spam with keywords to achieve relevance. Modern SEO and LSI techniques make it possible to create both a readable page and a highly relevant one. And deceiving bots in order to hide a page with a prohibited offer on a website is simply unprofitable.
White cloaking in Google Ads
Cloaking was previously thought to be a gray SEO technique. Now the situation has changed, and already SEO cloaking has become a gray method of cloaking. This suggests that other methods may well be white. Is this possible?
Yes, there are some methods that can officially be called white, and they really do not fall under the sanctions of the platforms. These include the cloaking of affiliate links, which is not aimed at hiding the source and landing page, but only at protecting the link itself. You can learn more about cloaking affiliate links in this article.
And also target cloaking, which allows you to block users who do not match the targeting settings of the advertising campaign. For Google Ads, the latter method is the most relevant. Let's say you are targeting a purely male target audience of a certain age from Europe. And you want your ads to be shown only to them. Other users are not your target audience, they will not want or simply will not be able to take advantage of the advertising offer. Yes, we can say that targeting when creating an advertising campaign will solve the issue, and so it will show ads only to the selected category of users. But there are some nuances:
targeting even the most sophisticated systems does not work perfectly, so it may well make mistakes. And a certain number of non-target users will come to you;
platform targeting does not always allow you to make all the settings that you would like;
Many users use VPN to hide their real GEO. And platform targeting is often easy to deceive;
VPNs and proxies are also used by competitors.
Target cloaking will allow you to avoid hitting a non-target audience on the landing page, exclude useless clicks and reduce budget expenditures.
Gray cloaking in Google Ads
Now let's move on to illegal cloaking methods from the point of view of Google. And there are more of them than whites. This group also has two categories. Gray tricks – they often violate the policy of the platform, threaten it with losses, but do not actually harm users. For example, promoting a prohibited vertical or offers. These options include gambling, some types of nutra, various quizzes. And in principle, the sale of any goods that are not officially certified or not licensed. And often also outright adult.
Yes, most of these offers are banned on Google, and it is simply impossible to advertise them without cloaking. But do they harm the user? Doubtful. After all, if a client is interested in such advertising, he is satisfied with the landing page, it turns out that this is exactly what he was looking for. Even if Google doesn't approve of it.
But black cloaking methods are already a full-fledged scam. Disguise offers and sites that try to steal users' money, entice their payment details, run viruses and spyware on their devices, and so on. It is clear that the user does not receive any benefit in this case. Therefore, such methods of cloaking harm everyone and for them you can not only get a ban from Google, but also interest from representatives of law enforcement agencies of the country in which the scammer lives.
The problematic is that in fact, gray and black cloaking methods in Google Ads are not technically different from each other. This is always a page substitution for search engine bots and moderators. They are shown a clean version of the landing page, and users are shown either prohibited topics in gray offers or scams in black.
How Google is about cloaking
It has already become clear to you that the search engine is strongly negative towards such a technique. And he often does not share the gray or black methods. Whichever option the affiliate (or scammer) uses, he gets banned, the account is blocked, and the advertising campaign is canceled.
And lately, Google has made great strides in the search for cloakers. That is why almost all manual methods are no longer relevant, only serious services or trackers can compete with Google's smart protection system. The latest trend in the fight against cloaking, which began 3 years ago in 2018, continues to this day. And the main social networks were included in it.
Let's see what Google has achieved in this field:
on average, Google removes up to 4 billion ads per year that violate its policies. That is, they contain malicious or unfair advertisements. Moreover, most of the deleted ads have passed the basic check, were admitted before publication. But bots check the AC again constantly;
about 300 thousand advertisers, whose advertising campaigns are removed, are banned per year;
during its operation, Google has removed over 700 thousand applications for smartphones;
up to 80 million advertisements per year are blocked because there is malware on the landing or landing site;
130 million ad campaigns are blocked per year for attempting to cheat on the platform's moderation. That is, just for the same cloaking.
Yes, Google has become much more successful in identifying violators of any kind. And cloaking is complicated. If 5-6 years ago it was possible to use most of the methods through paid services, in principle, without worrying that they would reveal you, and manual methods guaranteed that the project would last at least 3-4 months, now everything is much more pessimistic. Paid services and trackers are still successfully fighting with Google, also improving their algorithms. But they no longer give guarantees. And as practice shows, sooner or later Google Ads reveals the fact of using cloaking.
But the profit of affiliates is that most advertising campaigns, in principle, are sharpened for a short period of drain, 1-3 months. And such a period with the help of cloaking services in Google Ads is quite possible.
Is it profitable to cloach in Google Ads in 2021
Target cloaking allows you to increase the conversion rate by reducing empty traffic. It also protects against bots that devour the advertising budget, spam, and VPN users. Therefore, obviously, this is a completely beneficial technique. But the specific level of efficiency should be assessed based on the volume of RK. If you invest conditionally $ 300, get a profit of $ 400 and do not launch other campaigns, then it will not be very logical to purchase a service subscription. Even if it increases the margin by 20-30%. With large volumes and adequate income, at least from $ 500 of net profit per month, cloaking is no longer just profitable, it is necessary. After all, the cost of a subscription is easily paid off by increased conversion.
As for gray cloaking, it is profitable, since so many affiliates are engaged in it. It is logical to assume that almost a third of the market is made up of offers in those verticals that are prohibited on major platforms, including Google Ads. Of course, one could move to purely white verticals, but there is always much higher competition in them.
Therefore, yes, gray cloaking is beneficial when using prohibited verticals, but only if the affiliate understands the rules of the game. He does not invest the entire budget in one RK, knowing that it can easily fly away under the ban. And he intelligently distributes resources between many campaigns, working with not one, but several offers at once. Then the method will bring significant income. As for the moral point of view of such a business, we are not here to judge anyone. We look only at numbers, analyze the level of efficiency. Moreover, gray cloaking is not a scam or black cloaking, which is really prohibited not by the rules of the site, but by law.
Cloaking instructions in Google Ads
Before we go directly to cloaking services, let's take a look at the procedure itself. First of all, we need two pages – white and black page. We will send moderators and bots to the first, and target users to the second. If you use target cloaking methods, then you don't need a page for bots, your main landing page will replace both positions. This option is simpler, you just have to adjust the filter conditions in the cesspool itself. That is, the factors under which the transition to the user will be prohibited.
So, everything is clear with the black page – this is our target landing page, which we received from an advertiser or a pre-landing page, which we created ourselves by setting a link on it to the landing page or directly to the offer website.
But the white page will need to be created in a separate order. And here two options are usually used. Either just a white copy of the competitors' landing page, which must be downloaded and cleaned (clean the code, rewrite the content for uniqueness), or a new page on the trust domain. There are free options for this, both the Google builder and paid ones, like the online store builder on Shopify. The main thing is to choose a trusted white service, then the verification by the moderators will pass without problems.
The second stage is using the service. If the service is self-hosted, then we carry out all the manipulations directly on the server (this is more complicated). The cloud service will do most of the work for us.
Let's take a look at a schematic version using Keitaro as an example. Initially, we register for the service, pay for our tariff plan or for the trial period used (as well as the demo period). Let's go to the tab – campaigns.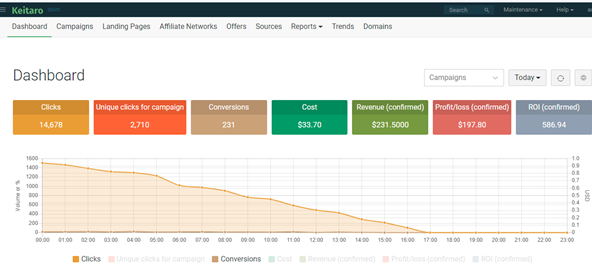 In the window that opens, select the creation of a new campaign, because this is our first work on this service.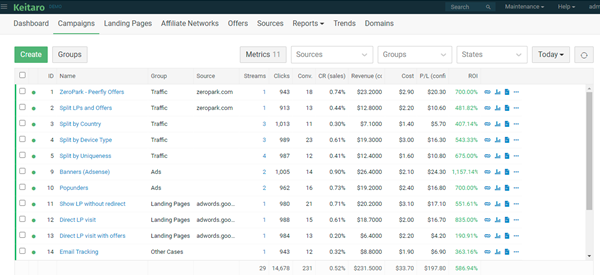 We enter a name that suits us, and then click on the option to create a stream.

In the next window, we will need to select the type of stream. By default, it is on the regular type. But if we are going to just hit Google Ads bots, we will need to change the type to intercept. In addition, the thread must be sure to set its own name. And do this so that you yourself are not confused. Indeed, in the context of one advertising campaign in the future, you will work with a lot of streams at once. Not to mention the fact that there can be an impressive number of advertising campaigns themselves.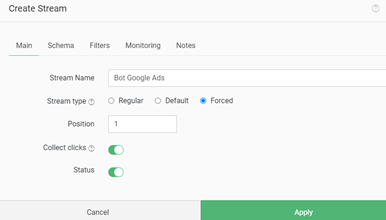 In the schemes of the next option, we need to define specific landings and offers, to which the flow will be transferred. We should already have them by this time. We select our white page, because we create a stream for bots.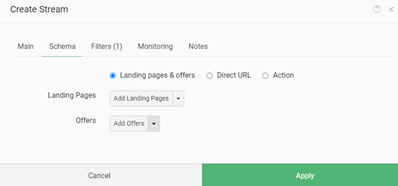 We can also set a condition if the traffic falls under the description of our stream. But in our case, no action is needed. Therefore, we choose – do nothing.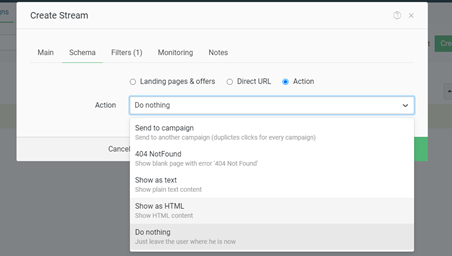 And the last thing we need to do is set up the stream filter. Or rather, determine under what conditions traffic will not get to the landing. There are a huge number of options, at least in the service presented as an example. These can be device types, browsers, language, GEO factor, and more. But if we are talking about bots, then we are specifically interested in ID.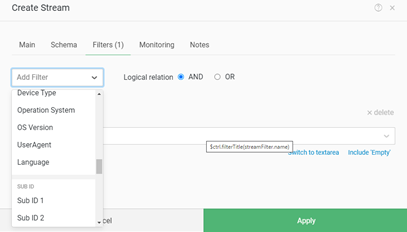 Let's clarify that this service contains an extensive database of IDs, and can also be configured by user agent. But it does not have Google IP bots in the database. Therefore, this list must be found or bought separately on the global network. However, this is not required for target cloaking.
We complete the creation of a stream, and in the same way add streams for all other categories into which you basically want to divide the incoming traffic. After that, it is advisable to navigate through different devices, under VPN and according to other parameters you have chosen for the sake of verification. Once you are sure that the system is functioning properly, you can start working.
Almost all paid cloaking services work according to this principle. The specific view of the settings or the number of conditions, of course, may differ. But the general essence remains unchanged.
Cloaking services on Google Ads
For these purposes, specialized cloaking services are used, as well as popular trackers. What to choose is a matter of taste. After all, cloaking services often have the functions of monitoring and analytics of RK, that trackers, in addition to analytics, allow you to filter incoming traffic or redirect it. Therefore, plus or minus the capabilities of the services are similar.
Keitaro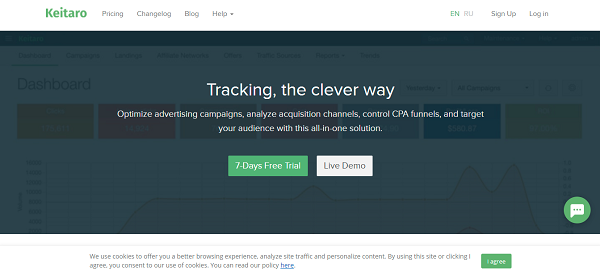 One of the most popular trackers, which has established itself as a professional tool for analysis and monitoring. It is noteworthy that many affiliates who use this tracker do not even know about its cloaking capabilities. And in vain, because in this area it provides extensive functionality.
Keitaro supports dynamic landing pages, and also allows you to edit them right in the control panel. For these purposes, the built-in editor is used, so you don't have to dig into the code to make edits manually. It also easily integrates all advertising campaigns, platforms and affiliate programs within one common network. And you can visually compare the performance of indicators: ROI, conversions, margin, average price, and so on. It is immediately clear on which platform which campaign is successful. With regard to cloaking, you can also immediately estimate how much the performance with cloaking will grow in comparison with the rest of the ACs where the tool is not used.
Advantages:
API support;
availability of its own base of IP addresses to identify bots and moderators of Google Ads. At the moment, the database contains 500 thousand addresses, and it is constantly being updated;
the ability to structure the AC according to your own parameters;
30 different filters to help distribute traffic based on target. Not only basic ones like GEO and age, but also, for example, the type of browser;
relatively inexpensive option.
Disadvantages:
only one domain in the basic version. That is, all the charm of mass sorting, structuring and comparison can be felt only with a more expensive subscription;
not the easiest tracker for beginners, designed for professionals.
Price: The basic plan will cost $ 25. Advanced – at $ 40, professional at $ 70. But in fact, the main features are already available on an advanced tariff plan, the professional one only provides branding and priority support. What is not too important.
LinkTrackr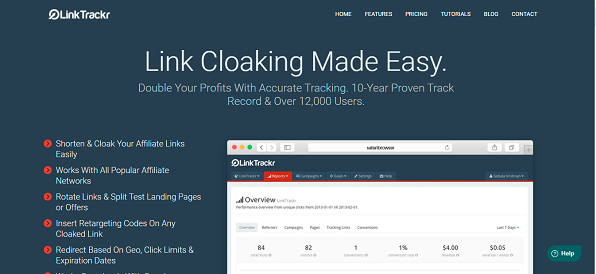 Also a tracker, but unlike the previous version, LinkTrackr is designed just for beginners. The tool provides the ability to track not only specific advertising campaigns, but also each individual creative. It is convenient if you are analyzing one large ad, which includes a dozen or more ads. You can constantly change creatives, choosing the most effective ones in terms of metrics.
As for cloaking, the tracker is mainly used to mask affiliate links, shorten and protect against identity theft. The redirect is very easy to set up, so no special knowledge is required. The service easily works with Google Analytics, which is why it is loved by many affiliates. But it does not provide gray opportunities for cloaking.
Advantages:
easy cloaking of affiliate links;
a simple tool for beginners;
low cost.
Disadvantages:
limited functionality of not only cloaking, but also tracking as such;
is used in Google Ads, but it cannot be said that the tool is well suited for this platform, it only solves additional tasks.
Price: the base rate is one of the cheapest. Only $ 7 per month. But at the same time, serious restrictions are imposed on it, only 10 thousand clicks and cloaking up to 100 links. True, this is quite enough for a beginner to begin with. Moreover, even the most premium plan costs only $ 47. And he already allows up to half a million clicks per month.
MagicChecker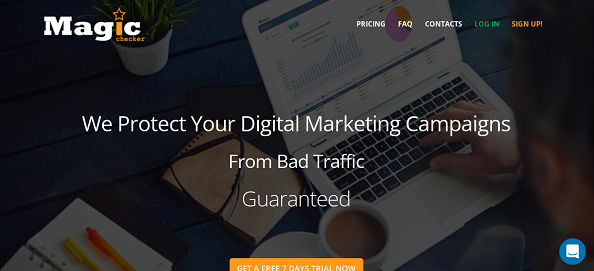 But in our review, a cloaking service appeared, which has the functions of a tracker, and not vice versa. Moreover, this option is one of the most technically advanced on the modern market. And despite its simplicity, which pleases beginners, it is usually used by professionals. The fact is that it is much more expensive than most cloaking services.
But in contrast, MagicChecker allows you to use almost all the possibilities of target cloaking available at the moment. Moreover, it analyzes any traffic from any source in the world, there is no such type of traffic with which it would not be able to work. Bots, competitors, non-target users, VPN or proxy, spam – the service will block everything. Works great with Google Ads too. Moreover, it officially does not have gray functions, it is configured exclusively for the cloaking target, but in fact, if you fill in the base of IP addresses of Google bots, it also copes with gray tasks.
Separately, I would like to note that this is one of the few services where the technical support service works really quickly. In practice, specialists answer within an hour, and in similar resources sometimes you have to wait several days due to the flow of clients and a small headquarters.
Advantages:
many functions;
reference filtering of any traffic;
extensive reporting capabilities, almost as good as the best trackers;
both white and gray (if there is a database of addresses) cloaking methods;
beginner-friendly tool with no threshold of entry
Disadvantages:
there is no own address base;
expensive subscription;
no tariff plan levels.
Price: yes, there are no introductory or advanced subscriptions. All functionality is provided immediately, it costs $ 199 per month. If you buy access for six months at once, then every month it will be cheaper by $ 20. But this is still not a very good price, especially for a beginner.
FairLab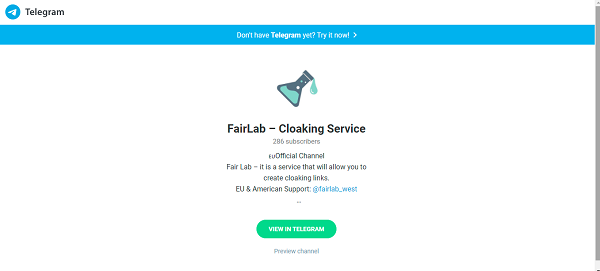 Service with absolutely gray possibilities. Our own large database of addresses, the latest technologies to bypass blocking from Google. As practice shows, this service is indeed currently one of the most successful in the war against advertising platforms. Affiliates using FairLab create an AC for up to six months. And they do not have time to get banned by the system. The developers of the project argue that the secret of efficiency lies in the self-learning AI, which they use to protect.
The service is also suitable for white cloaking, but it is usually not used in this way. Too expensive and difficult for such tasks. Therefore, basically, a tool is needed to promote prohibited offers, hide the true landing page from bots, and so on
Advantages:
one of the most secure methods of gray cloaking;
bypassing checks by bots, as well as live moderators, if necessary;
works with Google Ads just fine. This is one of the main platforms for which the functionality is sharpened..
Disadvantages:
the service works in a gray and black sphere, therefore it does not have open official resources, it is distributed through Telegram and other channels;
the cost of the tariff is quite high;
not friendly to beginners, suitable for professionals.
Price: The simplest tariff plan starts at 399 euros. And the most expensive corporate version will cost 999 euros per month. Not cheap, but the benefit of the service periodically appears "tasty" discounts on invites of participants.

And with them, the average affiliate is already able to test this gray cloaker.
Palladium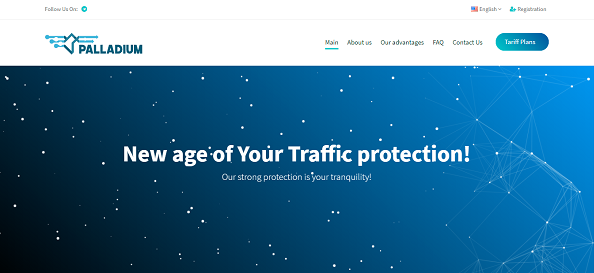 One of the newcomers to the market, who has already started a serious competition with the industry leaders. In terms of functions, it is a pure cloaker without even trying to seem like a tracker. The developers were clearly aware of the purpose for which the tool would be used. Namely – white cloaking, which with a slight wave of the hand can be turned into gray. But if the functions of gray cloaking are not implemented very well here, then the service copes well with target cloaking.
The main advantages of the Palladium are low losses of targeted traffic, in the region of 2%, with a lot of filtering parameters. The service also reports that it has a large database of addresses – 200 thousand. But he adds in small print that he does not store or collect IP addresses of bots. Hinting that if you want to expand the functions of the service, you will have to look for additional parts on the side.
Otherwise, this is a strong middle peasant on the market, which has found its ideal niche in terms of price and quality ratio. And quite a suitable option for beginners.
Advantages:
an impressive number of targeting parameters;
large database of addresses;
a multilevel system for filtering unwanted traffic based on advanced algorithms (which are partially borrowed from Google itself).
Disadvantages:
loses in terms of filtering to the TOP of the market;
not sharpened specifically for Google Ads, not a niche tool;
limited tracking.
Price: A 7-day trial period is absolutely free. Just enough for a full test. Further, either the initial tariff plan for $ 50, or more expensive ones for $ 100 and $ 150. They differ only in the number of advertising campaigns to serve. No other restrictions.
Binom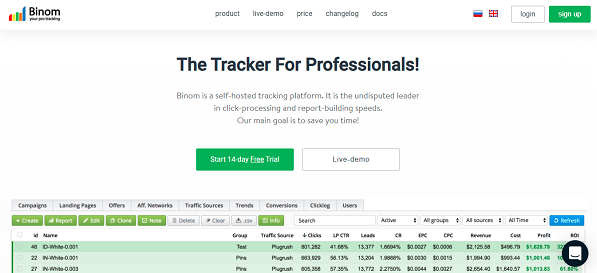 One of the oldest trackers, and, in principle, tools in this area. And he still works, is popular. The experience of developers who are constantly updating the product is simply enormous. Therefore, even somewhat morally outdated, it still "sets the heat" for competitors.
The main advantages of the Binom lie directly in its tracker functions. And in this business he is really one of the best. Statistics are collected and compiled from any sources, options are selected for comparative analysis, personal scripts are installed to check some interesting details for the owner. The tracker is self-hosted, so it can be easily modified later. Actually, that is why it is used as a cloaker. With the help of its base of addresses, it can be easily configured to redirect bots or any other users.
Advantages:
one of the most trusted tools for affiliates;
combines the functions of tracking and cloaking;
easily modified;
inexpensive.
Disadvantages:
narrow cloaking functions;
difficult for beginners to master.
Price: there is only one general tariff in the tracker without any restrictions on possibilities. It will cost you $ 69 per month. All additional functions, such as help with installing the tracker, technical support are free. The number of domains and clicks is not limited.
Traffic Armor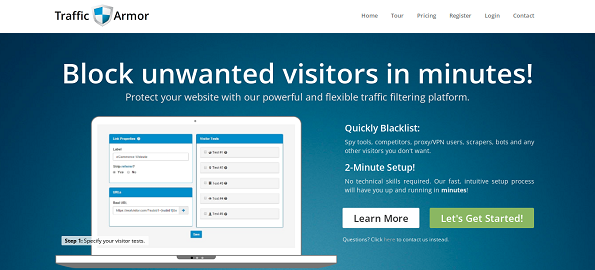 A flexible and beginner-friendly cloaking platform. It is aimed at the white target of cloaking, but the database also contains addresses of bots. It features a system of combined blacklists, transfers information about "dirty" users to all buyers of the tool, automatically excludes them from the list of acceptable traffic.
Traffic Armor has a significant number of user settings for filtering, it is quite adequately used as a tracker for a small advertising campaign. Payment is made purely for clicks, so it is mainly suitable for novice affiliates. Indeed, with large volumes, it is logical to buy services that do not have a limit. Otherwise, you will have to pay around $ 600 per month (and it's not a fact that you will not run into the limit on clicks, especially with TIER 3 traffic), which is quite expensive for a cloaker with such typical functions.
The filtering algorithms themselves are outperformed by the TOP competitors in the industry, but this difference is offset by the price. Basic tariff plans are relatively inexpensive.
Advantages:
own black lists;
the ability to add custom black and white lists;
good target filtration;
suitable choice for beginners.
Disadvantages:
limited gray cloaking techniques;
not suitable for large volumes of traffic.
Price: Three main price models, $ 129, $ 299, $ 599. The difference is based solely on the number of clicks available for filtering. The initial tariff plan with 32,500 clicks is quite suitable for small advertising campaigns for a heated and narrow target audience. And with wide settings and work, say, with TIER 3 traffic, which goes in an unimaginable amount, the decision is irrational. Better to use unlimited services.
Is cloaking on Google Ads worth it?
White target cloaking has long been proven effective. It is especially important if you work with a narrow target audience and pay for an expensive click. It is logical that at such a price it will be very unpleasant to get a pack of bots or non-target users. Accordingly, cloaking can and should be used. Of course, you first need to identify the average conversion rate, cost per click, potential margin. And then after the test period (for example, by purchasing a free version for 7 days of one of the services or trackers), evaluate the results. How much will the margin grow, will there be an increase in conversion. Subtract the cost of the tool from the potential benefit, and it becomes crystal clear whether to use it.
Another issue is gray cloaking. It can be very beneficial if the audience is hungry for offers prohibited on the platform, and is strongly interested in them. It is absolutely not profitable if you made a mistake with the targeting settings, picked up a vertical that is now on the decline. But in any case, gray cloaking in Google Ads does not live long. The advertising campaign will be banned sooner or later, so you should immediately be ready for such a turn of events.
Conclusion
The results of our study are quite expected. Google is increasingly committed to the war on cloakers, user experience is too high in 2021. The competition is huge, so no one wants to leave the user disappointed. And Google in the first place.
Gray cloaking is always a risk, but sometimes it is quite justified and, we will not deny, profitable. White cloaking, as target cloaking or cloaking of affiliate links, is quite an effective tool that is slowly becoming commonplace, a mandatory attribute of affiliates. And after 2-3 years, you are unlikely to meet a professional affiliate who does not use cloaking.