Affiliate marketing is the easiest and most effective way to generate income through your own web resource. In principle, there are no restrictions on the type of site in affiliate marketing, you can pour traffic in favor of partners even from an online store. But it is obvious that the most logical choice for the recommendatory nature of advertising partner links will be your own blog. After all, the audience on it often represents whose texts they read, knows the author, agrees with his opinion, trusts his authority. Therefore, the average CTR from blogs and the lead generation of such traffic is often 2-3% higher compared to analogues. And these are very serious figures, if we talk about a large array of unique visitors.
By the way, in order to generate income through affiliate marketing, it is not necessary to have a huge number of users on the site. And what is mandatory is cloaking of affiliate links. And it is about him that we will talk in our review. And considering that WordPress was and remains the most popular engine for blogs, we will analyze cloaking methods for it.
What cloaking of affiliate links is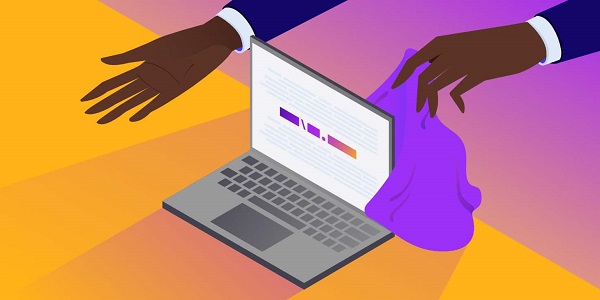 Initially, cloaking was a process of replacing the destination page by a link. That is, hiding the true page to which the link leads from bots or unwanted visitors. They are redirected to a fake clone or to a modified page. But over time, the concept of cloaking has expanded, has acquired new methods. And now it is not only a way of SEO optimization, but also an excellent technique, including for affiliate marketing.
And one of the most effective ways to use it is cloaking affiliate links. What's it? This is a method of masking links that lead to an affiliate product or service. Concealment is not in the literal sense, they remain accessible, just visually significantly modified. And depending on what kind of manipulations your cloaking service performs, the degree of legality of these actions is also determined. Yes, yes, cloaking is an exceptionally black optimization in its database. Of course, over time, there were methods that can be attributed to gray and even to white. But initially, the search engines issued serious sanctions for cloaking. And the partner to whom you refer will be very unhappy with the black methods of cloaking, and will also not regret the ban.
Therefore, it is recommended to use only white cloaking of affiliate links. Namely, the reduction of the appearance of a ridiculously long link for the user to a compact, short and memorable one.
Why cloaking of affiliate links is necessary
And now to the question, why do you need it in principle? If you pay attention only to the numbers, then on average the CTR on affiliate links increases by 0.5-1% only with the help of cloaking. And the income increases accordingly, for many blogs this is an increase of up to 30%. Does it sound implausible? But in fact, these are statistics. The fact is that the link itself is the completion point of your offer. You can prepare an advertising post, choose the best placement on the page, select the most accurate arguments, and so on. But the end point of the lead will always be a click on the link. And if he doesn't like it, then there will be no transition in the narrowest neck of your sales funnel. How many well-prepared and motivated leads were missed because they were afraid of this transition?
Let's look at the link before the transformation. Approximately it looks like this:

Yes, it looks scary even for an experienced user. Plus, visually, often such a link simply knocks out of context, from a concise narrative that brings a person to it. And if we modernize it, we will get something like this:

Isn't it obvious that the second option is just nicer? And more pleasant for the user is a lot. Yes, when a person really wants to buy a product, he trusts the blogger unconditionally, that this minor nuisance, of course, will not stop him. He will follow the link and still buy the right thing. But, what if the client has not fully decided, he is still in thought. Can't decide if he really needs a product or service. And such a long and unsightly affiliate link may well tip the scales in the direction of rejection. And if you dig deeper, it turns out that more than 90% of all buyers are such individuals who barely decided to buy. And you will create an additional obstacle to each of them in the form of a long affiliate link.
But this is a general part of the rationale for the need for affiliate links so that you understand the essence exactly. Now let's go for specific reasons.
Attractive appearance of the link
We have already explained how important this is. A long link can not only force the user to make a decision to refuse a purchase, but also, in principle, reduce the credibility of the site. An inexperienced user is quite capable of suspecting some notorious fraudulent scheme here (and given their number on the network, it is difficult to judge him). And then he will be more careful about all articles on the resource, all offers and goods. And you will simply lose a customer who could have made a lot of purchases. Of course, this is a schematic example. But even if 1 out of 100 customers eventually turn away from the site, in absolute numbers it will be very serious costs.
The credibility of the blog
Firstly, inexperienced users, when they see beautiful links, potentially consider the resource, let's say, «serious». Everything is professional, everything is adult. Not everyone understands that it is not difficult to reduce links in principle, so this potentially increases the authority of the blog in their eyes.
On the other hand, experienced users understand how cloaking affiliate links works, and pay tribute to the blogger who took care of their comfort and reduced them. Otherwise, their attitude towards the lazy webmaster will be seriously spoiled.
Simplifying work with nofollow
The link after high-quality cloaking, in principle, does not fall under the analysis of bots. And the nofollow attribute becomes optional. You don't need to register it manually every time you place an ad. Not to mention working with advertising networks, when links change almost daily. The dynamic link selection system does not fit here, of course. If the user is redirected to a target resource that is selected after the transition, then the nofollow attribute is also not needed. But it's not safe to download such links, Google may consider it a black optimization. For regular and permanent partner links, cloaking is a convenient way to automatically disable the redirection of the link mass to partner resources.
Simplification of management
By placing 100 affiliate links on the site, it becomes not so easy to manage all at once. If you need to change them, delete them, add new ones, for example, if you changed the affiliate program – then you will have to go through the code of the entire site until you manually perform manipulations with each one. It is much easier to do this in bulk mode using a couple of buttons in the plugin script settings.
Protection from intruders
Modern malware easily hacks affiliate links, stealing your customers. The reward for the offer goes to the owner of the virus, and you don't even notice it. But this is if your ID is inside the link itself. But if you hide it, then no program will be able to replace it, taking your honestly earned commissions. And you will be surprised how many people want to steal your reward online. The matter is further complicated by the fact that now a lot of people are cloaking their affiliate links. This means that the number of potential victims of scammers is reduced, and they pounce on the remaining ones with the whole company.
Improving the user experience and Google rankings
Yes, specific algorithms for how Google reads user experience are not disclosed, but almost all SEO optimizers agree that Google always rates a clean and tidy page higher than an alternative one. And the concise length of affiliate links also affects this parameter.
Protection from ad blockers
Many modern browser extensions can either warn the user about hidden ads, or simply remove the advertising links themselves from the visual version of the page. Or temporarily block it until a permissive click. And who will click on «allow» if the extension just screams – there is potential unfair advertising. But if the link has passed through the plug-in cloaking, then most of the ad blockers simply cannot identify it, so they leave it untouchable.
Additional tracking features
Most plugins allow you not only to change links, but also to monitor their effectiveness. They provide a massive summary for analytics, the number of clicks, the percentage of unique visitors, the number of incomplete downloads of the landing page, and even the overall conversion rate (for some plugins).
This way, you can not only increase your total income, but also get new data for analytics. Especially useful for those who do not use third-party tracking systems in principle. And he needs only the most basic information for the simplest analytics. The plugin copes with these tasks perfectly.
Simple copy/paste
Yes, yes, many users follow the links using copy/paste. And it is obvious that it is easier to highlight a small concise link than a long one, which sometimes takes 2-3 lines. This is, of course, a small bonus, it does not have a strong influence, but it is also an additional reason «for» cloaking affiliate links, a kind of straw that can break the camel's back.
Is cloaking allowed, the opinion of Google and Amazon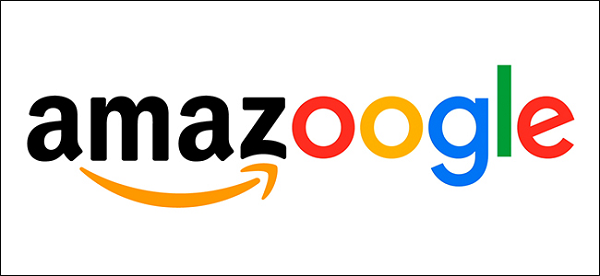 Well, we have identified a huge number of reasons to use cloaking of affiliate links. Therefore, its effectiveness is fully justified, but is it possible to use such a method? Let's figure it out.
As you know, almost every blog, regardless of the level of development and the number of visitors, receives the main traffic from search engines, that is, Google. Yes, reputable resources have a serious amount of type-in traffic, and many sites receive up to 30% of all visitors directly from advertising platforms. But still, the share of search engine traffic remains huge, especially if you have a small web resource. And you need to be friends with Google, to get pessimization from it is practically a sentence. What to say about the possibility, in principle, to fly out of indexing. Therefore, you need to know how to cloaking affiliate links on WordPress in order not to get sanctioned.
So, Google will be against in such cases:
cloaking links for advertising networks that automatically select a landing page for the transition in the transition process itself. This, according to the search engine, harms the user experience;
if you are spoofing a partner's landing page for bots. As soon as the fact of such cloaking is revealed, you will receive a ban. Moreover, if when cloaking links for bots by IP, the blog can still last a month or two, then when cloaking by a user agent, you will be revealed in just a week;
if a hidden link leads to a resource that violates the search engine policy.
But it's not just Google that rules the ball. The partner also has considerable weight. And we will focus on Amazon as the largest and most authoritative resource in the entire e-commerce niche. And it's no secret that most of the affiliated bloggers work with him.
What does Amazon think about cloaking? He forbids it. Section 6 of the Amazon Regulations states that cloaking of affiliate links is not allowed if one of two conditions is met. And this is more interesting. The first of the possible conditions is the inability to track the source of the transition. In other words, if the bots and moderators of the resource cannot track from which source (your site) the transition was made. The second condition is the concealment of the fact that the user goes to Amazon. And, by the way, Google also does not approve of such an action.
But an interesting situation has developed, neither Amazon nor Google apply practically any sanctions if the partner's final site is hidden. Although, they don't officially approve. But if it is impossible to track the source, that is, your blog, you should be banned. This should be avoided. Therefore, cloaking for bots is not recommended. The rest of the methods and causes of cloaking are not prohibited.
WordPress plugins for cloaking affiliate links
There are many different software modules for WordPress that allow you to implement, simplify and automate the cloaking process. But not all of them work really well. We have checked all the popular WordPress plugins, so we have compiled our list of the most reliable ones. And conditionally divided them into two groups – paid and free. Some of them will be duplicated, since these plugins have paid and free versions. But they have different capabilities, so it will be interesting to consider such modules from both angles.
The best paid WordPress plugins for cloaking affiliate links
Of all the paid options, the following deserve more attention.
AffiliateWP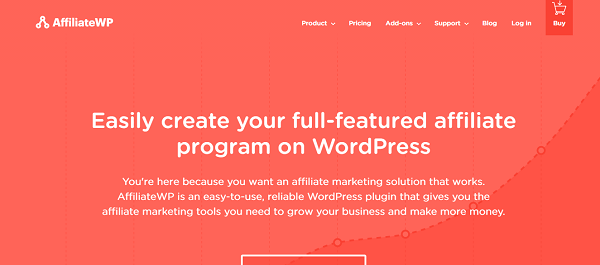 This is not just a module for hiding affiliate links, but a full-fledged system for managing the entire advertising campaign in affiliate marketing. It is noteworthy that this WordPress plugin is compatible with many of the most popular trackers. Suitable for those who are going to create the entire structure from scratch. Then the AffiliateWP will really solve all the issues, help with organizational issues. But purely for hiding affiliate links, if you don't have hundreds of them on your site, the option is not the most logical. Then the main resource of the system will not be involved. Therefore, it is recommended to use all functions.
At the same time, this plugin has an additional extension that, in principle, can cope with the task of cloaking, and it is completely free. But we will talk about it in the corresponding section.
Advantages:
many functions;
solves all issues with the technical part of the advertising campaign;
a reliable product with 5 stars rating in WordPress;
suitable for beginners.
Minuses:
high price if there are no discounts;
suitable mainly for large projects.
Price – $149 (no discounts $299) for one site. If you have 2-3 of them, you will have to take the version for $199 (without discounts of $399). For large companies, the professional version is suitable for $299 ($599 without discounts).
Pretty Links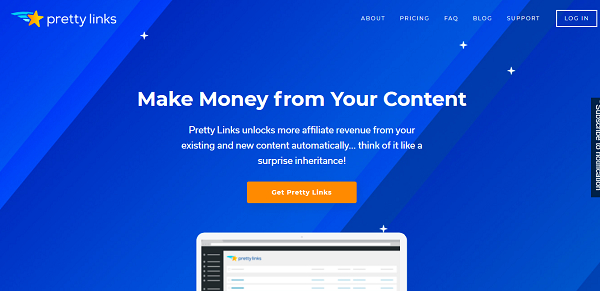 A popular plugin for WordPress that many remembered for its light and unobtrusive design. It positions itself as a utility for all levels of competence, but is frankly aimed mainly at beginners. And it is for them that simple and unpretentious functions will be most understandable and useful.
At the same time, it cannot be said that the software module has no potential. No, in the hands of a professional, Pretty Links also fully reveals himself. It's just that its key chips are aimed at beginners. An easy way to set up an automatic redirect, both permanent and temporary. Plus, the plugin can also automatically create a stream of short links for posting in various channels, for example, on Twitter.
Advantages:
easy to learn;
simple functions;
low price.
Disadvantages:
limited functionality;
in the maximum version, it allows you to use the resource only in 5 blogs.
Price: for the basic configuration it is quite cheap – $79. And the professional version fits into the price of the novice version of other plugins, namely – $149.
ThirstyAffiliates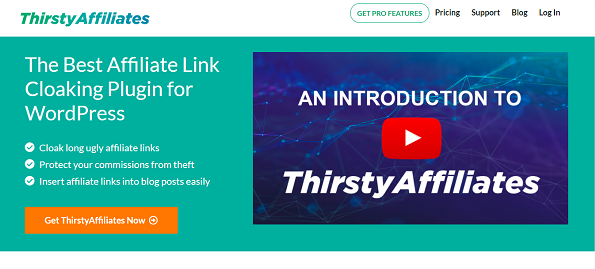 Perhaps the most popular WordPress plugin for cloaking affiliate links today. Almost half a million downloads (443 thousand) will confirm this. The software module allows you to automate the process of replacing links. With one click in the control panel, you can turn all links into their hidden versions, as well as change the content. Moreover, you can independently configure groups of affiliate links in any classification: linear, hierarchical. As a result, if we are talking about a large resource, then almost all manual work is completely leveled.
It is especially convenient if you work under the same affiliate program with several of your own web resources at once.
Advantages of ThirstyAffiliates:
easy management of large arrays of links;
different cloaking options;
installing link groups.
Disadvantages:
designed for primary and secondary competencies;
not so many functions.
Price: one of the cheapest plugins, for the basic version only – $49. Yes, you will have to pay $149 for a professional one, but at the same time it allows you to connect up to 10 sites, not 5, as in the previous version.
OptinMonster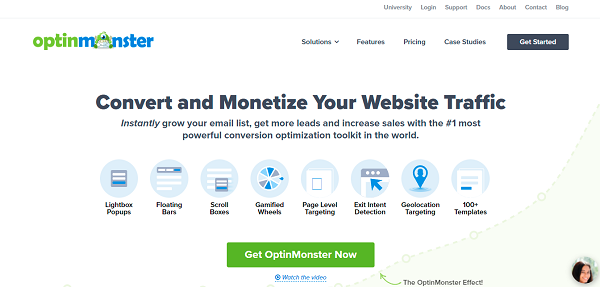 One of the most powerful plugins in our review. His whole idea is based around setting up push notifications, but in this case the module is a real expert. Allows you to configure push of any form, types, provides the display of the selected category of users based on accurate targeting. And of course, push includes links that this plugin optimizes for any needs without any problems. After all, long links in push are a complete nonsense.
In principle, OptinMonster is used mainly to convey benefits and news to customers. And also to generate a list of leads. Collecting information right at the entrance is not always a good idea, users sometimes don't like it. Therefore, you can configure pushy for any actions on any page. It's convenient. But what about affiliate marketing? There is also an application here. You can notify customers about the appearance of new products using push buttons that contain affiliate links. The method is actually quite effective.
Advantages:
lots of settings for push notifications;
fast link cloaking;
ability to configure automatic formation of push messages with a link based on new posts.
Disadvantages:
the main functions are not related to cloaking affiliate links;
there are no alternative or gray cloaking methods.
Price: this time we have 4 price positions at once. It's $9-19-29-49. In the basic version, there are few functions and only one site. Advanced – 2, full – 3, professional – 5. Basically, you will have to choose between the first and the third option. For $9, you will get almost nothing except the usual push settings and cloaking of affiliate links. But cheap. But the full one will allow you to use all the functionality already, plus get free training materials and cases from the company. But already for $29.
WordPress Automatic Plugin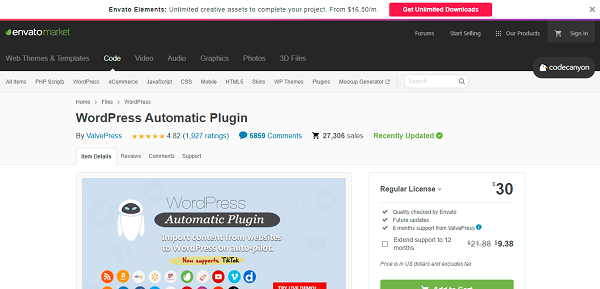 It was under such a simple and unpretentious name that this plugin came out. Well, but this name accurately reflects its essence. This utility allows you to automate not only the process of installing affiliate links and cloaking them, but also much more. Automatic publication of articles or videos, advertising posting, regular promotions or otherwise. Everything that basically comes to mind. In fact, if you seriously dig into the settings, the plugin really helps automate almost the entire process of actual blog management. It saves a lot of time if you are constantly working with new offers, and even from several sites at once.
Advantages:
autoposting of almost any materials;
cloaking of new affiliate links added on a schedule;
posting new products from trading platforms based on clogged keywords.
Disadvantages:
only basic cloaking settings;
does not allow grouping links by category.
Price: competitive, only $30 for a full license.
AdSanity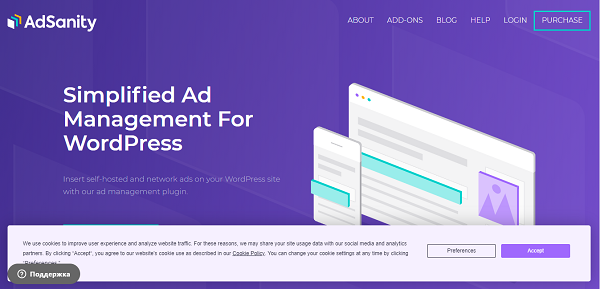 This software module will allow you to publish affiliate links immediately in an acceptable form. Not only cloaking the content, but also the design in the form of a banner located on the side or on top. Yes, such a system will not work for native advertising or advertising posts. But if you do not plan to promote the product with articles, but just want partner links to be published and designed yourself against the background, and you are just engaged in blog promotion – this is your option.
Advantages of AdSanity:
simplifying the placement of affiliate links;
there is no need to choose a creative and format every time.
Disadvantages:
only banners are used;
only two placements;
cloaking adapts links only according to its own algorithm, you don't write everything you want inside the address.
Price: $49 for a general subscription without levels.
AAPro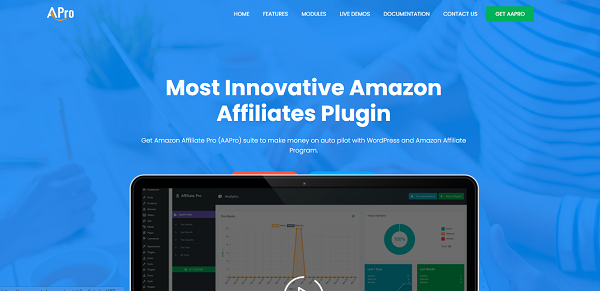 The developers are not talking about innovation unfounded. The plugin really has a serious technical base. But at the same time, it is again aimed solely at posting product cards. Cloaking is available here, but of a special nature. Your affiliate links with any affiliate program on Amazon automatically turn into product cards. Yes, it's really visually cute and attractive. And, in principle, adds status and authority to the blog. But you can't change the approach, just shorten the link – it's not about this plugin. And you understand that in this way cloaking will not help to identify bots or a certain category of users, it will only give a beautiful cover. But if that was the goal, then the choice is quite justified. Just remember that turning all links into product cards will create the illusion that this is not a blog, but an online store. And it is purely commercial in nature, which means that advertising may be biased.
Advantages of AApro:
beautiful visual design;
creating a unified product style;
good sales tracking.
Disadvantages:
limited settings;
narrowness of cloaking functions.
The best free WordPress plugins for cloaking affiliate links
There aren't many free options, but there are still plenty to choose from.
ThirstyAffiliates – free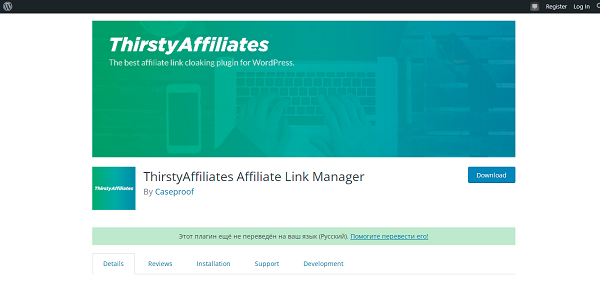 In fact, for cloaking affiliate links, this plugin for WordPress is a little worse than the paid version. However, here, first of all, the size of incoming sites is limited to a single one. Therefore, only for bloggers who run a specific site. Otherwise, the possibilities of hierarchical grouping remained, automation – too. But there is no autocorrect of links to new ones in the free version. Therefore, with a large site, the use is still not so convenient. And considering that the paid version for one site costs only $49, in fact, it may be worth it to fork out.
Advantages:
simple operation;
formation of groups.
Disadvantages:
the functionality of automatic replacement is limited;
it is not possible to manage more than one company.
AffiliateWP – Show Affiliate Coupons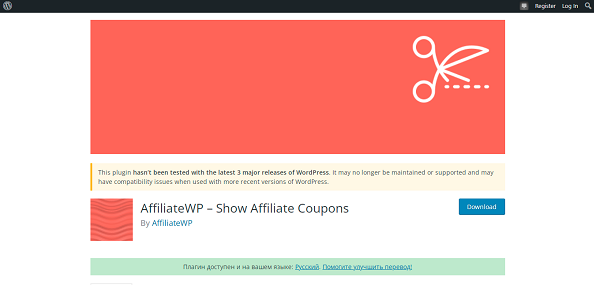 There are two nuances at once. The first one is quite visible on the screenshot, as you understand, the performance on new versions of WordPress is questionable. The second nuance is that without the main version of the paid plugin, this extension does not work. And the main plugin does not have a free trial period.
Therefore, we immediately identified the minuses, as for the pros, they are almost the same as the paid version. This is a powerful functionality, the ability to automatically configure the replacement of affiliate links, several types of cloaking, very simple grouping. In principle, if not for the initial «buts», this would be the best option.
Advantages of AffiliateWP – Show Affiliate Coupons:
fast and powerful plugin;
suitable for professionals;
not limited to one blog;
built-in tracking.
Disadvantages:
possible bugs on new versions of WordPress;
shareware, because it doesn't work without the premium version.
EasyAzon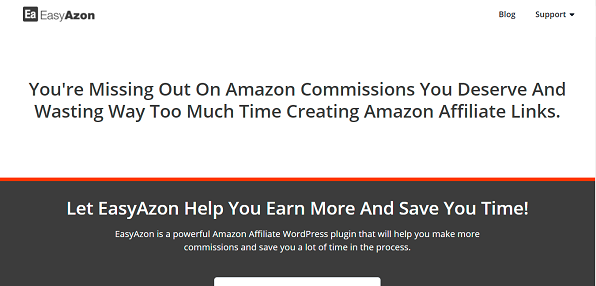 And here is finally a completely free plugin for WordPress (and not shareware). It allows you to hide long and unreadable links, turning them into something pleasant in appearance. In addition, the plugin speeds up the introduction of the links themselves, allows you to place and configure them en masse. Allows you to register the nofollow tag, hides the identifier and turns links into completely safe affiliate marketing tools for you. What is noteworthy is that the system works with traffic with any language affiliation. It would seem – great, what else is needed? But the fact is that this module is relevant only for Amazon. It won't work with any other type of affiliate links. However, for Amazon itself, this is an excellent solution, because the plugin allows you to connect in a simplified mode to any partner program of the project.
Advantages of EasyAzon:
an elementary and intuitive plugin;
allows you to massively add links to the project;
simply and quickly produces cloaking.
Minuses:
it has no additional or gray cloaking functions;
works only with partner links from Amazon;
it will not replace a full-fledged system for the formation of an advertising campaign in affiliate marketing;
will not give a chance to use any tool that is not approved by Amazon. Including hiding the destination address.
WooCommerce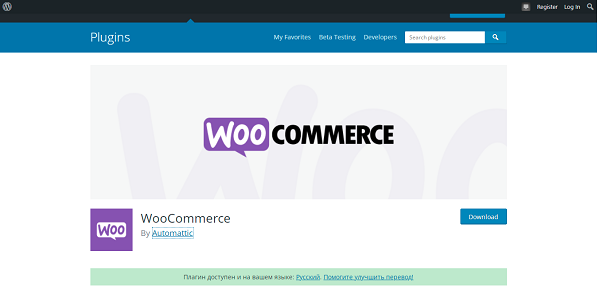 An excellent plugin, the main features of which are aimed at optimizing the online store. But, in addition, it also has auxiliary functions, one of which is cloaking affiliate links on WordPress. Yes, this is not a specialized software module, but it remains useful. Especially in those cases, if you fill the blog with a lot of affiliate links, literally turning it into an improvised online store.
Advantages of WooCommerce:
many functions;
non-standard features.
Disadvantages:
sharpened for online shopping;
not very easy to learn for beginners.
WordPress Affiliate Manager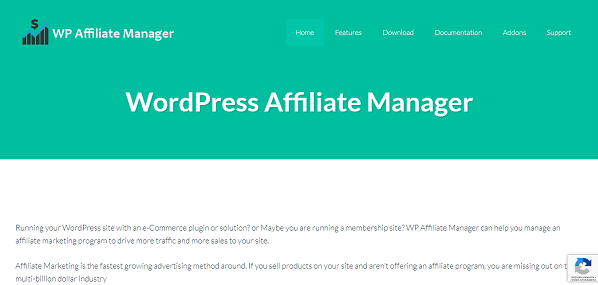 A kind of plugin designed primarily for building a large referral network. With its help, you can easily control multi-level referral chains, en masse attract new referrals to redirect to partner sites. In fact, the plugin is not too relevant for e-commerce, but for other verticals, where the processing of leads goes according to the SOI/DOI system, this is one of the best options. And it also allows you to mask your affiliate links.
Advantages of WordPress Affiliate Manager:
easy to manage;
ideal for a large referral program;
allows you to group and track referral statistics.
Disadvantages:
not very suitable for e-commerce;
there are few ways to manage links directly.
Auto Affiliate Links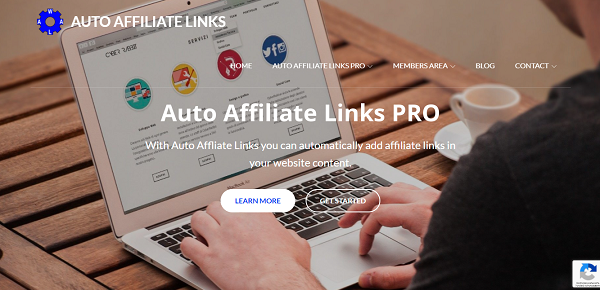 A multifunctional plugin for WordPress that helps you work specifically with affiliate links. Among the functions: distribution and automatic addition of affiliate links, pinning links to certain keywords. Automatic cloaking of links for irrelevant users who did not come for a designated key query. As well as setting tags on links, including nofollow. And, what's nice, all the described parameters are used not only for Amazon, but for almost all the most relevant trading platforms on the global network. Yes, and with referral programs using this software module, it will work in principle.
Advantages of Auto Affiliate Links:
almost all the functions of the WordPress plugin are aimed directly at working with affiliate links;
completely eliminates manual work with the right settings;
distributes user groups, showing each of them the most relevant links;
allows you to set the maximum limits of affiliate links on the page. And beyond this limit, the system will not make new links automatically, only if you do it manually.
Disadvantages:
there are almost no additional spheres to use;
cloaking itself has limited functions, does not allow you to identify the transitions of bots;
there is no built-in tracking for collecting analytical information.
Pretty Links – Lite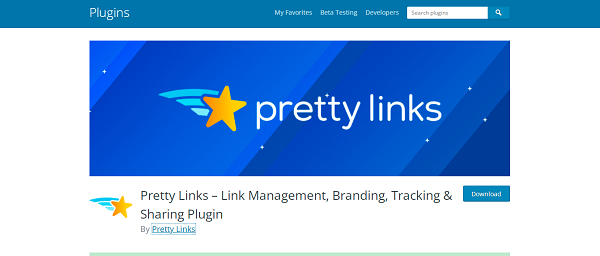 The free version of this plugin is more like an introductory version than a simplified one. Already not the widest functionality has been reduced to a minimum. Yes, the cloaking process itself has not changed, but the other parameters have been almost completely removed. Therefore, this module is purely for one purpose. If you are fully engaged in affiliate marketing, then the plugin will still have to be supplemented with other technical tools. And if you advertise literally a couple of links with a permanent partner, then in principle the Lite version of Pretty Links will suit you.
Advantages:
a very easy to learn plugin;
fast and intuitive.
Disadvantages:
few functions;
unable to cover all the needs of a blogger in the field of affiliate marketing.
Alternative methods of cloaking affiliate links
WordPress plugins greatly simplify the work of a modern webmaster. But apart from them, there are also purely technical methods that, in principle, can also demonstrate a similar result. In our case, this is cloaking of affiliate links. However, we will make a reservation right away that in most cases the designated methods do not solve all the tasks that we assign to cloaking (we described the reasons for cloaking above), and also do not have any auxiliary functions. Therefore, it is recommended to use plugins for cloaking affiliate links.
As for alternative methods, here are some of them:
The easiest way: to hide the link behind the anchor. And the user will only see the descriptive text, but not the address itself. Yes, technically it's super easy. But the effectiveness of such cloaking is questionable. The link has not gone anywhere, so the blogger's ID remains open to scammers, and the address itself is visible when you hover the mouse over the anchor.
The second option: a regular PHP redirect. For this task we will need a file link.php where we will make an entry of the form: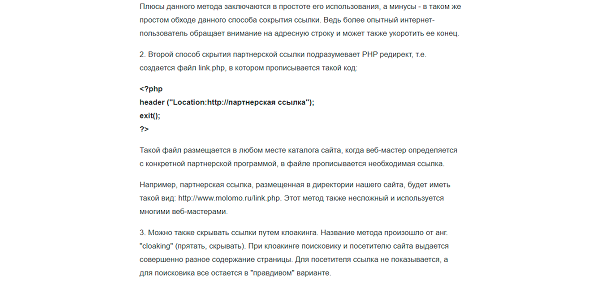 We place the resulting file on any page where the future link will come from. As soon as the affiliate program is activated, we just need to register the name in the specified place. But, again, the method is not too reliable. Plus, we will have to manually fill in each link, which is very tedious with large volumes of reference mass.
The third option: not to use plugins, but full-fledged cloaking services. And here, too, there are several questions. The main thing is why do we need such a service if we are only going to shorten the appearance of links and hide the identifier? In fact, such services do not cost much more than WordPress plugins, which we described above in the paid section. But plugins provide a lot of other useful functions, but cloaking services will become necessary only if we are going to redirect bots to fake sources, distribute links between different categories of traffic, and so on.
Moreover, most of the competencies of such services lie in the gray zone and the main trading platforms do not favor them, the risk of sanctions increases.
Video on how to hide affiliate links in the WP
Conclusion
Cloaking affiliate links on WordPress, as practice shows – is an effective way to increase the final conversion. And if you are engaged in affiliate marketing seriously and professionally, then the cost of plugins is easily repelled. And half of them are completely free. The main thing to remember is that cloaking draws a lot of interesting perspectives in front of the webmaster. And many of them are banned by the services. Of course, each affiliate sets the rules for himself, the line of gray or black methods, for which he does not intend to intercede. But it's worth remembering that your site, which you may have been promoting for years, is at stake. Sometimes it's better not to take risks.
The usual white methods of cloaking affiliate links are absolutely a prerequisite for a successful affiliate blogger. Otherwise, you run the risk of disappointing customers and scammers to please.