Affiliate marketing is an effective way to earn money on the sale of goods or services, while without the presence of both the first and the second. Among uninitiated netizens who have a very distorted understanding of the mechanism of affiliate marketing, there is an opinion that affiliates are something like parasites who profit from someone else's product. In reality, the situation is completely different. An affiliate is an analyst, marketer, salesperson and advertising agent in one person. He does all the work to promote a product or service, finds a suitable target audience, brings the advantages of the product to it, using the capabilities of his site or third-party platforms. In fact, it is the seller who appears here in the form of the «lazy side», and the lion's share of the work lies with the affiliate.
Therefore, affiliate marketing is hard and painstaking work. But at the same time very highly paid, and also having no thresholds for entry. In this review, we will cover extensively all the nuances of studying this field of activity for beginners. And after reading this guide, you will not only have a clear understanding of what affiliate marketing is, but you will also know exactly what you need to do in order to master this profession in the shortest possible time. A complete and detailed algorithm of actions is waiting for you.
Relevance of affiliate marketing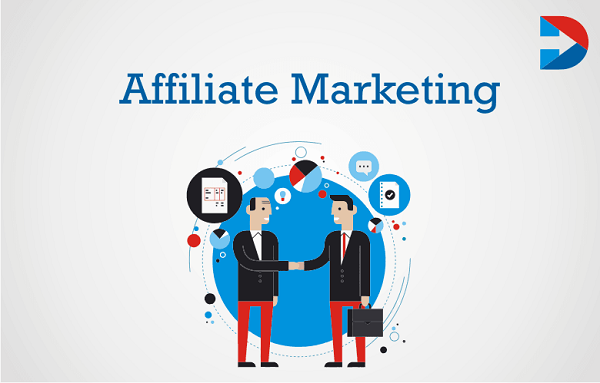 Initially, let's figure it out, is it worth doing this at all? Yes, large revenues in the field of affiliate marketing are widely known and actively demonstrated in the global network. Bloggers who receive $50-100 thousand monthly on the implementation of other people's offers are not news. And affiliates using external traffic sources earn no less (and maybe more). But let's be honest, this is practically the top of the sphere, the best and most successful professionals. It is possible to earn $100 thousand a month, but it is extremely difficult. On average, professionals raise the amount more modestly by 10-12 times, but this is also an extremely tangible income.
So we will consider affiliate marketing not from the point of view of potential income, which depends solely on the affiliate itself, but in principle we will look at the value of this market segment:
according to research conducted by the Web Market Support agency, 81% of all significant brands use affiliate marketing services. And this figure is progressing annually, so the potential turnover of the segment will only increase;
during the pandemic, the segment grew by 71%. Yes, this is a temporary surge, but it will fade gradually. And the annual growth in the cost of the segment before the pandemic reached 10%;
at the moment, brands spend an average of 62% more on affiliate marketing than on traditional;
Since 2017, Amazon has increased affiliate commissions up to 10%. This fact gave an impetus to other sites. A visual demonstration of the effectiveness of the work of affiliate marketing affiliates forces the sites to attract them to promote products, respectively, the main way of competition is an increase in the remuneration rate.
What is the conclusion from this data? Affiliate marketing is not only a profitable segment of the market at the moment, it continues to grow and develop annually. Therefore, for many beginners, this area can become an activity for the rest of their lives. The segment will definitely not lose its relevance in the future, at least not too significantly.
Affiliate marketing and the mechanism of its work
So, the segment is very profitable. But what exactly does he represent himself? Yes, I think every user reading this article has basic ideas about the essence of this activity. But often this is scattered or fragmentary information, let's sort everything out.
The standard definition of affiliate marketing is the process of promoting goods or services on the global network. But it does not reflect the whole essence of this phenomenon. An important point of affiliate marketing is that the affiliate does not owe anything to the seller, the customer. He is a free agent who can sell a thousand of his goods, or he may not sell a single one. And there will be no complaints against him. The same applies to investments, the affiliate does not pay for the affiliate program, all of them are absolutely free. He invests his financial resources in promotion if he uses any advertising platforms. Or he does not invest, promoting the offer through his own sources, websites. The seller himself, according to the rules of the contract, may well limit it by sources, for example, many companies do not want to get involved with traffic received through mailing. Some do not accept traffic from social networks, others, on the contrary, do not support traffic from their own sources, preferring channels from large sites.
The main factor is that the affiliate also chooses which offers are suitable for him. It compares conditions, acceptable sources, and more importantly, reward models.
Many newcomers believe that buying goods or paying for services is the only action lead that will be followed by commissions. This is not quite true. Yes, such conditions are true for e-commerce, but there are a lot of other verticals. And many offers in them pay for registration (regular and with confirmation of SOI/DOI data), making a deposit, subscribing, downloading an application, filling out a questionnaire form, and so on. It all depends on the purpose of the offer.
Therefore, in affiliate marketing each partner chooses for himself favorable conditions, decides whether to buy advertising, create a website or do affiliate marketing without investment. To understand more precisely how the offers may differ from each other, you can look through this list (available after registration).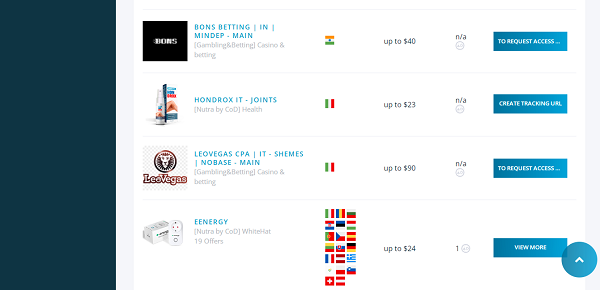 The main sales chain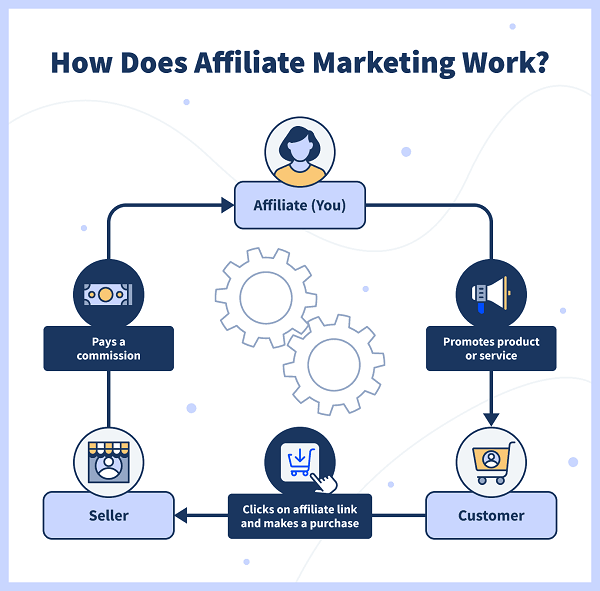 The mechanism of affiliate marketing is quite simple. We have 3 main categories of participants. Seller-affiliate-buyer. The first one provides an offer, the second one promotes it and actually sells it, the third one buys it. At the same time, the chain itself may include more participants, but not more categories. There may be several affiliates, as well as sellers or buyers. The chain can increase to the following level: manufacturer-seller on the spot-retailer-affiliate-affiliate 2-reseller-buyer. But in fact, the task of the affiliate itself does not change from this. Only one aspect, knowing the final chain, you know exactly which target audience you need to work with. And this is the most important skill in affiliate marketing – the ability to accurately determine the target audience. After all, by addressing your advertising to the group that is most interested in this offer, you significantly reduce expenses and increase margins.
Affiliate marketing platforms, traffic sources
Now we need to understand exactly where we will take traffic, which will bring the coveted reward. Users who will be interested in the offer and become paid leads.
And this is perhaps the key choice that you have to make. The traffic source is the affiliate's specialization. And in the conditions of one sphere, depending on the source of traffic, affiliates can engage in completely different activities, have a different set of hard skills, and the level of competence.
Therefore, before you start learning affiliate marketing, you definitely need to choose your segment, your platform. You can say your role, which you will play in this area of business. It is worth understanding that there are paid and free sources.
So, let's go through the list:
Own sources. This is the only shareware way to get traffic and, in principle, affiliate marketing. But exactly what is conditional. After all, the costs of promoting a web resource are often serious. If you want to pour a normal flow on offers, then you need to collect the appropriate attendance. Many affiliates use personal blogs for this purpose. But without at least 1-2 thousand unique visitors per day, using your site exclusively for work will not work. If you are going to earn normal money, of course. In principle, if you already have your own resource, then the choice is excellent. Especially if it is already seriously promoted. But here another point arises – the subject. It is extremely illogical to promote a gambling offer or hunting goods on a website for young mothers, isn't it? Therefore, one's own source always partially restricts the entire future sphere of activity. But if you genuinely like her, then why not. And by the way, affiliate marketing is not the only way to monetize your site or blog;
Social network. The most popular option for today. Instagram Facebook, Twitter, Pinterest and other major platforms provide a lot of opportunities for promotion. This includes paid advertising of the service, and the promotion of your own account to drain traffic (as in the previous paragraph), and the purchase of paid native ads from influencers. There are many ways, so completely different specialists can work in the conditions of one social network. For example, a marketer who works exclusively with the advertising system of the site and a blogger who promotes offers through personal recommendations for his audience. Read about Facebook affiliate marketing here, and about Instagram here;
Advertising networks. Their capabilities are already. These sites allow you to automatically place your ads on thousands and even tens of thousands of different sites. And here the skill of analytics and targeting becomes the key;
Mailing. Already a little outdated model, but still actively used. Mailing can be done both by e-mail and on smartphones, in direct on various sites, in the same social networks. Investments here are mainly in software that will automate the process. But remember that most of the platforms do not welcome this method and actively ban it for it.
Niche affiliate marketing
Having identified your future traffic source, you need to make one more choice before proceeding to direct training. You need to decide in which niche you will continue to work. Conditionally, affiliate marketing is divided into a lot of verticals: e-commerce, merchandise, gambling, nutra, dating, installations, gaming. Many modern offers are characterized by non-traditional verticals, such as goods for various fields (sports, tourism, home, garden), music and movies, fitness, beauty and health. There is also a whole layer of the cryptocurrency vertical. These are separate categories for each type of cryptocurrency, separately for ICO. As well as a lot of financial programs: loans, Forex, binary options and others.
And why, you ask, not embrace all this diversity? Why limit yourself? The more verticals, the more finicky you can choose an offer, isn't that right?
On the one hand, yes. But modern affiliate marketing affiliates do not work with more than 3-4 verticals. And usually these are related species. After all, each new niche requires close study, analysis of the main mechanics, the target audience. You need to find out the portrait of a potential client, understand what kind of selling chips he is on, where to look for him. And also for each vertical there are often their own suitable GEO, age categories and even daily periods of activity. Therefore, it is simply impossible to adapt to all niches at once. You won't become an expert in any of them with this approach. Start with 1-2 and gradually expand your portfolio.
When choosing a niche, pay attention to:
category complexity;
profitability of the category;
potential GEO;
options for promotion of offers;
your personal interests and preferences;
your current competencies in a particular niche.
If you stopped just at the stage of choosing a niche, here is an excellent guide and a list of all existing verticals in affiliate marketing at the moment. And with all the nuances, advantages and disadvantages. And this article is all about the best programs for beginner arbitrageurs. There is also an overview of the most profitable niches for affiliate marketing.
Partner marketing training algorithm
Here you have fully defined your goal, your role in this business. You know how you will search for traffic and in which niche to work. It's time to start learning already.
Next, I present the full algorithm of actions step by step. Let's clarify right away that this is not the only true guide. If you feel that you can skip some stages or stay on them longer – do it. If you feel that you are not satisfied with the sequence, change it for yourself. The main thing in learning affiliate marketing is your comfort. If you are comfortable with the training plan, it will be the most effective. Learn not by force, but with pleasure.
Literature for teaching affiliate marketing
The book format of information presentation is infinitely convenient. Unlike videos, it does not force you to adjust to the pace of the teacher, the reader remains in his own. He systematically absorbs information layers, stops where he needs to stay longer, reads something «diagonally», if in general terms he is already familiar with the chapter.
The advantages of books on the basic level of affiliate marketing are that they systematically reveal one point of view, one guide. Thoughts will not be duplicated (if the author knows his business), a new topic is given only when all the information prerequisites for it have already been disclosed.
Yes, it is not necessary to focus your attention only on the textbook book. While you are getting to know her, it is quite possible to watch your favorite educational blogs and YouTube videos in parallel between reading. But at the initial stage at least one full-fledged textbook from one author should take place.
But it is important to understand that almost no one needs to study a ton of basic literature. That is, almost all books for beginners are identical in content. Yes, some authors of partner marketing materials reveal the essence better, learning is easier with them. Others give more practical examples, others are strong in analogies. But at the same time, 80% of the information will be the same. Therefore, it is enough to select 1-2, at least 3 authors, no more. Otherwise, you will pour from empty to empty.
But my personal recommendation is to familiarize yourself with the list of fundamental terms before starting reading. The authors do not always give them, and many reveal the essence only in one segment, where terms from neighboring ones are simply not relevant. And in order to always understand exactly what is being discussed, it is better to start by going through the list of definitions. Not huge lists, but 2-3 dozen of the most key ones. You can always Google the rest if you need it.
In this review, we will not focus too much on the tops. Let's give narrowed options. If you want to dwell on this topic in more detail, here is a large review of the training literature on affiliate marketing.
The Complete Guide to Affiliate Marketing on the Web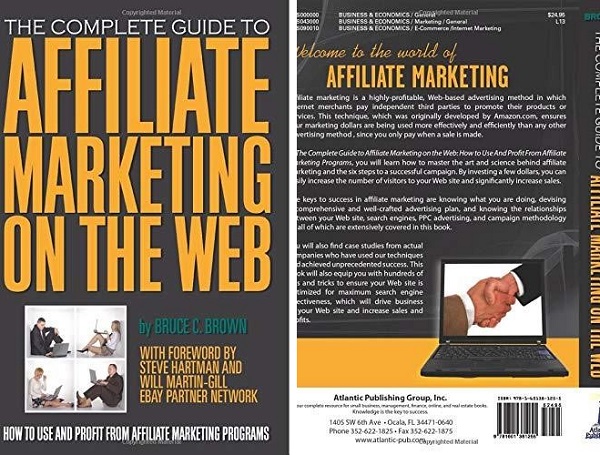 The book was written in 2008, but at the same time it focuses on the basic methods, techniques that have remained unchanged to this day. And he perfectly understands the very principle of affiliate marketing, how an affiliate should think, how to build his schedule, where to direct the main forces, and so on.
Considering that Bruce and Brown were engaged in a lot of areas of digital marketing in general before direct affiliate marketing, he knows the situation from all angles. How contextual advertising works, what profit the newsletter has, what is better to sell, goods or services. Is e-commerce different from small goods? Therefore, the work is simply full of various comparisons that help to perfectly understand the very essence of the entire industry. It is especially convenient if you have not fully decided on the niche and the method of affiliate marketing. This book will definitely help you make the final choice.
Affiliate Marketing: Secrets by Chandler Wright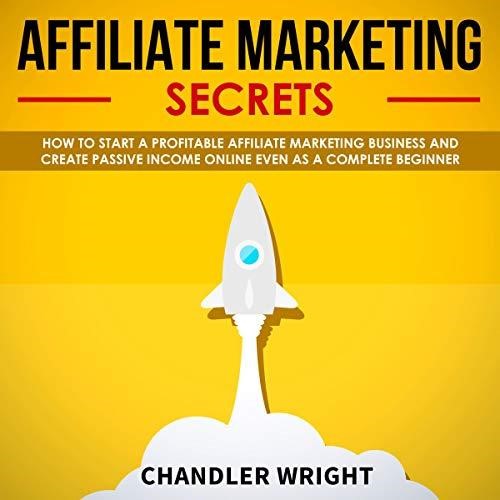 Chandler Right wrote this piece in 2019. And this is one of the most relevant textbooks today. If the previous author took an excellent report of the most general and unchangeable principles of affiliate marketing, then in this book you will be able to walk through new and relevant ideas, get acquainted with trends, understand how affiliate marketing works now. After all, in 2008, of course, the principles of promotion remained identical, but the platforms in the TOP were completely different.
Plus, Chandler focuses exclusively on beginners. He deliberately does not take complex matters, does not delve into the wilds of analysis, does not explain the advantages of various types of advanced software. He tries to speak as simple a language as possible, gradually complicating it to the epilogue of the book. Therefore, the future affiliate literally grows in competencies along with the book, the closer it is to completion, the more professional the narration becomes. And it's worth noting that the Right version is much cheaper, now the Kindle version costs less than $5.
Affiliate Marketing for Dummies by Ted Sudol and Paul Mladjenovic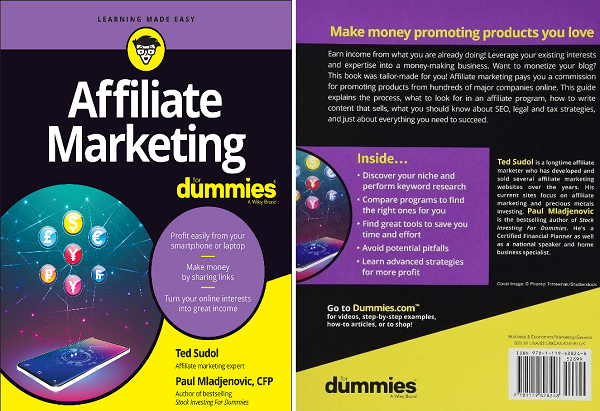 Where without a guide for «dummies». This style of name has become so «talking» that it is used everywhere. And the authors did not fail to use it. However, in their version, this guide is for «dummies», from scratch. But it is so detailed that it raises practically no questions. In fact, this is one of the best basic guides for affiliate marketing. And learning with him is easy and comfortable, although without a complex language, but still serious matters cling to the edge of the book. Laconically, to the point, without too much water.
Moreover, the year of the book's release is also 2019, so current techniques are also considered here. And what is noteworthy, with a detailed manual for choosing a specific offer, niche, product. Therefore, again, if you have not yet defined your area of affiliate marketing, then they will clearly help you with this. The disadvantages can only be attributed to the high cost, almost $20 for the Kindle version. But this book is worth the money, because it saves a lot of time. However, keep in mind that almost all the attention of the authors is paid to e-commerce. Other verticals and variants of offers are almost not affected. That is, the categories within e-commerce are sorted out here, but the segments adjacent to it are not taken.
Blogs and channels
That YouTube channels (or even on another platform, it's true – it's rare), that blogs (both personal and various companies) often contain full-fledged guides for training in affiliate marketing. Not just individual videos or articles, but whole cycles that compiled together may well become a real textbook.
But in my opinion, these two branches of affiliate marketing training complement, but do not replace, a full-fledged book textbook. They have to keep up. Therefore, it is recommended that you choose one of the basic guides, and study 1-2 channels and a couple of blogs in parallel with it.
The main differences between this method of obtaining information is that channels and blogs not only perform an educational function, but also purely informative. They talk about new features, additional methods and trends that have become relevant recently. And most importantly – news from the world of affiliate marketing. Just recently, the Reels feed was launched on Instagram. This is a tool that is almost completely copied from the similar Tik Tok. And already now affiliates are using this novelty to promote offers, testing the effectiveness and cost per click, comparing it with the usual methods of Instagram stories and the basic feed. And you wouldn't have read such information in the book, obviously. Therefore, blogs and channels are an important addition not only at the initial training stage, but also in principle. Every affiliate should keep their finger on the pulse.
Among the blogs we can recommend our own. It focuses not only on news, we also have a full-fledged training section with a whole scattering of articles for various levels of competence. And as a suitable YouTube channel, you can consider the following options.
Affiliate marketing dude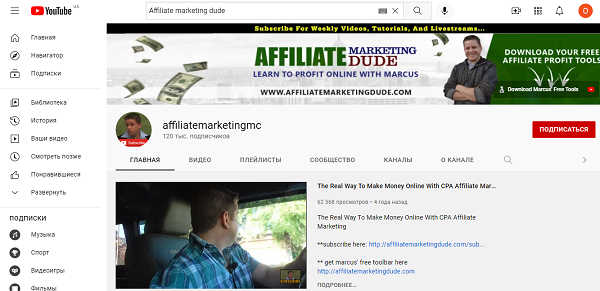 Address – youtube.com/user/affiliatemarketingmc/videos. The main advantage of this channel can be called the extensive competence of the creator. He has been engaged in digital marketing in various fields for more than 16 years, so he managed not only to study all the subtleties, but also formed his own opinion on each issue. And often it makes you look at banal marketing techniques from a new point of view. Plus, the information is presented with a consistently good sense of humor. As well as a lot of visual demonstrations, links to sources (the author does not like to be unfounded), an easy and understandable language even for beginners.
In principle, the channel is aimed mainly at beginners. But, remarkably, there is a whole series of videos for experienced affiliates. Most of the video is an analysis of various cases, both author's and others'. But there is also a full-fledged tutorial from several videos.
Deadbeat Super Affiliate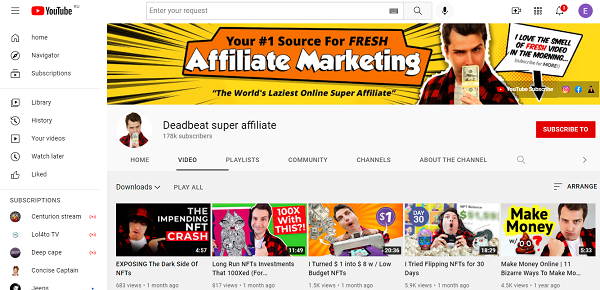 A set of applied chips, interesting techniques and cases. Moreover, the author mainly focuses on methods that, in principle, do not require special competencies. Reviews seasonal offers, which are already winning by themselves, the main thing is to get involved in time. Or going through new tactics. For beginners – a good choice, because all the videos are aimed at beginners. But it is worth starting to study the channel when you have already met with the foundations. After all, there are no strictly teaching the basics of commercials here. Only applied tips. And yes, the author does not stop at one vertical. This is the very example of a jack-of-all-trades master who knows how to do a little of everything. But in his case, the author just very accurately chooses the offers themselves and the time to enter the market. Therefore, particularly serious competencies in the vertical itself are not required. Roughly speaking, you don't need to be the best shopaholic to buy a discounted product on Black Friday.
Jays Marketing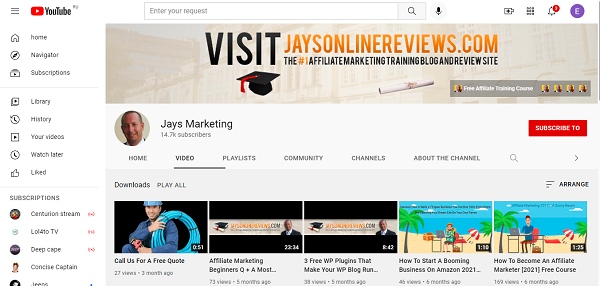 Not as popular a channel as the previous two. And the videos on it come out quite rarely. And the channel itself is not too professional. The author is strong in marketing, but not a guru in video processing. But, in contrast, we can say that over the 12 years of the channel's existence, he has collected a lot of purely applied videos. How to work with this or that software for beginners, how to launch your advertising campaign on this or that platform, how to check the readings of trackers. Everything is step-by-step, detailed and clear. Let's just say it's not too exciting, but it's very informative.
Especially nice for beginners, because the author does not just tell you how to approach, say, targeting settings for TIER 3 offers. No, it literally shows where to poke the mouse and how to scroll to the desired option. And a beginner will definitely appreciate it.
Learning strategies and tactics
So, we have made our first step. We got acquainted with the base, a couple of books and a fully viewed channel with a blog read to the end were left behind. Now we can move on, already understanding how affiliate marketing works, clearly presenting our niche and potential methods for promotion of offers.
Let's move on to the strategy. Under this term, it is not necessary to understand some kind of global installation for all times. In fact, an affiliate marketing strategy is an analogue of a trading strategy on any financial exchange. It includes the type of the offer category (not the vertical, but the view). Let's say the vertical is e-commerce, the category is branded items. But the view, these are products that received a discount, because this is the rest of the collection of last season, for example. Or, on the contrary, goods that are now going at an expensive price, but it is repelled by the fact that the products are now at the peak of the trend. Or closer to our example, vertical – e-commerce, category ― books, type ― books on affiliate marketing.
In addition to the type of offers, the strategy includes options for advertising campaigns, approximate budgets for each of them, groups of target audiences. But tactics are a narrow concept within a strategy. For example, the purchase of clicks on the working daily period or the narrowing of GEO, excluding even relevant zones. You will get a strong increase in lead generation as a percentage (if you excluded the zones with the lowest indicators after the test), but an increase in the CPC and a decrease in the total traffic volume.
Strategies and tactics need calculations and analysis, so they should be formed only after you have received the basic foundation. Creating them in 90% of cases is a compilation of other people's developments. There is no point in reinventing the bicycle if competitors have already invented the car. At the same time, it is also not worth copying the idea, it is better to create your own on the basis of others. After all, even buying a reference Ferrari, you will not feel its effectiveness off-road. And your conditions are not the conditions of your competitors.
Case studies
Having already understood how everything works, having started building your own strategy, you should constantly turn to practical examples. Case studies are one of the best tools for learning affiliate marketing. You will constantly see how the decisions of the affiliates lead them to success or failure. And you will begin to notice small nuances that are usually not disclosed in textbooks. Understand the cost of a mistake. For example, in the case, the affiliate incorrectly set the settings for interests and lost an extra $1000 in a couple of days. Or the affiliate placed a banner on his website, but chose the placement incorrectly, as a result, after changing the position, the profit doubled. This means that every day, while the banner was in the old place, the affiliate lost 50% of the margin.
Read the cases constantly, develop such a habit. And over time, you will notice that you can predict the outcome of an advertising campaign before you reach the end point of the drain period.
Testing
This is a preliminary stage before the present work. Do not confuse it with the usual text of an advertising campaign. It is known that each AC must be tested at least for 1-2 days or in the amount of 2-3 lead values in order to work out all the settings. To understand whether the target audience is correctly defined, whether the GEO, creative, and so on are correctly selected. Sometimes it turns out that the platform itself was determined unsuccessfully.
But we are talking about a global test of the strategy itself, tactics, niche and method of affiliate marketing. In the process of learning according to the algorithm outlined above, you will already form your strategy and tactics, you will know the niche and choose the marketing method. But before you pour in the budget, you need to test everything.
To do this, we use a trial budget, limiting a maximum of 5% of the total. And just launch our advertising campaign. Let's see how she behaves, what will be the level of response, CTR. It is also important to study the behavioral factor of how users reacted to your ads. And then start analyzing the information received.
The analysis process itself differs depending on the method. For example, working through a social network, say, Tik Tok, you are trying to understand whether you have chosen the targeting settings correctly, whether you have correctly determined the range of the click rate. You look at geographical zones, where more customers came from, where less. In which zones there is a good CTR, and in which at the same time lead generation is higher. But if you work through your source, then the analysis changes. You will not be able to choose targeting settings, do not change the GEO or age of a potential lead, you will work with what is there. Therefore, you should optimize the placement, the format of advertising (it can change it to native, for example), perhaps you will have thoughts for future SEO techniques. Maybe you need to optimize the texts for other keys so that a different audience comes to you, more suitable for conversion.
Accordingly, the methods of analysis will change, but you need to understand its principles. Always try to find weak points, like on a sales funnel. Only here it is more difficult to find problems, because this is not a chain of actions, but their totality. And as soon as you find a weak spot, optimize it, change it or delete it.
Practice
Having finished with the test, you can safely proceed to the formation of your first advertising campaign. I just want to remind you about money management. This is an extremely important point that many beginners do not take into account. And without exaggeration, 30% of novice affiliates who went into the negative and quit the profession – made a mistake in money management.
The main principles are as follows:
Never invest more than 50% of the total budget in one AC. Moreover, such a large percentage is acceptable only for the very start, if you simply do not have accumulated funds. If you have a sizeable budget, divide it into 10 equal parts. And don 't invest more 10%;
Do not invest funds that you are afraid of losing. This principle came to us from Forex traders, but it also works here;
Always keep at hand the means to scale the campaign. If you notice a high profit, immediately increase your daily budgets;
Form a budget for the AC only based on the potential size of your commissions. Some affiliates forget how much they are paid for leads. And as a result, they simply spend more on the lead in a fanatical pursuit of clicks than it is worth.