Just taking your first steps in affiliate marketing? You are probably completely overwhelmed by the avalanche of new information. But you need to start somewhere. Even if you've set up your website perfectly, make cool video content and attract thousands or hundreds of thousands of users every day, it won't make a dime just on its own. That's why one of your first tasks is to choose the right affiliate program.
Traffic needs to be monetized by selling your products or promoting someone else's, for example, through advertising. But affiliate marketing is most effective when monetizing a website.
Affiliate programs for 2021 beginners
Affiliate marketing is a profitable line of online business. No investment or big team needed. You don't even need to have your own product. At the same time, the potential income is several times higher than from regular ads and ad networks or from performing tasks (freelance). Income is not tied to time spent. In one hour, you can earn both a dollar and several thousand.
Now the main question is: Where to get started, who to work with in affiliate marketing? An incorrectly chosen affiliate program can slow down development, in fact, steal several months of your time. After 1-2 payouts all you have left is a dead silence and days on end at the computer without any sort of results. But if you guessed right, you can earn money from the first hours after the launch of the site, even if it is still partly in development.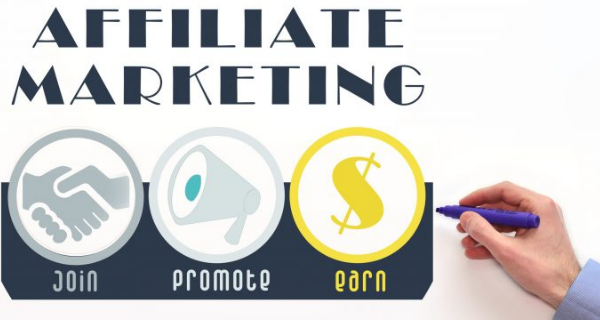 Today we'll talk about how to choose an affiliate program. This is the Leadbit team with you and this is a rating of the best affiliate programs for beginners.
Beginner tips
First, a few tips for novice webmasters and affiliates. The purpose of these recommendations is to help you choose the affiliate program that suits your audience best. Let's get started.
Tip 1 – content first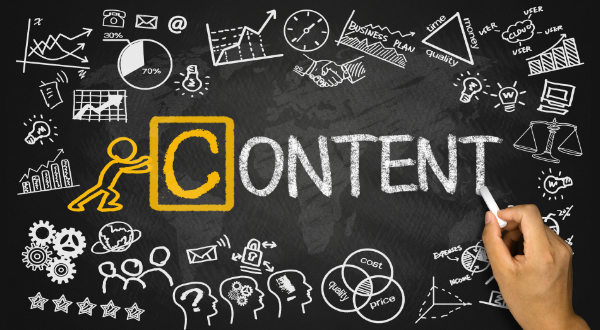 Before applying for an affiliate program, make some cool content. This tip is relevant not only for webmasters and bloggers but also affiliates (you can prepare several cases with creatives). For example, some programs won't even consider your application unless your Youtube channel, blog or website has at least 1,000 subscribers/regular visitors. And even if there is no such condition, you should still have a recognizable style and and traffic growing at a steady pace.
The main advice is to work on your content for at least a couple of months, see how the audience interacts with it. If there is progress, sign up with an affiliate program.
If you apply immediately after creating a blog and you are refused (which is very likely), it will be very difficult to get approval the second time.
Tip 2 – be patient
About 80% of aspiring bloggers quit before they make their first $100. Remember, affiliate marketing is a long-term game. It may take six to twelve months for you to see decent results.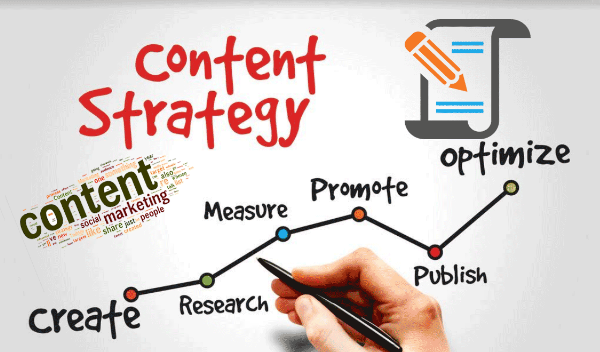 Although your first revenue waves should come in the first weeks. If there aren't even minor changes, then you are doing something wrong and you need to change your approach. But that DOESN'T MEAN that you won't succeed.
Tip 3 – choose the right GEO
You need to highlight the audience to which you are promoting the affiliate product. After all, you wouldn't try to sell the head of a large bank cheap jewelry, or vice versa – Lamborghinis to a person who lives on welfare. The same goes for the Internet.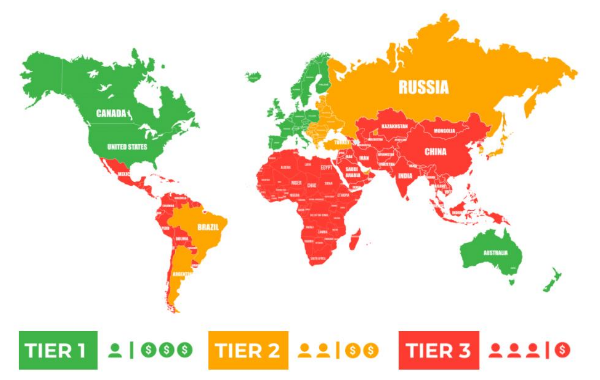 If you are an affiliate marketer, study in advance the places each particular affiliate program will be in demand. Make a portrait of your potential target audience (age, sex), find out what attracts them more (shocking headlines or vice versa, well-reasoned evidence). Based on this recon info, design creatives, set up targeting when launching your ad campaign.
It is sometimes more reasonable for a blogger and webmaster to focus on a specific country. For example, a blog in English can be targeted at the US – the country with the largest market, but also the most fierce competition. An alternative – Australia, Canada or even India. Here, the competition isn't as stiff, the market essentially untapped. And the potential is pretty high.
Tip 4 – focus not on the payout sizes but the niche
One of the biggest mistakes beginner bloggers make is that they promote the affiliate program with the highest payouts. For example, mom-bloggers that talk about raising kids, handling pregnancies or  the postpartum period start advertising BlueHost hosting or the 1Xbet bookmaker office. These programs pay nicely and don't cheat their publishers. But just think about it: will your target audience be interested in such services?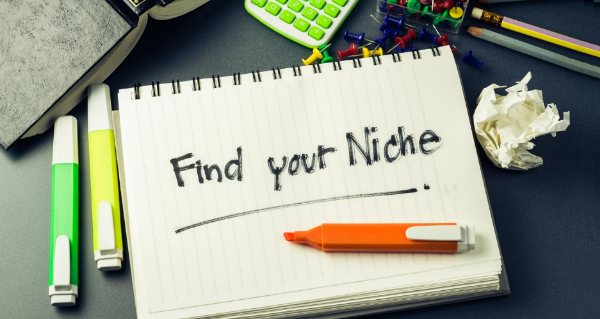 Payout size is not the most important factor, even if you are choosing between two offers from the same niche. The crucial part is that it will interest your audience. The promoted service or product must be close to the user. For example, a mommy can talk about an electronic thermometer and advertise it, even if the payout is a few cents. If it's a cool and inexpensive device, most readers will want to buy it and five or ten cents will turn into 500 bucks. While no one will use hosting and you will not receive a single promised 80 bucks per client.
Another example. That same website for young moms. You're choosing between promoting a Louis Vuitton bag or an inexpensive brand (Next, H&M). In the first case, the payments will be exorbitant, perhaps as much as $300 or $400. But will your readers actually buy it? It is often better to advertise for $5, but actually get the payout, and many times at that. But if your blog is about fashion or luxury accessories, then the result will be the opposite – mass market goods won't be enough for your readers.
Tip 5 – try out different payout models
We won't go into too much detail, we have a separate article all about that. There are several paid cooperation formats:
a fixed amount per sale  – cost per sale (CPS), sometimes cost per lead (CPL). You get a fixed amount, sometimes it is two or even 8 times the order price;
payment for each user that clicks the link or even just sees the ad (cost per click, cost per view);
cost per action (CPA): leaving an application, registering an account, installing an app (CPI), subscribing;
RevShare – a percentage of the profits made off the attracted client.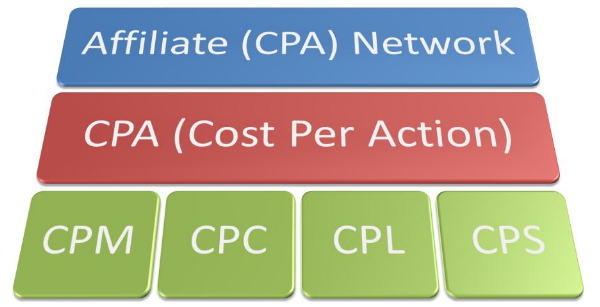 Often, you don't even need to choose, since the affiliate program only offers one model. For example, for nutra offers, it's CPS, for gambling – CPA (registration + deposit), for dating – for registering. But if possible, study statistics, conduct your own research: try one format, then another and then evaluate which is more profitable.
RevShare appears the most attractive since you get a lifetime passive income. But only if you have a guarantee that the affiliate program won't die out and the client will keep making purchases. You probably understand why most publishers offer a fixed reward, which in some verticals is 200, 300 and even 800% of the original order price.
More tips for affiliate marketing beginners here.
Affiliate marketing verticals
There are different affiliate marketing niches (or verticals). The most popular ones are:
Commodity affiliate programs (eCommerce) – promoting online stores and goods. This can be electronics, accessories,  быть электроника, аксессуары, (imitation) jewelry, clothes, equipment;
Nutra – health and beauty products: herbal tea, viagra, sports nutrition, dietary supplements;
Dating – websites where people look for long-term partners or one night stands. This also includes adult webcams, where girls undress in front of a camera for money;
Financial affiliate programs – there are white-hat (banking services, credit cards, investment funds, insurance) and gray-hat ones (forex and cryptocurrency trading, quick loans with insane interest rates);
Sweepstakes – various contests where random visitors can win a cool prize: "Subscribe and Win a new iPhone", "Win a trip"…;
Gambling – online casinos, slot machines, lotteries – and Betting – sports betting, totalizators;
Mobile content – downloading an app, game, antivirus. Payment per installation or installation + the user needs to pass the first couple of levels;
Traveling – hotel booking, ticket purchase, car rental. The niche is popular, offers high payouts.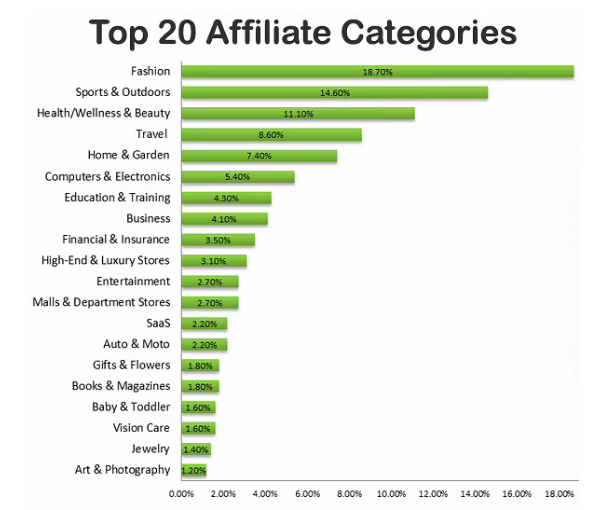 You can read more about profitable niches in this review.
What a good affiliate program should look like: things to pay attention to?
There are several key points for choosing a program.
Simplicity
If you're just taking your first steps in affiliate marketing, simplify your life. First of all, don't spread yourself too thin. It's better to work through a couple of offers, than try to make a buck on dozens.
The interface of the account the affiliate program gives you is no less important. Naturally, if the payouts are high and the niche matches the blog, your effort will pay off. But sometimes, in order to generate affiliate links and effectively manage a campaign, you're forced to go through all 7 circles of Hell and the only person who can theoretically make sense of it all is the hybrid of Doctor Strange and Stephen Hawking.
Contact
The link stopped working, traffic flatlines, payments stopped… Matters that need to be solved arise constantly. That's what managers are for. How competent the support service is and how easy it is to contact the operator is a decisive factor. After all, a technical failure can deprive you of your hard-earned money or of the potential profit that traffic could have brought.
Check the professional integrity of the support team in advance. Check out the reviews and chat with them in person. You can often tell whether a team is competent or not from their first answers to tough questions.
Commissions, payouts
Finances is the aspect where there's no room for conventionality. It's important you understand: how much the program pays, hen will you be able to get your money. Take into account the following factors:
Hold – how long applications are processed, it can be a couple of weeks, 30, 60 and even 90 days;
additional conditions – for example, many online casinos pay for traffic only if at least 30% of attracted gamblers make a deposit. The fewer the conditions, the easier it is to work with an affiliate program;
Ways to withdraw money – if you cannot withdraw your money or you have to pay a 10-20% charge, you should ask yourself whether it's even worth the effort. Check in advance what payment systems the affiliate program uses;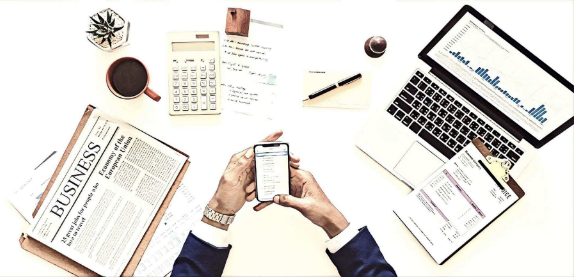 Cookie lifetime
Cookie lifetime (how long the browser stores information that a client has clicked on your referral link) is a controversial indicator. On one hand, if cookies last up to 20-30 days, you're guaranteed your reward, even if the client postpones their purchase by several weeks. But only if you were the first to, say, tell your subscribers about a new service. If a user was looking for some information on the Internet and had already gone to the website of a partner's company using a link from another publisher, for example, by clicking an advertising banner, the conversion will be credited not to you, but to a competitor, even if the client made the decision to make a purchase after seeing your post.
That's why a balanced approach is the best way to go here. Naturally, if the cookies disappear after the browser is closed, it'll be quite a challenge to consistently drive traffic at a profit. But 24 hours isn't always a bad thing, especially if you're just getting started. On the other hand, if you have a large audience of loyal fans, 14 or 30 days is something that will help protect your conversions.
Affiliate network or a program directly from the seller?
This dilemma is decades old. But any experienced affiliate will confidently tell you that it's worth trying both options. How come?
In order to choose the right affiliate program, it is important to understand the fundamental difference between internal affiliate marketing programs and affiliate (CPA) networks (they are not the same thing).
What is Affiliate Marketing? Wikipedia says that it's an Internet marketing tool, a method of promoting a business on the Internet. But the concept is a little vague and I agree with it only partially.
Affiliate marketing is one of the ways to promote a business, where a company (seller) does not engage in advertising on their own (there's no way to go around ads, how else will your potential buyers come to know you?), instead hiring 3rd parties for these purposes. All the while, they don't pay for just the ads themselves, but rather for the target action – order, contact info (phone number or email), app or price list download. In other words, they pay per attracted client
Sometimes aspiring bloggers confuse affiliate marketing with dropshipping. But the principles behind these 2 promotion methods are completely different. Read more about the peculiarities of affiliate marketing here.
In most cases, affiliate marketing is used to promote a business on the Internet. But it can also be done offline. For example, the "bring a friend" promotions that banks, Internet providers often do.
The logic behind affiliate marketing is simple:
you receive an affiliate link with a personal ID;
You place that link on your website, YouTube blog, forum, social media;
when someone clicks on the link and places an order, you get a reward.
For example, you have a blog dedicated to outdoor activities, tourism. It is suitable for advertising sports equipment. Such a website has lots of potential, as you can promote hundreds of products, from lighters, camping knives, flashlights to water slides, inflatable boats and action cameras. Hundreds of products manufactured by dozens of companies. You can negotiate with each one separately. This is what working with a company's inner affiliate program is like. You'll have to make dozens of accounts, tracking traffic can turn into a real nightmare.
An alternative solution is to connect to an affiliate network (CPA network), which has collected offers from different companies and allows you to track traffic, create links all within a single account. The purpose of the network is to make your job easier, you can always turn to your personal manager for help. This is the part where you say "Got it, it's better to work with affiliate networks!"
I mean, being a CPA network blogger, I would LIKE to say that. But alas, it's not so cut and dry. For example, direct advertisers offer higher pay rates. Some large companies (like Amazon) prefer to work directly with affiliates and are unavailable in CPA networks.
Chart: Differences between inner affiliate programs and CPA networks
| | |
| --- | --- |
| Inner affiliate program | CPA network |
| Work directly with the seller or manufacturer | Work with offers through an intermediary |
| One affiliate program – one brand, sometimes only one offer (product or service) | Dozens of brands and offers available in one account |
| Higher payouts – no 3rd party charge | Easy to find an offer that suits your blog's target audience |
| The account interface is often complicated | The interface is simple, detailed sales statistics |
| You can negotiate more favorable terms directly with the seller | You have a manager who will help you increase traffic and tell you which offer is best for your blog |
| There's a risk the affiliate program won't adhere to the agreement and not pay you. It's important to choose companies carefully | The network makes sure affiliates get their rewards. In a critical situation, it can itself compensate for losses to participants |
Best affiliate programs for beginners
Now on to the promised rating of affiliate programs for beginners. The list includes both internal affiliate programs from sellers and CPA networks. The exact position in the rating doesn't mean anything concrete – each program has its own advantages and disadvantages. A YouTube blogger, a webmaster with an entertainment portal, an Instagram model and an affiliate marketer working through paid advertising each have different criteria and each consider different affiliate programs the best. So, let's get started.
Best eCommerce affiliate programs
It is worth paying attention to these prgrams.
Amazon Associates
Just like all the others, this affiliate program isn't perfect. But it'll suit a beginner just fine. Amazon was one of the first stores to launch its own affiliate program. This happened back in 1996. Maybe it's because of this strategy that this store is known all over the world, even in places without Internet access.
People from all over the world shop on Amazon, an enormous number of people trust this store. That's why it's easy to promote this affiliate program. If your audience is interested in a product, they will most likely buy it. Here you can buy books, smartphones, laptops, sliders, baby rattles, baby food, fabric, clothes. Literally anything.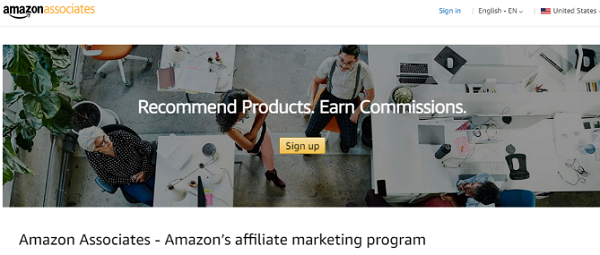 The affiliate program is universal and, despite having small payments, brings good income. Free registration.
Features:
Type – a symbiosis of an affiliate network and an internal program. Available only for one platform, but for different sellers;
Hold – orders are reviewed for 60 days;
Minimum threshold for withdrawing money – $10;
You get rewarded for orders from: the USA, Canada, Brazil, Mexico, France, Germany, Italy, Spain, Great Britain, China, Japan, India, Australia, the UAE.
Advantages: brand reputation, the list includes more than 385 million products, and it is constantly expanding, high-quality support service, user-friendly interface.
Disadvantages: pay rates are constantly shifting, cookie lifetime is only 24 hours, you're forced to motivate the user to make a purchase immediately after clicking on your referral link.
CJ Affiliate by Conversant (Commission Junction)
One of the oldest and best affiliate programs. The main surprise is the large selection of large brands. If you have a serious blog, for example, about fashion, technology, travel, expensive gadgets, this is a good starting program. You will be able to work with names like GoPro, Lowe's, Verizon, Disney, Samsung, TripAdvisor. The list includes almost 3,000 companies, though not all of them are as big as the ones we mentioned. But there is definitely plenty to choose from.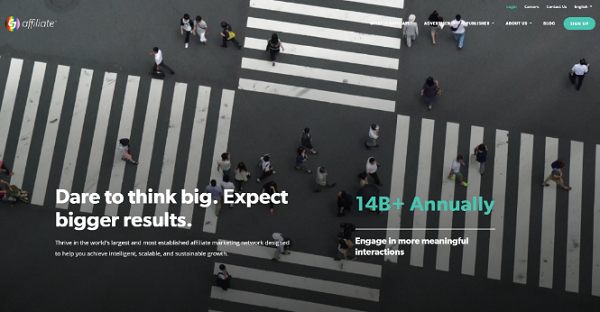 The company's turnover has long exceeded 15 billion a year. On average, 10-15% is paid out to partners. Most of the offers are Tier 1, but there are options for any GEO.
Features:
Free registration, the ability to sign up even if you don't have your own website;
Type – affiliate network;
Withdrawal threshold – $50;
Hold – 30 days, may differ for some offers.
Advantages: a simple, intuitive interface, lots of large brands, there is an option for direct display advertising (payment for the fact of users seeing the banner + a percentage from the order), training programs for publishers.
Disadvantages: large brands come and go, brands have their own additional conditions – you need to obtain the brand's authorization prior to signing up.
ClickBank
If selling regular goods is too challenging, try switching to digital ones. Online courses, books, training schemes, computer games, hosting and even automatic systems for online marketing – this affiliate program has a large selection of categories to be promoted. And each one has its own consumer.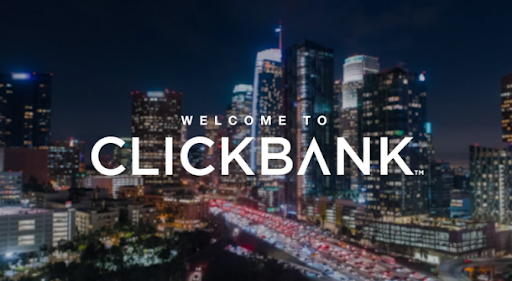 I wouldn't recommend going "all in" on this affiliate program – digital goods have their own audience and it's always easy focusing on it. But almost every blog has a lot of subscribers who will happily purchase an e-product. With a payout of up to 90% of the order, ClickBank is an effective supplementary monetization method.
Features:
CPA network;
Hold and cookie lifetime depend on the offer, on average 30-60 days;
Most GEOs available;
Free registration;
Withdrawal threshold – $50;
Payouts – up to 90% of the order.
Advantages: the list of partners includes lots of well-known brands with a good reputation, payments up to 90% from all purchases of the client, easy to sign up, can be used in tandem with eCommerce.
Disadvantages: a peculiar niche that works only in specific GEOs (performs great in the US and Canada), outdated interface.
ShareASale and Awin
ShareASale has been operating since 2002, Awin – since 2017. But this did not stop the second company from buying the first one. Affiliate programs still exist separately, in fact, they compete with each other.

Still, Awin is a diversified affiliate program, which has lots of offers to promote besides eCommerce – digital goods and different services. ShareASale is more focused on fashion, accessories, although there are other directions as well.
If you plan on working with the eCommerce niche, consider both option, or at least one of them. This is an opportunity to get access to promoting well-known brands like: HP, AliExpress, allbirds, Reebok, Burton, TORRID, Emirates, Etsy.
Features:
Affiliate networks, each one has around 10,000 offers;
A free and simple registration procedure;
Hold – 30 days on average;
Withdrawal threshold – $50;
Has offers for almost any GEO, but most are aimed at the EU, US, Canada and Australia.
Advantages: the list includes thousands of goods and services, the opportunity to work with large brands, for some offers, the one-time payment reaches $500, these programs aren't too popular among affiliates and bloggers – the level of competition is low, very low chance that your conversion will be credited to your competitor, has an offer leaderboard.
Disadvantages: a complicated and unsightly interface, additional requirements for working with premium brands.
Hosting services
Promoting hosting services isn't as easy as it seems. Most consumers are already tech-savvy enough to spot a lamer, no one will trust such a blogger. But hosting offers give out insane payouts, 100, 200 or even 600 dollars per client. There's no way to overlook this.
This niche can generate good income through affiliate marketing, as long as you set up the targeting properly. Suitable if you have a blog dedicated to similar topics: technologies, online earning, video games, web-development.
Good affiliate programs for beginners:
Bluehost
Sure, not the best choice for a mommy blog. But it definitely is a tasty program nonetheless. And this is one of the best hosting services in the world. It's recommended by WordPress, there are thousands of positive reviews online, it gets high ratings from comparison-review services. Flexible plans, cheap subscriptions for aspiring bloggers and a VPS for online stores. So, if someone's looking for a hosting service – they are guaranteed to have a look at this one.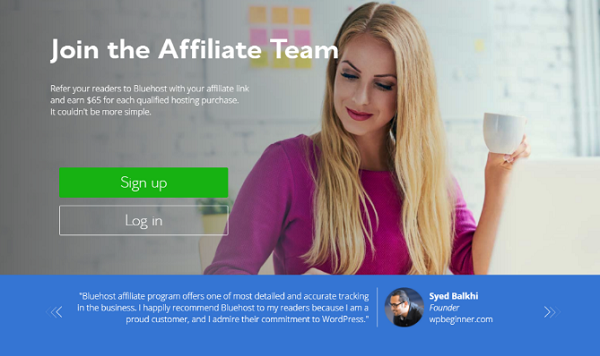 Cookie lifetime – 90 days. So it's best to work with this program when you have a loyal audience.
Features:
Inner affiliate program;
Cookie lifetime – 90 days;
Payout – $65 per paid subscription;
Cheapest plan – from $3.85.
Advantages: reputation, the best hosting for WordPress, high payouts ($65) even for the cheapest subscription ($3.95), a large selection of additional plugins.
Disadvantages: the long cookie lifetime and high popularity among webmasters makes it difficult to work with this affiliate program, a considerable part of your conversions will be credited to other affiliates.
GetResponse
This entire platform is dedicated to online marketing and has email marketing tools, hosting, a landing page builder, autoresponder, advertising. The site has already made a reputation for itself, but it has been promoted enough.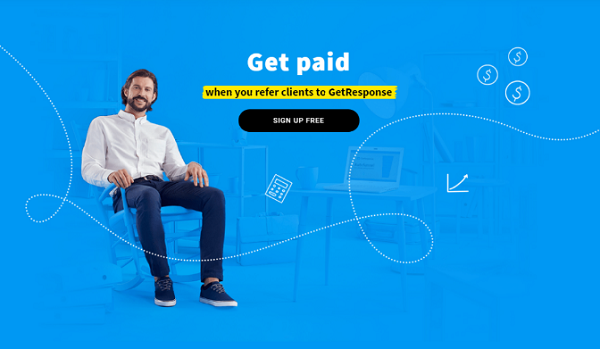 Promoting GetResponse is pretty easy – there's not that many worthy competitors in this niche. The website has its own knowledge database, free webinars for its partners that will help them develop their blog. It's worth signing up for this program just for learning from the best business promotion team. Payouts: a lifetime 33% RevShare or a one-time payment of $100 per client.
Features:
Inner affiliate program;
Cookie lifetime- 120 days;
Two payout options: RevShare or CPA;
Free registration;
No GEO limits;
Large set of promotional materials.
Advantages: high payouts: $100 or a lifetime 33% RevShare, the brand is reliable and at the same time the competition between affiliates isn't stiff, a unique offer.
Disadvantages: the niche is peculiar – the GetResponse affiliate program is easy to promote, if your audience enjoys business-related content. Otherwise, even if you have a financial blog, you won't get that many conversions.
Traveling
Traveling is also a peculiar vertical. The fact that you have a cool blog about various landmarks  and vacation spots and the sort is no guarantee that people will immediately click the affiliate link.
Tip. eCommerce offers work great with travel blogs. You can promote gadgets, equipment: action cameras, monopods, backpacks, cooler bags, power banks, multitools, equipment, hiking and travel clothes.
Still, affiliate programs the promote various ticket and hotel booking services bring decent income. Despite the small percentage, the payouts from each ticket are decent. The most popular affiliate programs that are also easy to work with:
Travelpayouts
The program covers a large list of services and works in different countries. Its list of partners includes: BlaBlaCar, RentalCars, FlixBus, Booking.com, Hilton, RVShare, Go City, Airbnb, Aviasales. All in all, over 80 companies that engage in ticket and hotel booking, car, motorcycle and motorhomes rentals. The payout can reach 80%, and the average check for some offers exceeds $1,000.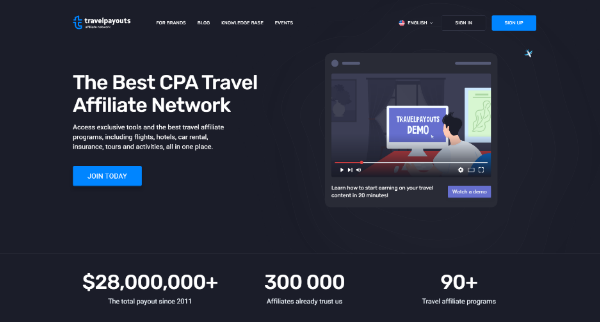 Travelpayouts has no strict requirements, signing up is relatively easy. Suitable for bloggers and that includes Instagram, Youtube and affiliate marketers.
Features:
CPA network;
Free registration;
Lots of withdrawal options : PayPal, SWIFT, WebMoney;
Over 60 languages, works in 200+ countries;
Cookie lifetime – 30 days;
Hold depends on the specific offer.
Advantages: one of the largest booking services partner networks with high payouts and a large selection of statistics tools.
Disadvantages: demanding audience, the vertical is expensive.
TripAdvisor
The world's largest portal that annually helps almost 500 million tourists to independently organize a trip or a small tour: from booking airline tickets to picking a hotel, restaurant and car rental. The website talks about local sights, unusual locations, lets users leave reviews or even entire posts.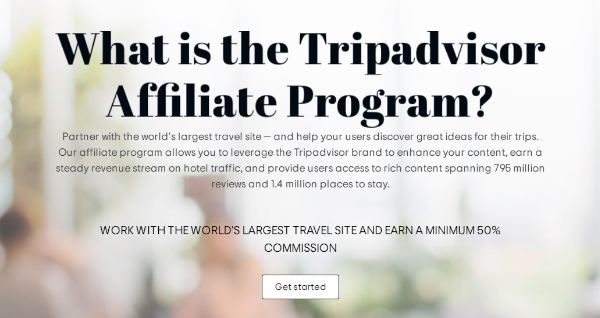 The key factor – people trust this brand. Even people who are used to booking trips through travel agencies, when looking for a new vacation spot, often follow the links on TripAdvisor and end up using its services. Which means, a newly created blog will be able to get leads without any problems.
TripAdvisor pays its partners up to 50% of the attracted client's order. At the same time, the client doesn't necessarily have to book a hotel.
Note! TripAdvisor works with partner networks. You can connect to the program through AWIN and CJ.
Features:
You can sign up through CPA networks;
Free registration;
Over 1.4 million hotels, thousands of locations;
Cookie lifetime – 14 days.
Advantages: people trust this brand, a universal tool to independently plan trips, best in the world,  payment per transition.
Disadvantages: you need to connect through a third-party CPA network, which has its own additional conditions for publishers, for a lead to count you need the reader to first go to TripAdvisor and only then to the partner booking service.
Expedia
Another global brand associated with tourism. The company covers several portals (Expedia, Hotels, Vrbo, Ebookers, Orbitz, Travelocity) and allows you to use all the services you might need when planning a trip: hotel and airline ticket booking, searching for a car rental or car sharing, finding gift tickets or coupons.
Expedia covers more than 200 countries, its list includes 175+ car rental companies, over a million hotels and apartment or house renting offers, over 500 airlines, over 35,000 unique activities. This is also a brand that has earned the people's trust. Promoting such an affiliate program through blog reviews will allow you to overcome the barrier of mistrust and increase user loyalty to your resource.
Features:
Inner program, covers only a couple of websites (all with one owner);
Free registration;
Almost all GEOs are available.
Advantages: a reliable brand, trusted all around the world, a large selection of offers.
Disadvantages: payment only per confirmed order.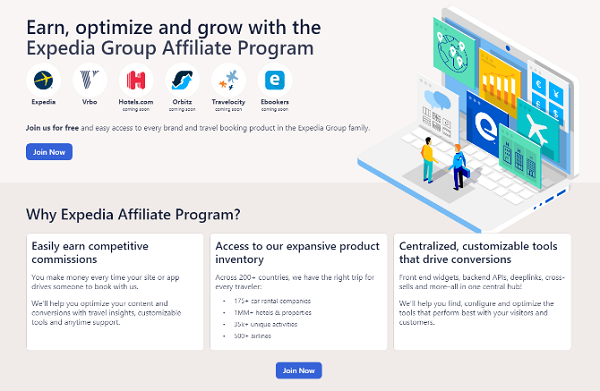 Mainstream areas
This section is primarily for affiliate marketers. This section includes all the verticals that allow you to get high returns, while being less demanding in terms of content quality. These are the adult, gambling and nutra niches. They are effectively promoted through paid ads and have become basically the only option for most affiliates (that's why most of the ads you see online are dedicated to weight-loss, casinos and dating sites). However, for bloggers whose content isn't thematically appropriate, these  verticals might not be the best choice.
LeadBit
Naturally, the Leadbit CPA network tops the list of mainstream affiliate programs. But not because this blog was created by the company, but rather because it offers great starting conditions for newcomers. A simple registration procedure, a personal manager for each publisher, a convenient account with a tracker tool and of course a a blog with an affiliate marketer's school, working bundles and cases. If something goes wrong, your manager will help you figure it out at any time of the day, give tips regarding creatives, targeting settings, and help push the banner through.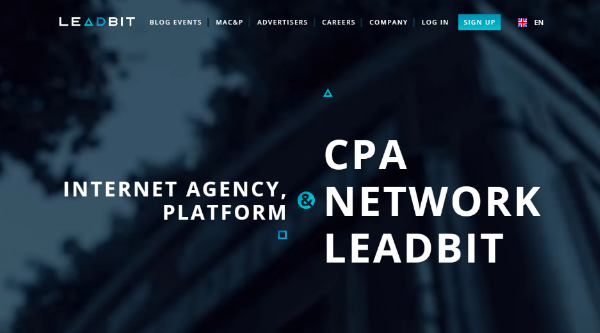 And of course guaranteed payouts – the list includes verified brands. If there's any sort of payout problem, the company will compensate your earnings at its own expense.
LeadBit features:
CPA network;
Main verticals: dating, gambling, adult, nutra, finances, sweepstakes. New niches may get added in the future
The hold and payouts depend on the specific offer;
GEO – offers for popular countries among affiliates: the CIS region (Russia, Ukraine, Azerbaijan, Georgia, Uzbekistan, Belarus, Kazakhstan, Armenia, etc.), TIER1 (USA, Canada, Australia, Germany, Great Britain, Italy, Switzerland, Czech Republic, Spain, France , Netherlands, Austria, Belgium, etc.), TIER 2 (India, Mexico, Brazil, Argentina, Peru, Vietnam, Turkey, etc.)
Advantages: a large selection of offers from online casinos, bookmakers, dating and nutra sites all in one place for the most popular GEOs, round-the-clock tech support, a user-friendly interface, large payouts.
Disadvantages: not all verticals are present, no eCommerce offers, not all payment systems available.
Draft Kings
And online casino and a bookmaker office all in one. For Fantasy Sport enthusiasts – there's no better option. This is a large and legal company that can be promoted in all popular GEOs in the open, without cloaking. Pays up to 40% of the profit made off the client in the first 30 days and after that – 25% permanently. The brand hasn't been promoted all that much, it is only gaining popularity. That's why currently it's easy to attract new gamblers without gasping for air in the insane competition with other affiliates.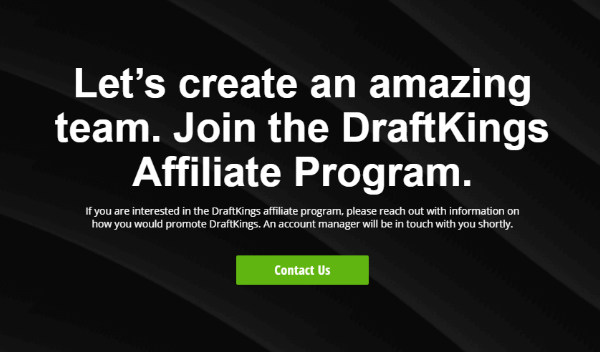 Features:
Inner affiliate program;
Free registration, no strings attached;
You can promote these offers in almost any GEO, but best to do it in Tier 1 countries.
Advantages: the brand is still fresh, RevShare, minimum requirements for publishers.
Disadvantages: the online casino can't yet boast a large selection of games, mostly promoted fruitfully in Tier 1 countries.
Summing up
Choosing an affiliate program is a crucial step – the profitability of your blog and its future depend on it. But it is more important to choose the right vertical and pick out offers that best suit your audience. Sure, there are unscrupulous companies out there, but there are fewer with each year. And they definitely didn't make it into our review.