Are you thinking about whether it is profitable to work with affiliate programs in India? What offers are the most profitable? What about the language? Yes, the Indian market has recently become one of the most discussed topics among affiliates and webmasters. This article will teach you how promising it is, which verticals should be paid attention to and which affiliate programs to choose.
Spoiler alert: yes, working with an Indian audience can bring a steady profit. What about the best offers with high conversion rates in the LeadBit affiliate network? More on this below.
India: some information about the country
India is a state in the south of Asia (the Indian subcontinent and the plains up to the Himalayas). It is one of the most densely populated states, in fact, the second most populous country in the world, with almost 1.4 billion people, people of different ethnicity, culture, social status.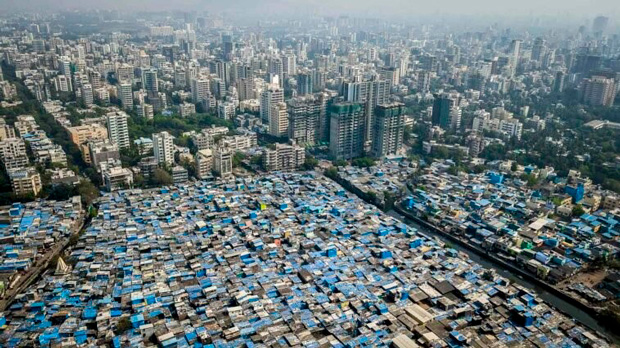 India is no longer the poor country that we remember from old films and documentaries. Today it is a state with a developed industry and a growing economy.
You can find almost anything on the Indian affiliate programs market, and the best part it's in its infancy. There are a lot of unoccupied niches here, hundreds of millions of online users with all sorts of interests. Well then why is it difficult to enter the market? Those unfamiliar with the country's peculiarities ask this question. Surely, before finding this article, you have already tried to test affiliate programs for India. There is a lot of traffic here, and the cost of advertising is insanely low. But how do people lose money then if the conditions are so perfect?
India has its own particular characteristics. The methods that work in the USA, Canada or, say, Russia are ineffective here. Indians have their own interests, preferences and concerns. It's like another planet with a different worldview. But the prospects are very good, they can't just be ignored. That's why the LeadBit team pays a lot of attention to this area and carefully selects offers.
Affiliate Marketing Program: how does it work?
A short introduction for beginners. How do affiliate programs work? Why is this promotion method so popular?
The answer is a bit trite. It is beneficial for both the company itself and the advertiser (webmaster, affiliate marketer, CEO, everyone). Traditional advertising (magazines, newspapers, TV, street ads, billboards) costs a lot of money. Sometimes these costs add up to 40-60% of the product's prime cost.
An alternative option is to promote the product through partner networks. The seller (the advertiser) pays the partner a percentage of the revenue. He need not worry about advertising and can focus on improving the service, shipping, working with goods rejection.

Detailed Video of How Affiliate Marketing Works
It's beneficial to both parties:
the advertiser does not waste money on advertising, but gives a part of the profit to the partner;
the webmaster-partner (the publisher) does not need to maintain a warehouse of goods, take care of the deliveries or provide maintenance to earn money. He doesn't even need his own online store nor does he suffer losses from unsold goods.
It's easy to make money with affiliate programs: register on the website, get an affiliate link and post it on a blog, forum or social media. If the user follows the link and performs a certain action (the necessary actions are different: place an order, register, download the application, fill out the questionnaire), the publisher will receive a reward.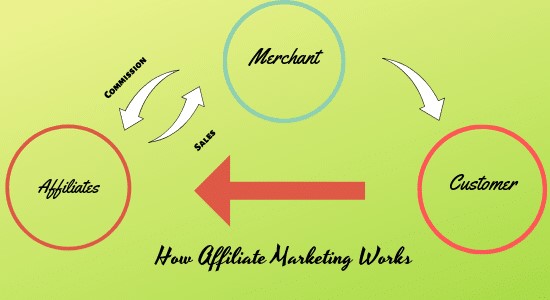 Why affiliate programs for India are profitable
Still wondering whether it is worth spending your time on India instead of focusing on other countries like Australia or Canada? Then check out the numbers that will convince you.
More than 430 million people with high income
India is one of the fastest growing countries in the world with a consistently leading economic growth rate. According to the IMF, the state is in 5th place in terms of GDP (in terms of purchasing power parity – in 3rd). Machine building, automobile manufacturing, and the chemical industry are actively developing here. The country is becoming a center for medical tourism thanks to a quantum leap in medicine made in the last decade.
As well as a center for information technology. Millions of programmers, web developers, designers, economists and other specialists work remotely in English-speaking countries, earning as much as Western specialists. And the situation will only improve, given the tensions between the United States and China and the transfer of production of many brands to Indian soil.
Yes, even today almost half of India's population is forced to exist on less than $60 a month. But at the same time, there are more than 430 million high-income Indians, more than in any other country besides China. It is already the case that salaries for capable specialists reach $800-1000. Whereas the average salary is slightly less than $ 300. This region is quite solvent.
The country has more than 687 million Internet users
India ranks first in terms of digitalization. From 2019 to 2020, the number of users connected to the Internet increased by 128 million (+ 23%) and exceeded 687 million in total. Yes, only 81% of the population has access to mobile phones. But that's 1.06 billion people!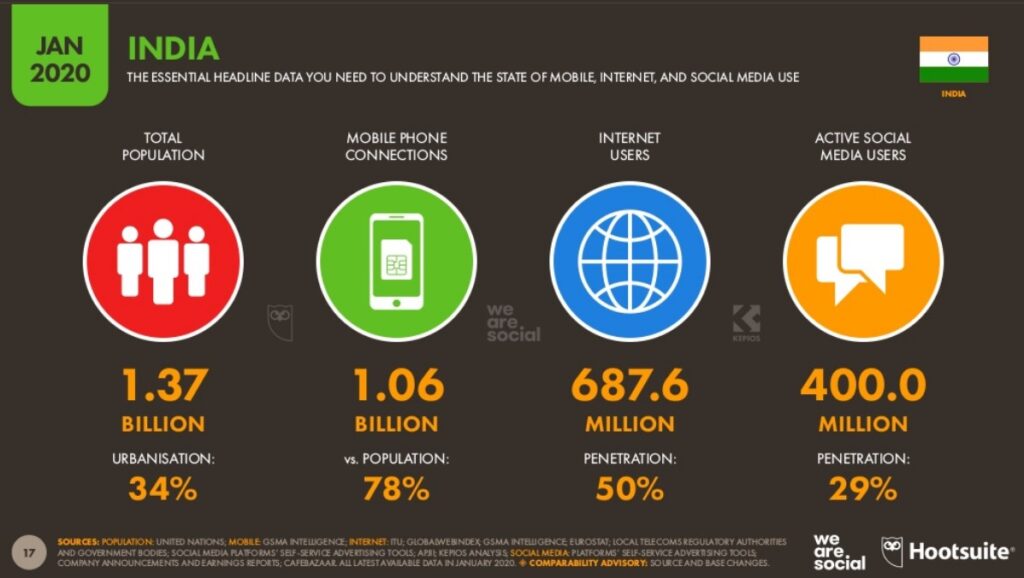 Indians spend from 3 to 6 hours online a day: they watch videos, visit adult-themed sites, shop. They spend most of their free time online and know little about ad blockers.
Social media is growing ever more popular. Indians have become actively involved in the process. India ranks first in terms of people using popular online services. Over the past year, 130 million Indians have created personal accounts on social media for a total of about 400 million. The most popular are YouTube, Facebook, Instagram, Twitter, LinkedIn. And the most used messengers are WhatsApp, FB Messenger.
More than 70% of users shop online
Unlike other regions, where e-commerce developed slowly and trust in online platforms did not appear immediately, Indians almost instantly fell in love with goods and services from the Internet. The number of online shoppers is increasing by 6-7% annually. In 2020, this comprises 71% of the total number of people with Internet access. Or 487 million potential customers.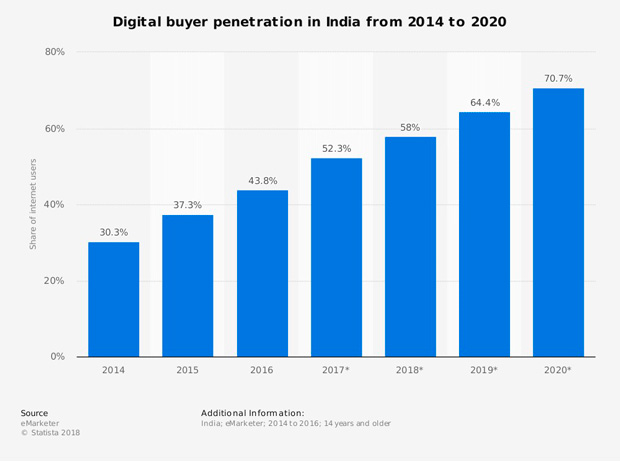 India is currently one of the largest markets for promoting all kinds of services. Analysts expect it to surpass the United States in terms of eCommerce turnover in the next 10-15 years.
СPC – from $0.06
In India, the cost per click on Google Adsense is 6 cents and higher, which is on par with Russia, Greece, Portugal and 65-70% lower than in TIER 1 countries. At the same time, the conversion rate in India is much higher. There are no competing websites here, users are less picky.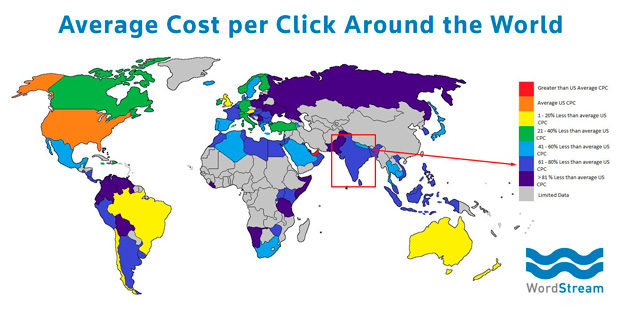 Video on Which Affiliate Programs You Can Earn in India
TOP 10 best affiliate programs for India
Let's take a look at specific partner programs for India, which in 2019-2020 were the most profitable for our partners.
ТОP 3 betting/gambling affiliate programs
Indians are obsessed with gambling and they almost worship cricket. The love of gambling is complemented by a strong stratification of the population (caste system) and the desire of the middle class (by the standards of the CIS or Europe, this is a rather modest standard of living) to reach better living conditions. In India, the desire to constantly take risks and spend a lot of money in pursuit of this goal it is not perceived as a disease. On the contrary, this is a sign of a strong man.
Bottom line: we get an explosive mixture with massive ROI rates when promoting offers from bookmakers or online casinos.
In general, Indians are interested in various sports and competitions, including soccer, martial arts and athletics. Affiliate programs casino and betting programs that focus on cricket are the most reliable.
4rabet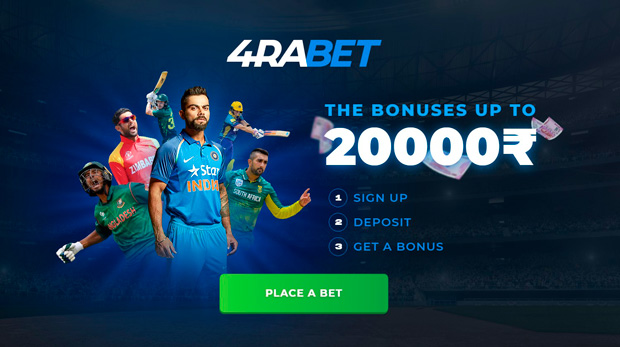 4RABET.COM is a bookmaker and online casino that legally operates from the UK and acts as a betting partner for several clubs that participate in local championships.
Operates under license from Curacao. Accepts players from India. You can open an account in rupees. Hindi is one of the possible languages.
The main advantage is a convenient payment system for India. Instant commission-free transactions. The bookmaker gives out generous bonuses – up to 200% on the first deposit up to Rs 20,000. As well as provides partners with colorful banners and landing pages that provide high conversion rates.
4raBet affiliate program key features:
big payment for a lead (deposit + KPI 30%) – up to $28;
several payout models: payment per deposit, a percentage of players' deposits;
minimum deposit – Rs 300 (about $4);
allowed traffic sources: apps, social media, push-notifications, blogs;
prohibited traffic sources: ClickUnder, PopUnder, contextual advertising on the bookmaker's brand, bux traffic, attracting minors;
Melbet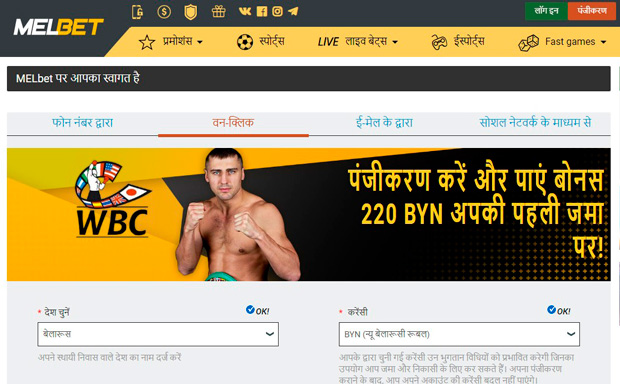 Bookmaker and online casino. Besides traditional sports allows for bets to be placed on political and cultural events. Covers cricket widely, therefore, is popular among Indians obsessed with the sport. The online casino has over 3000 slot machines. The affiliate program covers most countries except Great Britain, the USA, the Czech Republic, the Netherlands and Spain.
The website has 39 layouts, all in different languages, so you can experiment with different countries and regions. Among them are Hindi, Vietnamese, Thai, Uzbek, Malay and others. 4rabet has a reputation for being a reliable, honest company. Offers good conditions for its partners.
General information:
payment size – $16 per player (deposit plus any additional activity within 14 days);
hold – 2 weeks;
allowed traffic sources: contextual ads, social media, blogs, mobile ads and others;
does not pay – for multi-accounts or inactive players.
MostBet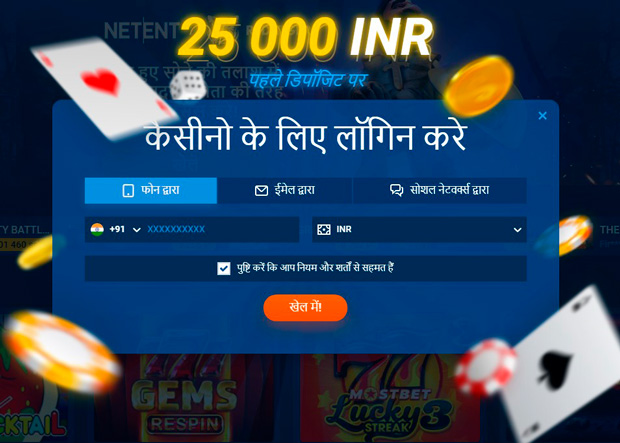 Bookmaker and online casino. The website has been gaining popularity in the last couple of years. The site accepts players from all over the world. Pays out winnings quickly and has a large selection of payment systems. Offers bonuses up to Rs 25,000 on first deposit. Besides Hindi, there are English and Bengali layouts. Almost all Indian residents will feel comfortable using the website.
MostBet affiliate program key features for India:
first deposit – $12.
minimum deposit: Rs 300;
special individual conditions – can be provided for successful webmasters;
most usual traffic sources are allowed: social media, contextual ads, banners, ads in apps and others;
prohibited traffic sources: motivated traffic for a minimum deposit, use of public (politicians, actors, athletes, musicians) or historical figures in creatives.
ТOP 3 affiliate programs for crypto and binary options
India has become the new Silicon Valley. In the past few years the number of Indian specialists that are outsourcing to foreign companies has grown to (just think!) 25 million. Most of them are engaged in the IT sector. And that's not counting a few million more freelancers.
Still, Indian IT specialists earn several times less than their Western counterparts. That's why they are looking for additional sources of income. Plus, add to all this India's specific mentality, where beautiful, expensive things are a measure of success (not for everyone, but for many, as we said, this is a multinational country). Chasing a beautiful fairy-tale life, such people are looking for ways to make money easily and quickly. Affiliate programs of binary options and cloud mining receive a positive response in India.
Ecos Mining Farm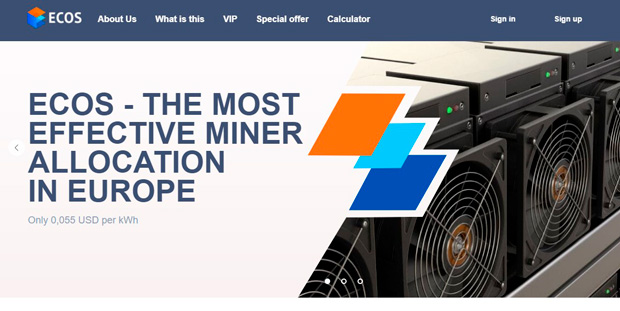 A cloud mining farm where you can virtually mine Bitcoin. It is also possible to purchase equipment for mining cryptocurrencies, which will be set up on a farm with the client paying for electricity at a fixed price or delivered straight to the customer. In any case, you can pick up the purchased equipment at any time.
The farm's data center is located in the Free Economic Zone of Armenia. It was launched in 2018. The company offers 24/7 tech support and a special price for electricity.
General information:
payouts – $4 per registration (CPL). Provided that the sales KPI will be 25% (at least 25% of registered users will sign a contract for cloud mining or purchase equipment). If the condition is not met, the payout is $16 per sale;
hold – 15 days;
traffic sources – all are allowed excluding illegal ones..
Olymp Trade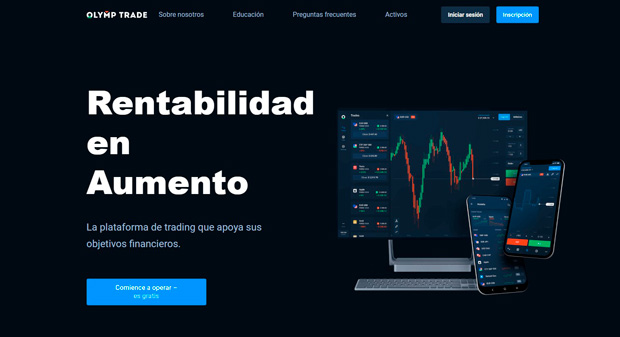 A binary options trading platform. It has been operating since 2014 and accepts traders from all over the world. Several trading platforms are available to users: a mobile application for Android or iOS, web interface, MT4. The list of instruments includes currency pairs, stocks, indices, commodities, cryptocurrencies.
Allows you to replenish your account and withdraw money both through credit cards and through electronic payment systems: Skrill, Epayments, Neteller. Adding money to the account is instant, withdrawing takes at least a day. The service offers free training, gives out bonuses when trading cryptocurrencies.
the programs conditions for India:
payout per deposit – $32;
minimum deposit – $10;
hold – 45 days;
advantages: webmasters get ready-to-use landing and pre-landing pages.
BINOMO

A binary options trading platform. Users choose for a range of currency pairs, cryptocurrencies, indices. The company offers free training, 24/7 tech support. The platform works seven days a week.
It was launched in 2014. Зарегистрирована на Кипре. Allows you to replenish your account and withdraw money both through credit cards and through electronic payment systems like Neteller or ePayments. The service accepts traders from different regions but the main focus is on South-East Asia and Latin America.
General information:
payout – $8 for the first deposit, $32 for active clients (clients who made 20 or more transactions);
hold – 7 days;
traffic – all traffic sources are allowed.
TOP 4 dating, adult, nutra affiliate programs
In India, sex is somewhat of a cult. Both young people and the older generation have very liberal views on the matter. They actively use all kinds of dating services for one night stands, regularly visit adult webcam sites. There's huge demand for products for extra potency and penis enlargement.
The target audience is men. In a patriarchal society, women have practically no rights. So the pervy Indians are given free reign to look for such website. SOI/DOI payouts are small (starting at a couple of cents), but given the websites' popularity and low rejection rate, you can make much more profit than in other areas.
MasturBeauty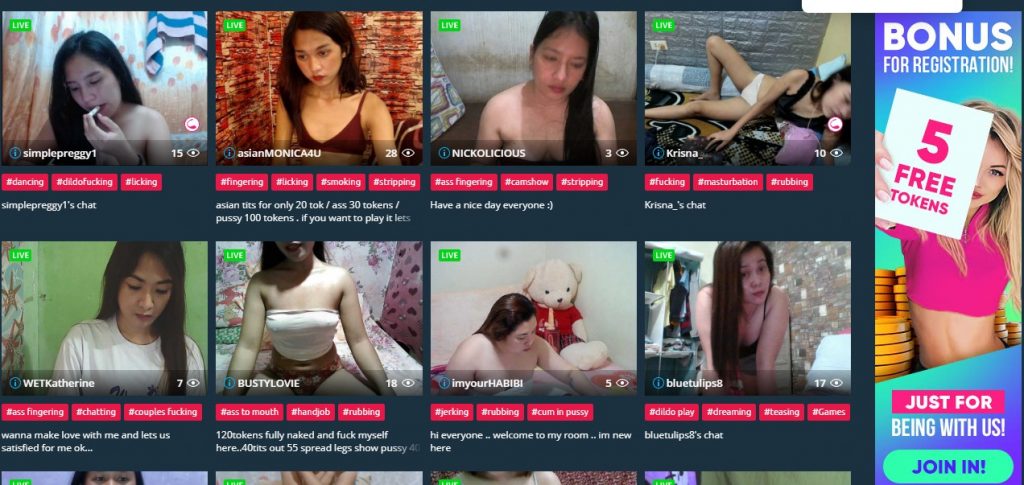 This is an adult webcam site, where girls fulfil the wishes of clients on camera. The site allows you to watch girls for free. Registration is open to everyone, so most visitors register immediately after clicking on the affiliate link. Taking into account the mentality of Indians, ROI can reach 150%, such examples are quite common in our practice.
The site has an internal currency that gives access to additional features. Also, tokens can be sent to girls so that they fulfill the requests of the viewers. The service works with users from different regions, when entering the room, you can choose the country from which the girls will be.
General information:
payout per registration – 2 cents;
hold – 14 days.
allowed traffic sources: contextual ads from search engines, social media, mobile apps, blogs;
prohibited traffic sources: any form of spam, email ads, chats, bots, brand traffic.
Spartin IN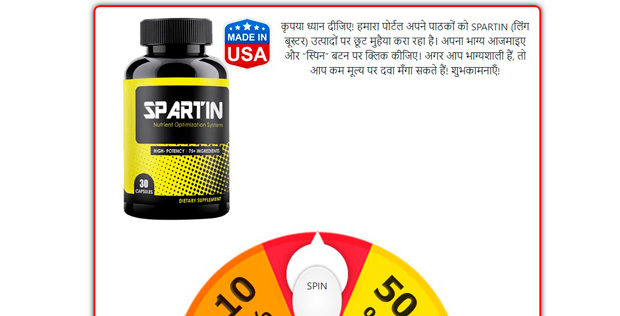 A product to increase potency and size. Given that Indians are practically religiously obsessed with sex, such products are in great demand in the country. It's an ayurvedic drug based on natural ingredients. Sold as capsules for internal use. The product is affordable for almost all Indians (around $10 per pack).
the programs conditions for India:
payout – $5 for a confirmed application.
most sources of traffic are accepted;
the company demands caps be agreed on before directing traffic;
not adapted for all regions;
Indian Singles
A one night stand dating site. Focuses on India's megalopolises and large cities. The website is insanely popular with Indians looking for both a one night stand and a partner for regular meet-ups. Users, when registering, can choose which option they prefer.
General information:
payment per registration (SOI)% $0.068 per desktop user and $0.34 per mobile user;
hold – 30 days;
all traffic sources are allowed.
BongaCams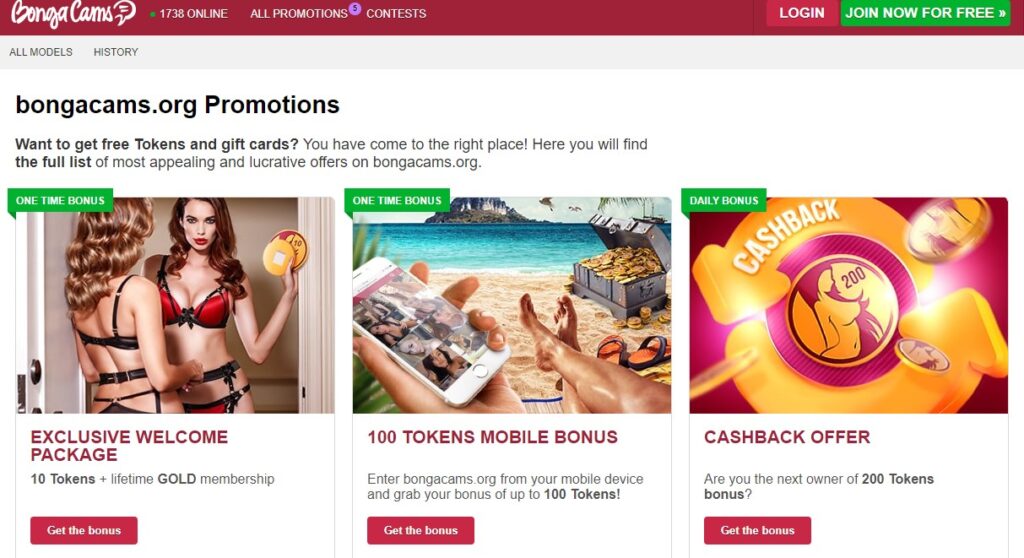 Adult webcams are another popular service. Unlike MasturBeauty, BongaCams is primarily targeted at Indian users. Although it accepts clients from other countries. The site has both free and paid rooms with VIP girls. You can also spend internal currency (coins) in chat.
BongaCams isn't as popular as MasturBeauty. But he offers twice the reward per registration (4 cents as opposed to 2). Since it is less popular, the chances of attracting new (not previously registered) users are higher.
General information:
payment per registration (SOI) – 4 cents;
hold – 30 days;
both desktop and mobile traffic is accepted;
prohibited traffic sources: any form of spam, chat traffic, brand traffic.
Review Affiliate program with the best conversion according to LeadBit.
So what's the bottom line?
This is just a small part of all offers that work well for India. To describe everything, we would have needed more than a dozen reviews like this. If you have high-quality traffic, sometimes two or three offers will be enough for a stable income.
Indians aren't spoiled like Europeans. At least, not yet. Almost all target users immediately register after following the link. So, it's not that hard to catch their attention and interest. Do you want more tools for your arsenal? Welcome to the LeadBit network. Our list of instruments is constantly updated. We provide ready-made banners, landing pages and other promotional materials.
How to direct traffic at India
Let's draw up a picture of the target audience. These are Indians from 25 to 40 years old, mostly men. These are people with good income, enough to stand out from others. Indians are more loyal to the brands they already know and trust. They rarely experiment with changing their usual store or service provider.
Indians spend up to 6 hours a day on the Internet, actively registering on social networks. More than 70% of users shop online. 80-90% do it from a smartphone. Most often, they buy clothes, shoes, electronics, food. Health products find a good response among Indians. Products to improve potency and the quality of sex are especially popular.
Best traffic sources for India
The most popular channels for promotion in India (if you plan to engage exclusively in arbitrage or buy traffic to popularize your site) are contextual advertising in search engines and social networks.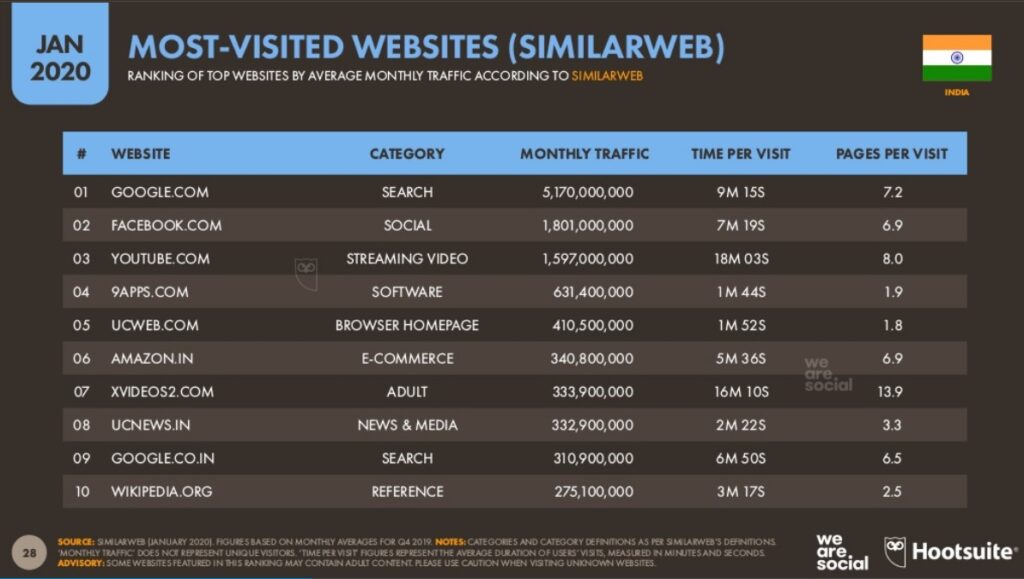 As always, attention needs to be paid to SEO. There is a shortage of quality content in India. Make sure to provide a quality English translation. If you already have your own blog where you share your thoughts or post your travel impressions, continue growing and developing it. You can advertise themed products by placing several banners or widgets on the site. You can also make high-quality product reviews by leaving a few affiliate links to the advertiser website.

Video How to Start Affiliate Marketing in India Using Amazon as an Example
Promoting offers in social media
Social media, which emerged as a way to make new friends, has become a powerful marketing tool. You don't even need to develop your own website and pay for hosting to promote products. It is enough to periodically post to Facebook, Twitter, Pinterest. Or create a separate page (group) for advertising.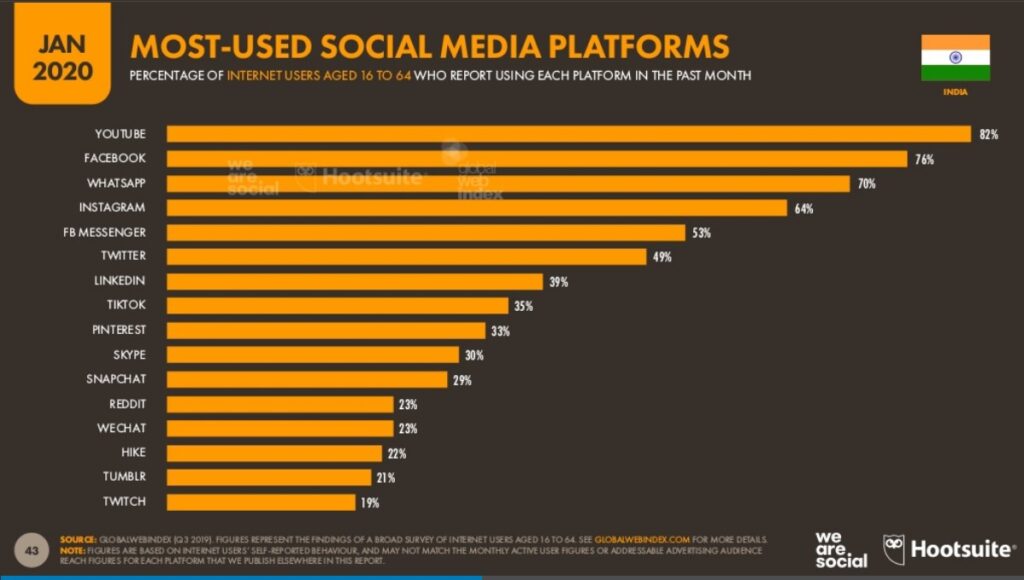 Note! Tik Tok is banned in India!
Promoting in Youtube
I specifically dedicated a separate subsection to Youtube. This website has turned into a global media network, where content from video bloggers has reached a qualitatively new level. The number of sales through YouTube blogs is growing rapidly and this method of promotion is gradually replacing blogs.
In India, locals spend an average of two hours here every day. Video reviews allow you to more vividly and clearly demonstrate the product or use the product placement format (hidden advertising of goods, for example, from travel bloggers).
Email or messenger ads
Email marketing remains a popular way to communicate with your audience. However, it's becoming increasingly less effective for promoting goods and services. It's usually used in conjunction with blog or landing page marketing.
Over the past few years messenger ads have become dominant over their email counterparts. The most significant platforms are Viber, Whatsapp and Telegram. And this is no less relevant for India – more than 90% of Internet access occurs through mobile devices.
Best payout models
The payout model often depends on which product is being promoted. Considering the specifics of the Indian market, the most profitable payout models are CPA and CPL.
Indians, when they get to a landing page, leave their contacts without hesitation. Therefore, despite the lower price, in comparison with the "payment per deposit" model, they allow you to get a decent profit due to the high ROI.
If you work with young online casinos, which may disappear at any moment, you are more profitable with the format: Deposit + KPI (25-30% of later deposits). When working with reliable bookmakers that have been on the market for 5-10 years, it is more profitable to be paid a percentage of the losses of the attracted player.
When working with health and beauty offers, in most cases, there is only one viable option – payment on delivery (Cash-on-Delivery, COD).
A few words about GEO, which regions of India are the most solvent
India is very heterogeneous in ethnic composition and income level. Traditionally, the largest number of paying customers is in large metropolitan areas. But this rule does not always apply.
The richest cities and regions in India
Mumbai is the business capital and the center of the Indian film industry (Bollywood). Despite having the world's largest slums within itself, the city is home to several million high-income people, not only Indians, but also foreign residents;
Delhi is a cultural, business center, the capital of India, a place where branches of multinational companies are located and deals worth millions are struck;
Bangalore is India's Silicon Valley, a hotbed of highly paid IT and high tech. The city is experiencing a boom in investment, leading in terms of living standards;
Pune is a metropolis of 3 million that has earned the nickname "Oxford of the East". There are dozens of colleges and universities, tens of thousands of students from wealthy families;
Chennai – in the past one of the main colonial administrative centers. Today it is a city that never sleeps. One of the largest ports in the country. The IT sphere, the banking sector is developing here;
Jaipur is the capital of Rajasthan, the wealthiest state in India. The royal family still lives here today. Many residents make good money from tourism.
The richest states: Goa (thanks to developed tourism), Maharashtra, Rajasthan, Gujarat, Kerala, Uttar Pradesh and Haryana (the suburbs of Delhi are worth highlighting here: Ghaziabad, Noida, Gurgaon, Faridabad).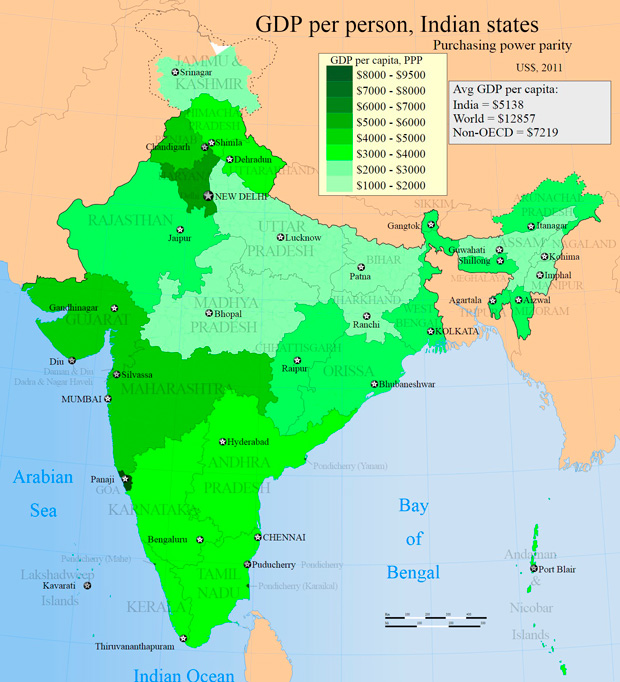 The poorest cities in India
Dharavi is a slum city. So far, this is a district of Mumbai, but the authorities are planning to separate it into a separate administrative unit;
Calcutta – yes, that legendary cultural center, where nearly four million people live in absolute poverty;
Varanasi – in Hinduism, this is a holy city, to which millions of poor people from all over the country flock every year. This is the spiritual center of the country, where there is almost no industry (residents are engaged in the manufacture of silk).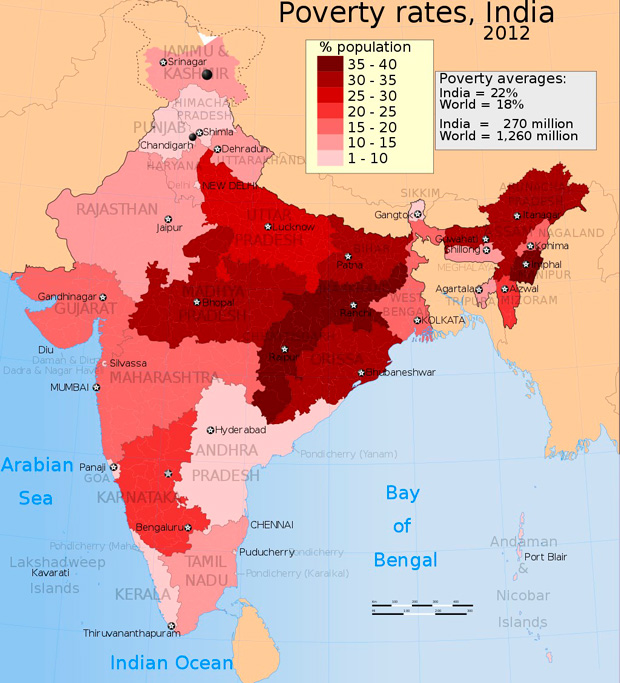 FAQ
1. I am a beginner affiliate marketer, what should I choose and can I start in India?
Yes, India is not a picky market, where there are still many areas with little competition. We have mentioned the most popular niches (betting, gambling, nutra, adult, dating, binary options, cloud mining). You can choose what you think you're better at.
2. What models of affiliate programs have the largest payouts?
The largest payments are from affiliates who use CPS (Cost Per Sale) or for a certain KPI (this can be a certain amount or number of transactions). But such affiliate programs are more difficult to analyze, and the path to attracting a user is longer. It is possible to achieve stable large payments with other models, for example, paying for a lead: filling out a questionnaire (SOI) or filling out contact information + registration (DOI).
3. Do I need to have a website or a network of sites for affiliate programs for India?
No. Most affiliate networks allow traffic from Facebook, apps and banners.
4. I already have experience but in other GEO, does India have any distinguishable traits in this area?
Yes, we offer private affiliate programs with exclusive conditions for experienced webmasters. For more contact your manager.