Traditionally, the most profitable verticals are dating, gambling and vaping. These offers give out fantastic ROI at 1000% and can bring in tens of thousands of dollars in a few weeks if you drive motivated, warmed up traffic at them. But websites that harbor billions of potential customers don't allow you to promote such niches.
Affiliate marketers are faced with strict moderation procedures, dozens of document checks and verifications, starting from a receipt for payment of utilities to a certificate of income. Facebook and Google have a very harsh stance on all types of weight loss offers, slot machines, dating websites – they all get immediately rejected.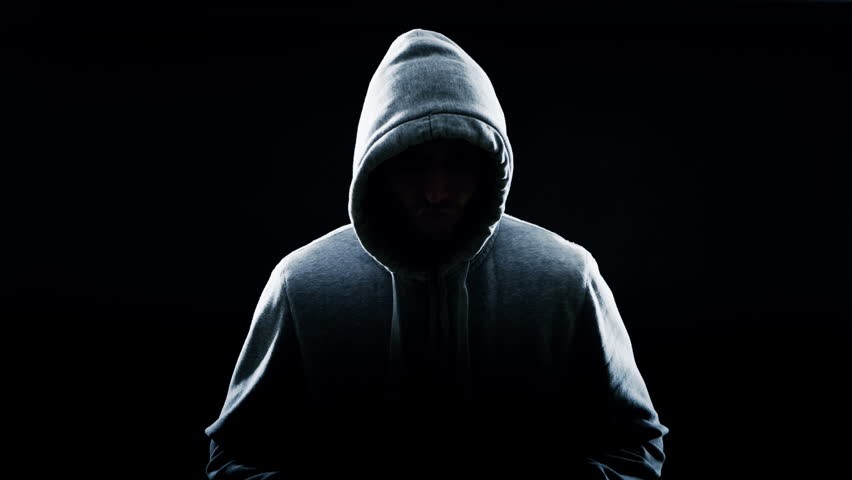 The main question is what to do then? Keep trying to promote the offer but running the risk of getting banned? Or go to smaller sites, teasers, where you can sell everything, but the rewards are much smaller? The answer is cloaking. What is it, is it legal and how to use it – all that is covered in today's guide. I'm Julia Kozlova and today we continue to get acquainted with services for automating affiliate marketing.
What is cloaking?
In online marketing, cloaking is a popular way to filter traffic and promote gray-hat creatives effectively bypassing the rules of ad exchanges.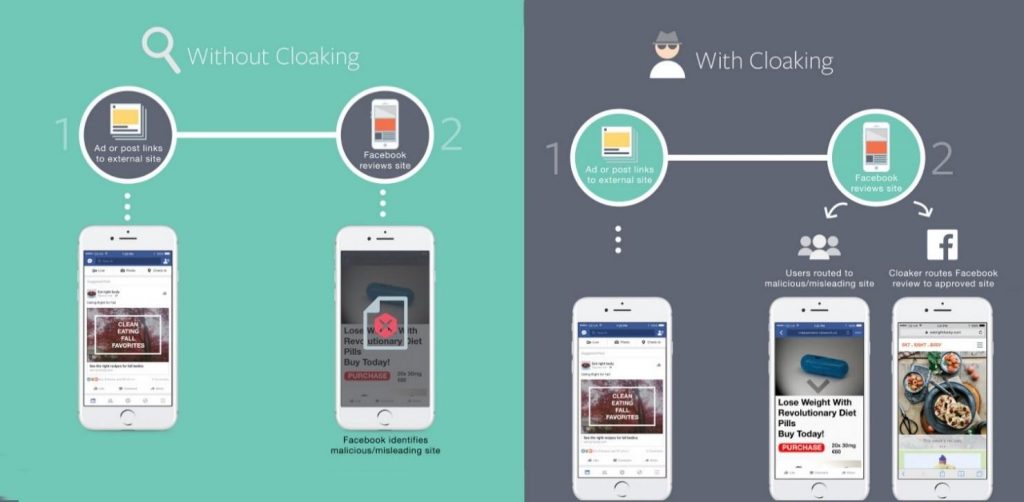 The principle behind cloaking is simple.You create several web pages with different content: for usual users, moderators and search bots. The system determines who sent the request and shows each group of visitors a specific creative.
What is it for?
Bassically, cloaking is a way to deceive search bots, search engine moderators, social networks, and traffic exchanges. It is usually used to pass moderation when promoting prohibited offers in large ad networks:
Google Ads, includes ads on Google's services such as YouTube;
Facebook Ads: targeted and native ads on Facebook, Instagram;
Yandex Advertising Network (YAN), not only a search engine, but also a targeting ads platform that includes thousands of sites from Tier1 countries;
Bing Ads, Yahoo and some other platforms that rigidly monitor all ads.
For example, Facebook doesn't like gambling. But the website has tens of millions of potential gamblers. To attract their attention you launch a fake ad campaign: Actual users get a real online casino ad. Bots and moderators see a fake page where everything is within the rules.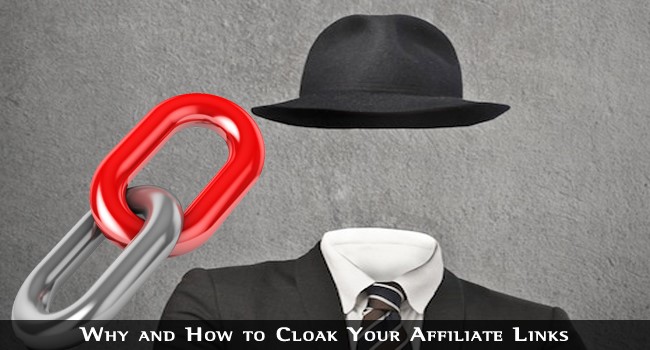 There's another reason to use cloaking, a more pragmatic one. Cloaking helps weed out unwanted traffic. These can be users from insolvent regions who use VPNs, search bots, scripts of dishonest exchanges, competitors – they all eat up advertising budgets without giving anything in return. Cloaking is the only effective way to deal with them. Several copies of the page are created, and users see a specific one depending on the GEO or the website they were redirected from (through a banner, from search results, etc.).
Other reasons to use cloaking:
protect your content from getting copied (basically, stolen), users do not see the source code of the page;
determine the user's GEO and IP – allows you to display the site in the desired language, offer relevant products, delivery methods;
protection from spy services – not only search bots are added to the database, but also spy robots that collect fake pages and cannot identify real advertising bundles.
In the past, cloaking has been used for SEO optimization. Webmasters would give search bots a doorway with the necessary keywords. Users saw a webpage that was selling a product. Following the change in search algorithms, this method has become useless, sometimes it leads to a decrease in the site in the search results or a ban. The "in" thing today are texts with native keywords the user can make use of.
How does cloaking work?
Cloaking is based on special scripts that are run by the web server. When a request is sent to the server, it determines who it is from: a robot (moderator) or a regular user.
If it is a moderator or a robot, the program displays a page optimized for the site's requirements (White Page). As a result, the site or ad successfully passes moderation. Other users see the main offer (Offer Page).
How to determine who clicked on a link? There are two main ways to identify them:
by User-agent value;
by IP address.
A User-agent is one of the ways to verify data. A script is launched on the web server where the creative is located. A database with a filtering blacklist is connected to it. If the user's name is already on that list, they are sent to the White Page. The other users see the real creative.
User-agent technology is easy to set up and efficient. But there's still a downside – recently bots have been changing their names thereby bypassing the cloaking. This method is also not that effective against moderators who enter the website under the guise of ordinary users.
This is where identification by IP address comes in. Unlike the previous method, the server compares users by IP address. Even if the bot or admin changes their name, they will still see the optimized page.
This all sounds complicated, but only on paper. You do not need to launch your own server, configure it, find a database of IP addresses of search bots. There are special services for this. All that the webmaster needs to do is enter the links to creatives and launch an ad campaign.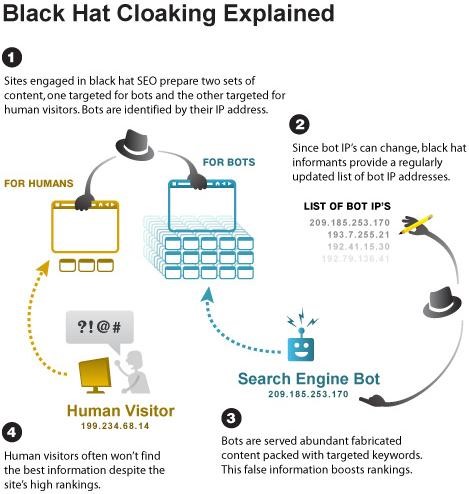 Most services allow combined User-agent + IP address identification. They also introduce additional identification methods. The user is redirected to the White Page when any of the values match, which increases the efficiency of the cloaking.
Types of cloaking
White-hat
This is a legal separation of users into different categories depending on their GEO and interests. The method is used by search engines, redirecting visitors to a localized site. Online stores, marketplaces offer popular products based on the user's search history.
Weeding out fraud traffic is also considered white-hat: spy system bots, users from irrelevant GEOs, proxies, VPN servers. Such clicks don't convert but they do eat up the budget.
The main criterion is that there is no deception. Both moderators and regular users see the same content.
Gray-hat
Gray-hat cloaking includes everything that is not formally prohibited or illegal, but may violate the rules of individual services. In short: we're honest with potential clients, but missleading administrators. For example, SEO optimization (bots see a page filled with keys, while users see ordinary text) isn't illegal and isn't regarded as fraud. But search engines ban such accounts.
Many problems arise when promoting nutra and dating offers – the moderators of large traffic exchanges more carefully moderate promotional materials, and put forward increased requirements for the product. Sometimes verification takes several weeks. Cloaking speeds up moderation.
The same goes for dating, gambling and betting offers. Google, Yandex and Facebook  don't take kindly to accounts promoting these verticals, even if they are perfectly legal in the region. Cloaking is a great way to get around restrictions and get large amounts of traffic.
Black-hat
Black-hat refers to the promotion of prohibited verticals. Not necessarily something illegal: drugs or prostitution. These can be porn websites or online casinos in countries where they're banned. This also includes promoting shady goods, like breasts or penis enlargement pills.
Black-hat cloaking implies straight up deceiving the moderators, users, affiliate programs – you hide the traffic source if it's tabooed (affiliate programs often do not allow adult and branded traffic and some other types as well).
When promoting black- or gray-hat offers, try to "bleach" them (make them more similar to white-hat offers) while you're testing out bundles. Even if you manage to deceive the moderator, the creative can be banned due to user complaints. Remember, cloaking is only used for getting the creative through. You yourself are responsible for everything else.
Bleaching creatives is a topic for a separate article, one which will definitely eventually appear on this blog. But in the meantime, here are some key points:
work out your creatives thoroughly, it is better to spend 15-20 minutes more once than to create and promote new accounts in social networks and reconfigure the cloaking each time;
look for new approaches, the world of marketing does not stand still, something gets boring, something becomes obsolete, new trends and technologies emerge;
if you copy someone else's creatives, make sure to make them unique in some way;
create your own pre-landing pages, there's no telling how many times the ones you copied have already been used, the clients might already be sick of them, especially in gray-hat verticals.
Read about pre-landing pages (what it is, how to use it, pros and cons) here.
TOP 10+ cloaking services
Cloaking.House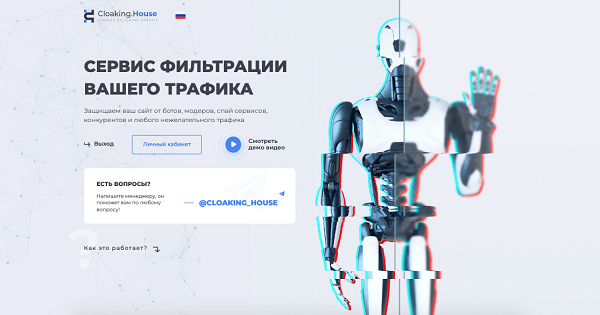 Cloaking.House is a modern traffic filtering service created by the Push.House team.
The service provides a powerful protection system for your traffic, created by affiliate marketers for affiliate marketers. The team has thought hard about the functionality of the service, and tried to make it as simple and convenient as possible. Now with the help of Cloaking.House you can conquer any traffic source!
Features:
Professional solution for traffic filtering and content protection based on Machine Learning;
Works perfectly with any traffic source: Google, Facebook, Yandex, MT, TikTok and any other advertising platforms;
The services gives you the ability to configure traffic filtering by the following parameters:
countries, devices, OS, browsers, VPN/Proxy, IPv6, ISP, Referrer. Also you can create your own Black Lists;
No technical knowledge is required for operation. Installation will take no more than 2 minutes.
Detailed statistics by date, countries, cities, flows, devices, OS, browsers, as well as detailed statistics for each click;
Trial access: After registration, for 7 days, without any restrictions.
Plan prices: start at $30/month when billed monthly and $20/month when billed annually.
Website – cloaking.house
IM KLO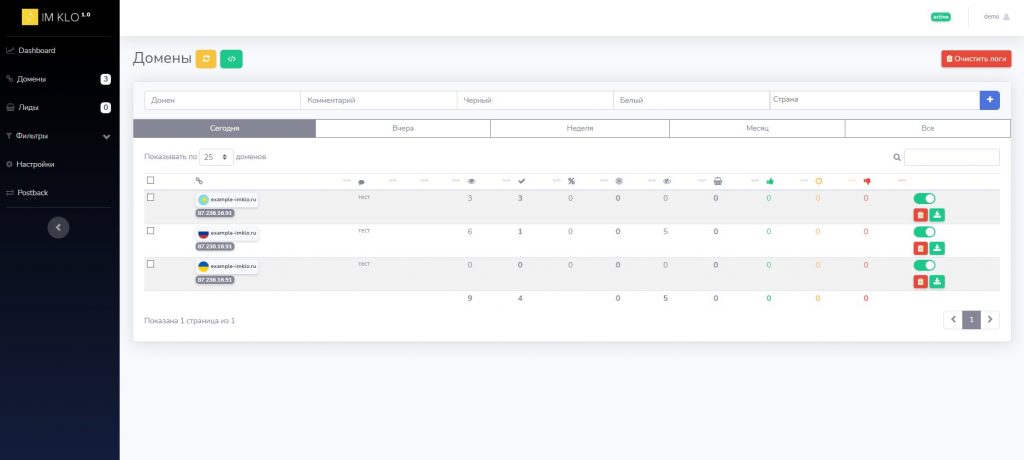 IM KLO is a cloaking service from the IM Group. Suitable for Facebook. Unfortunately, the script does not work for other traffic sources. But it's possibly the best option when working with Facebook. Open source code, its own database of IP addresses not only for search bots, but also for unwanted visitors, an extended set of filters and high-quality technical support – all this is in one of the most accessible cloaking services.
The script is easy to install on your server (it is uploaded to the domain root, unlike other cloaking services, IM KLO is not a cloud service). After that you get full access to all the features. Buying the installation files is a one-time purchase, there's no monthly subscription fee. Convenient integration with trackers has been implemented.
General information:
price: $330 for lifetime use, no monthly subscription fee. There are occasional discounts up to 30%;
integrated with trackers, including keitaro;
the project does not have an official page, you can buy an installation package from the founder of the development team (Vkontakte page: vk.com/id454501008);
a good base of bots, constantly updated, flexible filtering, several ways to connect landing pages;
IM KLO is suitable for cloaking on Facebook.
CLOAK IT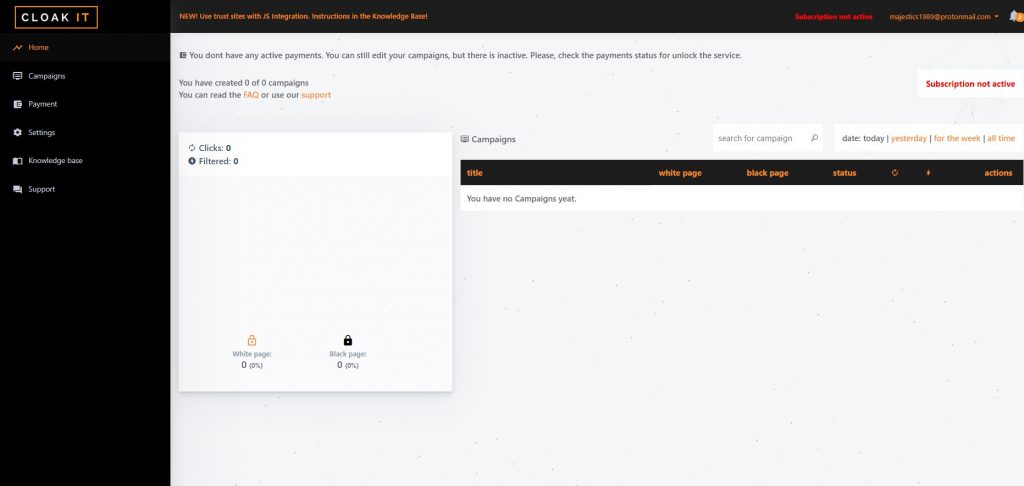 A universal cloud service for cloaking in Facebook, Instagram, Google and WebView applications. The admin panel runs on the company's server. You do not need to install and configure yourself. To start using it, you just need to register.
The cloaking service instantly processes requests – visitors won't notice a delay after they click. Flexible filtering by several parameters: IP, user agent, crawler. Includes an extended database of unwanted users. The cloaking service will filter out bot traffic that consumes the advertising budget, while not alienating potential customers.
General information:
monthly subscription plans: $60 for 1 ad campaign, $120 for 10, $240 – unlimited. A 50% discount when purchasing a yearly subscription;
website – cloakit.pro;
a cloud service;
instant processing of requests;
connects trackers;
several filtering methods: IP, user agent, crawler;
suitable for Facebook, Google Ads.
BHOLE.SPACE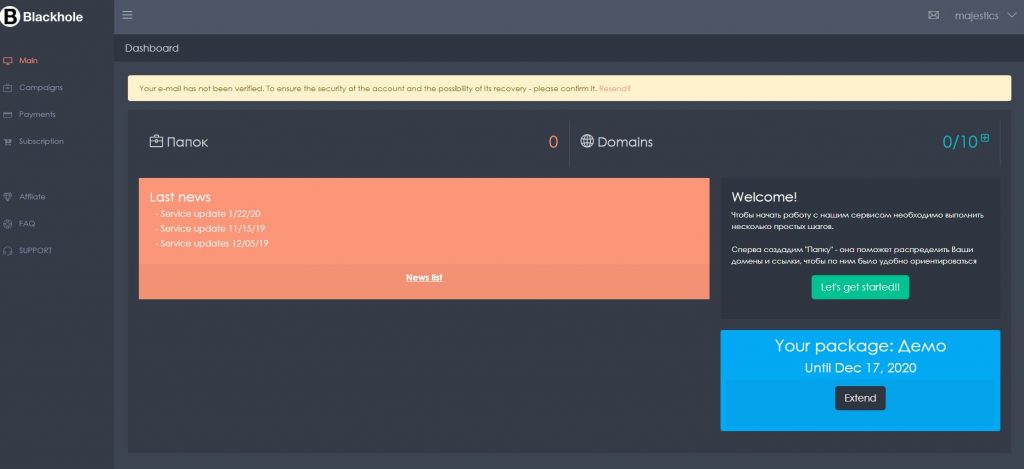 An inexpensive cloaking service that's easy to set up for Facebook. The base plan is only $25 a month. For this money, you can link up to 10 domains, launch up to 35 ad campaigns. Despite the specialization, it is suitable for any traffic sources. But the database of IP addresses and user-agents is especially impressive for social networks..
General information:
monthly subscription fee: $25 (up to 25 campaigns, up to 10 domains);
cloud service, website – BHOLE.SPACE;
a universal tool for different sites, but works best with Facebook.
Zeustrak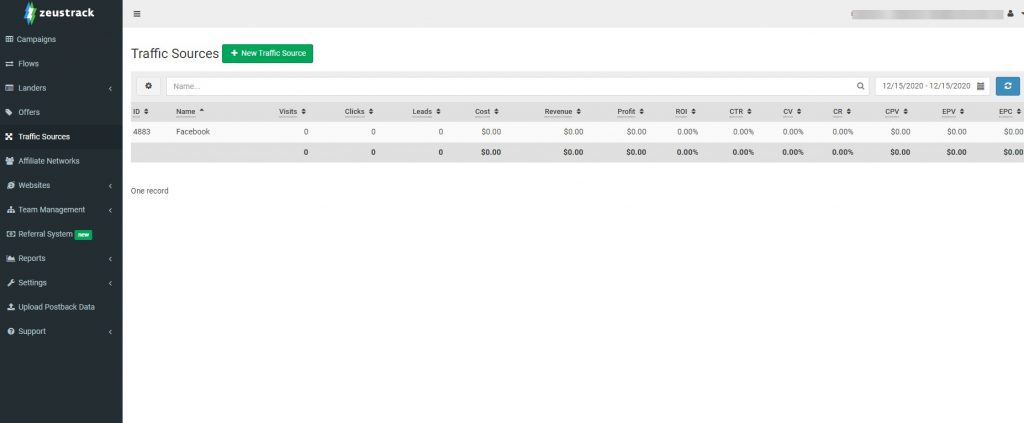 A cloud-based cloaking platform suitable for work with all ad exchanges. The service has enormous blacklists filled with the IP addresses of search engine bots and moderators, traffic exchanges, and unwanted users. Includes its own analytics section. Counts clicks, CR, CTR, bids, recalculates profit. You can add your own URLs to the filter list.
The main feature is a multi user mode. A whole team of marketing specialists can operate within a single profile. Setting this mode up is simple.
General information:
website – zeustrack.io;
cost: from 249 (5 servers, 10 domains) to 899 euros (25 servers, 50 domains), a discount of up to 30% when purchasing a yearly plan;
includes a 7 day free trial period;
suitable for all advertising networks, including Google Ads, Facebook Ads;
good analytics, simplifies accounting of ad campaign finances.
Hide.Click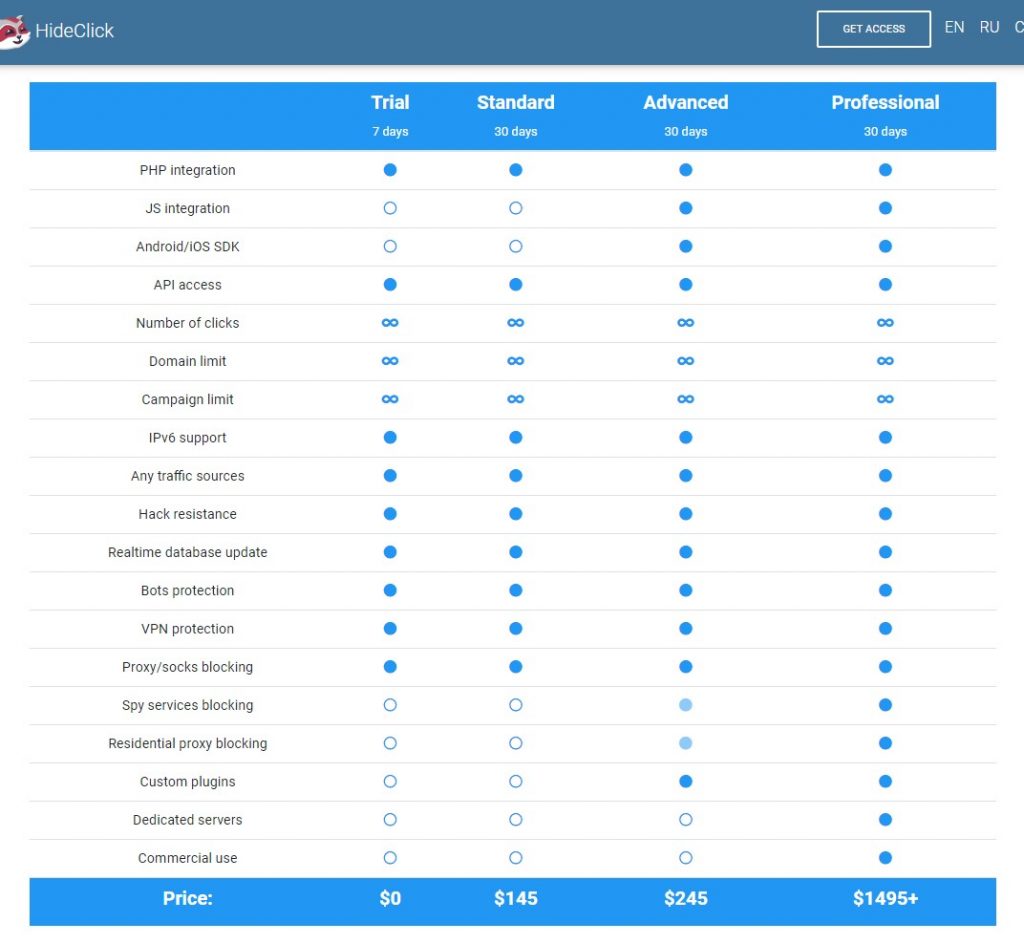 A powerful platform for filtering and sorting traffic. Designed for marketing specialists of large companies, offers an expanded set of features. A webmaster's best friend with an affordable price and flexible filters. Offers protection from Spy services, block transitions from proxies.
Hide.Click has a good base of IP bots for most advertising platforms, including Facebook, Google, Yandex, Vkontakte. The developers did a good job making sure the service was compatible with various services and servers. They guarantee high performance when integrating with Cloudflare, WordPress, Keitaro, Nginx, Apache. The cloaking service supports PHP, JS redirects for Shopify, Tilda.
General information:
three monthly plans: The Standard plan is $145. The Advanced and Professional versions – for $245 and $1,495. PRO-subscriptions additionally include JS-integration, SDK for iOS, Android, blocking of spy tools, unwanted proxies. The professional version is also suitable for teams;
includes a 7 day free trial period with features from the Standard plan;
this is not a cloud service, the system is installed on the webmaster's server, a 3 steps setup: download the script (the link will be sent to your email after you register), upload the file to the server, launch it and go to the admin panel;
unlimited number of domains, clicks and ad campaigns;
suitable for all traffic exchanges.
Keitaro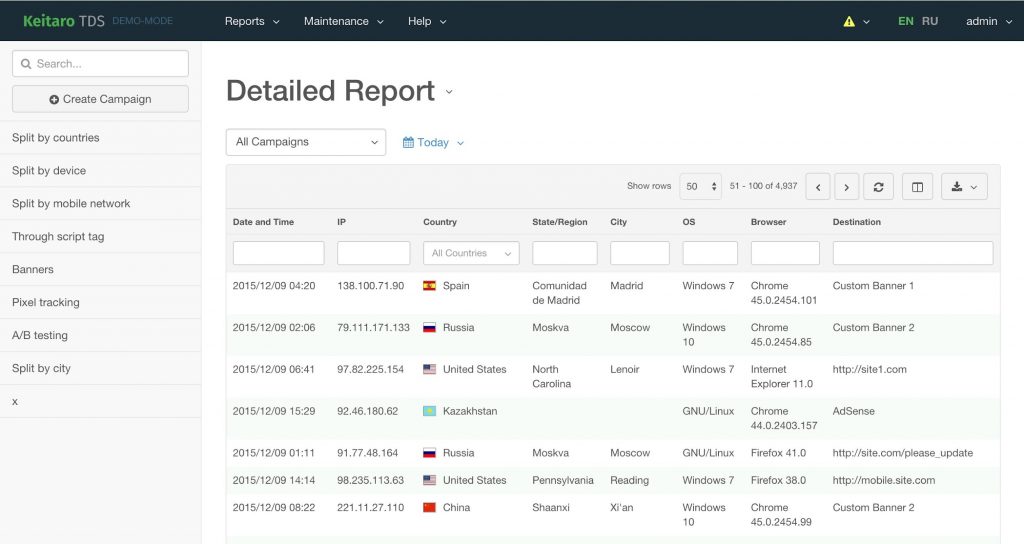 Keitaro is a multi-purpose arbitration station. This tracker is designed for professionals. Provides tons of ways for the affiliate marketer to manage traffic flows. The list of applications includes a cloaking device.
It has everything an affiliate marketer may require: different options for redirects (meta-redirect, HTTP, JS, iframe), rotation of flows in one click, more than 30 filters to redirect traffic, a built-in editor for landing pages, a complete API. Convenient statistics, automatic reports. Integration with any traffic sources with different payment models. 100 ready-made templates for Facebook, Google, Yandex, Exoclick, Zeropark, Propeller Ads. The cloaking bot database includes over 500 thousand IPs.
The tracker is suitable for both lone wolf marketers and teams. There are different access levels (administrator, moderator, user, full access, view only, management of selected resources).
General information:
website – keitaro.io;
monthly subscription: Basic (one domain, one user) – $25, Pro (the number of domains is unlimited, 5 users, includes traffic simulation) – $40, Business (you can give access to an unlimited number of people, round-the-clock technical support) – $70;
includes a 7 day free trial period with Basic features;
this is not a cloud service, after purchasing you get a script, you need to upload it to your server;
offers statistics, export of reports, smart links, unlimited number of clicks;
suitable for all ad grids.
NoIpFraud
This is a tool for weeding out unwanted fraud traffic. But because of its advanced functionality and since it's easy to manage NoIpFraud has become a popular cloaking service.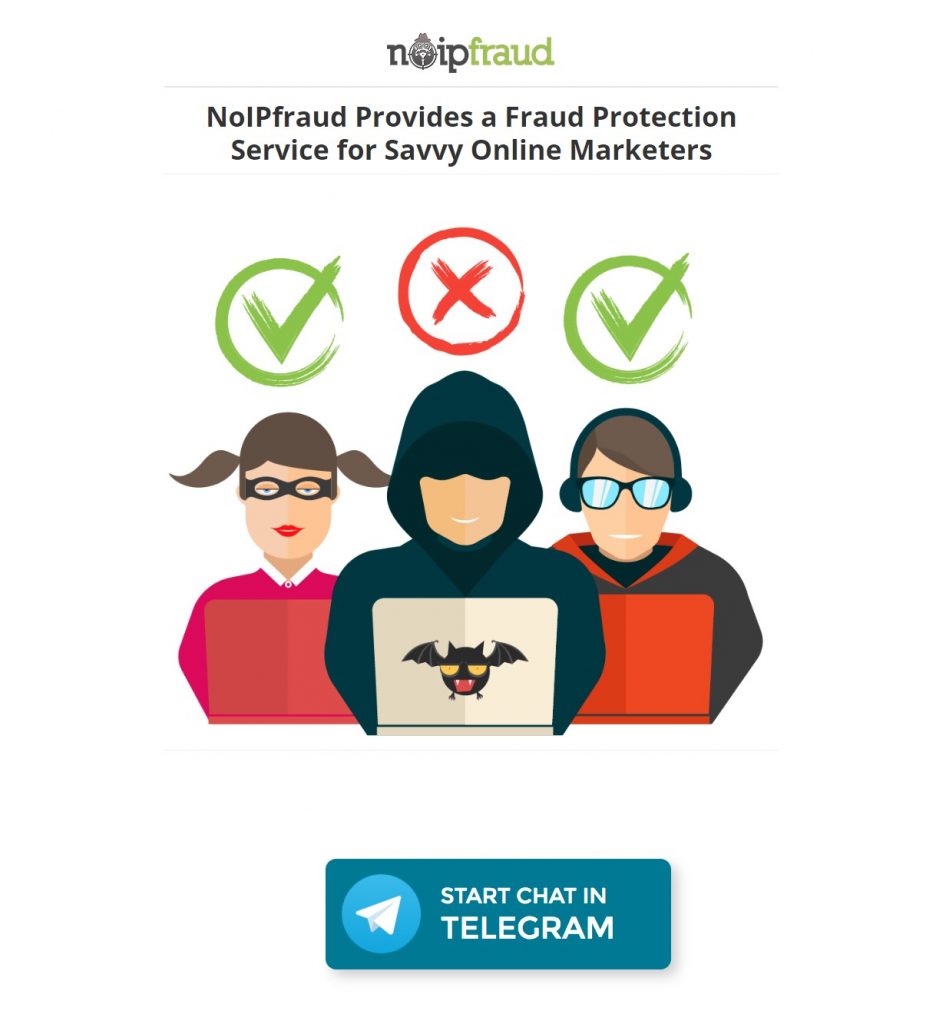 NoIpFraud is an exclusive service. You can find out prices and get access only after negotiating with the tech support.
General information:
plans are agreed upon individually;;
no free trial period;
flexible filtering of traffic by different parameters;
suitable for working with all traffic exchanges.
Traffic Armor
A flexible platform for cloakers. Both filtering by IP address and User-agent is available. Built-in GEO routing. Contains an extensive database of VPNs, proxy servers, bots, spyware. You can add unwanted users to the blacklist yourself, for example, competitors who steal creatives and eat up traffic.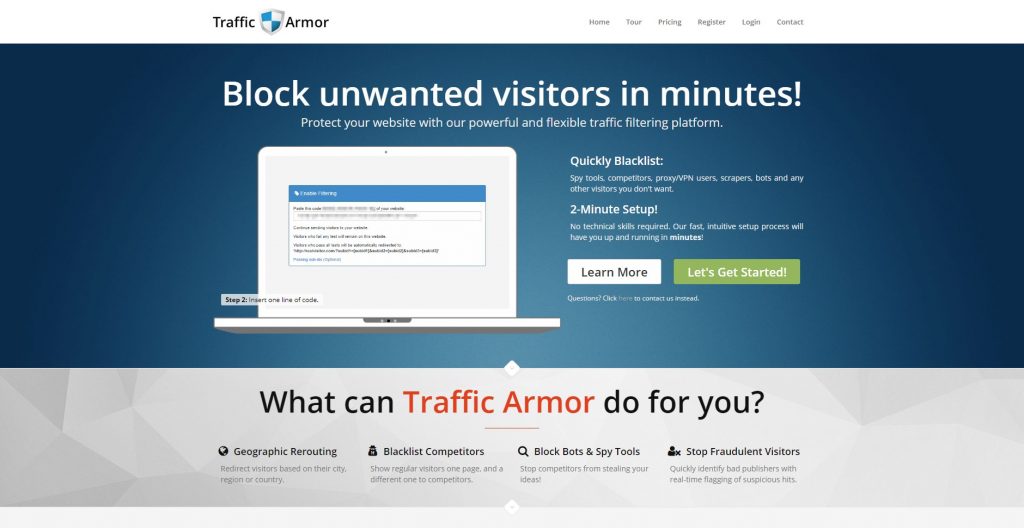 General information:
plans – depends on the number or clicks. Basic – $129 for 32,500 clicks per month or 15,000 clicks for $229. The most expensive plan is $599 for 750,000 clicks per day or 599,000 clicks in 30 days;
blocks search bots, unwanted traffic (competitors, users who use VPN, proxies, fraud traffic), spy tools;
cloaking works in all ad networks.
FairLab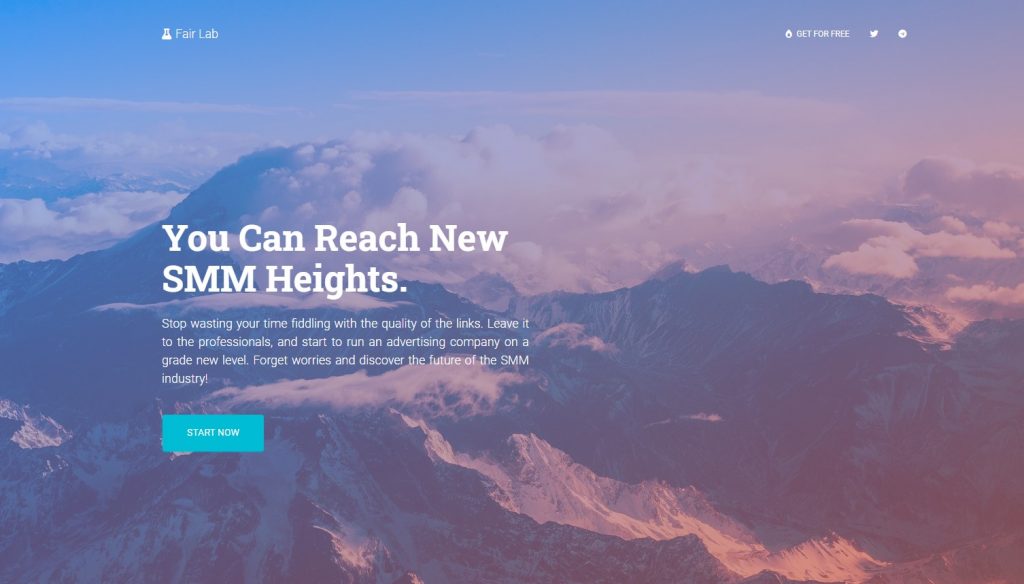 The most expensive cloaking service in this review. But every dollar spent will pay off handsomely. An advanced identification system effectively filters users. Forget about rejected campaigns, banned profiles, money left in your frozen account. What's important – here, everything is inherently simple: add links to creatives, set up filters, click the "Launch" button.
FairLab has its own neural network, which analyzes each device by 25 parameters, searches for templates that ad networks and spy services work with. As a result, it becomes possible to identify moderators and bots even if they change their IP or use VPNs. The system is self learning. Each day it becomes more efficient, thinks one step ahead and is already ready for the tricks that moderators or your competitors will use in the future.
The company offers flexible pricing; there are daily, monthly and yearly plans. The subscription price goes up to 1199 euros per month. There is a free trial period, a 30-day money-back guarantee for users who paid for the service for a year.
General information:
website fairlab.club;
plans: daily (Light – $19.99, Prime – $39.99), monthly (Light – $499, Prime – $999, Corp – $1,199) and yearly (cost per months: Light – $399, Prime – $799, Corp – $999);
includes a 7 day free trial period that doesn't require you to attach a credit card;
you can simultaneously run from 125 (in a Light subscription) to 3750 campaigns (Corporate plan), connect from 10 to 50 domains;
the number of redirects is not limited;
you can provide several people with access to one account
the service is tailored for launching campaigns in Google Ads and Facebook Ads. But you can use it in teaser networks, VKontakte, MyTarget, Twitter, Pinterest.
FraudFilter.io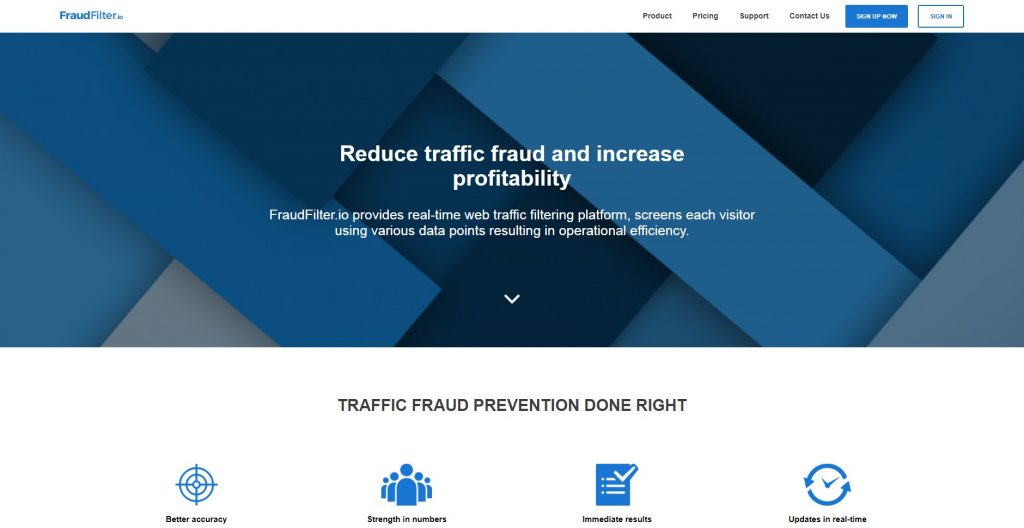 FraudFilter is designed to block fraud traffic. The system makes an imprint of each visitor, evaluating them by dozens of parameters and highly accurately identifies moderators and unwanted users. The platform has a huge database that is updated in real time. Therefore, the probability of your account being banned is near zero.
General information:
only offers one plan – 162 EUR a month;
accurate subdivision of users, exposes moderators or search bots even if they constantly change their IP;
compatible with popular web development and content management platforms (CMS): WordPress, Google Tag Manager, Shopify, Joomla, Drupal, Weebly, Presta Shop;
cloaking works in 130 ad networks.
Link Trackr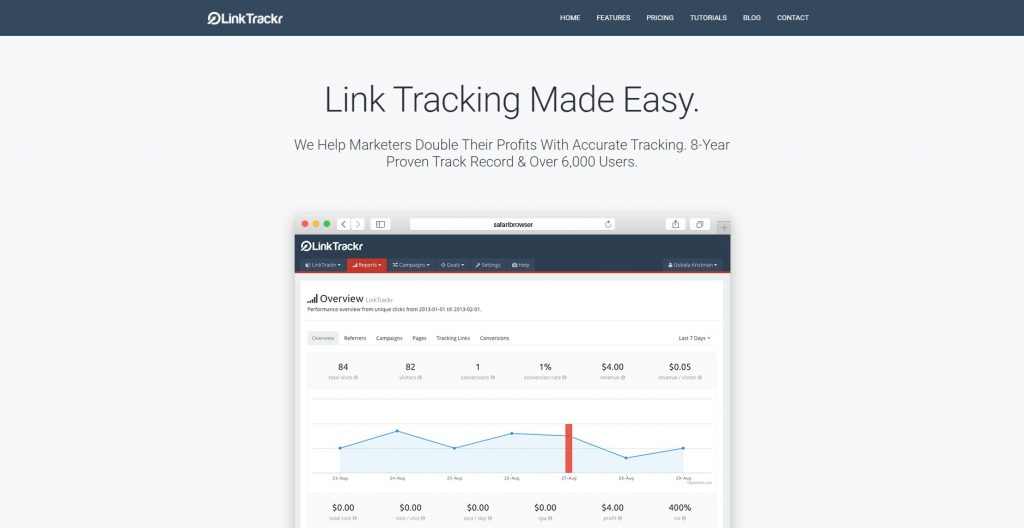 A popular tracker with everything an affiliate marketer or marketing specialist needs. This is the software that will ensure you get a profit in any niche, even with low click-through rates or stiff competition.  The site offers a dozen tools to facilitate the promotion of offers:
Link Cloaking is a convenient cloak that allows you to set up a redirect for different categories of users in a few clicks;
Ad Tracking – an ad tracker that shows any changes in traffic, allows you to see which of your ads are bringing in profit and which aren't;
PPC Tracking – collects data from different networks, consolidates financial statements in one place;
Conversion Tracking – helps you track which source is generating the most sales;
Pixel Tracking is a universal tool that will help you accurately track a client, from the traffic exchange to the target site. Shows sales for your links, email open rates, etc.;
Postback Tracking – Postback tracking is more efficient than Pixel Tracking. When a conversion happens, a unique identifier is created on the server, you can get accurate information even if cookies are lost;
SubID Tracking – provides complete information about the conversion, shows the referral address, advertising network, campaign, creative name, device, OS, exact address, IP and even customer ID (new or recurrent customer);
Split Testing – traffic distribution, redirecting to different landing pages in a few clicks. Tests with minimal budget losses;
URL Rotator – a handy tool for spreading traffic across multiple landing pages. Setting up a campaign takes two clicks.
LinkTrackr allows you to disguise affiliate links and gives you free viral traffic from Facebook. You can attach an unlimited number of domains. Additionally, it's one of the most affordable services. Combines simplicity and flexibility. Equally suitable for newbies and experienced affiliate marketers.
General information:
four plans: Basic for $17, Pro for $27, Hyper – $47, Extreme – $77. Get a $10-20 discount when purchasing a yearly subscription;
the plans include from 10,000 to 500,000 clicks a month;
suitable for all traffic exchanges.
FAQ
1. Can I set up the cloaking in 2 clicks in WordPress?
Depends on the specific service. Some scripts need to be installed on your server, others work from the cloud. In any case, the setup takes no more than 2-3 minutes. There are also some where you just need to enter the white page and offer page in the corresponding fields and press the "Start" button. For example, FairLab or CloakIT
2. How do I find databases of moderators' IP addresses?
You don't need to look for anything. The services we talked about already have their own operator database that is automatically updated. The user automatically connects to it immediately after purchasing the subscription.
3. Can I use cloaking for my own websites with traffic?
Yes, the same way you use it for ads. There are plenty of reasons to use cloaking: easier to manage users from different GEOs, SEO optimization, зprotection from content-stealing parsers.