Searching for working bundles (the successful combination of a source of traffic, creative, offer and affiliate program)  and testing out new creatives takes up to 80% of the affiliate marketer's working time and a significant part of the allocated funds. Do you have to spend your entire budget on tests? Is it possible to automate the process or at least learn how to find bundles quickly? Is there a universal way to capture the mood of the audience and launch a campaign with a high ROI right away?
Perhaps, if you monitor the market and check out which creatives of your competitors work best. Some webmasters do that manually. They go through tons of ads, enter dozens of queries, use VPNs to fake your location and see the banners for a specific GEO. It's very laborious to say the least.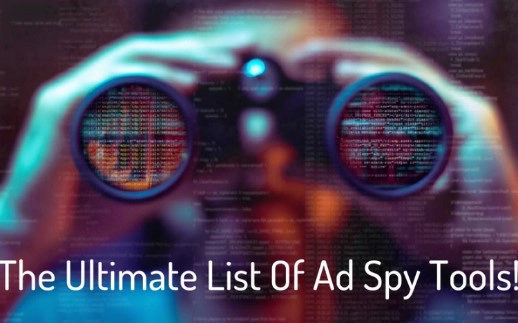 Spy services make the process of monitoring ad trends on the Internet significantly easier. What are they, how do you use them and how can you get the most out of them? That's what I'll cover in today's review. This is the regular digest for marketing specialists and affiliate marketers from the LeadBit partner network.
What are Spy services
Sometimes a well-chosen bundle brings you profit for months. But how do you find it, how do you catch that trend? By studying the needs of the target audience and launching test campaigns. Often, due to a misunderstanding of the cultural characteristics of the inhabitants of the selected GEO, you can't get even a single conversion. You pour your ad budget down the drain. You end up spending thousands of dollars before getting an idea of what the users need and starting to drive traffic with a profit.
You shouldn't rely on your own interests and views if you work with different GEOs. But that doesn't mean you need to spend months studying the local mentality and culture. Spy services come to the rescue. With their help you can quickly find the working bundles of your competitors. How do they work?
A Spy service is a platform that can find currently working ad creatives. It uses fake social media accounts and search bots that collect information from a selected ad network and send it to the cloud. The user can sort the data by keywords, selected vertical or various targeting settings: GEO, device type, browser, display time. A web interface is usually used for the searching.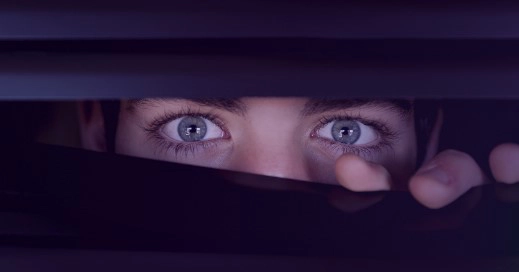 Recently, more and more universal Spy services have been appearing. As of now, the most effective are the specialized ones: for monitoring social networks, push notifications, search engine, native, teaser or mobile ads.
Features of Spy services:
finding creatives in the chosen niche;
identifying trends – you can see what is being promoted with the highest success rate;
analytics: statistics, information about targeting settings;
finding working bundles.
Before you start using it, make sure you understand that Spy services are not a panacea. Stealing, excuse me, copying the bundles of others does not guarantee that they will work the same for you. There are several reasons for that:
some webmasters drive traffic and have a low KPI. They make a profit thanks to the affiliate program's exclusive conditions. If the payouts get just a little smaller, the best they can hope for is getting the money they invested back.
maybe the creative or the whole bundle have already run their course and are currently just scraping the bottom of the barrel. You can launch a similar campaign, but it won't give the desired effect;
similar offers often have different terms: the size of payments or the required KPI. You may not make it over that minimum threshold and be left with nothing while your competitor retains a good ROI;
just straight up bad luck – incorrect targeting settings, and instead of profit you're left with a loss.
Still, Spy services are a convenient tool for marketers and affiliates that helps significantly conserve the budget. You can take a look at your competitors' creatives to make your own based on what you saw. Better than shooting in the dark. You can test out the things that the residents of a specific GEO are currently interested in.
The final argument is that you get access to thousands of creatives. You can draw inspiration or combine other people's ads to create your own working bundles.
TOP-30 Spy services for monitoring ad creatives
There are hundreds of services on the Internet for monitoring targeted ads. We aren't going to go over all of them. Let's talk about those that we and members of the LeadBit partner network use. There are two main criteria: the price and the informational value. For the sake of convenience, we divided the sites into groups. Let's get started.
TOP 5 Spy services for Facebook/Instagram/YouTube
AdSpy
A social media reconnaissance tool with an extensive database of ad campaigns launched in Facebook and Instagram. Contains about one hundred million creatives. Collects up to 30,000 new ads daily.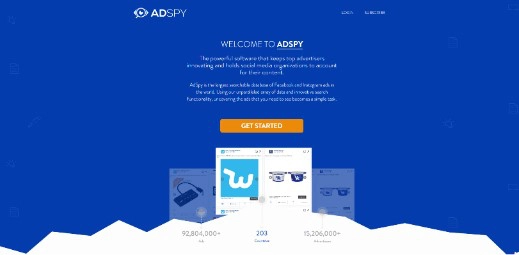 AdSpy is a versatile tool for Facebook Ads. It can track any type of advertising. There are no restrictions regarding the GEO or language. There is a cloaking bypass tool. Flexible targeting: by keyword, affiliate network, ID, landing page. Allows you to track text, images, see bundles. Provides statistics.
The service is paid. A monthly subscription will cost you $149. But there's also a free trial period for 14 days.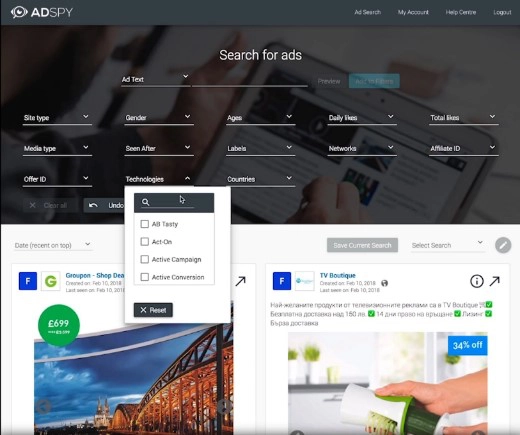 General information:
price: $149 a month;
includes a 14 day free trial period;
any GEO: 203 countries, 88 languages;
tracks any type of FaceBook ad;
filters: by keyword, GEO, advertiser ID, CPA grid, user reaction, landing page technology, demographic settings (age, sex, interests), ad format (video, photo). Includes tracking of offers with landing page addresses.
PowerAdSpy
A universal service that allows you to monitor competitors' ad campaigns on social networks, Google Ads and Youtube. Most commonly used to monitor Facebook and Instagram. The list includes 20 countries. 10+ thousand ads are indexed daily. The database contains over 50 million creatives.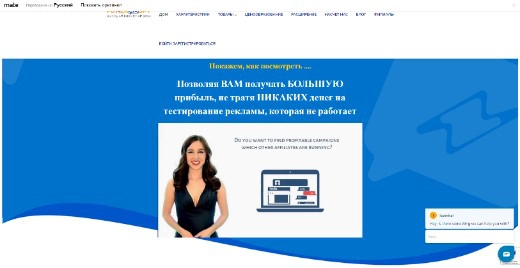 The tool is suitable for an affiliate marketer, marketing specialist or PPC manager. PowerAdSpy allows you to track effective ads in a few clicks, see the working bundles of your competitors, get statistics on them. It also shows how well the ad campaign was received, how successful individual creatives were.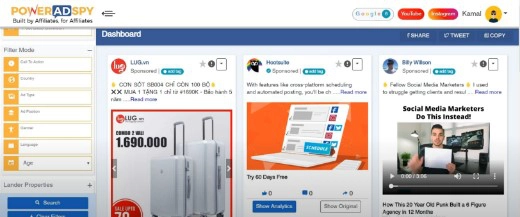 The cheapest monthly subscription is $49. But there is a trial version for 100 launches.
General information:
price: from $49 to $249 a month, $149 for unlimited Facebook, Instagram and Youtube monitoring;
A 10 day free trial period for 100 launches;
more than 20 GEOs, most of them – Tier 1;
suitable for monitoring native, search engine or targeted ads in Google Ads (including Youtube), Facebook Ads (including Instagram), GDN;
available filters depend on the selected tariff: likes, comments, share, bookmarks, advertiser, domain, GEO, ad format, link to the advertiser's page, sex, age, device, OS;
a bonus from LeadBit – a 20% discount on your first purchase using the MAXLEAD20 promo code.
Social Ad Scout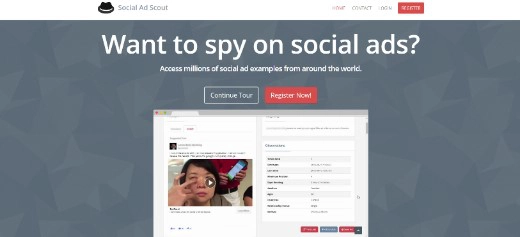 Another powerful tool for monitoring social advertising in Tier 1 countries.The list includes English-speaking, Scandinavian countries, Austria, Brazil, Italy and Russia. Best feature – flexible filtering. In addition to the standard targeting, you can also filter by how often the ad is displayed, who clicks on it and what audience the bundles intends to reach.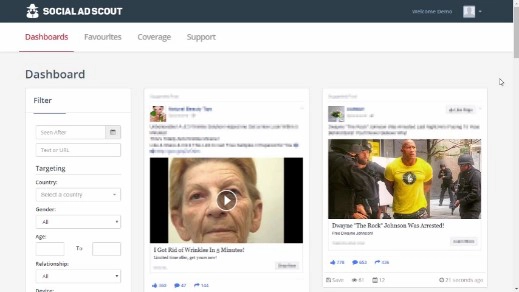 The best feature – a fast interface, instant processing of requests. The service constantly indexes creatives and produces results in less than a second.
General information:
base price: $147 a month, buying a six or 12 months or tariff plan will be cheaper ($127 or $97 a month respectively);
there's no free trial period, the service holds occasional promotions;
GEO: 21 countries: English-speaking countries, Russia, the EU, Singapore, Brazil;
suitable for tracking any sort of social media ad;
filters: by GEO, text query, URL, type of creative, demographic settings (age, sex), time frame, device type, efficiency and others;
bonus – a 20% discount when using the LEADBIT20 promo code.
AdSpyHub (BigSpy)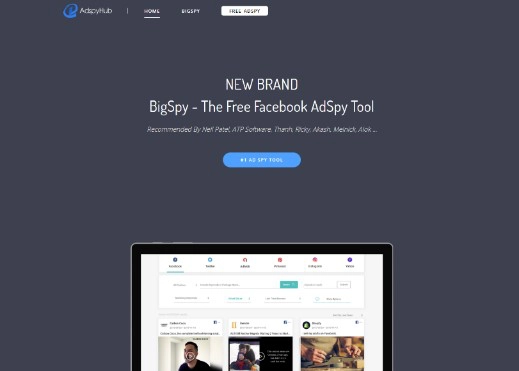 A powerful tool for analyzing Facebook ad campaigns. Covers several specialized services for monitoring ads in Tier 1 countries, Russia, China, social media. The trick is that you don't have to spend a lot of money (although from personal experience I will say that spending $ 150-300 saves several thousand bucks). Many functions are available for free and only for in-depth analysis will cost you extra.
But the basic features are enough both for beginners and seasoned vets. You can find creatives that convert well in the selected vertical in a few clicks. The layout is simple, the filtration – flexible. Some members of the Leadbit network call it a money making machine.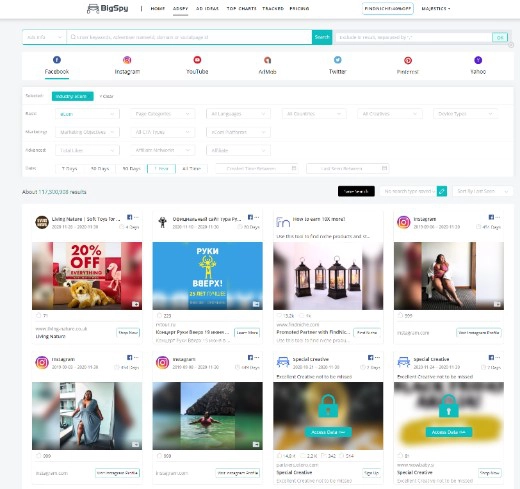 General information:
price: from 9 to 399 dollars a month. There is a free plan: 5 requests per day for Facebook, you can use it without restrictions;
3 day $1 trial period during which you can test out all the app's features;
GEO: 46 regions popular among affiliate marketers: English-speaking Tier 1 countries, the EU, India, China, Southeast Asia, Brazil, Chile, Israel, Egypt, Japan, Korea, the Middle East, Hong Kong, Morocco, CIS, Turkey;
types of ads: search engine (Google Ads, Yahoo), mobile (AdMob), any type of social media creatives (Facebook, Instagram, Youtube, Twitter, Pinterest);
grids: ClickBank, MaxBounty, Hotmart, Monetizze, Affiliate Empire, Insparx, Olymp Trade Affiliate, Bin Partner, Shareasale;
filters: by affiliate program, ad network, page category, language, GEO, type of creative, likes, device type, time frame.
AdEspresso
The official Spy service for Facebook (yes, Facebook has a negative attitude towards collecting information without its knowledge, most Spy services operate illegally, bypassing the rules) and Google Ads.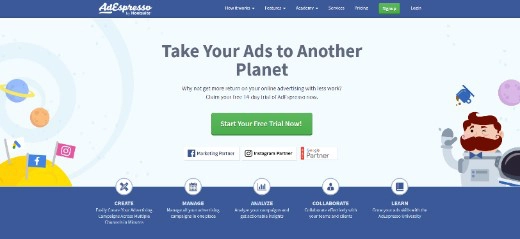 Unlike other Spyware systems, AdEspresso focuses on tracking the performance of your own ads. Although it does allow you to monitor the creatives of your competitors – the database is updated every 30 minutes. In terms of Spying on competitors, the service is inferior to similar ones. But it's still a good tool for optimizing your own campaigns without investing heavily in test runs. All that matters is that it does its job – it saves money, helps to separate bad ideas from brilliant ones.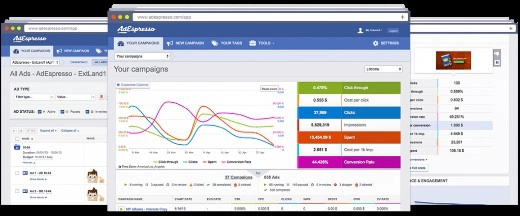 General information:
price: $148 a month or $99 for a yearly subscription;
14 day free trial period, you can gain access to it only after linking your card;
suitable for monitoring Google Ads, Facebook Ads;
filters: by gender, age, advertiser, category, GEO, ad format;
GEO: effective in all regions
TOP 5 Spy services for mobile ads
Mobile ads are the most difficult to use correctly. All kinds of categories of people use mobile devices, many factors affect the conversion rate, including the user's mood. That's why here it's especially important to carefully plan your ad campaigns. This also applies to the choice of a Spy service. But in part, I did it for you – I made a list of convenient and flexible services. Take a look.
WhatRunsWhere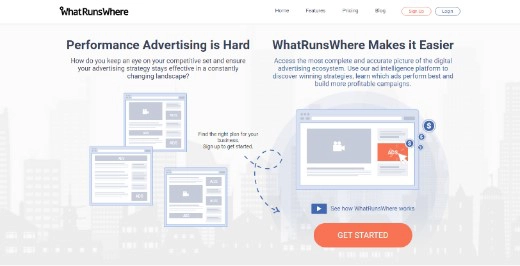 An entire intelligence service that monitors mobile and desktop ads. Hands down the best service to use in Tier 1 countries. True, there are more powerful alternatives for monitoring desktop ads. But it has no equal when it comes to mobile ads.
Up to 90 thousand ads collected from 20 thousand of the most popular sites are added to the system database every day. The cloud includes over 60 million creatives. Works with any ad format. There are over 500 ad networks on the list, including giants like Google Ads, Yahoo Advertising. Allows you to quickly find working bundles, find the sources with the largest amount of traffic.

General information:
mobile advertising is available only in the full package (mobile, desktop, native) for $399 per month, there is a basic subscription (desktop and native) for $299;
offers a trial account for $1;
GEO – 17 countries, the main focus is on the most solvent regions: USA, UK, Canada, Australia, Germany;
ad formats: mobile, search engine, targeted, native;
filters: by keyword, ad network, advertiser, website, vertical, GEO, affiliate or branded advertising..
Adplexity
Another Spy service in the online marketing world that even people indirectly connected with this field have heard about. Adplexity is an Spy service that can be ranked first in the list of the best in each of the categories in our review.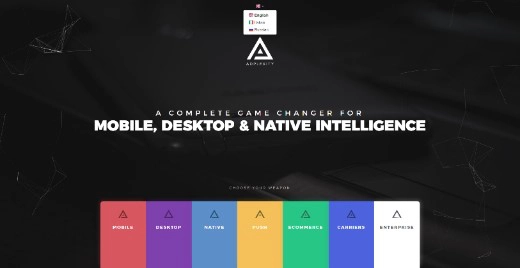 Adplexity has been operating 2008. It is a reputable Spy service for mobile ads, in-app ads, pop-up banners, push-notifications and more. There are reverse lookups for the most successful traffic sources.
The best part – you don't need to buy a subscription for all ad types. You can just order the types you need. The number of available countries is over 75 now, a large selection of ad networks. Includes filtering by mobile and Wi-Fi provider.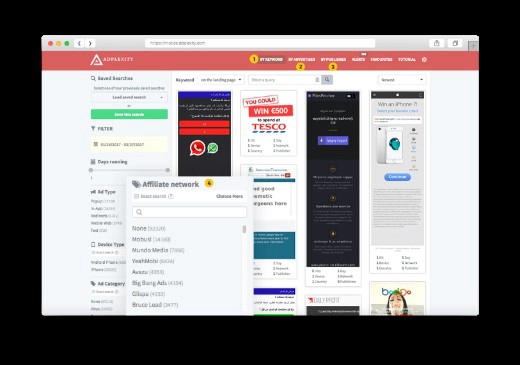 General information:
price: $199 a month or $1990 a year (2 months for free);
no free trial but there's a 24 hour refund option;
GEO – 75 countries, all popular Tier 1 and Tier 2 regions are available: EU, North America, CIS, Southeast Asia, India, China, Australia, New Zealand, the Middle East, most of Latin America;
ad networks: Android In-App Ads (StartApp, MillennialMedia, InMobi, Airpush, Leadbolt), Popups (Adcash, PopAds, Popcash, PropellerAds, ZeroPark), Mobile web (more than 22 grids);
filters: by keyword, advertiser, publisher, ad network, GEO;
bonus – for registered LeadBit users monthly subscriptions for $129 per month.
AdMobiSpy
Global tracking system for advertising campaigns in the largest traffic exchanges. Monitoring in any GEO (over 180 countries). The watch list includes 23 most popular ad networks, 6 PopUp exchanges. More than 30 thousand new ads are added to the cloud every day. There are creatives in different formats: text, video, banners.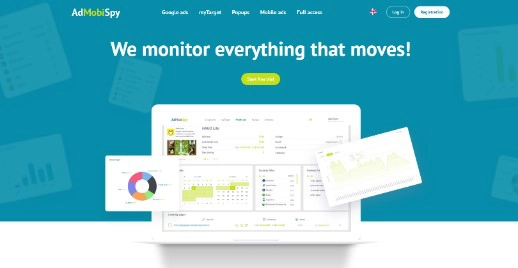 The main feature is the forecasting system. All you need to do is upload a creative and the service will evaluate how successful the campaign will be. Large selection of filters, flexible search settings.
AdMobiSpy is a universal Spy system suitable for monitoring different ad formats. In the mobile segment, it ranks among the best.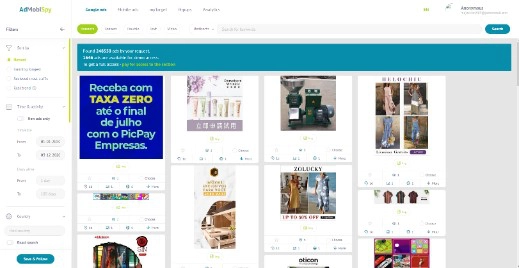 General information:
offers several plans: mobile monitoring – $199 a month, full package (mobile, pop-up, CEO, MyTarget) – $599 a month. With an annual subscription you get a 17% discount;
a free trial subscription is available to all users. And you don't need to link your card to get it;
GEO – more than 180 countries;
suitable for monitoring search engine (only Google), teaser, native, mobile (StartUp, AppNext, AirPush, MoPub, Vungle, AppLoving), targeted (My World Mail.Ru, Vkontakte, Odnoklassniki) ads, PopUnder (PopCash, ExoClick, AdCash, PropellerAds, Pop Ads, PopMyAds);
filters: by keyword, chain of creatives, type of creative (depending on the ad format: banner, teaser, landing page, pre-landing page, app, video, text), country, traffic exchange, partner network, desktop or mobile, OS, browser, ad lifetime, response, period, duration of the campaign;
bonus – a 10% subscription discount for members of the LeadBit partner network.
AdBeat
The affiliate marketer's and marketing specialist's magic wand. The system has a good set of filters to accurately select the ad campaign you're looking for, powerful analytics. The Spy tool knows how to find bundles but most importantly – it allows you to evaluate the success of the campaign.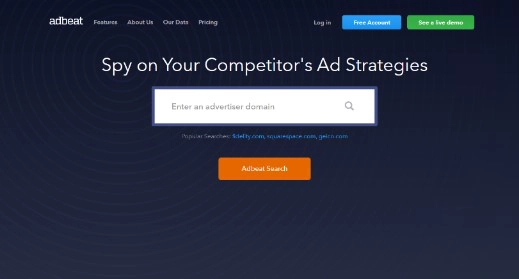 The Spy service displays graphs of views and shows whether the advertising campaign is gaining momentum or is starting to die out. Therefore, it is easy to assess whether it makes sense to launch similar creatives or have they already fizzled out. The service has more than 40 data centers around the world.
When registering, you can choose for what purposes the profile is created. The available features depend on it – only the necessary tools, nothing more.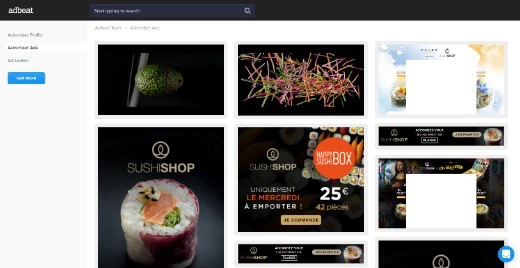 General information:
cost of a monthly subscription: "Standard" – $249, "Advanced" – $399;
there's a free trial version: you can search for advertisements, study competitors' campaigns, but you have a very limited number of tools;
GEO – the whole world, основной упор на такие регионы: the main focus is on the following regions: the Middle East, the European Union, Australia, USA, Canada, Mexico, Brazil, China, Hong Kong, Indonesia, Israel, India, South Korea, Russia, Singapore, Turkey, South Africa;
suitable for monitoring of mobile, desktop, native ads, landing pages. The list includes more than 120 ad networks, including all major sites for buying traffic;
filters – the list depends on the chosen plan: by device type, operating system, browser, ad type, CPA grid, period,keywords, landing page, efficiency and others.
TOP 5 Spy services for native ads
The point of native ads is to not attract too much attention from the user. Ads are disguised as page content: they are embedded in the form of a text block or posts from users on social networks. Tracking them down is not easy without Spy tools.
Read overview from LeadBit "The best native ad networks".
The best tools for doing that are:
Anstrex

A working tool for marketing specialists, eCommerce merchants. Helps to plan campaigns, search for dropshipping suppliers. Affiliate marketer's will appreciate the flexible monitoring setting for native ads and push-notifications.
The company monitors 28 popular ad exchanges. The database contains more than 10 million ads from 64 countries.
The list includes both the most popular grids like Google Ads, MGid, and small sites. There is flexible filtering, convenient sorting of ads. You can find a creative that actually makes a profit in a few clicks.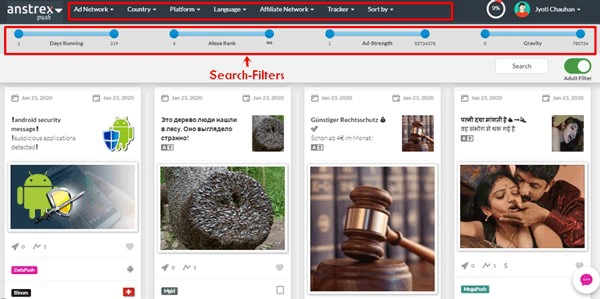 General information:
price: $59.99 a month for native ads, $124.99 – for native+Push;
the services does not offer a trial period, but you get a 100% money back guarantee within 2 days from the date of payment;
GEO – 64 countries, mainly TIER 1 and TIER 2. Covers Europe, the Middle East, the CIS, Southeast Asia, the most solvent African countries, Korea, Japan, Mexico, Chile, Brazil;
control of 28 networks, including Google, Yahoo, Mgid, AdNow, Yengo, EngageYa, Taboola, PopIn, Outbrain;
filters: by keyword, traffic source, category, country, device type, affiliate network, tracker, language, popularity, date;
bonus – a 20% discount if you use the leadbit_20 promo code.
AdVault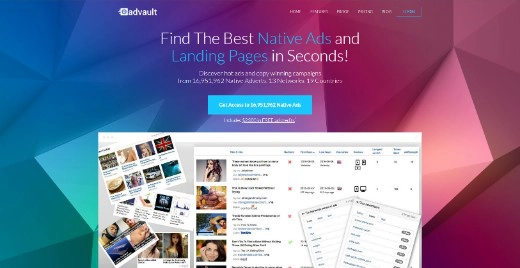 A service for monitoring native ads with advanced filters anda set of additional utilities. Easily finds competing marketing campaigns along the selected vertical. Shows currently popular keywords, ads – it became easier to choose your next vertical to operate in.
AdVault tracks data from 13 ad networks, displays the number of views (in the form of a scale from 0 to 100), conversion and click-through rate, how long the ad has been displayed. The database contains more than 16 million ads.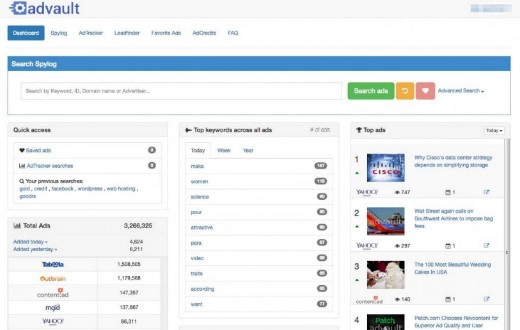 General information:
price: PRO – $97/month, Network – $1499;
there's no free trial period, but in the Network plan, users receive up to $2,300 (provided in the form of discounts from 10 to 100%) to launch campaigns in partner networks: Native Ads, Earnify, Spoutable, Plugz, Brax;
GEO: USA, Great Britain, Canada, India, Romania, Israel, Netherlands, Luxembourg, Germany, China, Japan, France, Estonia, Ukraine, Turkey, Australia, Russia, Spain, Sweden;
suitable for monitoring native ads across 13 grids: Outbrain, Taboola, Gravity, AdBlade, Mgid, EngageYa, Content.Ad, RevContent, Yahoo, nRelate, Ligatus, dianomi, ZergNet;
filters: by keyword, publisher, device type, date, landing page URL, language, traffic exchange, number of impressions/clicks, advisor, GEO.
Native Ad Buzz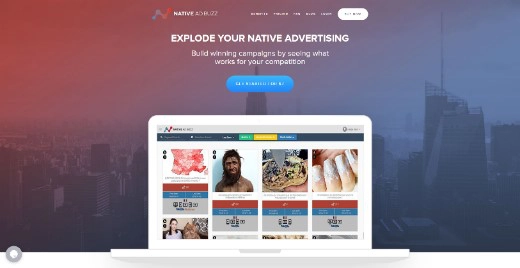 Another tool for tracking native ads. Makes it easy to find and evaluate competitors' campaigns. Offers powerful analytics, shows the effectiveness and strength of ads. The system has a forum where you can chat with other marketing specialists, webmasters, and learn from your more experienced colleagues.
The developers have launched several plans. Here you pay for exactly what you need.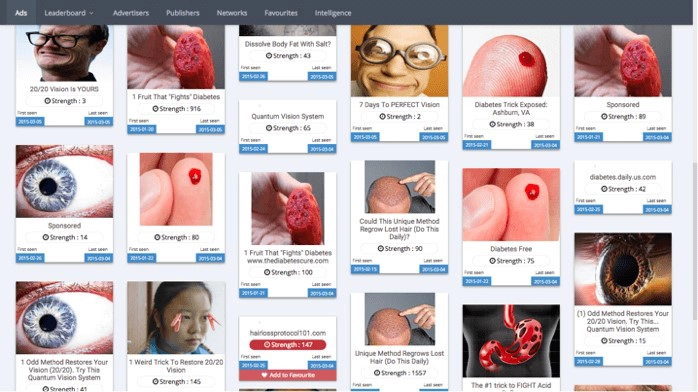 General information:
monthly subscription price: Standard – $47 (2 ad networks: Taboola, Outbrain. 2 countries: USA, UK), Pro – $97 (10 networks, 12 countries). 3-month PRO subscription – $197;
a 7 day trial period for $7;
GEO: Australia, Brazil, Germany, Spain, USA, France, Italy, Turkey, UK, Portugal, Netherlands, Singapore;
monitors: Outbrain, Taboola, Gravity, AdBlade, Mgid, Content.Ad, RevContent, Yahoo, Ayboll, ZergNet;
filters: by keyword, publisher, date, region, landing page, redirect, desktop/mobile, link (the advertiser's URL), language, grid.
Other Spy services for native ads
Above we described specialized services that monitor native ads. There are also more universal reconnaissance services that can, among other things, monitor native ads. These include WhatRunsWhere, Adplexity, Adbeat.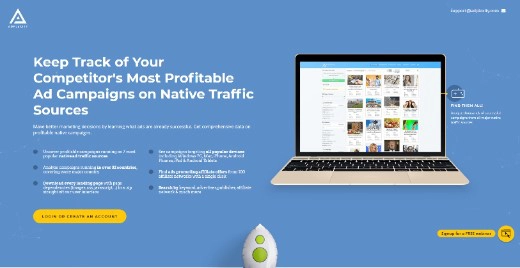 General information about native.adplexity:
price: $249 a month;
a 24 hour guaranteed refund;
GEO: USA, Canada, UK, Australia, Germany, Spain, Italy, Netherlands, Sweden, France, Czech Republic, Luxembourg, South Africa, Switzerland, Poland, Russian Federation, Brazil, Indonesia, Turkey, India, Thailand, Vietnam, Malaysia, Philippines, Argentina, Mexico, Israel, Colombia, Venezuela, Peru, Romania;
supported grids: RevContent, MGID, Content.Ad, Yahoo Gemini, Taboola, Outbrain, AdNow;
filters: by keyword, traffic exchange, CPA grid, retargeting URL, publisher;
bonus – for LeadBit members monthly subscriptions const only $149.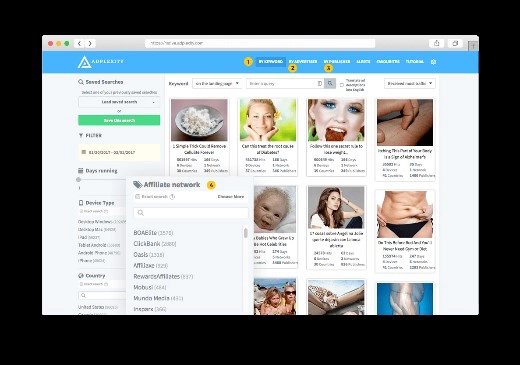 SpyOver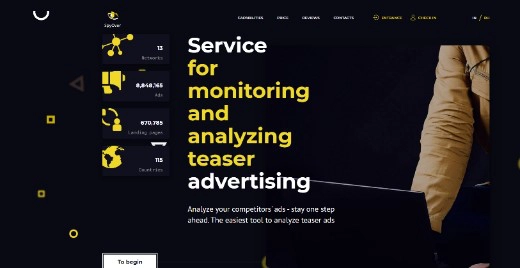 Dozens of Spy services have been launched on the Internet to help find the successful ads of your competitors. They offer a wide range of filters, quickly process requests. But few can boast of powerful analytics, convenient tools for launching successful advertising campaigns. But SpyOver (used for monitoring teaser and native advertising) is a rare exception.
The developers have organized everything so that you can find a converting bundle or a product that is rapidly growing in popularity in a few seconds. The service allows you to view, download creatives in one click, translate the creatives into English, conveniently sorts ads by popularity or freshness. Есть трендовые графики, которые показывают, набирает объявление популярность или уже отрабатывает остатки трафика.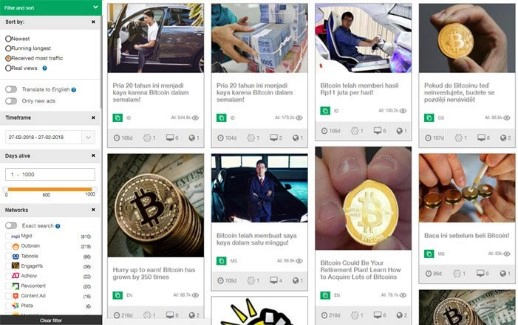 General information:
two monthly plans: $149 – professional, $299 – corporate, up to 6 simultaneous sessions;
does not include a free trial period;
GEO – 115 countries, covers almost all regions popular among affiliate marketers;
13 ad exchanges: PropellerAds, AdsKeeper, AdNow, Outbrain, Taboola, Mgid, EngageYa, Content, AdAdBlade, RevContent, Yahoo, Plista, Yengo;
filters: by keyword, ad or partner network, language, date, display duration, chain of redirects, external links, device type, browser, tracker.
AdvanceTS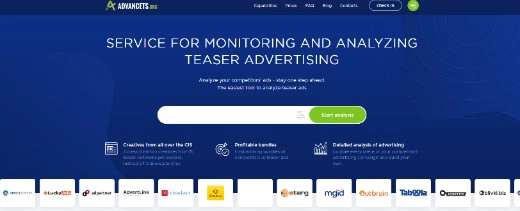 Another service that greatly simplifies traffic management and allows you to increase your profit. In terms of capabilities, it is similar to the previous entry on this list. Allows you to find profitable ads, bundles, entire pages, see the targeting settings. But it is focused on the Russian-speaking segment of the Internet.
Despite the limited GEO, it has a good base of creatives. AdvanceTS is one of the best publishers' tools to help promote offers in Russia, Belarus, Kazakhstan, Ukraine and other CIS countries.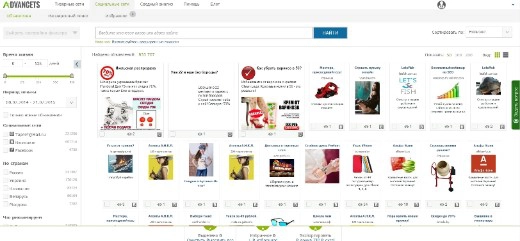 General information:
offers two plans: "Professional" and "All inclusive". The monthly subscription cost depends on the length of the subscription. The base price when paying for 30 days: "Professional" – 1,990 rubles (around $26.5), "All Inclusive" – 3,590 rubles (around $48). A 30% discount when subscribing for a year;
offers a free trial version with limited features;
GEO – the CIS countries;
monitors: Adparter, AdvertLink, luckyAds, Blivli.biz, Mgid, Taboola, Outbrain, AdsKeeper, Etag, Gnezdo.ru, Mixadvert, Directadvert;
filters: by keyword, domain, redirect, popularity, lifetime, impressions, landing page, device type, GEO;
bonus – with the "Leadbit" promo code you get an 11% discount on any plan.
Publer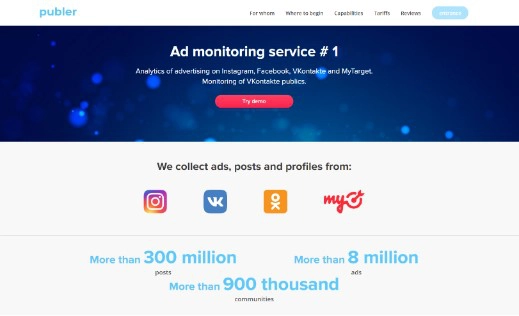 Initially, the service specialized in monitoring targeted advertising on social networks: Vkontakte and Odnoklassniki. Gradually, it became a multifunctional lifesaver for affiliate marketers, marketing specialists and online sellers. The list of grids you can track includes the largest one in the Russian-speaking part of the Internet – Yandex ADS and others like MyTarget, Facebook Ads (Instagram, FB). Tracking options include mobile, search engine, native and teaser ads.
The emphasis is made on the Russian segment of the Internet, where Publer belongs to the most popular Spy systems. Its database contains over 300 million posts and 8 million banners. For affiliate marketers that work with the Russian segment of the Internet it is a universal and irreplaceable tool.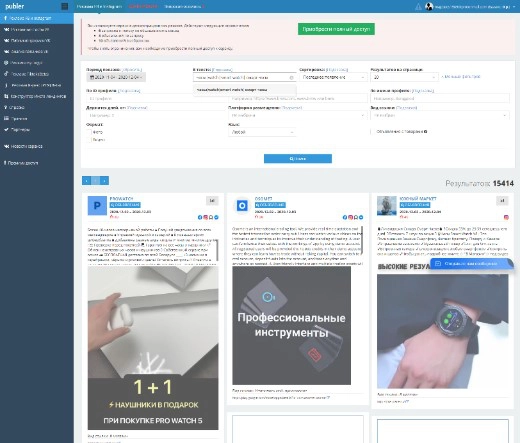 General information:
price: 1,999 rubles ($26.65) per month. Access for 24 hours for 449 rubles or for 7 days for 899 rubles;
offers a free plan with limited features: monitoring ads in Yandex is not available, the number of requests per day is limited;
GEO: Russia, Ukraine, Belarus, Kazakhstan;
suitable for monitoring teaser ads on social networks Odnoklassniki, Vkontakte, Instagram, MyTarget;
filtering: by keyword, date added, link, how many days the campaign has been running, age, sex, GEO.
TOP 5 Spy services for PUSH advertising
Push-notifications began to be actively used just a few years ago and almost immediately became a good tool for interacting with the audience. The logic is simple: if a user has subscribed to push-notifications, they are already interested in the topic and will actually look through them. This promotion format does not repel potential customers, and as a result we get a high conversion rate.
About best push traffic sources read here.
Monitoring and analyzing successful creatives will help to increase the CTR and CR even more. Here are some services that help you do that:
AdFind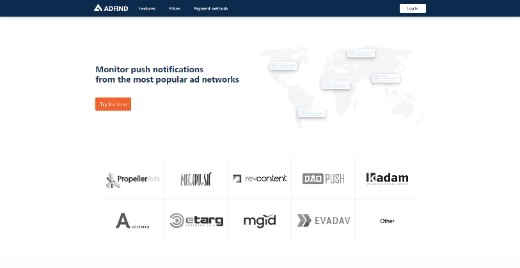 The Spy service is geared towards tracking native ads and push-notifications on the most popular networks. A large selection of tools, flexible filters, an enormous database of creatives, with the ability to download and immediately upload to your profile of the trending.bid exchange, and all this is free.
The system monitors the regions and languages popular among the affiliate marketers. The focus is on 10 exchanges. At the same time search options are also available in other systems, so basically, there aren't any restrictions at all. However, the results will not be as accurate.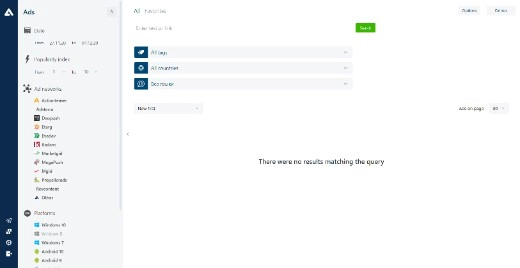 General information:
tariffs: in the past the system was paid, but now the service has become free;
GEO: the whole world
grid monitoring: Actionteaser, Adsterra, Daopush, Etarg, Evadav, Kadam, Marketgid, MegaPush, Mgid, Propellerads, Revcontent;
filters: GEO (you can select individual countries from the European Union or set the entire eurozone), tags, language, device type/operating system, popularity (index from 1 to 10), launch date.
SpyPush
Push-notifications are an effective tool that doubles the conversion rate of email ads. SpyPush in the hands of an experienced publisher allows you to increase your CR even more. Through the web application you can search for effective bundles and analyze your competitors' campaigns, filter out the best creatives.
There is no need to reinvent the wheel. Choose from verified options. Follow ready-made marketing tunnels paved by large conglomerates that spend tens of thousands of dollars on advertising.
The service collects information from the largest ad networks and offers flexible customization and convenient management of the saved database of creatives.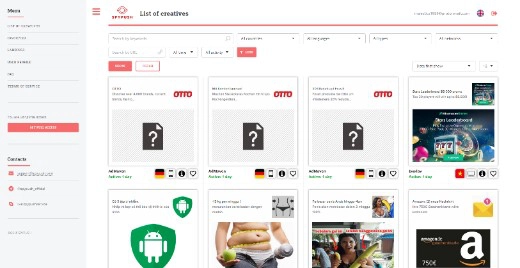 General information:
the cost of a monthly subscription is $49;
there is a 24 hours trial version with a limited number of countries to monitor: France, Germany, Indonesia, Thailand, Vietnam;
GEO – most regions with good traffic, you can view ads from 95 countries;
the database includes creatives from: MegaPush, PropellerAds, AdMaven, RichPush, Adsterra, Datspush, Evadav, Tranding.Bid, MGID;
filters: by keyword, country, device type, language, launch date, bundles, grid.
Push.CPA.rip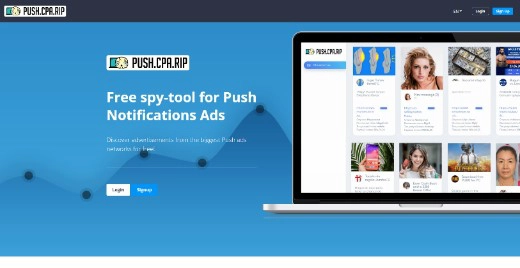 It is usually quite expensive to use Spy services. We won't talk about how expedient it is – from personal experience I can say that everything you invest pays off many times over. But spending money on buying an expensive subscription is not always necessary. For example, when you work with push-notifications. There is a free service to search for working push-notifications – Push.CPA.rip. Surprisingly, the site offers a decent selection of networks and analysis tools.

General information:
completely free service;
GEO: any;
suitable for tracking push-notifications in: Evadav, Megapush, Mgid, Tranding.bid, Propeller Ads, Dats Push;
filters: by GEO, device type, grid, date added.
MegaSpy.co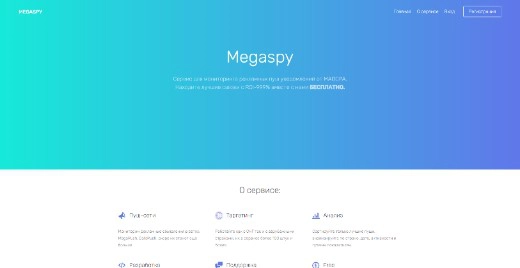 Another free service with good functionality. So far, there are only two advertising platforms on its list, but you can monitor creatives for 100 GEOs. There are convenient tools for analyzing ads, responsive tech support.
MegaSpy does not yet belong to large monitoring services, it is mainly meant to be used in the Russian segment of the Internet. At the same time, the platform is constantly evolving, periodically introducing new tools. It is useful for traffic managers who drive traffic to the CIS.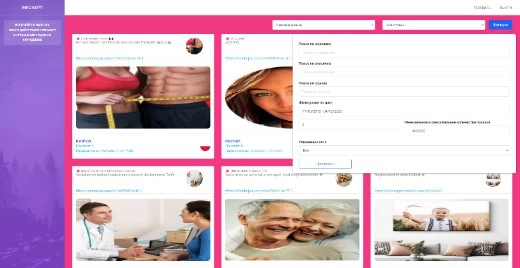 General information:
free use;
GEO – more than 100 countries for monitoring;
search only on two networks: MegaPush, DatsPush;
filters: by title, description, link, date, GEO.
Pushycat.org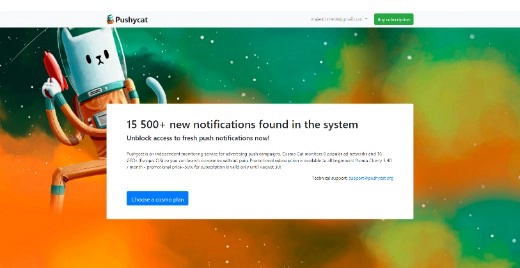 A young Spy service worth some attention. Created by top affiliate marketers for their own needs, in the past this service was exclusive to them. Now anyone can register there. Suitable for monitoring large ad networks in the CIS countries and Europe. New GEOs are gradually being added, there is already a good database for Thailand. The service offers flexible filters, an enormous database, with up to 15,000 creatives added daily. There are two tariff plans to choose from.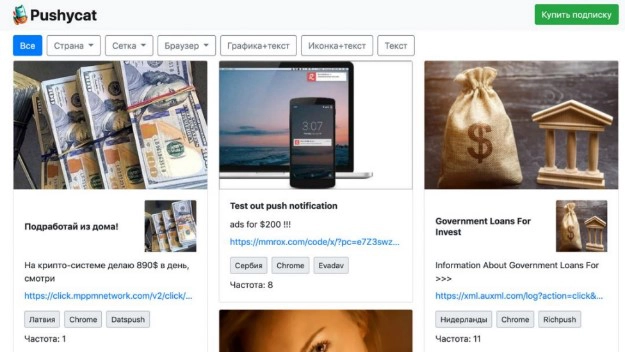 General information:
plans: basic for $80 per month (50% discount for new users) and $190 for three months;
GEO – Spain, Ukraine, Thailand, Poland, Italy, France, Great Britain, Germany, Kazakhstan, Bulgaria, Russia, Czech Republic, Latvia, Turkey, Netherlands, Serbia;
suitable for searching for push-notifications on networks like: Megapush, Datspush, Propellerads, Evadav, RichPush, PushAds;
filters: by GEO, keywork, bundle, date added.
Mobidea Push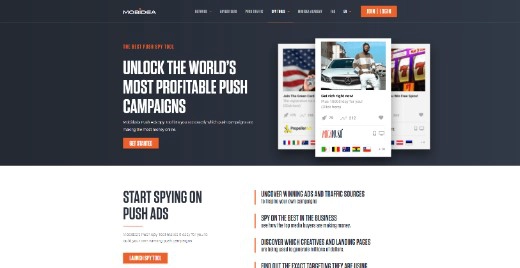 If you are not using this tool, you are probably wasting your time trying to be an affiliate marketer. This is one of the most powerful tools for Spying on your competitors and finding successful marketing campaigns. The possibilities amaze even experienced traffic managers: there are over 19 million ads in the database, a landing page search tool, access to promo campaigns launched just one or two hours ago, and CPC bid information display. If you want to keep ahead of new trends, this tool cannot be neglected.

General information:
monthly plan: Push – $79.99, Push + Native – $124.99;
monitors over 40 grids, including PropellerAds, MegaPusg, DatsPush, AdMaven, Earnify, Mgid, Zeropark, ContentAd, Taboola;
GEO – more than 90 countries, includes all popular destinations: Europe, the CIS, Southeast Asia, North America, Australia, India, the Middle East, etc .;
filters: by popularity, country, device type, traffic source, landing page, bid size.
TOP 5 Spy services for GoogleADS, BingADS, YandexADS
Search engine and contextual targeted advertising are among the most effective tools. And the most expensive. Therefore, the search for converting creatives and bundles here is as relevant as anywhere else. This Spy service will help to avoid unnecessary expenses. Here are the ones that provide the most opportunities:
SEMRush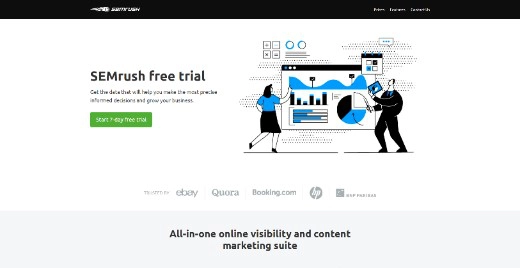 This is a web platform for analyzing contextual advertising in Bing ADS, Google Ads, Facebook Ads. The main office is located in Boston. The service is aimed at marketing specialists, but it will be a great tool in the hands of an affiliate marketer too. Sharpened for the Tier 1 countries, mainly the USA, Canada, Australia, Great Britain. It is also suitable for tracking ads in other GEOs.
SEMRush allows you to quickly find successful creatives, data on publishers and advisers. It can help to evaluate the success of a marketing campaign, view keywords and their relevance. The database has 810 million domains, 20 billion keywords, more than 35 trillion backlinks. Several tariff plans are available. There is a free version with limited features.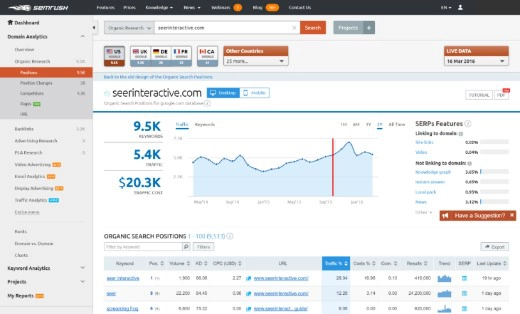 General information:
monthly subscription plans: Pro – $99, Guru – $199, Business – $399;
free trial period for 7 days, available only after linking your card;
information from 142 countries, with a focus on English-speaking GEOs;
suitable for analyzing contextual targeted advertising in Bing ADS, Google Ads, Facebook Ads;
фильтры: демография (возраст, пол, увлечения), ГЕО, ключевые слова, дата добавления, популярность, keywords, вертикаль. Есть обратный поиск – находит популярные ключевики в заданной вертикали.
SpyFu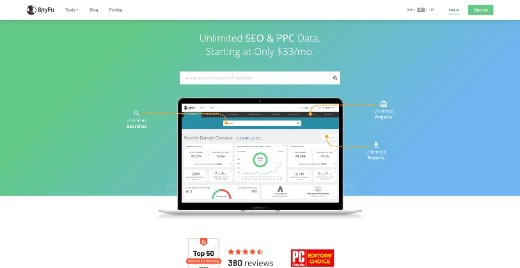 SpyFu has been voted the best market research tool on several occasions. Allows you to quickly find competitors' creatives: the site where it is hosted, the address of the landing page. Contains one of the largest databases of keywords.
With SpyFu, you will quickly find trending verticals, profitable keywords, PPC rates. You can see all the campaigns of the publisher, just enter their ID.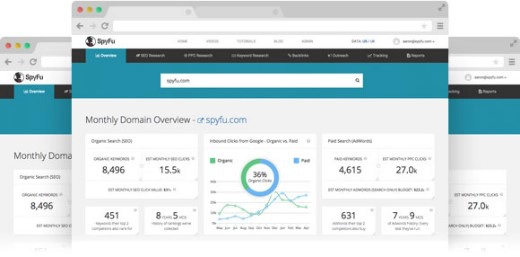 General information:
monthly plans: Basic – $39, Professional – $79, Team – $299. Get a 10-30% discount when purchasing a yearly plan;
GEO: UK, USA;
suitable for monitoring contextual advertising, SEO in Google Ads;
filters: by keywords and bids, publisher, GEO, landing page, date added, how much time the creative has been up, rating, TA.
iSpionage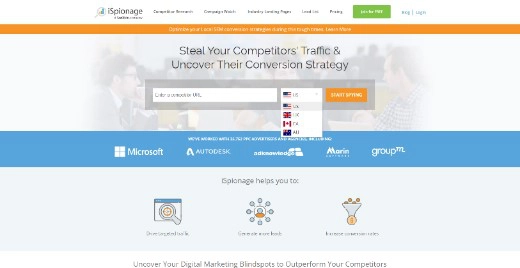 A powerful marketing intelligence tool for popular search engines: Google, Yahoo and Bing. Designed for affiliate marketing aces, it offers granular analytics and flexible filtering. All the while the prices are on the same level as other Spy projects.
iSpionage is positioned as an intelligent tool, that's why many routine processes are automated. You can find profitable keywords, creatives with a high conversion rate and upload them to your account or your PC in a couple of clicks. You can generate a report on the operations of your competitors. There is reverse engineering – an option to search for profitable niches and the most requested keywords.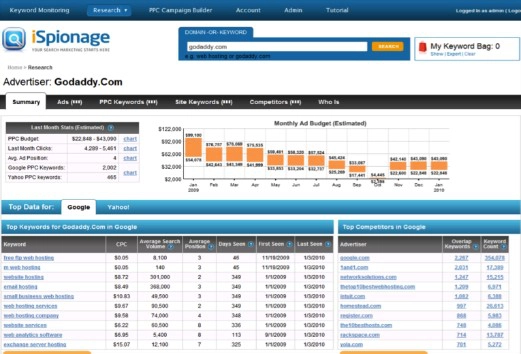 General information:
three monthly subscription options: "Starter" for $59, "Professional" for $99, "Advanced" for $299. Individual conditions are provided for large agencies;
GEO: USA, Canada, UK, Australia;
suitable for monitoring search engine and targeted contextual advertising in Google, Yahoo, Bing;
filters: by keywords, PPC, date added, demographic parameters, landing page, competitor's ID, efficiency.
idvert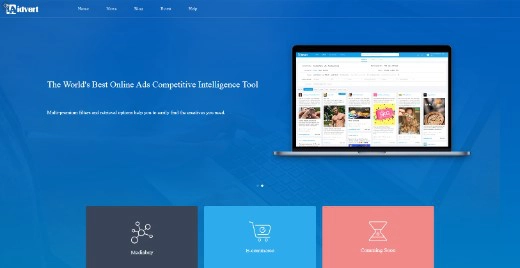 A very powerful entry on this list. One Spy tool that covers search engine, contextual and social media ads. Allows not only to find the working ads of your competitors in two or three clicks, but also provides good analytics. You can analyze both other people's campaigns and your own, as well as the usual search results by keywords. For each ad, the following is displayed: position in the search results, when it was first viewed, number of views, link to the advertiser's page, targeting settings.
Yes, this is that one case where affiliate marketing can be almost fully automated. Find someone's campaign and copy it. If there is a small slip somewhere, idvert will not let you waste your budget and will show you ideas for conquering the market.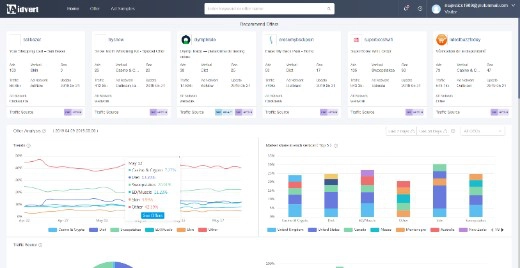 General information:
plans: $199 a month, 10-30% discount when paying for several months in advance;
there is a trial version with a limited number of requests;
GEO – the service collects information on almost all countries, but mostly on Tier 1 and Tier 2;
suitable for monitoring native, banner, contextual, search engine advertising in Google Ads, Facebook Ads;
flexible filters: by keyword, creative format (video, banner, carousel), date added, language, GEO, CPA grid, traffic exchange, vertical, offer name, device type;
bonus – registered LeadBit users receive a lifetime 25% discount on the full version.
TOP 5 free Spy services
Monitoring ads is a laborious process. Companies run their own servers in different regions with tens of terabytes of data storage. Infrastructure maintenance costs a lot. Therefore, it is naive to expect such services to be provided free of charge.
Still, there are several companies that have launched their own Spy platforms as an additional tool that you can use for free. But you need to remember that you won't have access to all the features and the creative database will be small. This is a way out for beginner affiliate marketers or small Internet shops, basically, for anyone who's budget is humble and who can't afford to pay a couple hundred dollars every month.
I have already described most of the projects with free access in this article. All of them – for monitoring push-notifications and teaser ads. These are:
The two other platforms that are free to use are AdBeat and Publer. These are paid services but some of the features are free: up to 10 searches per day on teaser networks. Macaw.pro offers a free search for targeted and teaser ads on social networks.
Recommendations for working with Spy services
It's easy to get started using Spy apps to find creatives that work.Most projects have a user-friendly and intuitive interface. Figuring it out is easier than setting up an ad campaign. The algorithm is simple: register, go to your account, enter a keyword, sort by GEO, language, TA, start the search. Select the creatives you like from the search results, download them and use them in your own campaign.
But copying someone else's creatives that you found by key phrases and copying them is not always wise. Here are some tips to help you get the most out of your Spyware:
translate the request into the language of the selected GEO – it seems obvious, but many webmasters set the keyword in English, and as a result, they lose their audience. Before starting the search, run keywords through Google Analytics, find out how popular the query is in the region;
use filters to their fullest: device type, browser, age, sex, display time – every detail matters and separates a bad campaign from a good one;
search interval for the last one to two weeks. This is more than enough to understand whether the campaign is working. At the same time, banner blindness will not have time to develop over such a period;
exclude marketing campaigns launched by brands from your search – they have enormous ad budgets and are not tied to the size of affiliate payments. The second reason is that creatives may get blocked due to copyright issues;
do not mindlessly copy other people's creatives, improve them, use your ideas, adapt for the GEO. To do that it is important to understand what a good landing page, pre-landing page or banner looks like (you can read about all that in another article);
after a while of using Spy services, you'll notice that some webmasters' campaigns enjoy a particularly large ROI rate. Filter by advertiser and use the best promotions that generate large volumes of traffic;
make use of the analytics – сsee on which devices the creative converts better, evaluate how long the ad has been running and on what stage is it now: growing or drying up. Over time, even successful ads work out the audience and start to annoy the user;
filtering by daily traffic volume allows you to select creatives that are launched by advertisers with a large budget. If the volumes remain high for at least two or three days, it will most likely work for you as well.
FAQ
1. How do Spy services collect information?
Different services work differently. These can be search bots – special software that autonomously searches possible addresses and sends the collected information to the server. Search engines work in a similar way. Social media is monitored by creating special accounts (hundreds or thousands). Some platforms cooperate directly with the ad network and gain access to a database of hosted creatives.
2. What Spy services are best suited for PopUnder/ClickUnder ads?
Among the powerful Spy systems: Anstrex, Adplexity, AdMobiSpy. Almost all projects that are geared to the adult niche also work with PopUnder and ClickUnder.