Today it is easy for a webmaster to get confused in the variety of offers. There are more and more native ad networks, and they all look financially attractive. However, finding the best option for everything from payment methods and GEO to customization is not easy. How to find the optimal solution without putting you finances and time at risk?
We have already faced such a problem in our practice and are ready to share our findings and ready-made materials. So this article will provide you with a fairly detailed, if not exhaustive, answer to most of your questions regarding native ad networks. Instead of random rambling that is topped off with an ad for one of the networks or a subjective top-3 type of thing, the LeadBit team prepared something a little bit more interesting – recommendations for the selection of a netowrk, peculiar features of native ads and advice regarding the type of offer and the GEO.
But the most important thing is the rating of more than 15 native ad networks most popular among affiliates in 2020.
What are native ads?
Let's start with the simplest part – the terminology. Native or natural advertising is as similar in topic and style as possible to the surrounding content of the page or site it is hosted on. The ad is organically integrated into the content of the site and does not attract too much attention. Therefore, it does not annoy the reader with an intrusive offer of a product or service. This helps to increase the click-through rate and CTR. Consequently, the real incomes of webmasters grow.
However, many people confuse native ads with other formats:
Paid for materials, whose advertising nature is deliberately hidden from users visiting the resource. Native ads are always tagged as such. It's an honest approach making sure the user knows that an ad is an ad.
Product placement that also misleads readers and viewers.
Brand journalism, in which posts are created by the companies themselves and distributed through their own media.
Native ads have two important features – people are warned about them and they are always posted on third-party resources.
Types (formats) of native advertising
Let's start with sponsored content. Such material is always marked "sponsored", "requested" or the whole page is designated as a special project. Content is posted on blogs, social networks or celebrity accounts. Its main feature is an interesting picture and headline, which distracts viewers from its "advertisement" tag.
This type of content should always carry useful information, surprise, solve a problem, along the way creating an associative link with the brand.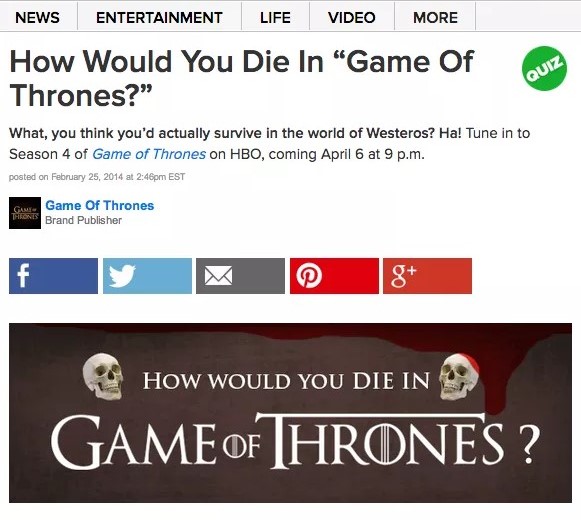 The second option is content in a list of recommendations, in the format of collections, tools, tips, or services. Featured content has the same colors, font, and style as the main content, but also has a tag. There are even such posts on CNN's website.
Option three – posts promoted in the news feed tailored to a specific audience.
Pros of native advertising:
Since the information is useful and high-quality, the audience is less likely to reject it.
You place ads in areas where your target audience already is. This can be a news site (in the feed), next to the content on a blog, or in some group in social networks with a suitable topic.
Easy to set up large-scale campaigns given the flexibility of the format. You can make collections of life hacks, tips, instructions, articles, photos and even memes.
Since you place ads next to viral content you're guaranteed an enormous coverage.
You can place the ads anywhere, from blogs to Android and iOS apps.
Unlike banners, these ads are not affected by AdBlock.
However, there are also downsides. The most important one is the impossibility of launching the same ad on different sites. With each new platform you need to adapt your ad so it doesn't stand out too much. The market is young and is not yet regulated as well as other types of advertising. Finally, many webmasters are intimidated by the price. Indeed, native advertising is initially more expensive.
But with proper planning and implementation, it gives a higher ROI, paying off many times over. So far, the Russian-speaking segment of the Internet has few platforms, blogs and other sites that can correctly implement this new format of ads. Some are considered with the issue's ethical side. After all, even very well-integrated advertising never ceases to be just a cleverly disguised bait for the buyer.
Recently, experts from IPG & Sharethrough conducted a user survey. The results were as expected. 53% of respondents believe that native advertising is better than banners, and 32% are ready to even repost it on their social networks account.

Video How Native Advertising Works and How to Make it
How to choose a network for native ads
Now let's figure out what to look for when searching for a convenient distribution network for your native ads.
Targeting
You need to figure out how to set up the display, which sources are suitable for people of a particular age and sex, all the while taking into account their personal interests and region of residence. Some networks offer a lot of options or even machine learning systems used to deliver more effective impressions. But not all native ad networks offer such vast capabilities.
Difficulties at the start
Somewhere users are offered a set of materials, convenient settings, an integrated tracker. You may even be provided a personal manager. In other networks, you have to do everything yourself. Naturally, financial conditions can also vary.
GEO
When choosing a network for native advertising, always consider what each is specialized for. One can provide good coverage in English-speaking countries, the other in the Asian region, and the third is good for the Russian-speaking segment. The largest grids cover the whole world.
Restrictions
Native networks may not accept certain types of ads. Ads are moderated, checked for compliance with the topic and format. They are unique to each resource. For example, it is not always possible to advertise crypto-currency, adult, gambling anywhere you want.
Purchase models and costs
Each native ad network offers its own terms. For example, one may have the minimum deposit set at $100 with the cost of a click being only $0.003 and offer many traffic payment models – CPS, CPA, CPL, CPI and CPC. While the other will have a much smaller list of models, the minimum deposit will be $500 and the minimum cost per click $0.005.
TOP 15+ Best Native Ad Networks
Taboola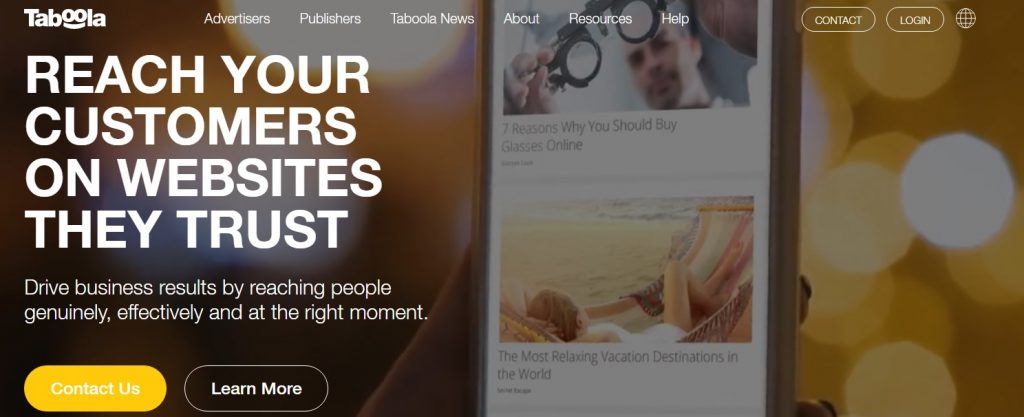 Taboola is an advertising company and teaser network based in New York, USA. It has existed since 2007. Offers many tools including A / B testing, interactive analytics, behavioral alerts. Exchange of audiences is possible. Premium placement (up to Bloomberg) is possible.
Payout model – CPS.
The minimum cost per click must be at least 20% higher than the recommended cost for the region if you want to be shown on premium sites.
The minimum deposit amount is $2 + the platform's commission of 3-3.6%.
Targeting options – GEO, devices, OS and their versions, topics.
GEO – primarily the United States and English-speaking countries. Reach up to 1,000,000,000 unique users.
Restrictions apply to slimming products, binary options, suspicious software. White-hat traffic only. Dating is allowed, but it should be designed as decently as possible.
Average set-up difficulty. There is an account manager. But for ordinary users, the service is not ideal. An email response takes several days to arrive.
Outbrain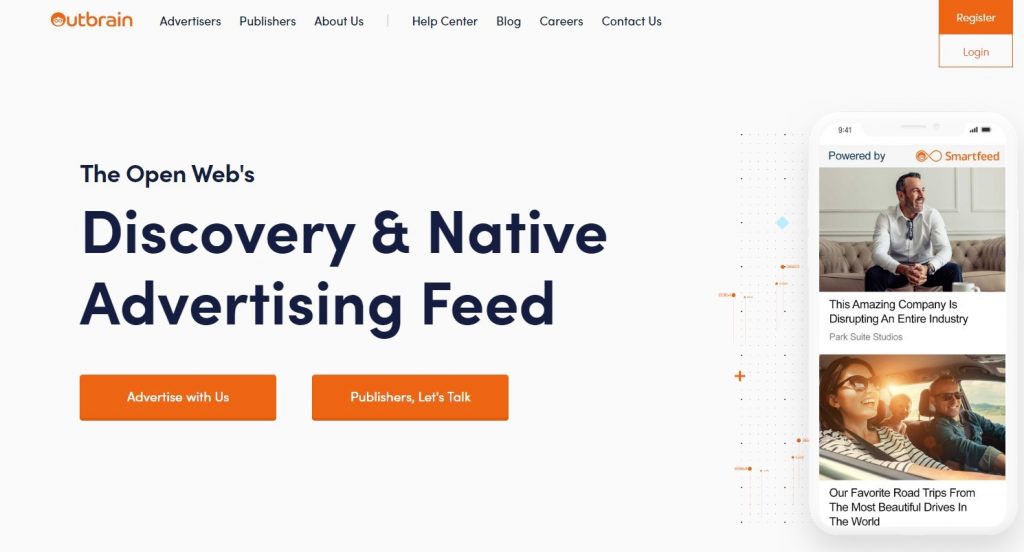 Outbrain is a native online advertising platform that has existed since 2006. The main content format is sponsored. Features large platforms – Washington Post, ESPN, CNN, The Guardian.
Pay-per-clicks
The minimum cost per click is discussed each time.
The minimum deposit is $10 per day or $300 per month.
Includes behavioral targeting.
Main GEO – USA, Australia, Europe, India, a number of Asian countries. Covers more than 560 million people.
Only white-hat traffic. At the same time, the company can block any sources and reject articles that may affect the network's reputation.
Easy setup, plugin support. You can connect Adsense.
Video Overview and Comparison Taboola and Outbrain
MGID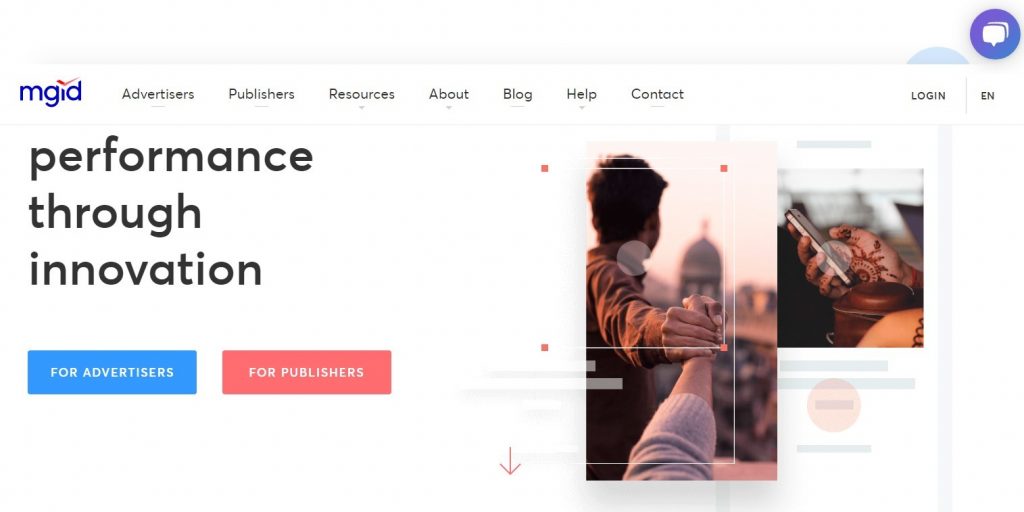 The company was originally founded in Ukraine, but has achieved success in the United States and acquired an international status. Places native ads on websites and blogs. Even Lexus is among the service's clients.
Traffic buying options – CPA, CPL.
Minimal cost-per-click – $0.11.
Minimum deposit – $100.
Targeting options – by GEO, device, topic, browser, language.
GEO – 210 countries. Covers more than 800 million unique users..
Restrictions – only mainstream dating (long-term relationships) is allowed. For the nutra category, only proven dietary supplements sold in pharmacies are allowed. The moderator checks the composition. Gaming – content should not contain 18+ material. For casinos – licensed only.
There is dynamic retargeting for product lines, tags and limits. But the full set of settings is offered only for sites with at least 5000 unique visitors. The service provides a convenient analytics section and a conversion counter.
The LeadBit promo code will give 5-10% cashback.
MGID Video Overview and Setup Instructions
Yahoo Gemini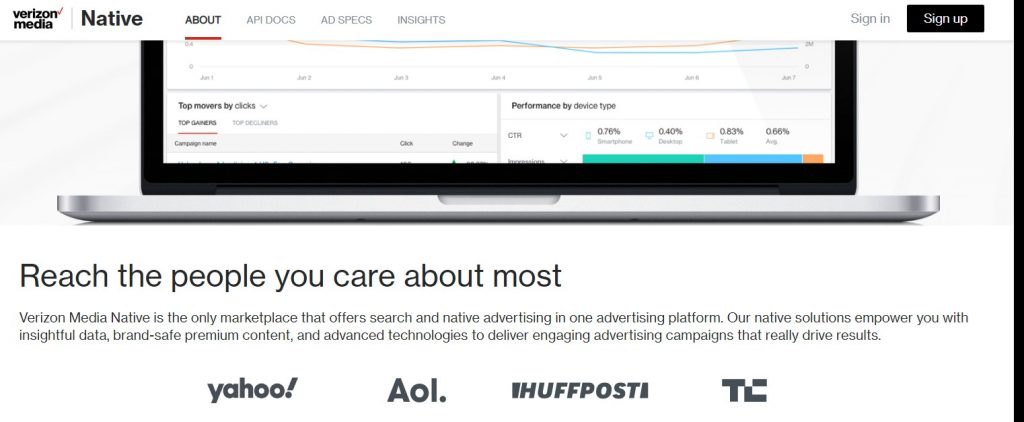 A service from the search engine yahoo.com, which allows you to integrate native ads into the company's news feed, as well as into the "sports", "finance" and "lifestyle" tabs. The company has been operating since 2014.
Traffic buying options – CPC, CPA, CPM CPV.
Minimal cost-per-click – $0.05.
The minimum budget is $5 for the test run and $25 for the standard model.
Targeting options – platform, operating system, GEO, gender, age, devices.
GEO – all countries in which services from Yahoo operate and are not prohibited.
Not suitable for adult topics. The US has strict legal restrictions on the matter.
The setup is simple and import of campaigns from Google Ads is supported.
Video Review of Yahoo Gemini
Plista

Plista is a global native advertising platform with its own recommendation technology. The company appeared in 2008, and 8 years later entered the markets of China, USA, Europe, Russia and some other Asian countries. The program is a desktop one.
Traffic buying options – CPM, CPC.
Minimal cost-per-click – $0.1.
Minimum deposit – 70 euros.
GEO – 24 countries. ЗA significant portion of the traffic is directed to Germany, Russia, Poland and Australia.
Prohibited traffic sources – bots, viral traffic, email ads and illegal content.
Video Review of the Advertising Platform Plista
AdUp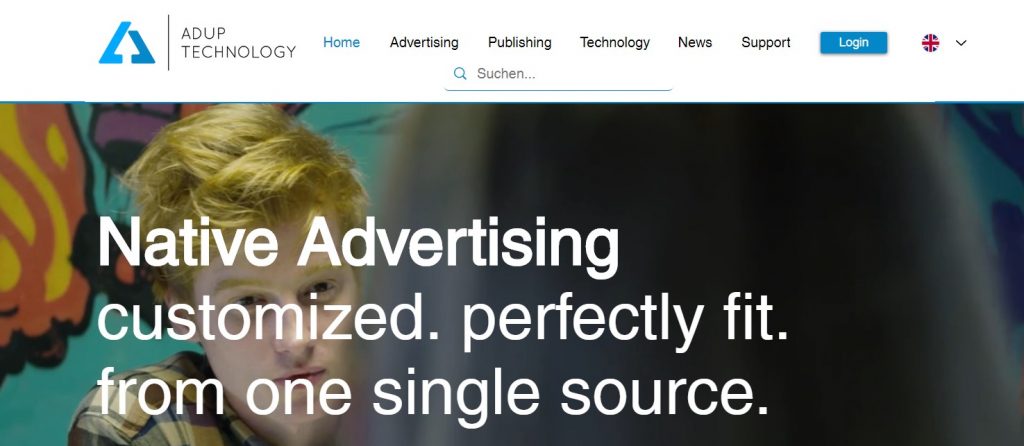 Provides customers with a self-service platform for native advertising targeting German-speaking markets. It has offices in 3 major cities in Germany, namely Hamburg, Berlin and Leipzig. The company was founded in 2008 and was acquired by Axel Springer Teaser Ad in 2017. The company also supports Open RTB and prebid technology platforms. It actively collaborates with sites such as Spiegel.
Traffic buying options – CPA.
Minimal cost-per-click – $0.
Targeting options – GEO, key indicators.
Main GEO – Germany, Austria, Switzerland (German-speaking cantons).
Topics – tourism, sport.
Prohibited topics – adult, Nutra and dietary supplements not licensed for pharmacies.
The settings are adapted for experienced webmasters.
Dianomi

The platform is adapted to create native advertising on resources related to finance and business, or in the corresponding sections of multi-industry websites. Collaborates with The Telegraph, MarketWatch and Business Insider.
Traffic buying options – CPC.
Minimal cost-per-click depends on the region.
The minimum deposit amount is based on your CPC rate.
Targeting options – by GEO, device, operating system, browser, retargeting, brand targeting.
Main GEO – USA, Australia, UK. Up to 50,000 visits per month.
Revcontent

Featured content network. For example, you are reading a story about modern clothing on a website. It may be sponsored by premium showrooms. The service has been operating since 2013.
Traffic buying options – CPC, CPM.
Average cost per click – $0.
Targeting options – by GEO and device.
GEO – English-speaking countries. The network provides over 100 billion recommendations per month, attracting a huge audience.
Very strict requirements for sites and content. Most of the questionable traffic is rejected. No politics-related content and anything that violates US law.
A selection of customizable widgets that adapt to any screen size.
A Video on How to Create Ads With Revcontent
TripleLift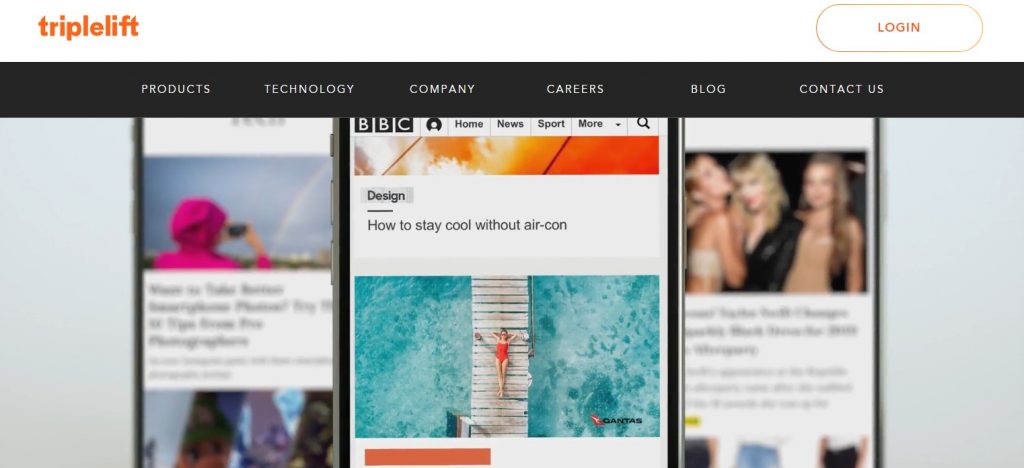 A network created in 2012 and used by Microsoft, USA Today, Nissan, Land Rover and many other brands and publishers. The number of platform advertisers is over 400. There are 2300 content distribution websites. The network perfectly imitates the design of the target site, creating the most natural advertising possible.
Traffic buying options – CPM.
Cost-per-click is determined individually.
Minimum deposit – $399 per month.
GEO – almost the entire world, including African countries. Coverage – over 800 thousand users.
Content is moderated. You can't use in your advertisements materials that violate US law, that are discriminatory or that contain scenes or descriptions of violence.
The user interface is a bit tricky for beginners.
TONIC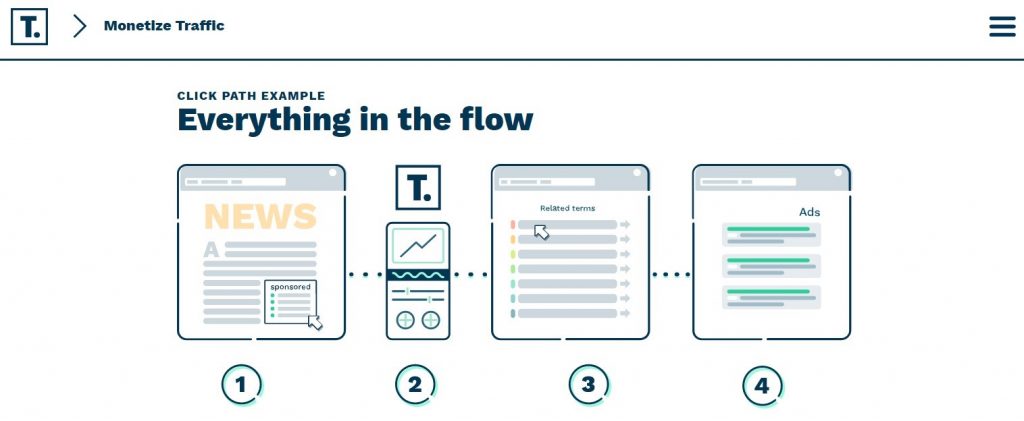 A large global network, formerly known as DNTX, offering the purchase and monetization of traffic.
Traffic buying options – zero click PPR and
From $1 per 1000 views.
Minimum budget – $100.
Targeting options – keys, location, categories, devices, browser, sources.
GEO – EU, USA, Latin America, Asia.
Any content that violates US law is prohibited.
The setup is simple, you can ask the manager for assistance.
ADYOULIKE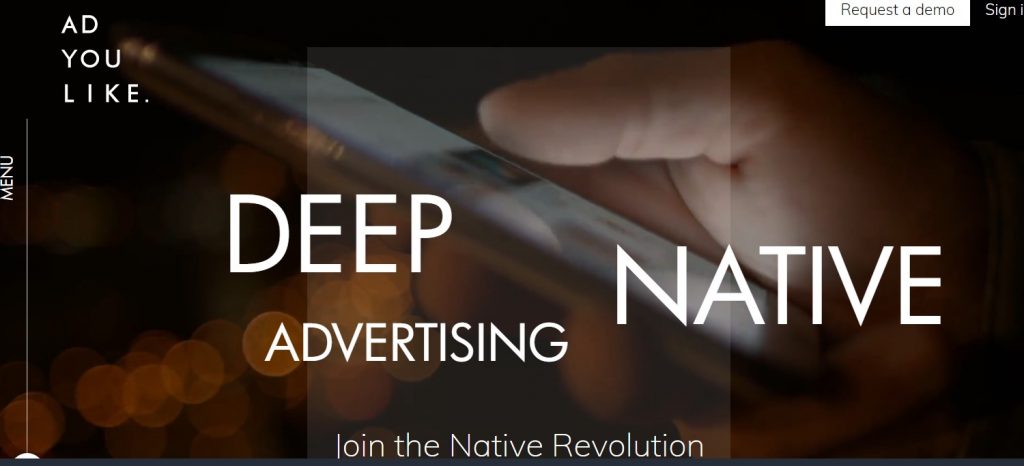 The company was founded in 2014 and has an office in France. The service's clients include Mercedes Benz, HBO, LG, Levi's and many other well-known brands. In November 2016, ADYOULIKE launched the world's first semantic targeting capability for native advertising, integrating the groundbreaking IBM Watson artificial intelligence software with the ADYOULIKE platform.
Traffic buying options – PPC.
Targeting – by country, region, age group, operating system, browser.
GEO – EU countries, USA, Latin America. However, there is a possibility to target other regions. In total, it covers 158 countries.
Prohibition of pornographic content, violence, discriminatory materials, publications that violate US law.
Adcash

An Estonian company. Specializes in traffic for mobile platforms. There are three types of ad campaigns and an analogue of look-alike with the display of materials similar to those that previously interested the public. On the native ad market since 2017.
Traffic buying options – CPM, CPC and CPA Target.
The minimum cost-per-click is determined by the region and other parameters.
Minimum budget – $100.
Targeting – by region, city, country, device, operating system, browser and even browser language, website categories, users' interests and time zones.
Main GEO – Tier1 countries.
Simple setup and scaling.
EvaDav

Any kind of native ads via push notifications.
Traffic buying options – CPM.
Payment per 1000 impressions.
The minimum cost-per-click is set individually.
Targeting – by country, region, city, device, browser, language, audience type and other categories.
GEO – any. But most of the traffic goes to Germany. Next comes Russia, Ukraine, Turkey and the United States. Up to 600,000 ad impressions per day.
No strict restrictions, including adult content.
Convenient integration for OpenRTB. There is a constructor of thematic posts and an adapter of landing pages for the type of traffic.
Video Review of Native Advertising Network Evadav
RUNative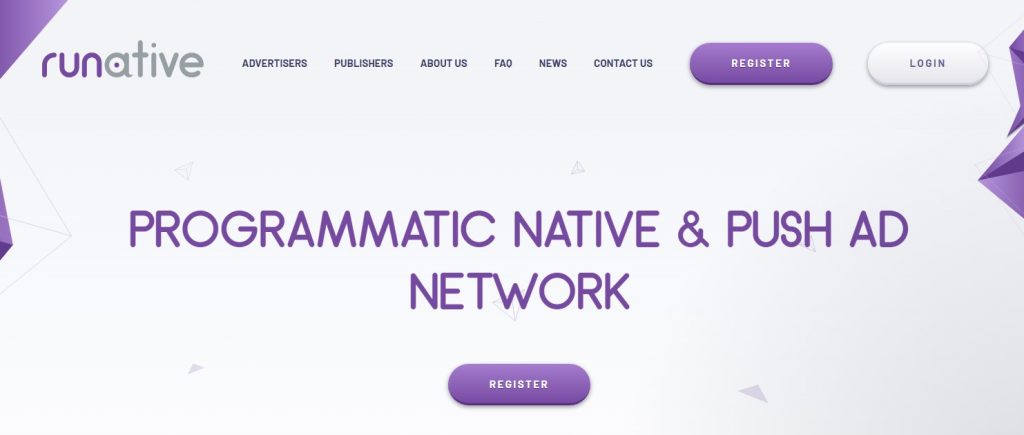 A network of native ads and push notifications.
Traffic buying options –CPMV. Payment per 1000 views.
Dynamic CPM – on average – $0.08
Minimum deposit – $100
Targeting – by language, device, operating system, browser, interests, IP address range.
GEO – any.
Easy setup. Features managers' accounts.
The LeadBit promo code gives a 10% bonus to your deposit.
Spike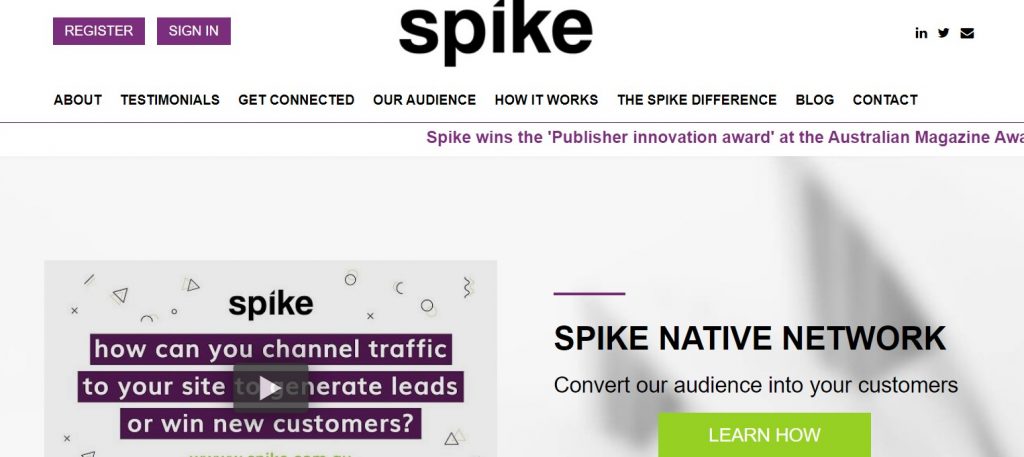 Spike offers a handy Spike Promoted Stories module that is compatible with any other contextual advertising network. The company's target is a premium audience of brand owners.
Traffic buying options – CPC, CPM.
The minimum cost-per-click is configured for each region and depends on the type of campaign.
Targeting – by GEO, device, browser.
Covers a million users per day. The main traffic is from the USA and Australia.
The Service does not accept anything that is not approved by US and Australian law.
Easy to configure modules. You can ask a specialist for help if need be.
Nativo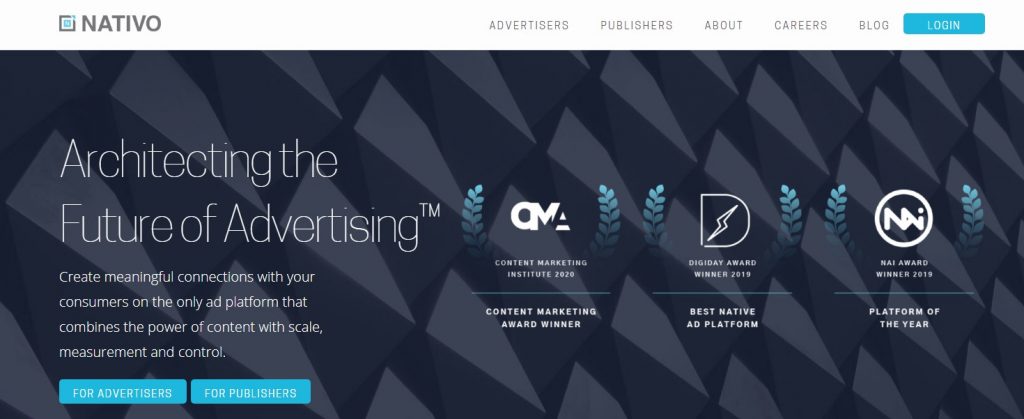 The team running this network has created easy-to-use scaling tools. Now it is used by more than 350 publishers and about the same number of brands around the world. The ad content appears directly in the feed for much greater reach.
The cost-per-click depends on the region and other parameters.
Targeting – by GEO, device, audience.
GEO – over 220 million English-speaking users per month.
Prohibited content – adult and any content that features violence or discrimination.
Features convenient customization of advertising campaigns, a system based on artificial intelligence.
NativeAds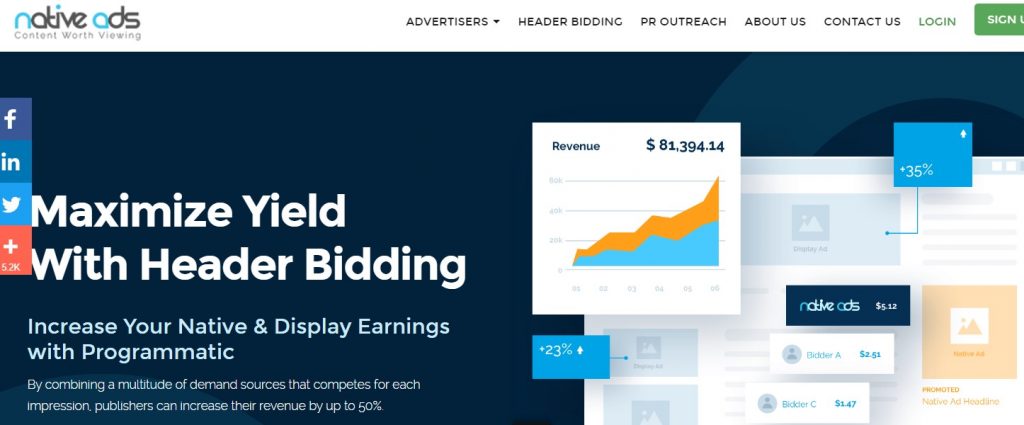 A native advertising platform that simplifies the process of buying and selling native ads for publishers and advertisers across websites, the mobile web and apps. The company has developed a scalable, easy-to-use self-service system for publishers and advertisers with a simple user interface. Within minutes, campaigns and widgets can be created. The recommendation system analyzes visitor behavior, page content, and other data.
Traffic buying options – CPC, CPM, Revshare.
The minimum cost-per-click depends on the region.
Minimum deposit – $100.
Targeting – GEO, age, users' interests.
The main traffic (according to Alexa) comes from India, USA, Egypt and Morocco.
Publications that mention violence or adult topics are prohibited.
Easy setup and customization of widgets for sites.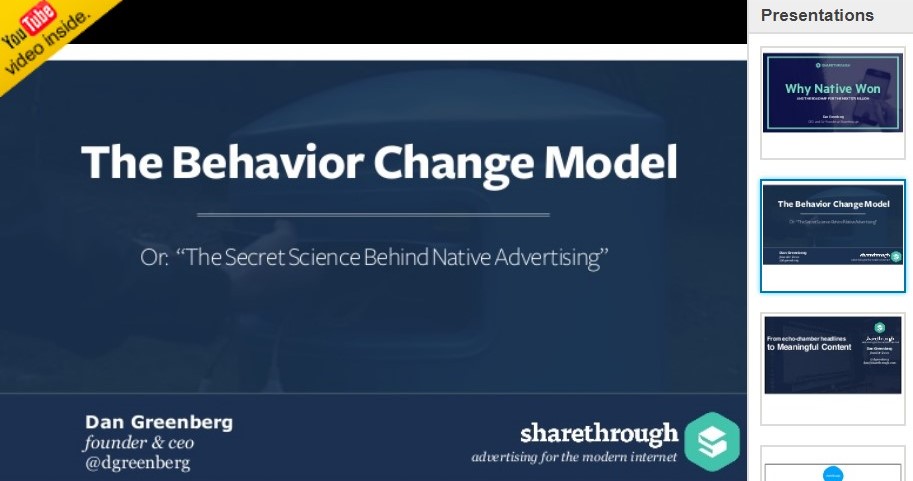 The platform was created in 2008. Adapts everything, including block, font, styles and colors to the site where the native is hosted. You can create ad units of non-standard sizes.
Traffic buying options – CPM.
Price – $3 per 1000 impressions.
Main GEO – USA (especially California), Australia, UK.
Media.net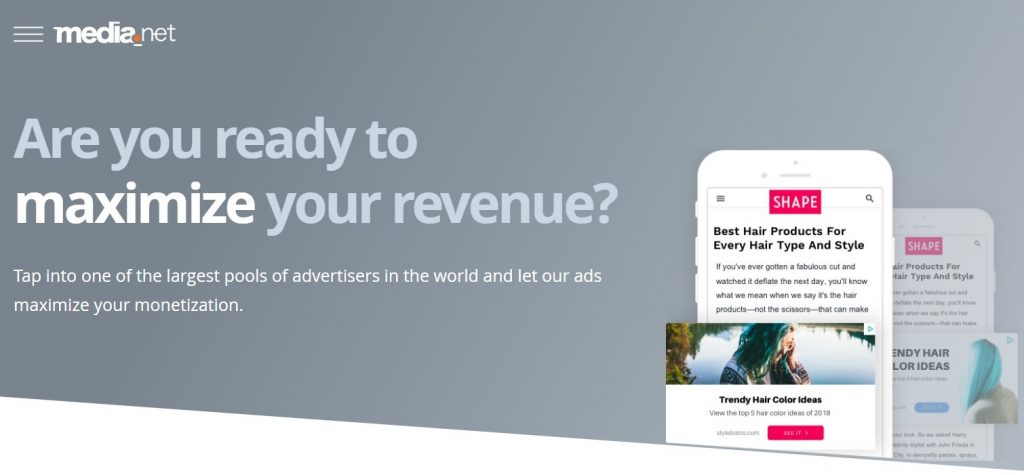 A major teaser network that ranks second in the world. It was established in 2010, and since 2016 it has been the property of a large Chinese consortium called Miteno Communication. Partner publishers include Forbes, Elle, USA Today.
Traffic buying options – CPM.
The minimum cost per click is individual, depending on the campaign settings.
Main GEO – USA, Canada, UK.
Easy to integrate and customize.
A Video Comparison of the Media.net and Google Adsense Ad Networks
Tips for working with native ads
Here are some simple tips:
Avoid flashy creatives. Remember that the main advantage of native advertising is that it's supposed to try its best not to look like an ad. It must be credible. A flashy creative will increase the number of clicks but decrease the overall conversion rate. Basically, you'll get the same result as if you were using push-notifications or teaser ads. But that means that all the advantages of native ads become lost and you're just wasting your time. The point of a native ad is to resemble the surrounding content as closely as possible, to carry useful information, instead of offering the purchase of a product or service.
Paying for impressions when using native ads is rarely effective. The creatives are not clickable. The CTR will be low. Therefore, start specifically with the pay-per-click model. If there's going to be a lot of them, then you can switch to payment for impressions.
More pre-landing pages! Don't try to bring the user to the main page right away. Since native ad creatives mention the possibility of obtaining some useful info, then the link should lead to a site that offers some objective benefit. It's not enough to just slap on a pre-landing. You need to think it over to the smallest detail – you must tell the story of solving a specific problem from the creative to the landing page. A pre-landing's job is to explain how exactly a user can get rid of their problem, and provide them with expert advice from the necessary field. Fashion everything in a purely informational style. Your content should be of actual value to the reader. Such a pre-landing should include a link to the offer designed as a clarification of what exactly will help solve the user's problem.
Such simple things may seem obvious, but practice shows that people make mistakes and then blame overpriced native ads and low ROI rates.
Don't know where to get traffic? Read our article "Best traffic sources for affiliate marketing".
FAQ
1. What's the largest native ad network?
2. Which network is best for Europe?
Adcash or AdUp if the focus is on German-speaking countries.
3. Which network is best for the US and North America in general?
4. Which network is best for India and Asian countries in general?