Facebook has millions of active users from all over the world. Of course, many want a slice of this pie – millions of products and services are advertised on the social network. Always or almost always, someone has already found their target audience, designed the creatives and tested advertising campaigns similar to those that you are just about to launch. So maybe you shouldn't reinvent the wheel? Most often it really isn't worth it – what you need is a Spy tool.
Many advertisers now use tools to track ads on Facebook, Instagram and other platforms. This helps them get high social media traffic conversion rates with minimal cost per click. We will talk about how to choose the most functional solution for a specific task and not overpay when choosing an Facebook Ad Spy tools in this article.
What are Spy tools?
A Spy tool is software or an online service that has a set of features that the affiliate marketer may find useful.
It's main purpose is to monitor the activities of your competitors.
See TOP 30 SPY services according to LeadBit here.
Capabilities
Each Spy service has its own arsenal of functions. But they all share the most basic features:
collecting data about competitors' ads, including targeting options and the audience's engagement with the ads;
searching for creatives and trends in online marketing;
tracking profitable bundles;
searching for the affiliate program and landing page to which traffic is driven.
You can also add ads to favorites, export statistics to text documents and analyze ad performance.
How are they used and for what purposes?
Such services will be a useful tool for affiliate marketers, entrepreneurs who promote goods and services, as well as internet marketing specialists.
These services are especially useful for novice affiliate marketers who have not yet learned how to create effective bundles. By analyzing the information such tools provide, they will not need to spend time on checking whether or not their bundles work, which will also make it possible to save money. Paying for a paid plan will still be cheaper than testing out bundles on your own. Also, newbies can gain valuable experience and study the target audience.
Experienced affiliate marketers can use these services to find inspiration and improve their strategy. They provide an opportunity to identify current trends in advertising, learn the nuances of online marketing, and uncover new opportunities in a specific niche.
Benefits of using
The main benefit of using Facebook's ad tracking services is the ability to analyze every aspect of your competitors' campaigns in detail. You can see the GEOs and the landing pages they use, see the quality of the products, evaluate the traffic, get interesting ideas and see what's trending at the moment. By using tracking tools, you can see everything that works well in a specific niche, including free traffic sources, targeting settings, wording and creatives. You can see if other advertisers are engaging in remarketing and direct selling, what color schemes they use in their ads, what the strengths of their tactics are.
Correctly editing the campaigns of your competitors allows you to quickly achieve the desired result. The affiliate marketer gets the opportunity to discover brand new offers and schemes. They will be able to analyze the links and content of their competitors,as well as assess how well the target audience interacts with various ad formats. Thanks to this, you can improve your market position and increase the conversion rate.
LeadBit review "Most profitable niche for affiliate marketing".
List of Facebook Ad Spy tools
The Leadbit partner network has compiled a list of the best Ads Spy tools for Facebook. Each of them differs in their cost of use and in the set of features. You should choose a tool based on the specific tasks at hand.
List of all relevant Spy tools at the end of 2020:
Adsector.
Next, we'll take a look at some of the best available options
TOP 3 free Facebook Ads spy tools
Most Ads Spy tools cost money. But there are also free alternatives that are suitable for beginner webmasters, businessmen, and anyone who wants to get acquainted with the way such services work
BigSpy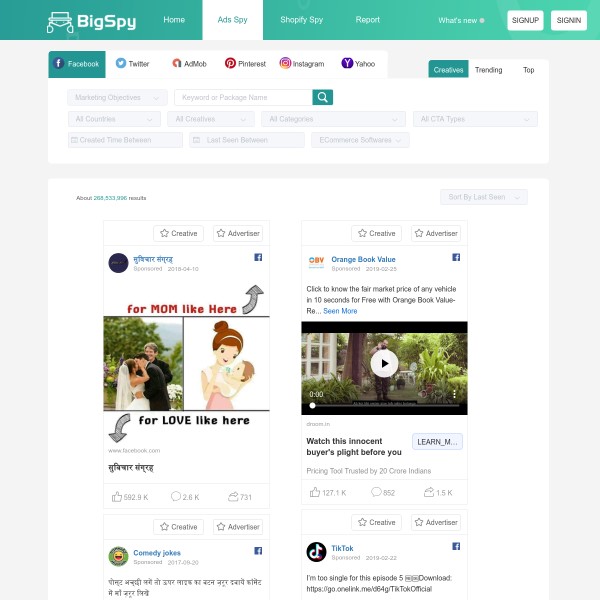 An optimal tool for beginners as it has an intuitive interface and is easy to use. Supports almost all popular Western social networks including Facebook and Instagram. This ad tracking tool can search by topic, marketing purpose, or call to action. Unlike its paid counterparts, it does not show detailed statistics.
Video on How to Use BigSpy to Monitor Affiliate Campaigns
But you can collect a minimal set of information for market research. Can notify about updates for chosen campaigns. The site also shows which products are currently selling the best. Ads can be added to favorites.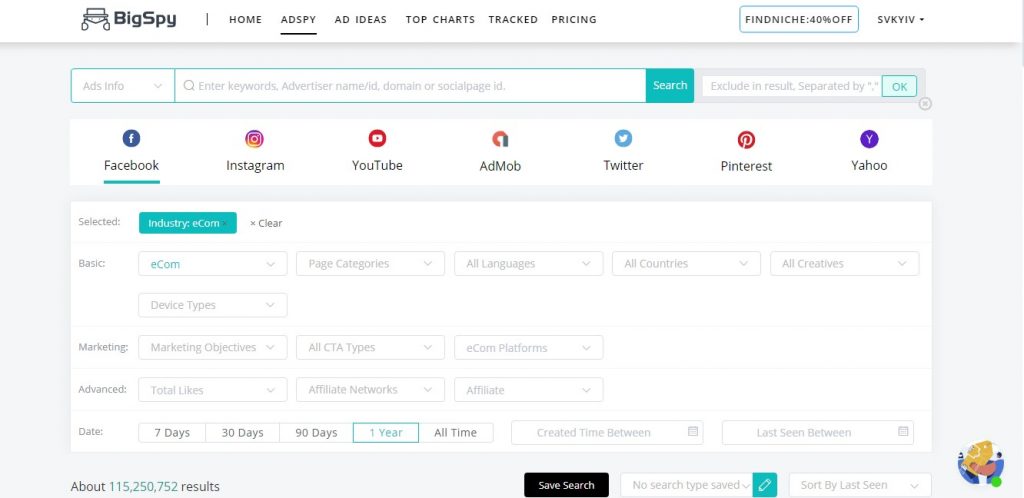 Plans: free (5 queries a day). You can pay to increase that number: BASIC plan – $9 a month, PRO – $99, ELITE – $399.
Monitors: Facebook, Instagram, Twitter, Admob, Pinterest and Yahoo.
Filters: by keyword, country, category, CTA and time.
PowerAdSpy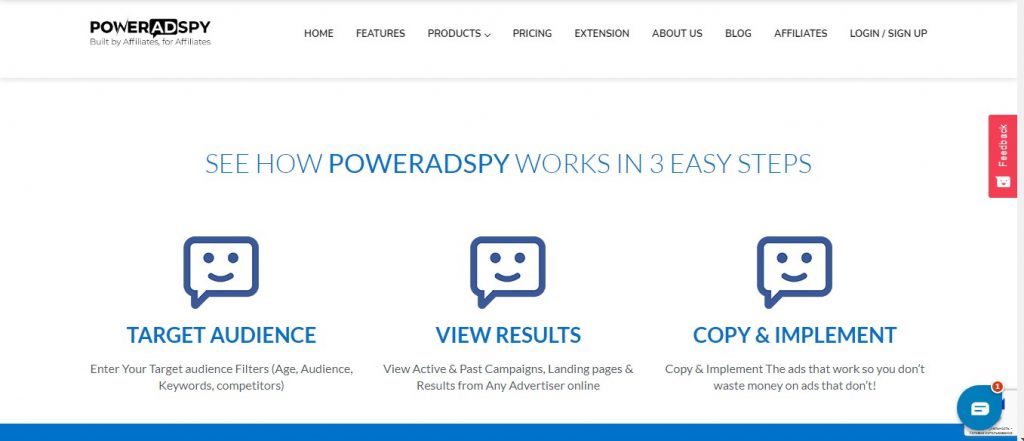 This is one of the most useful digital marketing tools. Allows you to find ads by keywords, domain and advertiser. Ads can be sorted by date added, duration, social interactions, targeting parameters. The analytics section displays coverage, current trends, interactions.
PowerAdSpy Video Review
This is a service that informs you about your competitors' targeting, landing page URLs, number of comments, likes and reposts. This allows you to determine which ads should be copied, as they are faring well on Facebook. Among its features it's worth noting the call to action filter or the PowerAdspy extension, allows you to view ads in the form of a news feed.
PowerAdspy is an advanced intelligence tool, but newbies will need a lot of training to use it properly as it requires the person to possess certain analytical and technical skills to use it effectively.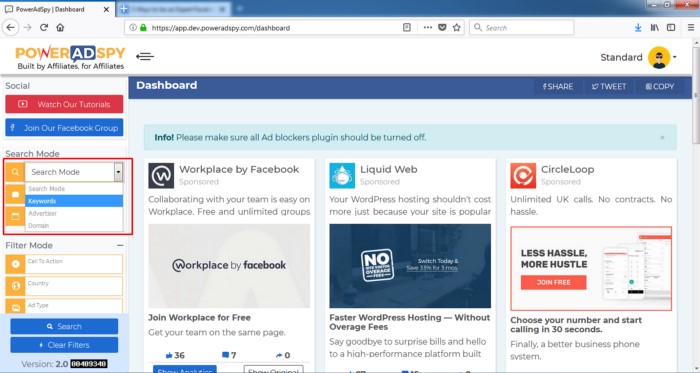 Plans: Free (100 queries for 10 days). BASIC plan – $49 a month, more advanced plans – $99-399.
GEO: more than 15 countries.
Monitors: Facebook, Instagram, Google, Youtube, Native, GDN.
Filters: by age, sex, language, query, GEO, ad type.
LeadBit bonus: a promotional code with a 20% discount on your first purchase.
Swipe-Worthy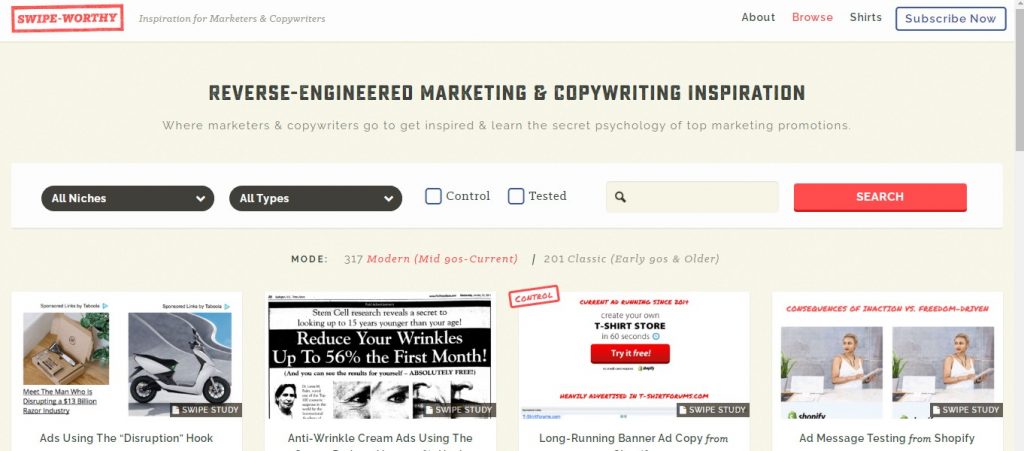 This tool is perfect for marketing professionals looking for fresh ideas or inspiration. Swipe-Worthy's distinguishing feature is that ads are split into separate dynamic elements instead of just a line of screenshots. This allows for an in-depth assessment of why the ad works (if it does).
Swipe-Worthy Video Review
A collection of good practice examples is available. You can see spectacular designs, catchy slogans and interesting creatives. All this will help make your own campaign more successful. The disadvantage of the platform is that it does not show the latest trends and ads in real time.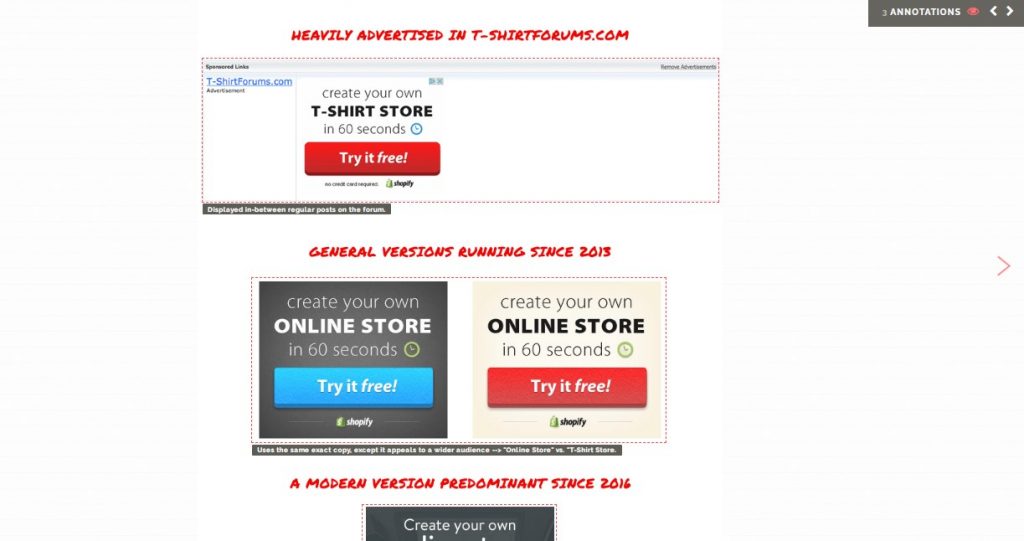 Plans: free.
Filters: by keyword, advertiser, affiliate network.
TOP 8 paid Facebook Ads spy tools
There are many web services on the market for analyzing social media ads. The following is a detailed discussion of some of the paid Ads SPY tools that are recommended when working with Facebook.
AdSpy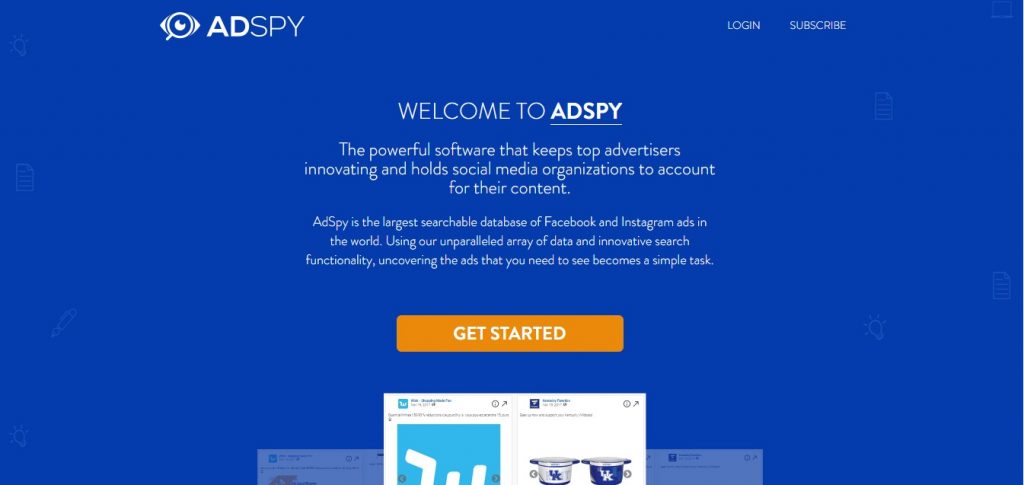 AdSpy will be your reliable assistant in analyzing Facebook ads. It is the largest social media ad base (with over 50 million added daily). It features a convenient, intuitive interface, many filters, settings, quick search, support for desktop PCs and mobile devices.
A Video About the Benefits of AdSpy and How to Use It
Allows you to analyze successful campaigns and see new trends, offers, landing page addresses. Any ad you like can be bookmarked.
Has advanced search and filtering capabilities. You can search by comments, ad text, affiliate networks and other criteria. There are statistics of user actions (likes, comments, transitions). The company uses high-speed servers, so the search is performed within a few seconds in a database with millions of ads.
Through working with AdSpy, you can get a lot of valuable information about specific advertising niches on Facebook, learn about new partner offers and see what works and what doesn't in a specific market segment. They also offer tech support, which can be contacted by email or phone.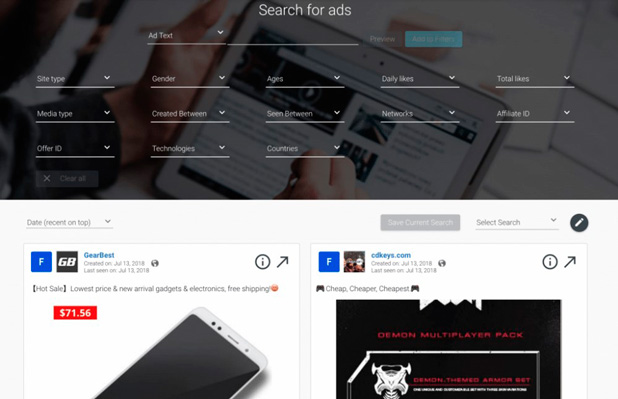 Plans: one plan – $149 a month. Within 24 hours, you can renounce the plan by stating your reason for doing so.
Free trial period: 1000 views to familiarize yourself with the platform.
GEO: 198 countries and 80 languages (you can work with basically the entire world).
Monitors: Facebook, Instagram.
Filters: by sex, age, language, GEO, key word, likes, date added, impressions, etc.
LeadBit bonus: a 20% discount on your first purchase.
Adsector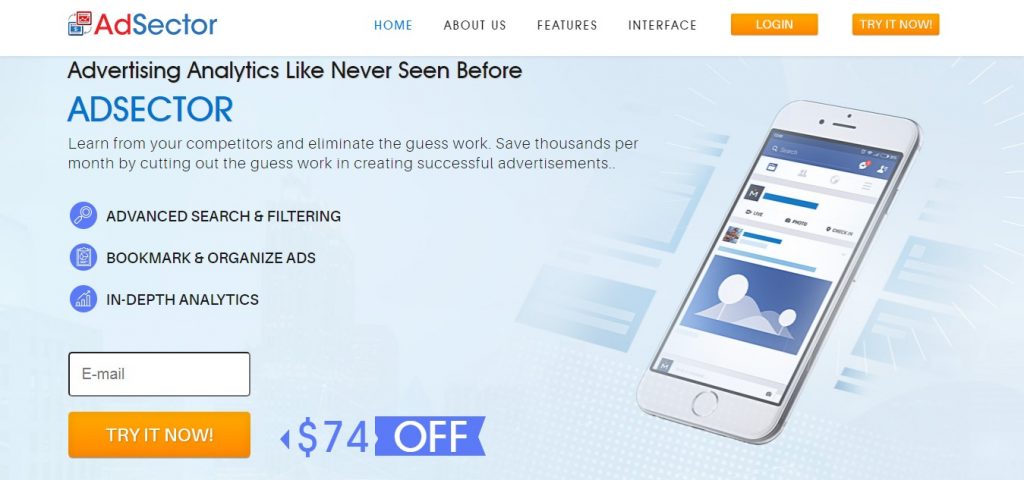 This is one of the most expensive and functional ad analysis tools, providing access to a database with millions of entries. The platform makes it easy to find successful ads in a specific niche and analyze the strategy of competing brands. This will allow you to create your own profitable campaigns.
Provides detailed analytics for each creative. Allows you to view targeting parameters (demographic parameters, interests of visitors, etc.) in real time. You can explore landing pages and download your favorite landing pages in a couple of clicks. Interesting ads can be bookmarked if need be.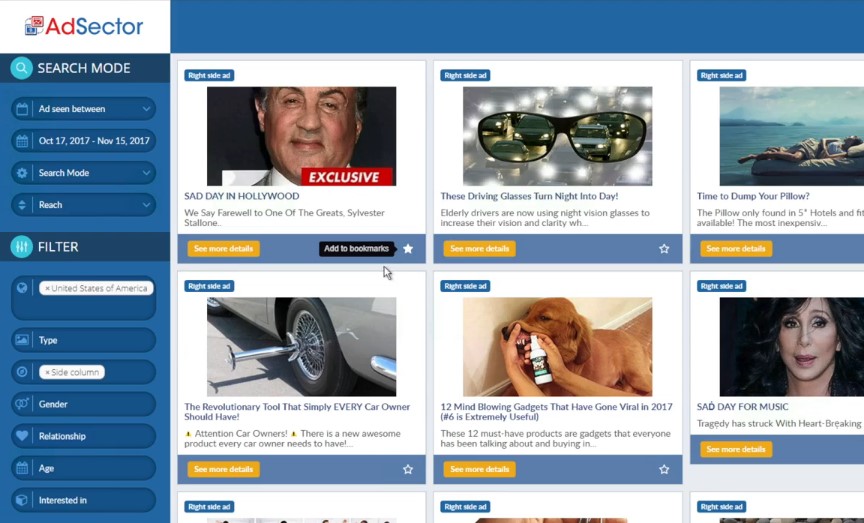 Plans: $249 a month.
Free trial period: not included.
Filters: by affiliate network, advertiser, key word, country, age, sex.
SocialAdScout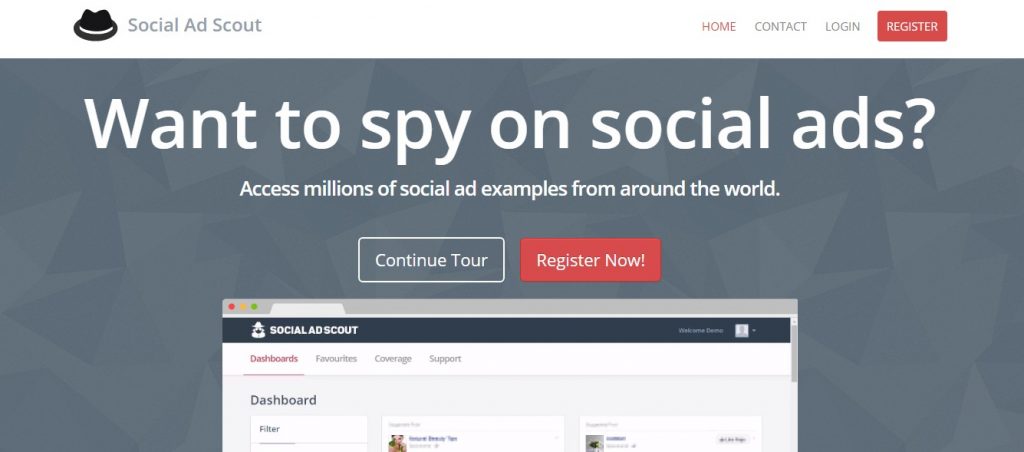 A powerful Ad Spy Facebook. Supports all types of ads, including graphics, videos, and Canvas Ads (the only tool with this feature). Provides the ability to explore the full targeting settings, as well as download your favorite landing pages and creatives. A unique feature of the platform is the ability to detect similar ads for PCs and smartphones.
The service's features include the analysis of interaction with ads, the time of their publication and views, the number of impressions, the types of devices used. Collecting statistics will allow you to develop your own campaign targeting the same demographic and market segments used by your competitors.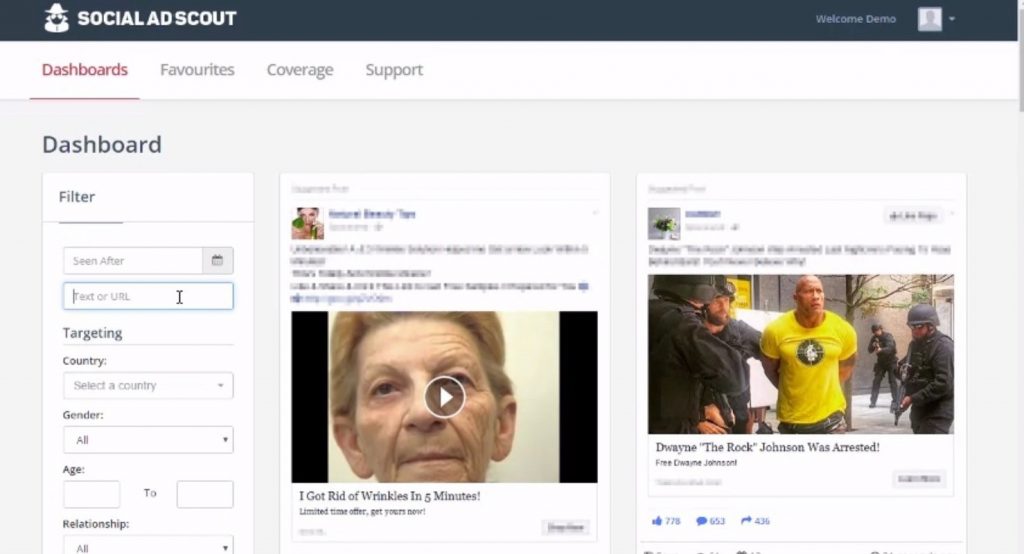 Plans: $147 a month.
GEO: covers 21 countries, including the USA, Canada, Italy, Spain, Switzerland, Poland, France, Sweden, Norway, Russia and Brazil.
Filters: device type, ad type, age, sex, query, affiliate network.
SocialPeta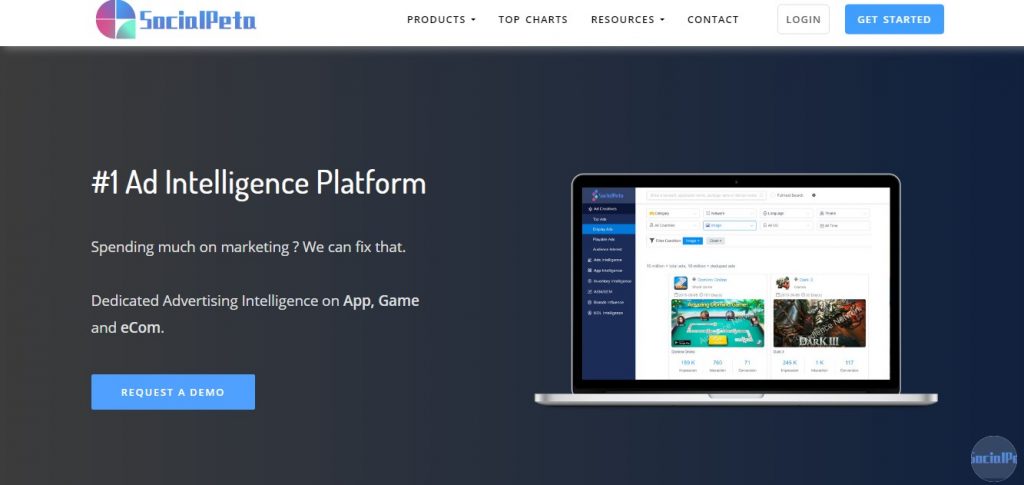 One of the leading web services for collecting marketing data. Has a large database of ad creatives from Facebook and other popular social networks. Provides the ability to analyze products from AliExpress and Amazon and mobile applications in the App Store and Google Play Store. More than 5 million advertisers are represented.
Provides detailed information for campaign planning and social marketing. More than 100 million unique creatives, including graphics, carousels, videos, search ads.
A Video on How the SocialPeta Platform Works
You are given access to a comprehensive in-depth analysis of marketing data. всестороннего This allows you to thoroughly monitor the marketing strategy of brands and make informed decisions. A wide range of free services are provided, but for advanced features you need to purchase a premium subscription.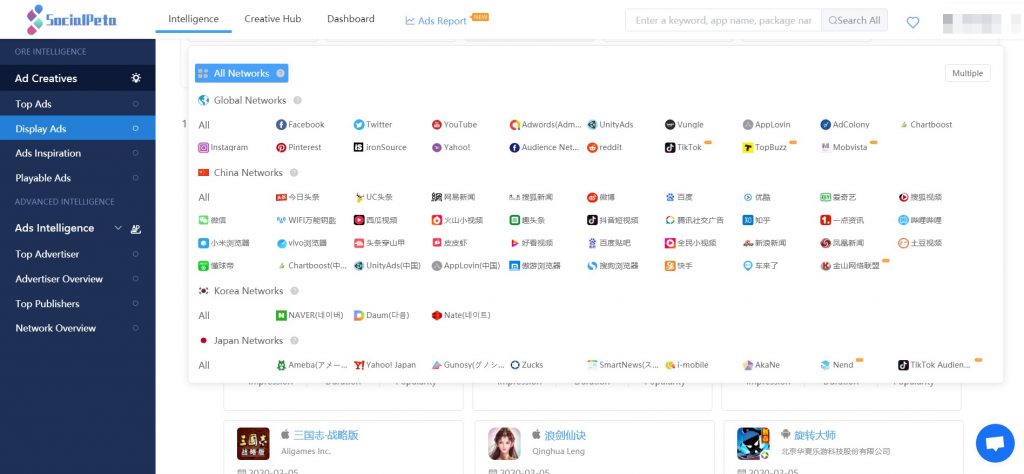 Plans: from $59 a month.
GEO: more than 50 countries, including the USA, Canada, Japan, India, China, South Korea, Thailand.
Monitors: Facebook, Twitter, YouTube, AdMob, Yahoo, Unity and other platforms.
AdPlexity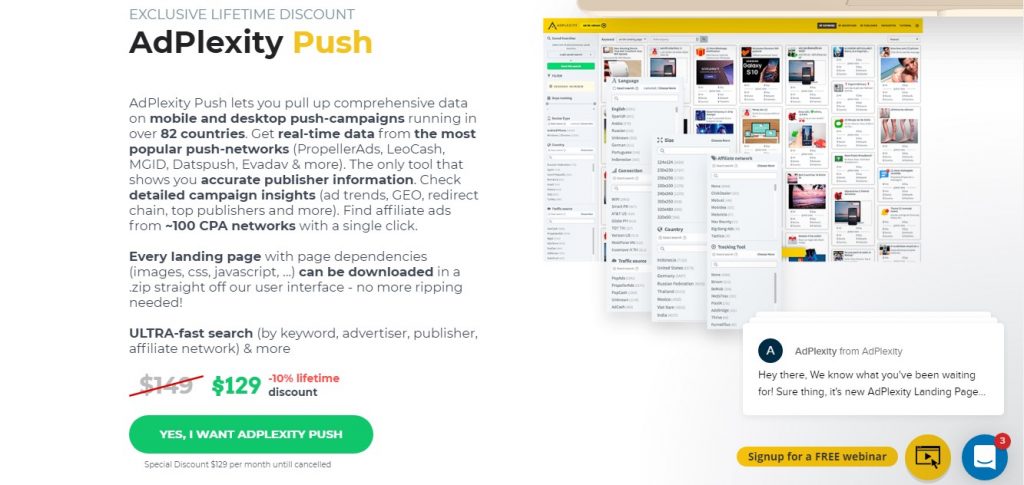 Another serious tool that will allow you to create effective ads. Supports native, mobile, desktop, push-notifications and eCommerce ads. Each ad type is paid for separately. AdPlexity is different from similar web services because of its unique functionality. For example, it allows for Pop-up and Android In-App reconnaissance. You can upload landing pages to your PC along with graphics, JS scripts and CSS files.
A Video on the Features and Proper Use of AdPlexity
In addition to Facebook, a number of mobile ad networks are supported. With a few clicks of the mouse, you can open a ready-made link, which includes the address of the landing page, affiliate network, region, device type, etc. With AdPlexity, you can see what strategy your competitors are using right now. Price history is available from more than 70 million sellers.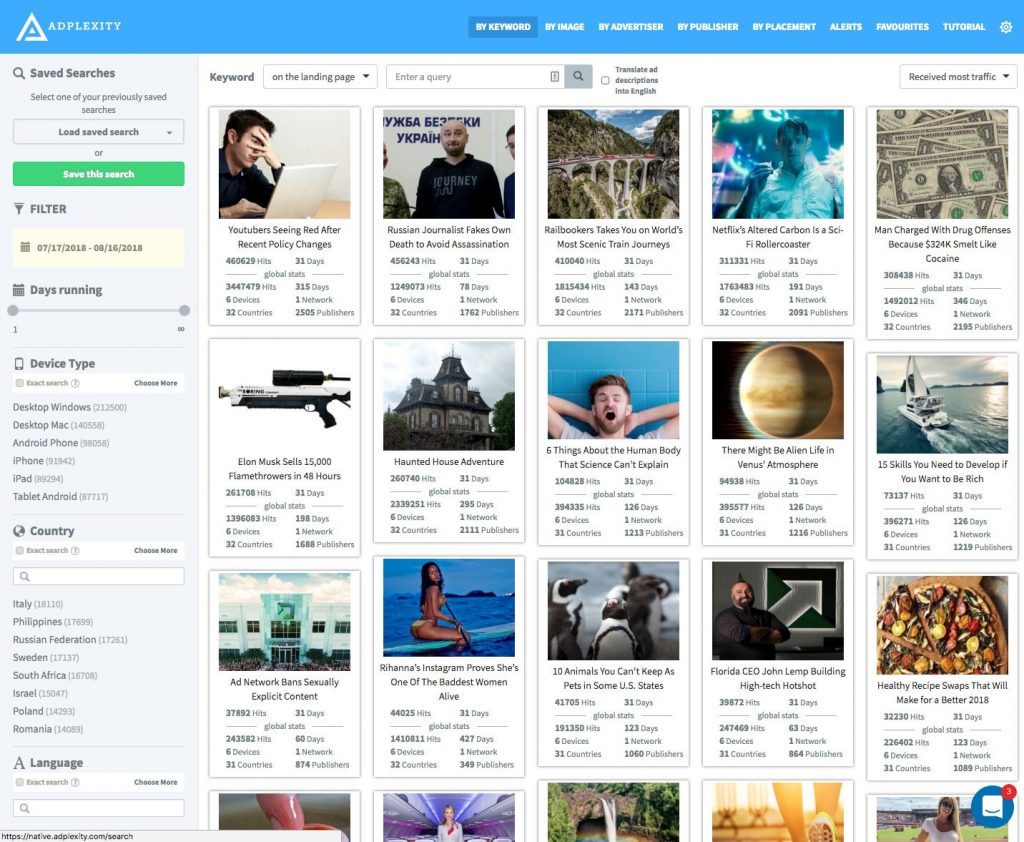 Plans: $199 a month for 1 type of ads. If you do not like the service, you can request a refund within the first day of use.
GEO: over 75 regions, including major countries.
Ad types: mobile, desktop, native, push-notifications and eCommerce.
Ad networks: Facebook, PopAds, InMobi, StartApp, Adcash, Popcash, Airpush, PropellerAds, Leadbolt ad networks and others.
Filters: by advertiser, network,key word, traffic source, niche, language, region, image, device type and others.
LeadBit bonus: free 1 month AdPlexity push-notifications monitoring.
Anstrex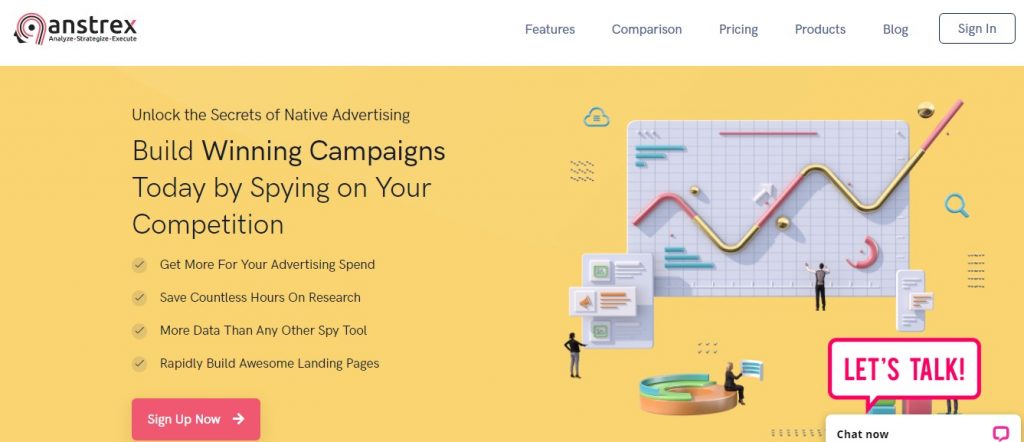 Anstrex was tailor made for affiliate marketers. It gives you the ability to explore landing pages without downloading them to your computer. Offers many features to closely monitor the activity of your competitors, including related ads and analytics. Allows you to discover new creatives, traffic sources and perform quick analysis of trends in a specific niche.
Detailed Step-by-Step Video Tutorial on How to Use the Anstrex Spy Tool
Provides access to a database of native ads with over ten million ads and landing pages. The web service includes a built-in editor that allows you to download and edit the desired landing page in just a couple of minutes. Additionally, account holders have extensions to automate purchasing and importing goods from AliExpress.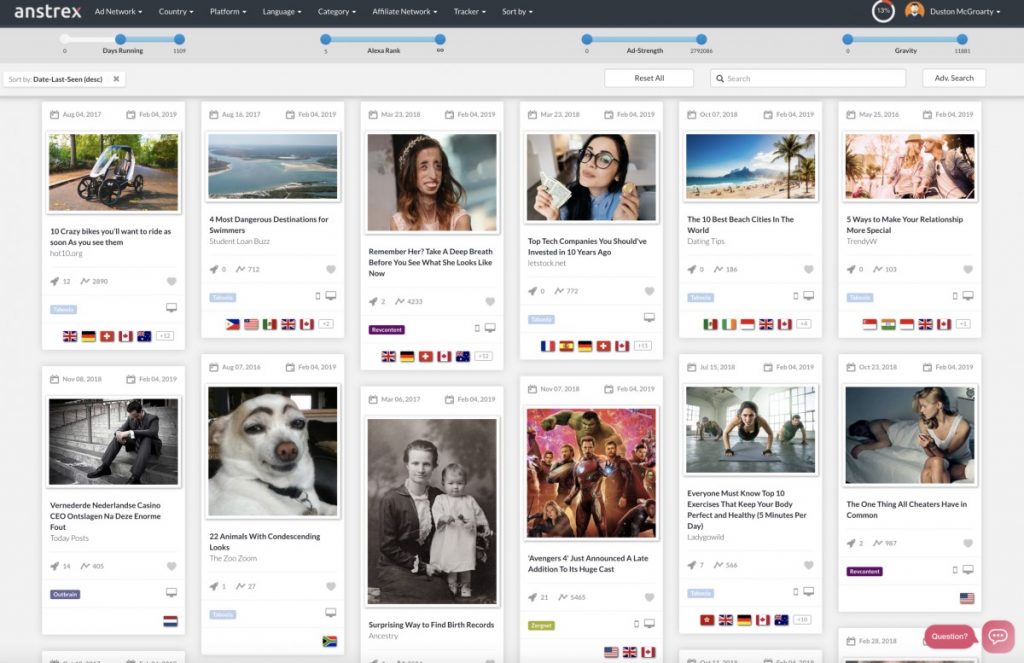 Plans: $60-125 a month.
Free trial period: not included. But you can get a refund within 2 days.
GEO: 92 countries.
Monitors: social media, websites, ad networks.
Ad types: native ads and push-notifications.
Ad networks: 38 networks, including MGID, DataPush, Kadam and Propeller Ads.
Filters: by affiliate network, category, advertiser, traffic source.
LeadBit bonus: a lifetime 20% discount.
AdVault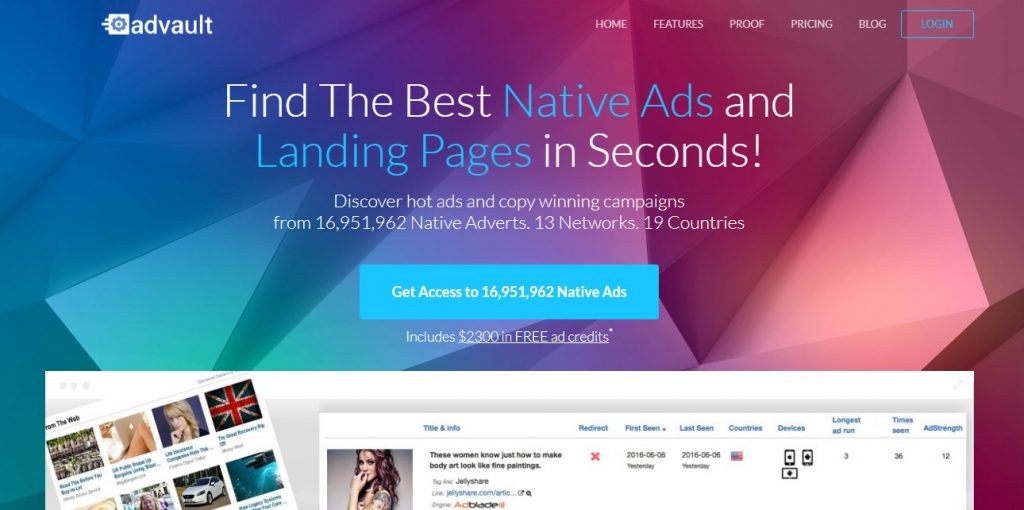 The Advault spy tool makes it easy to quickly find the best native ads and landing pages. It monitors 13 major ad networks in 19 countries. A special feature is the access to free ad bonuses provided by 7 networks. After your first purchase, you get the opportunity to publish ads worth more than two thousand dollars for free.
Detailed Video Review of the Advault Spy Tool
This tool provides detailed analytics indicating the device types, GEO parameters, viewing time and other criteria. You can search for ads by URL, tag, advertiser, queries. The service makes it easy to distinguish direct advertisers from affiliates. You can also download landing pages and creatives.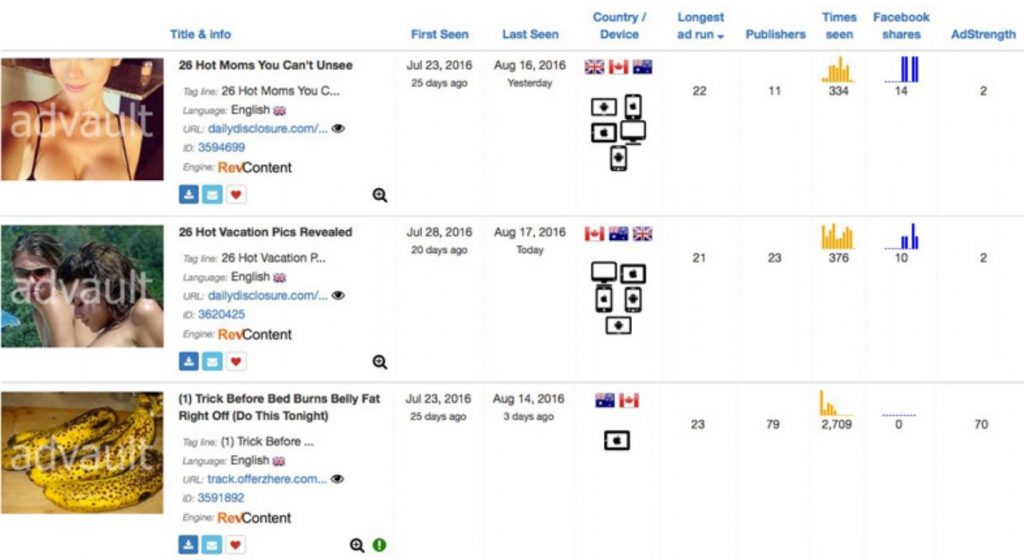 Plans: $97 a month.
GEO: 19 countries.
Ad networks: 13 networks, including MGID, Yahoo, Taboola, ZergNet и Gravity.
Filters: by language, Facebook reposts, viewing time, device type, redirect, key phrase, date, website.
AdEspresso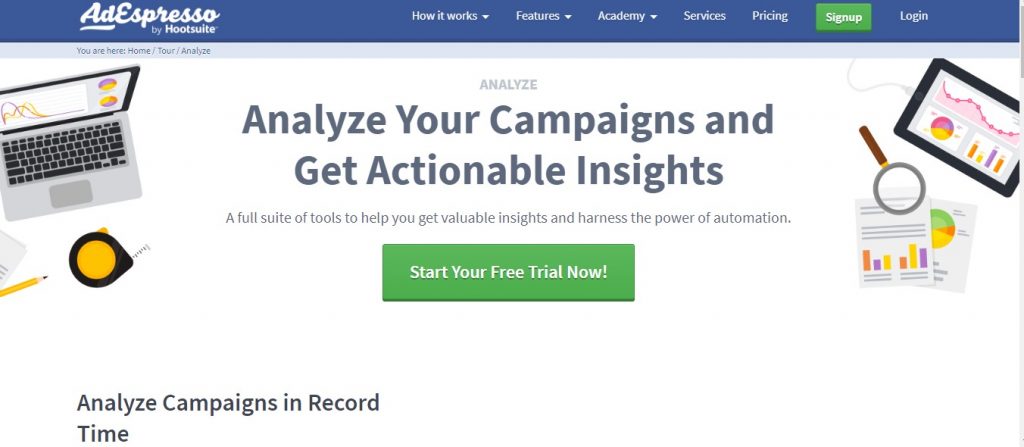 A shareware service for analyzing ads on Facebook and Instagram. It will be useful for affiliate marketers, as well as small and medium businesses. Price-wise, it is significantly cheaper than other paid products, so it is suitable for those people who are not ready to work with large budgets.
A Video on How to Manage a Facebook ad Campaign With AdEspresso
The service has customizable panels that can be dragged and concise visual analytics. This allows you to concentrate on the important data. You pay extra to have a personal manager attached to you, they can help in drawing up an advertising strategy.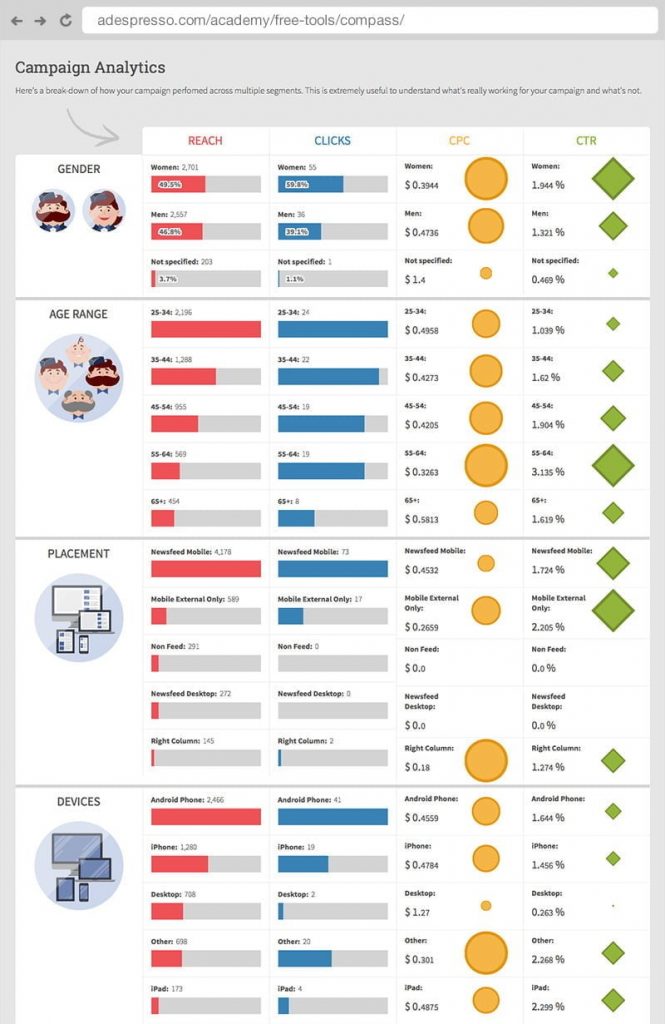 Plans: $49-259 a month.
Free trial period: 14 days.
Filters: by advertiser, landing page, key word, device type.
Other Ads Spy tools for Facebook
Not bad, but not quite enough to be called the best.
Adbeat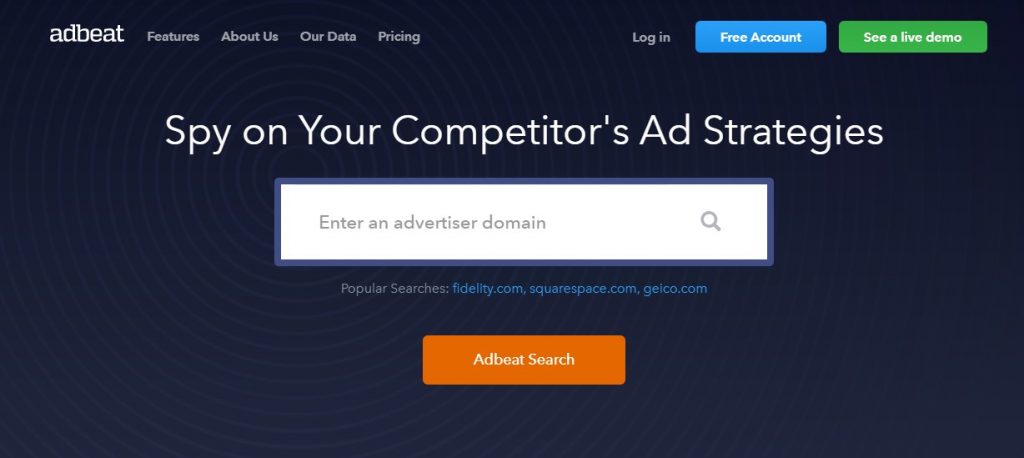 Designed for work with foreign ads. Allows you to evaluate metrics, see estimated budgets, the number of days the ad was on display for, and other parameters.
Plans: $249-399 a month.
Free trial period: not included.
GEO: more than 20 countries.
Ad networks: 90 grids, including Turn, AdRoll, Outbrain.
Filters: by country, device type, query, network.
A Video on How to Manage a Facebook Ad Campaign Eith AdBeat
Connect Explore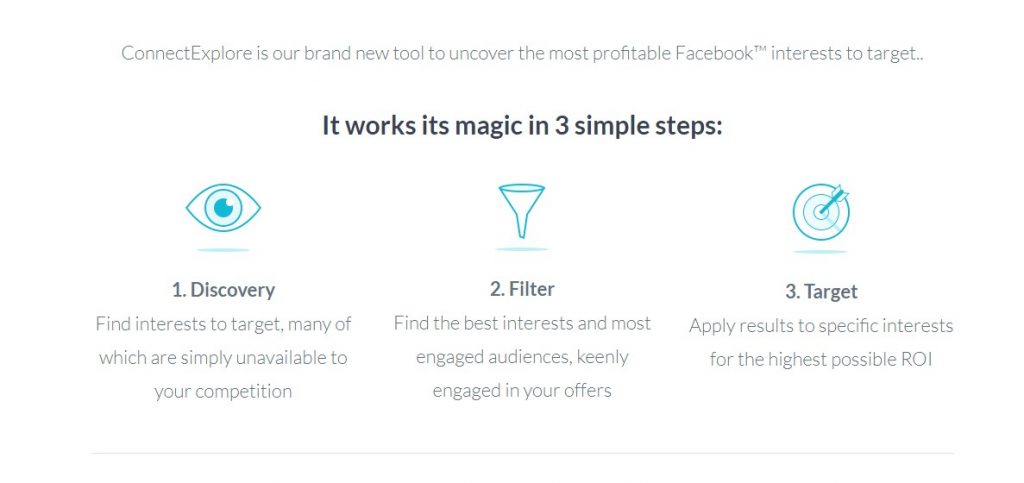 A powerful service for exploring new trends, targeting settings and more. Supports Facebook Ads API. Interest targeting allows you to collect analytics data.
Plans: $47-141 a month.
Free trial period: 30 days.
Ad networks: Facebook.
Connect Explore Tutorial Video
SpyFu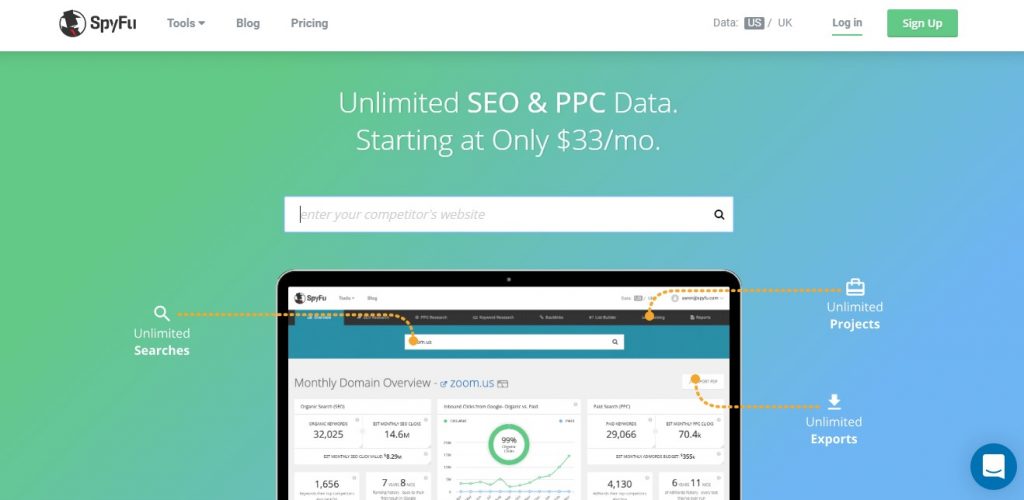 This tool makes it possible to analyze the places where your competitor placed their ads. To do this, you just need to enter the page address. You'll see what key words and ad types were used as well as other parameters.
Plans: $33-299 a month.
Free trial period: not included.
Ad networks: Google.
Video About the Features and Benefits of the Spy Service SpyFu
Idvert

A business intelligence platform that allows you to identify the effectiveness of ads, as well as their placement. Supports various device types. Has a large database of creatives. Daily monitoring of engagement trends.
Тариф: $199 a month.
Free trial period: not included.
GEO: more than 60 countries, including Russia, USA, Canada and China.
Ad networks: Facebook, Search Ads, DSP.
Filters: by country, device type, query, grid.
LeadBit bonus: a lifetime 25% discount.
Video Review of Idvert's Competitor Ad Analysis Platform
Native Ad Buzz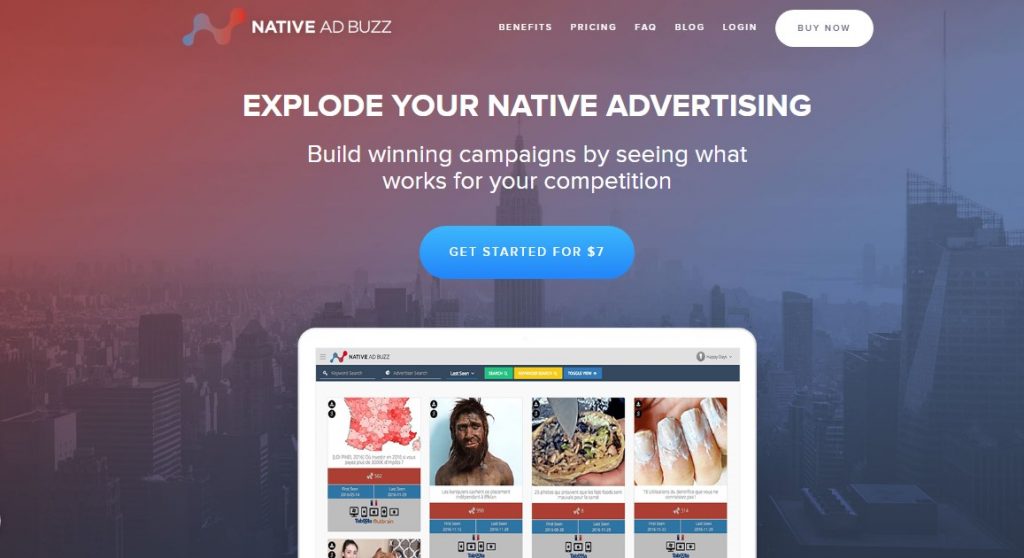 A native ad tracking tool. Includes a filter for 5 different devices, including PCs, tablets, smartphones running IOS and Android operating systems. Allows you to create your own ad library.
Plans: $47-575 a month.
Free trial period: 7 days (for $7).
GEO: 12 countries, including the UK and the USA.
Ad networks: 10 networks.
Filters: by country, language, date, publisher, landing page, device type, query, grid.
Video About What Native Ad Buzz is and What Opportunities it Gives to Affiliate
WhatRunsWhere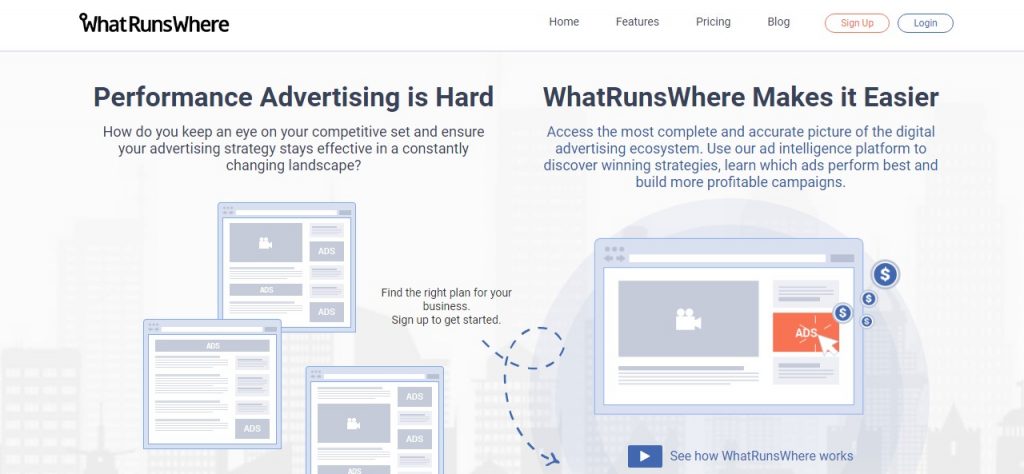 Allows you to track creatives, analyze traffic and other data that will be useful in affiliate marketing. More than 120 thousand advertisers are represented here.
Plans: $299-399 a month.
Free trial period: not included. You can request a refund within 3 days
GEO: more than 22 countries, including Germany, the US and Australia.
Ad networks: 190 networks.
Filters: by country, language, date, publisher, landing page, domain, query, network and others.
Video Overview of the WhatRunsWhere Service
SpyOver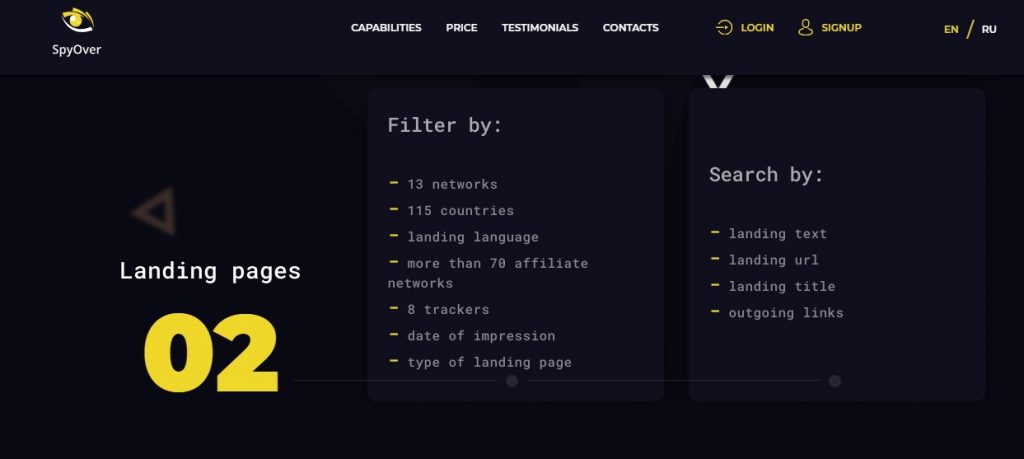 Shows advertising statistics in detail in the form of charts and graphs. Allows you to download ads and landing pages in one click. Displays the trend of impressions over time.
Plans: $149-299 a month.
Free trial period: included (limited features).
GEO: 115 countries, including Russia, Ukraine and Kazakhstan.
Ad networks: 13 grids, including Chameleon, Plista and Outbrain.
Filters: by country, language, date, publisher, landing page, browser, query, tracker and others.
LeadBit bonus: a 33% subscription discount.
Video Overview of Competitive Ad Analysis With SpyOver
AdMobiSpy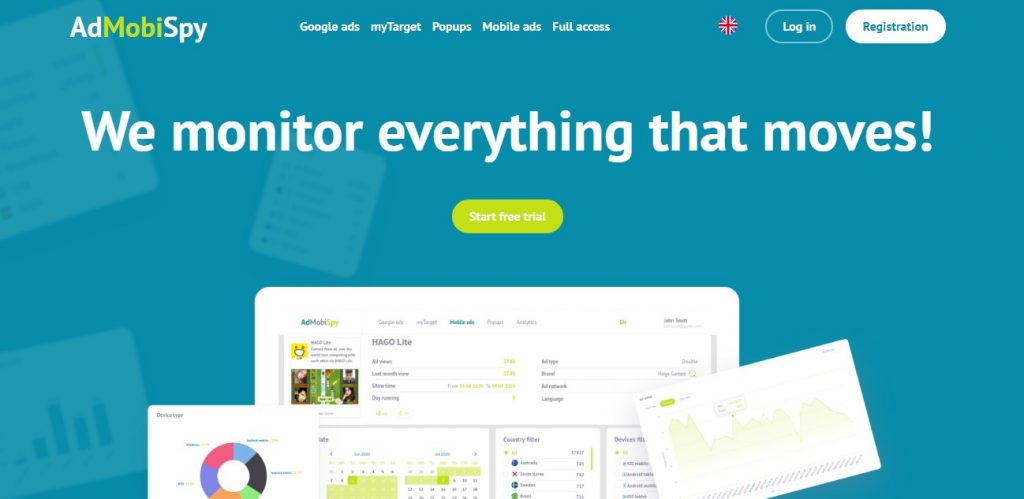 Tracks mobile ads. In one click, you can download landing pages and ads. Bulk upload is possible to save time.
Plans: %299 a month.
Free trial period: included (limited features and number of queries).
GEO: 183 countries.
Ad networks: 23 networks, including Google AdWords, AirPush and NativeX.
Filters: by URL, text, platform, publisher, sex, ge and others.
LeadBit bonus:a 10% discount on any plan.
Video About AdMobiSpy Mobile Ad Analysis Service
AdvanceTS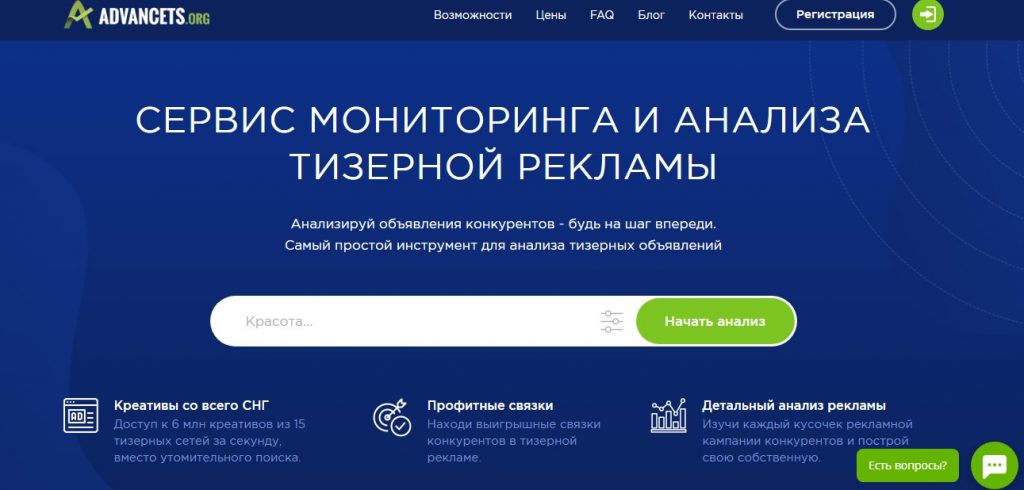 A service that shows teasers and social media ads. Allows you to analyze landing pages, and view statistics on ads and webpages.
Plans: 2,799-5,699 rubles a month.
Free trial period: included (limited features).
GEO: the CIS countries.
Monitors: more than 30 grids, including AdKeeper, DirectAdvert, Recreativ and TeaserNet.
Filters: by country, device type, size, network, query.
LeadBit bonus: an 11% discount on any plan.
AdHeart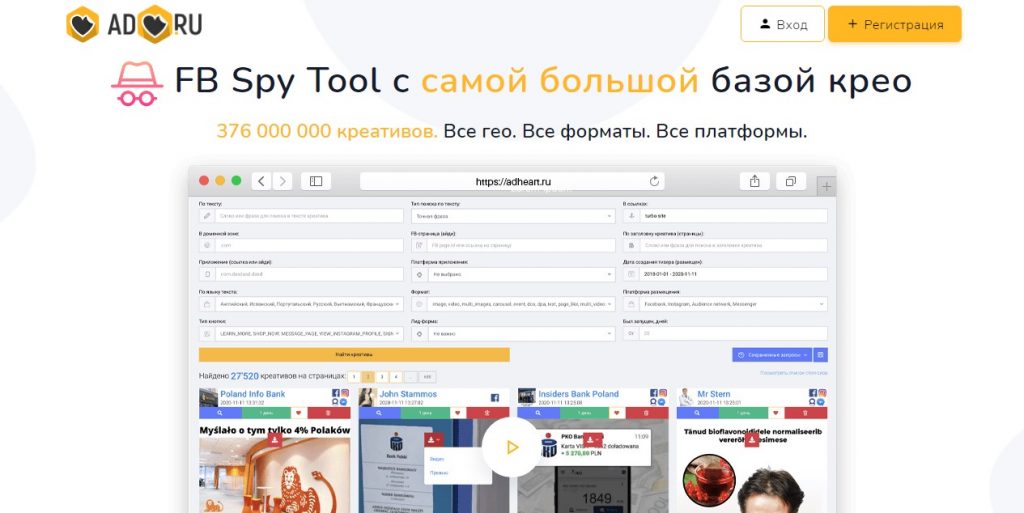 A tool for analyzing Facebook ads. Loads creatives faster than other entries on this list and provides more detailed relevant information. Allows you to download media files and use deep search.
Plans: 3,000 rubles a month.
GEO: more than 50 countries.
Ad networks: Facebook.
Filters: by text, title, format, date, domain zone and others.
Recommendations for working with Facebook Ads spy tools
Success in the field of affiliate marketing requires constant and hard work. You need to study new offers and affiliate programs, test out bundles, analyze the behavior and interests of your target audience, note trends in advertising and marketing. Ads Spy tools can help you do all that.
But you shouldn't just copy the successful ideas of your competitors. Many beginners think it's that simple: just copy other people's campaigns and get quick money. Sure, it will be profitable for a few days. But this approach will only work for a short period of time. In order to receive regular stable income, you should create your own strategy. To do this, you can use Spy services to monitor the strategies of other affiliates, and then modify them and adjust to your style.
You should also bear in mind that your competitors may have certain discounts, bonuses or special conditions for working with affiliate programs, which significantly reduces their expenses. Therefore, simply copying their strategy can be unprofitable.
When using Ads Spy tools, you need to carefully examine the features they offer. For example, PowerAdSpy allows you to save an ad you like to your computer or add it to your favorites to come back to it later. Some Ad Spy tools allow you to manage your Facebook and other social media campaigns from your account. Features such as the ability to export analytic information to Excel or PDF reports are helpful. Tabular data is easy to analyze and makes working in a team that much easier.
We advise you to use filters and sort the data to make it easier to find the creatives you want. Be sure to always check the analytics section. It's a real informational goldmine. You can see statistics of audience activity, countries, age, gender and other indicators. This allows you to collect valuable targeting statistics that you can use to customize your own ad campaigns. Collecting statistics on product categories, GEO targeting and target audience will save time and money on ad tests.
When using Spy for Facebook, you first need to set 1-2 main goals that directly affect the profitability of the campaign, and several auxiliary tasks. This will make it possible to focus only on the important information. You should not accumulate a large amount of data that you won't be able to use properly in your work.
Most of the services publish tutorials and videos. It is recommended that you familiarize yourself with them to understand the basics of working with the tools in question.
Conclusion
Creating profitable Facebook ad campaigns is a lot easier to do if you use Spy tools. They are handy tools with a wide range of features, including viewing competitors' actions, finding creatives and innovative solutions. While some Spy tools may seem expensive, the investment will pay off in time. The advertising market is constantly evolving, so affiliates also need to keep their working methods and tools up to date.
Ads Spy tools are quite powerful tools that can help reduce ad costs. But it is important not to copy other people's ideas, but to use them to improve your own strategy. Beginners are better off using free or cheap services. While they may lack some useful features, they can help you understand how these tools work. As you gain experience and improve your skills, you can always switch to more expensive products that offer more features.
Read the detailed review "TOP 50 affiliate software that will simplify the work of an affiliate marketer