The popular social platform Tik Tok is a center of creativity and fun. A tool for creating creative videos with cool special effects. Facebook Instagram is a place where you can have fun and fool around, without the pathos and glamour that permeates Instagram, Twitter snobbery, advertising, politics, and strict restrictions bordering on censorship that prevent you from catching hype on Facebook and YouTube.
TikTok affiliate marketing – so simple, so clear. And with unreal possibilities, where you can create real magic in a few clicks. Therefore, it was able to gather an audience of more than a billion active users in a couple of years, and the smartphone app has been among the most downloaded in the App Store and Google Play for three years. Yes, you understood correctly, this is another tool that can become a platform for promoting affiliate programs.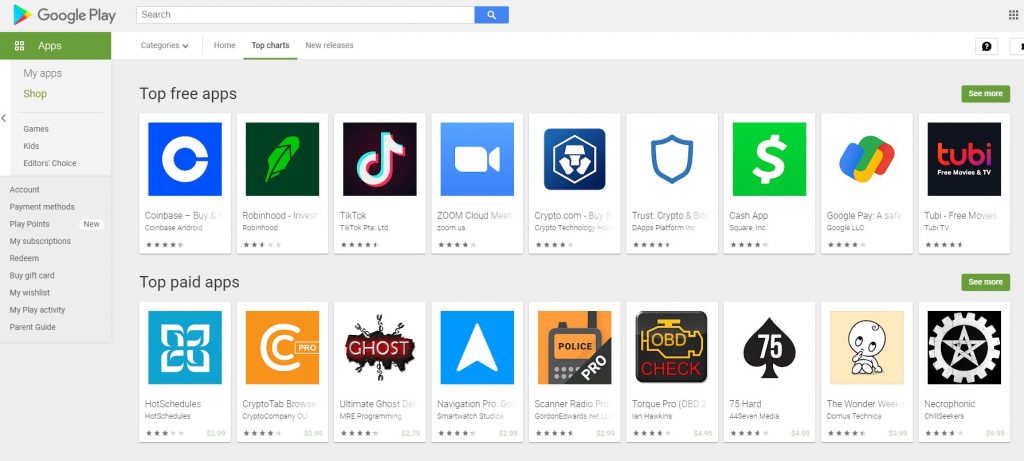 Tik Tok is still in the rank of uncharted lands. The main audience is teenagers and young people. Most of the users aged from 8 to 25 years are actively used by children, although you can officially register from the age of 13. Major brands target older users. Therefore, they ignore social networks or master it with turtle steps.
So far, everything is not clear with arbitration through paid advertising, where the main target audience is people older than 22-23 years. We have to change our strategies, look for new links. But just think about it, more than a billion active users, most of them have similar interests, hobbies, and needs. They differ only in GEO parameters.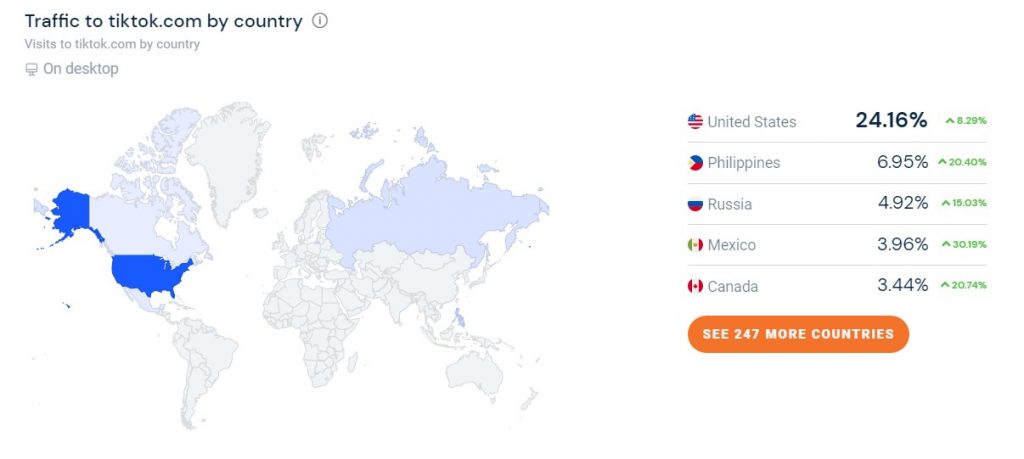 Marketers and analysts of the LeadBit CPA network know well how to work with such an audience. Our managers worked out the techniques in the early years of such popular networks as SnapChat and Instagram – they also started with the fact that they gathered a predominantly young audience.
Our team has a lot of blanks and unique approaches. In addition, generation Y and even generation X are gradually being pulled up, which means that in a year or two the usual methods will come in. Today we will talk about how to make money on affiliate marketing in TikTok. There are a lot of infographics and useful secrets that will help you earn money on the growing popularity of the social platform.
Why TikTok – is everything a marketer needs to know
TikTok – a relatively new social network. It appeared in China in 2016 under the name Doujin. In 2017, it became international, entering the online space of Thailand and Indonesia under the usual name. Since 2018, expansion to all countries has begun.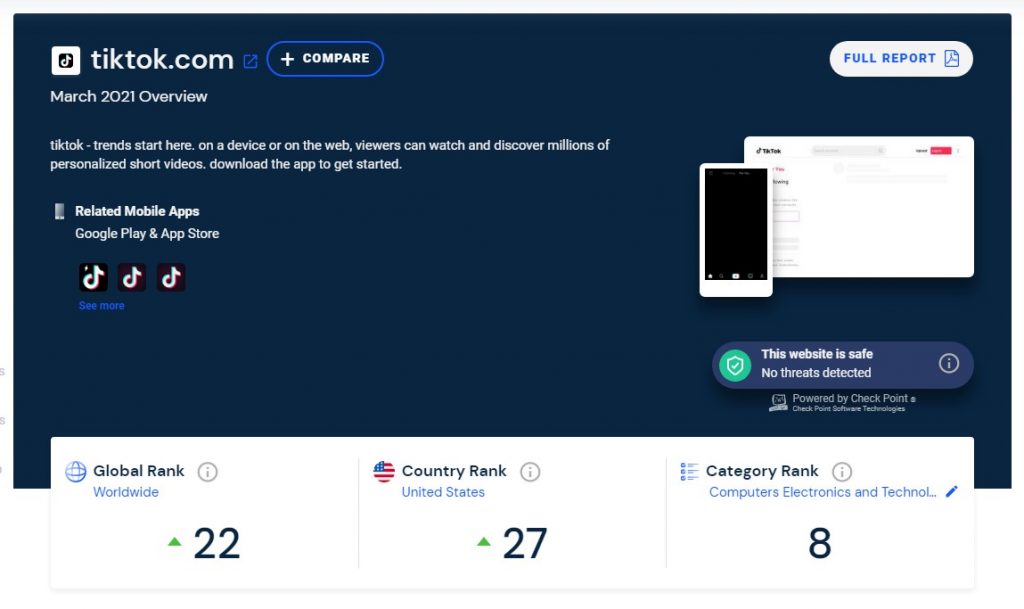 Feature of TikToK – communication through the distribution of short videos (from 15 seconds to 1 minute) and broadcasts. The social app already has a built in editor with cool effects.
The bottom line is that the user can create professional clips for free without special skills. There is also an impressive library with music tracks in almost all genres, footages, effects, transitions.
Changing clothes on the fly, a duet with a star, "tricks" in a few clicks, which in the past had to work on for several days – all this quickly attracted a young audience, first in China, and then in other countries.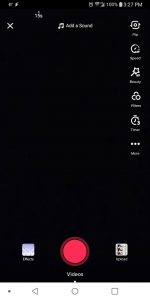 The total audience by the beginning of the second quarter of 2021 exceeded 1,02 billion users. By information www.businessofapps.com by the end of April, the monthly audience is 1,29 billion: about 600 million in China and 689 million abroad. In five years, the social network has surpassed such mastodons as Instagram and Twitter (twice) in terms of the number of visitors. According to the speed of development, Facebook was beaten, which collected a billion Active users only after 8 years.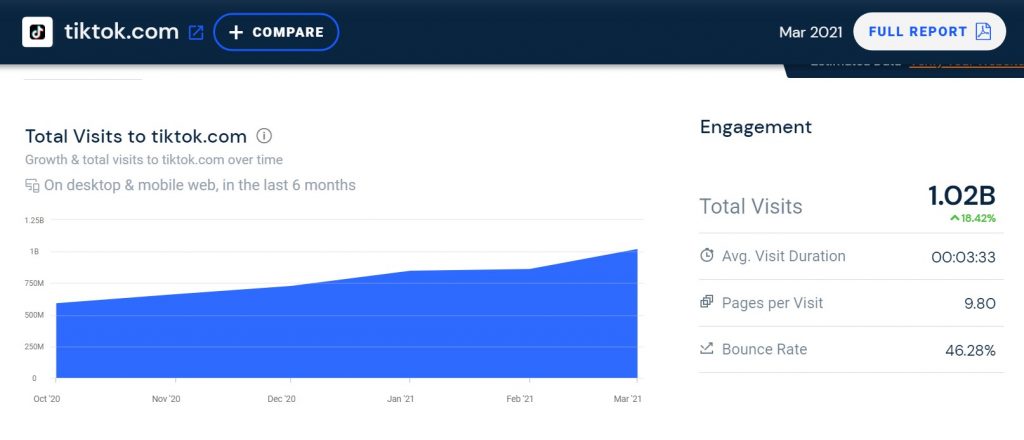 The main audience, or about 41% of users, is people between 18 and 24 years old. Another approximately 17% – from 13 (actually younger) to 18 years, about 22% – people from 24 to 35 years. It seems that the service is used mainly by teenagers and students. But if you look closely at the numbers, we get about 20% of 35 + visitors. Or about 200-250 million worldwide and about 100-137 million outside of China.
For the most part, this is a progressive and wealthy part of the population: IT specialists, entrepreneurs, politicians, media personalities (for example, Will Smith). You can promote not only youth verticals, but also products for a more mature, paying audience.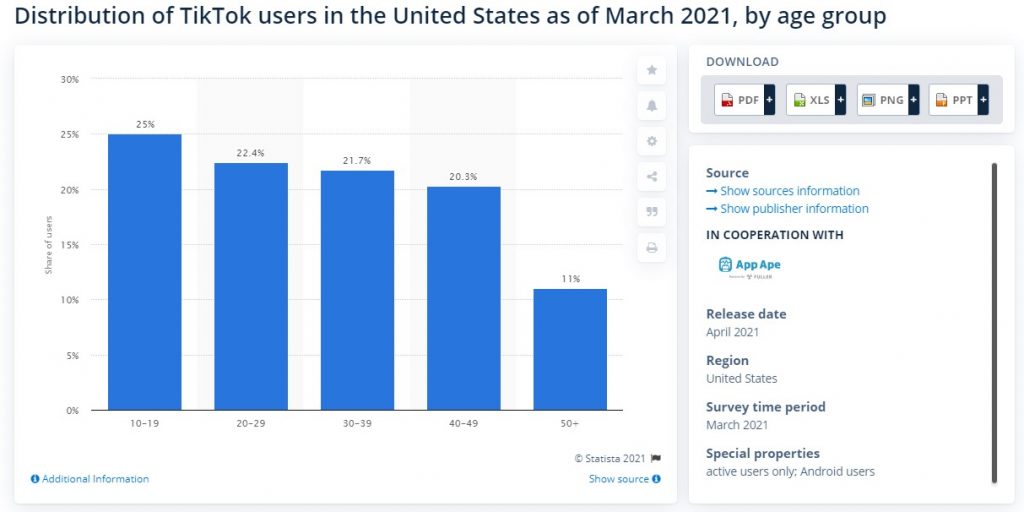 If you think that TikTok is a purely Chinese product, you are mistaken. In 2017, the parent company Bitte Danke bought the startup musical.ly, aimed at the teenage public in the United States, and merged it with TikTok, moving existing accounts there. The new platform has offices in New York, Los Angeles, Berlin, Paris, Moscow, Dubai, Tokyo, and Seoul.
Although there are still cases of blocking accounts due to issues that are not welcome by the Chinese censorship of the PRC, TikTok conducts a policy independent of the PRC and gradually adapts to the general rules that apply to American Internet giants such as Google, Facebook, Microsoft, and Apple. Strict restrictions remain in the Chinese version – Douyin, which, although identical in functionality, runs on a separate server and only passes the "correct" content after strict moderation.
Please note! The parent company Bitte Danke, although it was able to defend its honest name in the American courts after several scandals, is considering selling its brainchild to one of the Western IT giants.
Therefore, there are high chances that TikTok will start running under Oracle, Microsoft, Wal mart, Google or Apple. And this is a new round of development and more dividends for promoted accounts.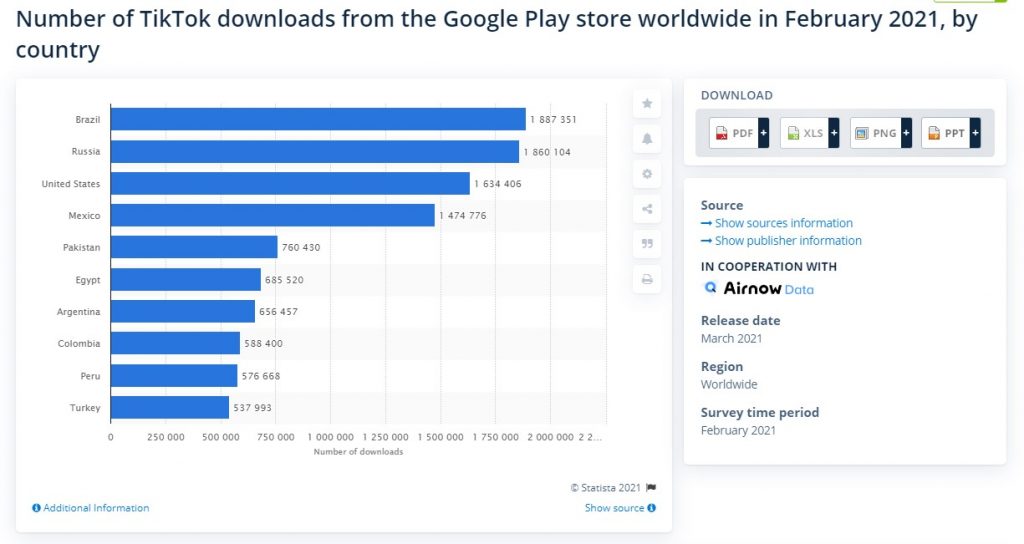 Other facts:
most people visit the platform through the mobile app, and there are no more than 1-2% users who access the service only through the desktop browser;
on average, a user per day views 9,8 pages (visits the service more than once a day) and spends about 52 minutes interacting with the interface (viewing content, likes, comments);
since its launch, the Android mobile app has been installed more than 1.6 billion times (unique installs). The total number of installations of all versions for different platforms is more than 2 billion. Therefore, we predict a significant increase in the audience;
the social platform is distributed in 150 countries, in the list of 75 languages. Although new GEO are gradually being added, there are also setbacks. For example, the ban in India;
according to the portal Kolesa, the first place in popularity outside of China is in the United States, where 29% of residents have installed TikTok. Every day, the resource is visited by about 28 million people, every month about 100 million unique visitors, the same number in the EU. The second place is shared by the Philippines and Indonesia.
other countries with a significant audience: Russia, Mexico, Canada, Brazil, Great Britain, Germany, Japan, Italy, Norway, Spain, Argentina, Australia;
global penetration of the platform – about 18% of users aged 16 to 64;
revenue for 2020 is over $1 billion. Experts estimate the cost of the service at $50 billion.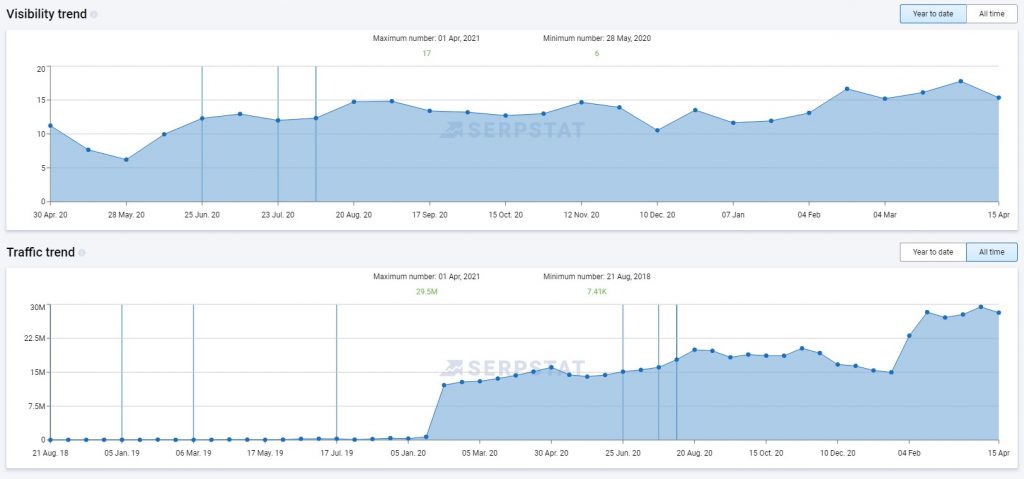 What can be understood from these figures? Some interesting conclusions. Tik Tok is rapidly gaining popularity and is now entering the trends. The network has reached the level to influence society. For example, in 2020 in Ukraine, the service was used by many politicians during the election campaign for local councils. The most active candidates were candidates for the post of "head" of the capital, Kiev, including the current mayor.
The most remarkable fact: the trend of popularity is only getting stronger. TikTok has long surpassed Twitter, Snapchat, and Instagram. The popularity of the application does not fall, and a high influx of new users remains. It is expected that in a couple of years, the service will be able to compete with such giants as YouTube and Facebook in terms of the number of active users.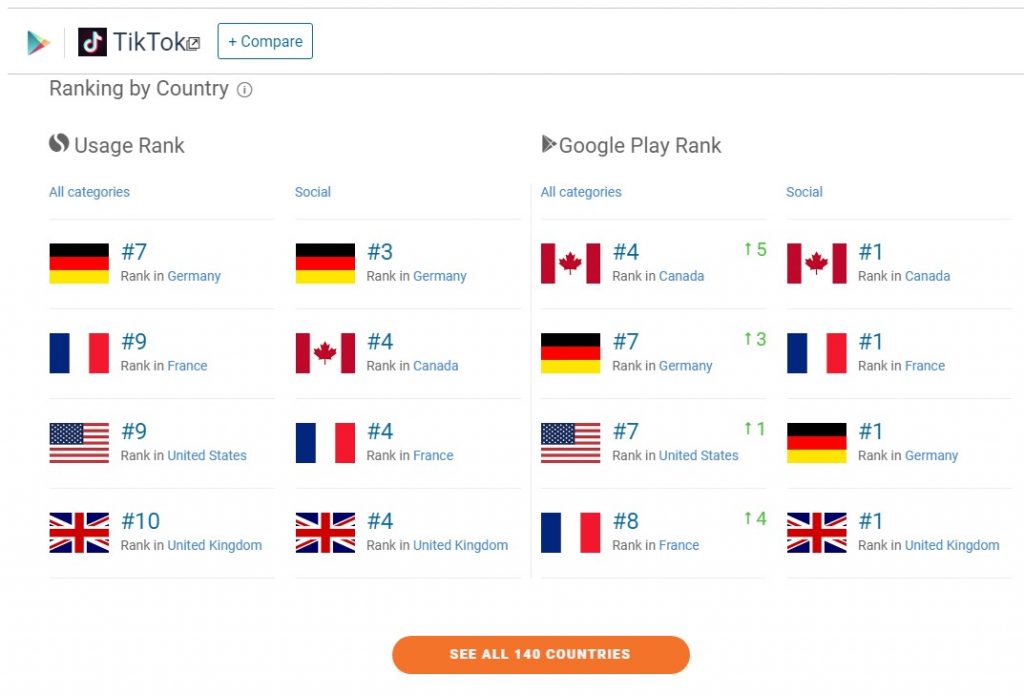 The main markets are countries with a paying audience. These are developed countries (Tier 1) with an average income of more than $2,000 (USA, Japan, Germany, Canada, Great Britain, Australia, Italy) and developing countries where the standard of living and income is growing rapidly (Tier 2: Brazil, Mexico, Indonesia, Philippines, Ukraine, Russia). All these geos coincide with the most popular and profitable areas for arbitrageurs.
What content is popular on TikTok?
The answer is not so difficult, given that the TikTok audience is quite homogeneous. First of all, these are teenagers-generation Z, who were born with a smartphone in their hands and no longer look back, do not accept the traditions of the past, with its authorities, myths, heroes, imposed rules. The second most important category of TikTok users are millennials who were born in the computer era. And although many people remember how to live without the Internet, smart devices and voice assistants, they actively accept, for the most part, create new technologies.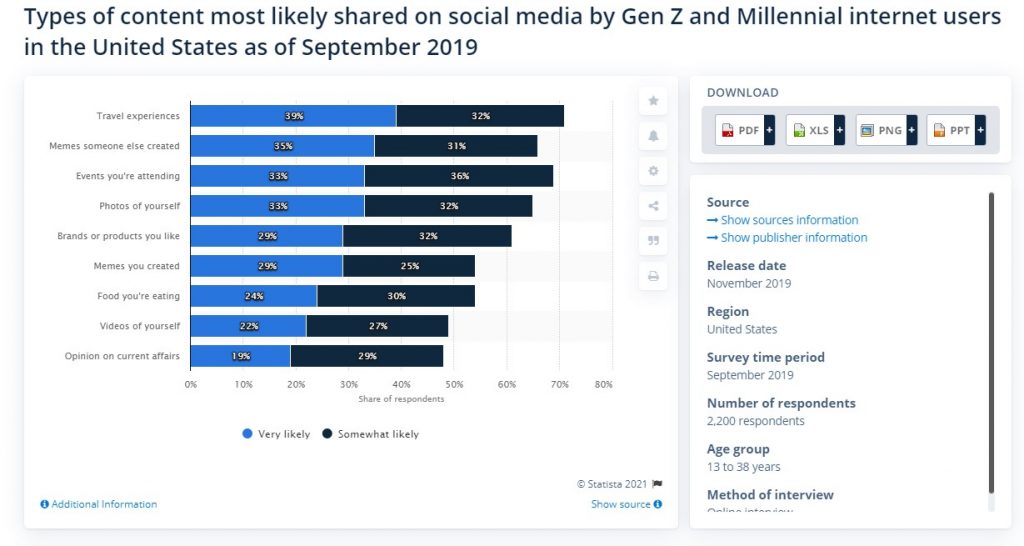 Ticktockers, regardless of age , are a progressive part of society that easily accepts new things, learns quickly, is not afraid of the alien, shocking. This is clearly visible in the TikTok static, where the most viewed category is entertainment videos: memes, challenges, funny scenes, lipsink (video karaoke), dancing, magic tricks. Other popular topics:
the educational content platform encourages the development of the segment. Different directions are welcome, from videos on how to draw henna to experiments in chemistry;
pranks – jokes and practical jokes are especially popular on the platform, thanks to TikTok, the direction has reached a new level;
fitness, sports – you can connect to sports challenges, such as push-ups or weight loss, watch training videos with workouts, choreography;
various crafts for home (DIY), life hacks-here are tens of thousands of tips that will make routine tasks simple and help to decorate everyday life from improvised means;
beauty and fashion – you can learn from beauty bloggers how to make Hollywood makeup, how to care for your skin, hair, and how to stay in the trend of fashion trends;
recipes – in Tik-Tok, there are no long boring videos where an elderly woman mixes something for 30 minutes and speaks indistinctly. Here they roll only short and succinct promos, with which you can learn how to cook dishes of any cuisine in the world.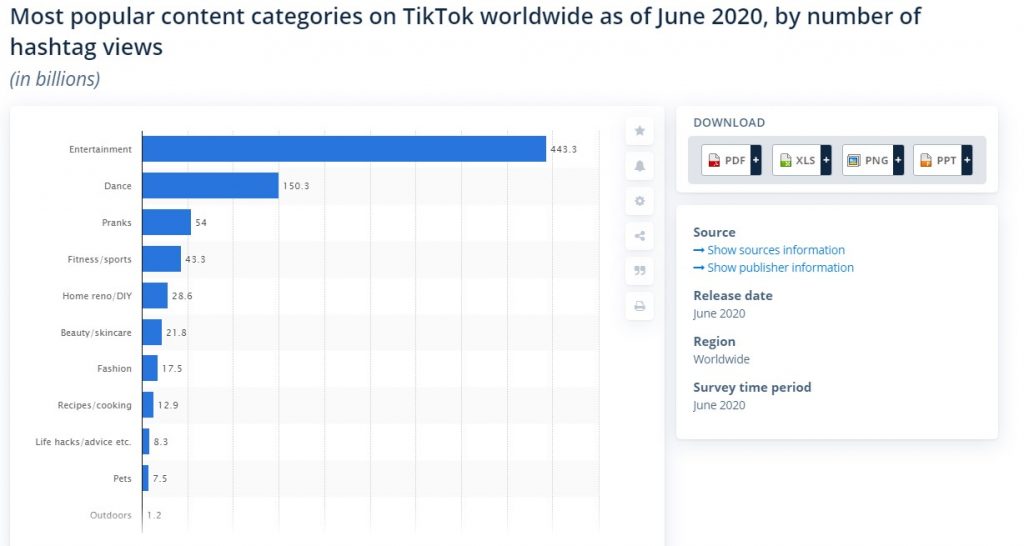 Considering the main audience, TikTok is best served by verticals aimed at the youth audience. Naturally, it is pointless to advertise remedies for rheumatism. But it is good for dating, various gadgets, beauty, various online services, gambling. A special feature of the platform is a "smart" algorithm for selecting content.
Therefore, it is relatively easy for even a beginner to reach the TOP in their region. You don't have to spend a lot of money on advertising, you can promote your affiliate program through regular videos. You will have to shoot in any case, it is best to use native advertising in the format of short videos.
Advantages and Disadvantages of TikTok for Marketers
The main surprise is that such a popular platform as TikTok is used by no more than 5% of marketers. There is almost no competition among advertisers, few brands are trying to master the platform. At the same time, the audience is very homogeneous. It's easy to get a high conversion rate without lengthy tests and fine-tuning targeting.
But like any marketing platform, there are advantages and disadvantages. The main disadvantage is that offers designed for a more adult and, importantly, solvent audience do not go well. The service is just going through its formation, the rules are constantly changing, there is no stability. What was possible yesterday, today is forbidden. Conversely, the niches that you bypassed in order not to get banned or because they seemed irrelevant were suddenly filled with competitors who started working with Tik Tok much later.
There is no stability here, you will not be able to constantly work on the knurled one. But the prospects outweigh all the risks. After all, nothing lasts forever. One effective strategy stops working, and new ones appear. Therefore, we have to test the audience, find new approaches. TikTok is the case when experiments will help not only to maintain the achieved level, but also can bring a real jackpot.
Advantages and disadvantages of TikTok for affiliate marketing:
| | |
| --- | --- |
| Advantages | Disadvantages |
| Huge, fast-growing audience | So far, the majority of active users: people aged 16-25 years |
| The main focus is on viral content, one of the best tools for marketing | So far, it is not possible to add an interactive link under the link, and the scope of the description is very limited |
| Hashtags that make it easier to reach your audience work well | Not all users can post links in their personal profile. To expand the account's functions, you need to pass a manual moderation of your business account |
| It's easy to create cool content – in the built-in editor, you can apply professional effects in one click | The amount of video clips is limited: from 15 to 60 seconds. For many niches, it is unrealistic to talk about a product to attract an audience |
| The platform is well-promoted among ordinary users, but it is almost not used by marketers and arbitrageurs | Despite the small number of advertisers, advertising in many niches is expensive and only available to large brands |
| You can run native commercials – the videos appear in the feed and do not differ from the user content, which is better perceived | TikTok's concept of paid advertising is different from other social media, so it is difficult to get used to the system at the initial stage |
What to prefer: TikTok, Facebook or Instagram?
First of all, we focus on the audience. Tik Tok – not for everyone. If this is a promotion in the segment of premium products, B2B, or, for example, funds for improving potency, against rheumatism, working with a youth network is the best way to drain the budget to zero. Here, too, Instagram is not very productive. It is more reasonable to search for a CA in Facebook.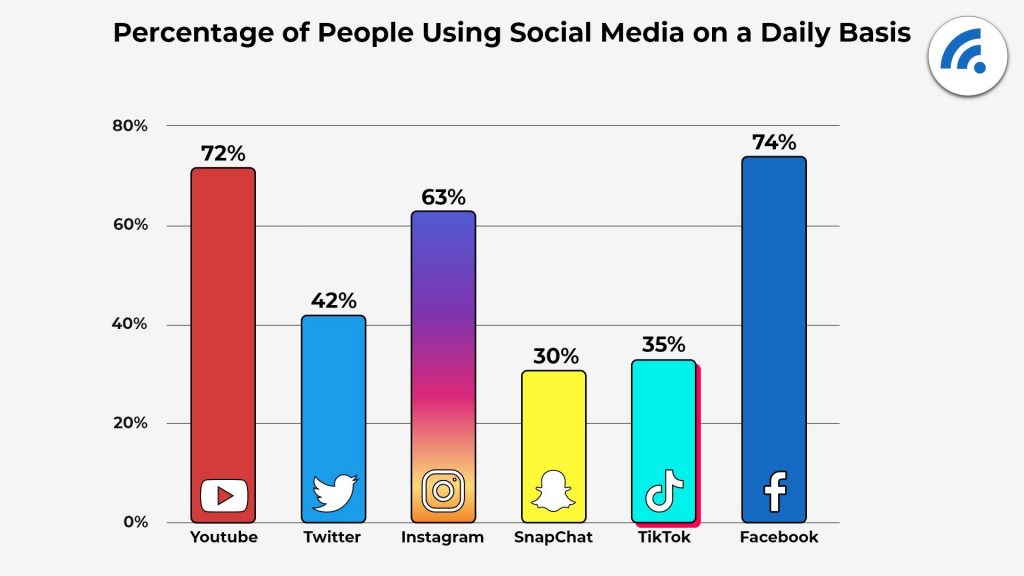 But there are many verticals that go well among the audience of 16-24 and 25-35 (and these are the main users of the new social network). TikTok is not just about schoolchildren, it has a paying audience. And there are few arbitrators.
According to Mediascope, about 36% of Russian users with an average income and more than 29% of users earn above average on the social network. Thanks to the rapid popularization of the platform, it is relatively easy to attract an audience.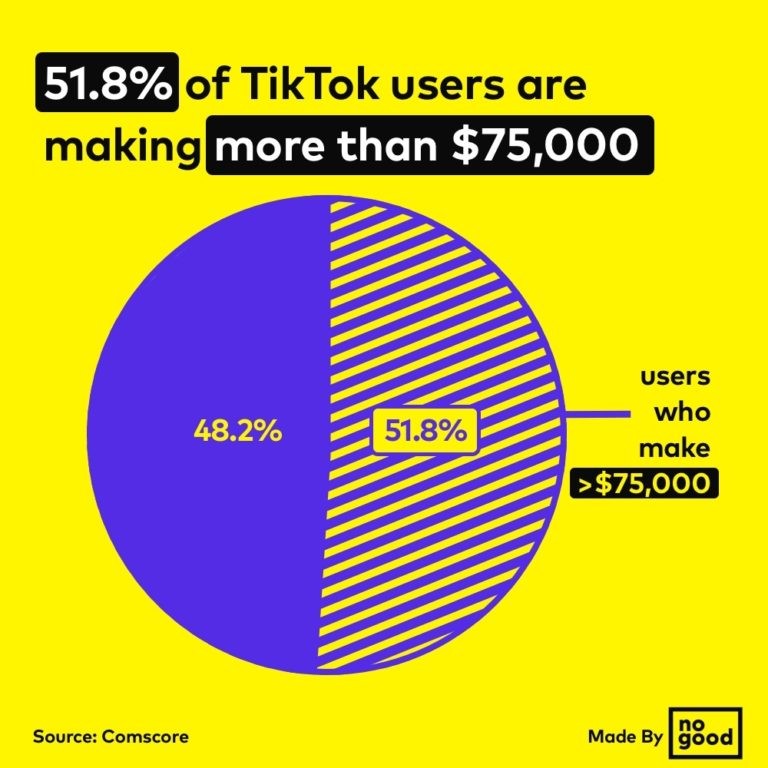 Before launching an advertising campaign, you need to carefully study the features of the work. There is very specific traffic and direct advertising in the forehead often does not work. They do not roll boring videos where music or the speaker's speech is superimposed on the image with the ad. TikTok attracts users with its creative, unusual videos. For a reason, they are limited to 1 minute. During this time, you need to have time:
interest me;
tell a story;
surprise.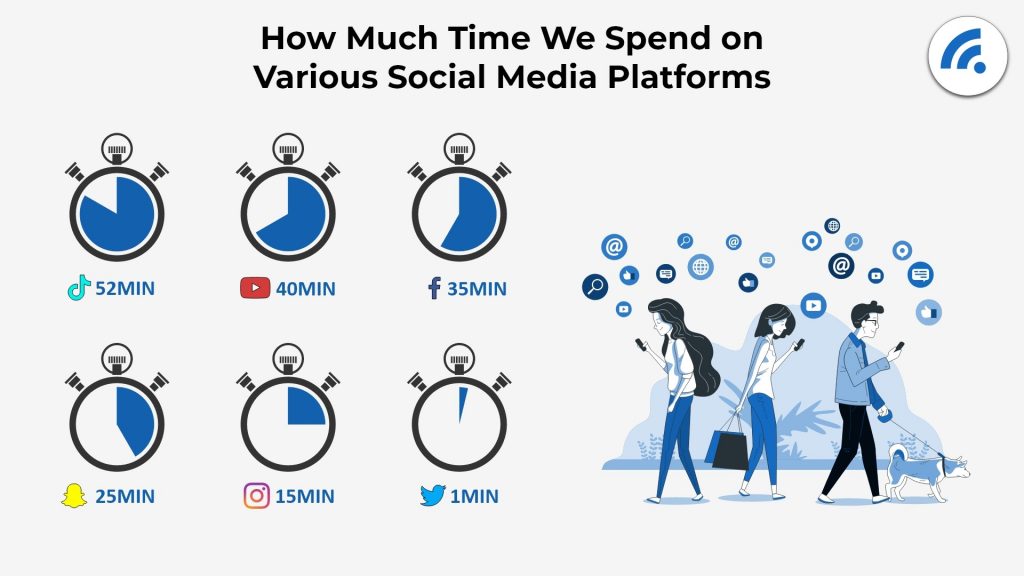 Please note! Tick-Tok works in a completely different way, not like the usual Facebook or Instagram. Therefore, traffic can suddenly increase or fall.
So far, TikTok should not be used as the main and only channel for promotion.
Rules of TikTok Ads
Like other social networks, TikTok has restrictions on content and paid advertising. Restrictions are similar as in Twitter, Facebook. Forbidden to publish:
paraphernalia, symbols of banned, criminal organizations, this applies to music, hashtags. Sometimes such content can pass, for example, in training videos on history, but moderation will be strict;
propaganda of narcotic substances, including footage of their use;
advertising of weapons, explosive, toxic, toxic substances;
calls for violence, including footage of torture, cruelty to people, animals (including legal slaughter on farms);
incitement of hatred on national or religious grounds, harassment of other ticktockers or ordinary people;
pornographic materials, videos with erotic overtones, even hints of sex scenes can be banned;
videos of child molestation, including footage that highlights the sexuality of children, such as explicit posing for the camera of teenagers. Children under 13 years of age are generally undesirable in the frame;
promotion of dubious individuals (scammers) or fraudulent services;
obscene speech, outright spam, and advertising of competitor sites: Telegram, Instagram, etc.
Detailed rules of the platform can be viewed here.
Please note! For violating the rules, you can not only delete the video, but also be banned. In some cases, personal correspondence may be checked and a criminal case may be initiated.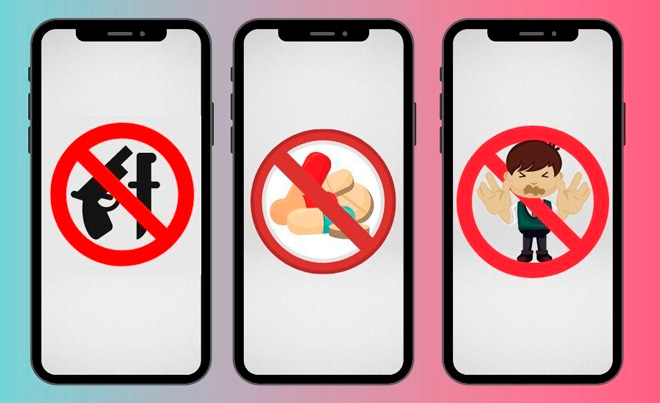 There have been many cases of removing videos critical of the People's Republic of China, as well as music stickers that contradict the policies of the Communist Party of China (it can be anything, for example, Peppa Pig). But now they are rare, after the user's request, the account is removed from the lock. For tough Chinese censorship, there is a clone – Douyin. It runs internally on separate servers. Traffic between platforms is strictly filtered.
TikTok Algorithms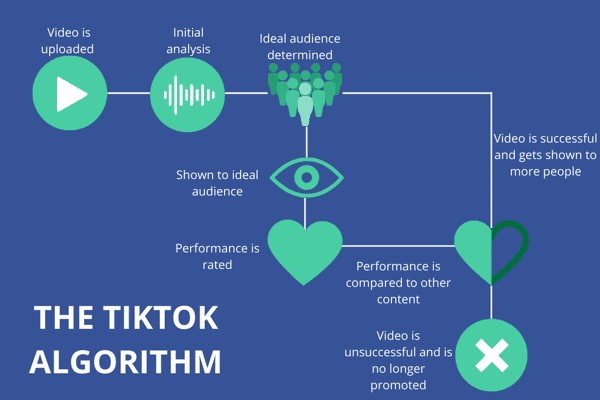 Unfortunately, Tik Tok does not post the algorithms that are responsible for getting the videos in the recommendations anywhere. Although the developers periodically report on innovations. For example, it is known that videos with GEO-linking are included in the "For you" category. From two similar video stickers from popular bloggers, the user will see the one who is closer.
Main points:
the content is selected by artificial intelligence, it takes into account engagement (whether users leave likes, comments, reposts), attention retention, GEO, language, and, of course, the interests of each user;
Tik Tok actively promotes the video, which is mounted using the built-in editor. Therefore, even a professional video created through Avid, Adobe Premiere, DaVinci Resolve, will be moved not so cool, but made in the native application;
the algorithms change periodically, so you will not be able to catch the trend and calmly wind up subscribers, you need to improve;
new accounts are under the close attention of moderators, the system. But if you manage to surprise from the first videos, then it will be easier;
the main source of traffic, especially for new accounts, is recommendations. Initially, the video gets a certain number of views, it can be 200 or 600, with good interaction with users, the frequency of getting into recommendations will double;
regularity is important. If you stop posting videos, the views will stop on those published earlier. When you add new content, the videos you posted earlier will start trending again;
"Recommendations" for each user, they are formed based on the latest views and interaction with the content (likes, reposts, subscriptions). There is already built-in targeting, which makes it easier to arbitrage through organic promotion;
what matters is the musical accompaniment. Original music or sounds will help you get to the top of the list "Recommendations";
live people in the frame is preferable to animation or screen capture;
one way to get more views is to use popular hashtags and trending filters.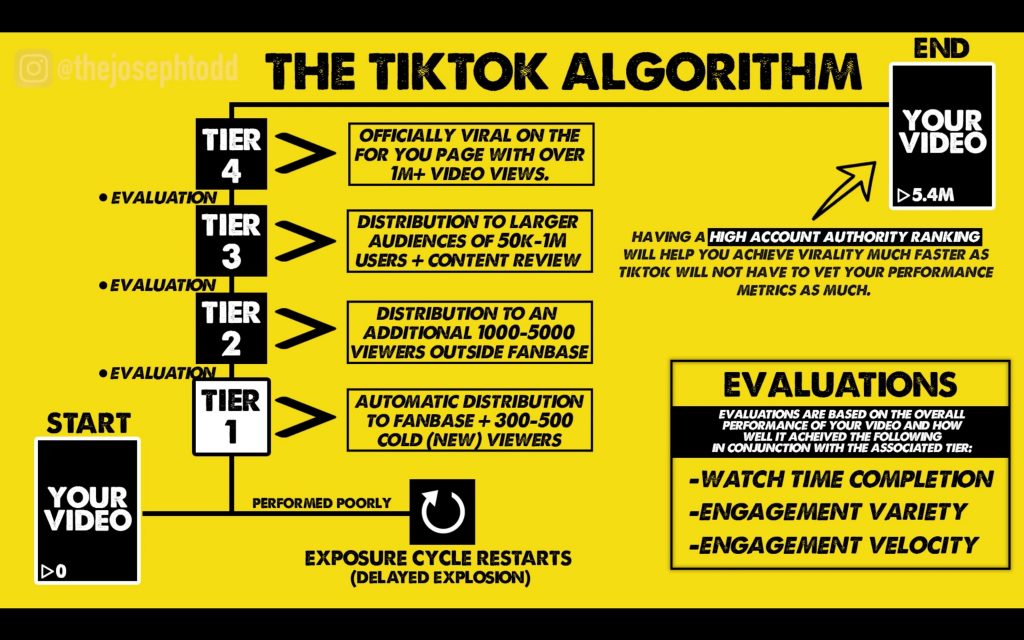 There are also general rules that affect the audience itself. Naturally, the video should engage the user from the first seconds (there are a maximum of 60) and keep the attention. A trending idea, an unusual plot twist, a high-quality image with high resolution and sound, your own style of presentation, chips-all this is liked by users, so it is promoted on any platform.
Naturally, the picture should be beautiful. This applies to the people in the frame, the background. An untidy apartment with shabby walls (if this is not intended according to the script), a sloppy appearance, slurred speech will negatively affect the ratings.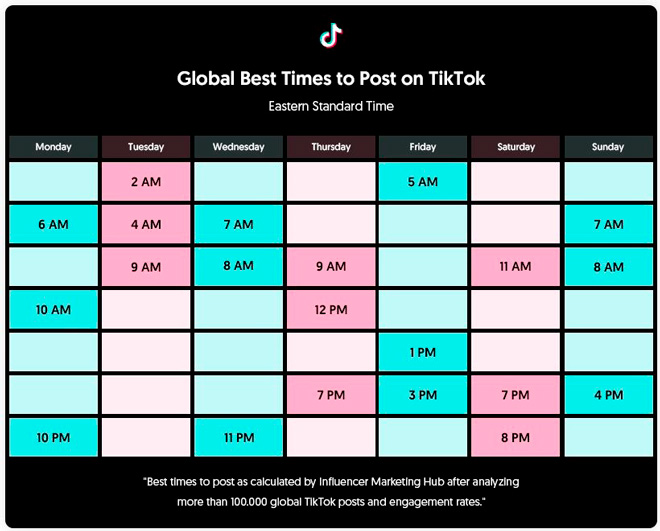 On the other hand, TikTok can turn into a cornucopia. If you can catch the trend, you can get the target audience without too much effort. A minimum of tests or marketing settings. Artificial intelligence will choose who will be suitable for advertising content. And no more agonizing over which ad format to choose. Only one is available – short videos.
How to choose an affiliate program for TikTok
When choosing a niche, the general rules of affiliate marketing work:
choose a niche that you like. This increases the chances of creating inspired content that can affect viewers. In many ways, this is also true for arbitrators;
in preference to the verticals on which you have experience. Entering a new direction is always painful. But to do this on an unfamiliar platform that is undergoing its formation is suicide;
work with reliable partners. This can be a direct collaboration or through the Leadbit CPA network. But it is important to be sure that there will be payments, otherwise the advertising budget will be wasted.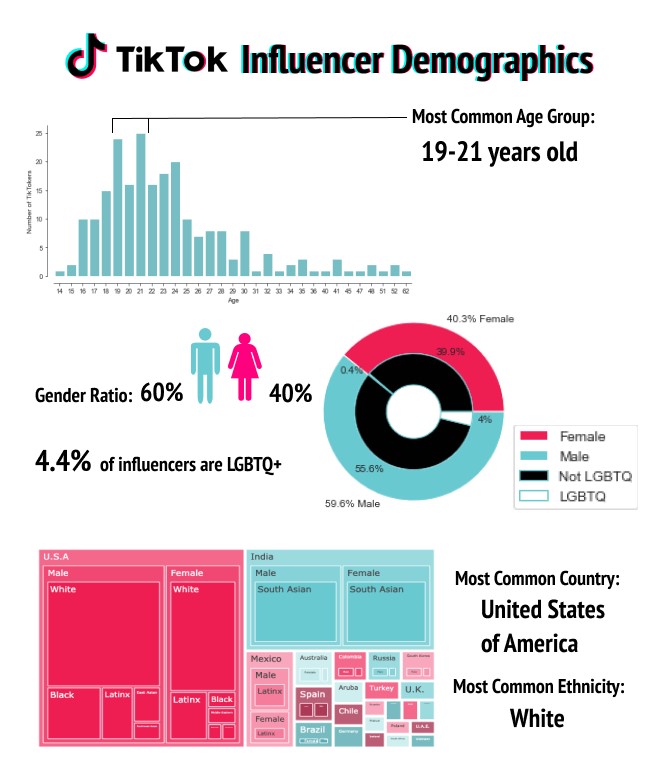 But it is also important to take into account that the audience should be interested in the promoted vertical. Interests may differ. The best places to visit are dating sites, travel, beauty accessories, cosmetics, various gadgets, fashion clothing, photo editing services, online games, gambling, sports nutrition, and swipe steaks.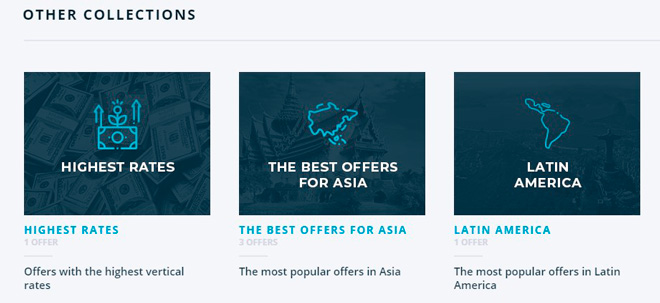 Methods of promoting affiliate programs through Tik Tok
As in other social networks, including Snapchat, YouTube, there are two ways to promote:
through your channel – organic promotion;
through paid advertising.

A special feature of TikTok is that native ads (TikTok Native Video Ads) come in best. In fact, these are standard video stickers for the site with a length of 15 to 60 seconds, only they get into favorites for money, bypassing AI algorithms. When developing creatives, the arbitrageur will have to work hard, just like ordinary content creators. But you should not write off advertising. This is a great way to attract more audience to your channel, and then use it to promote affiliate programs.
Affiliate marketing through organic promotion
For YouTubers and users of classic social networks, such as Facebook, Vkontakte, it may seem surprising: how can you make money on traffic arbitration through organic content? To gather an army of subscribers and reach a huge audience, it takes months, or rather years. But not in TikTok. It is relatively easy to get into the trends here, even for a beginner. The main indicator is the video quality. It is really possible to regularly get into the trends from 5-6 videos and get tens of thousands of views… or bury your acc.
A simple arbitrageur can only use one ad format – music stickers. Ads work if they are interesting and capture attention. Advertising in lobnya works. Why not try to work for free?! In any case, you will have to make an effort.
But there is a significant inconvenience – you can not place clickable links under the video. Inserting a URL with a partner ID is inconvenient. It can take several lines, where is the guarantee that the user will copy it completely, and whether it will copy at all!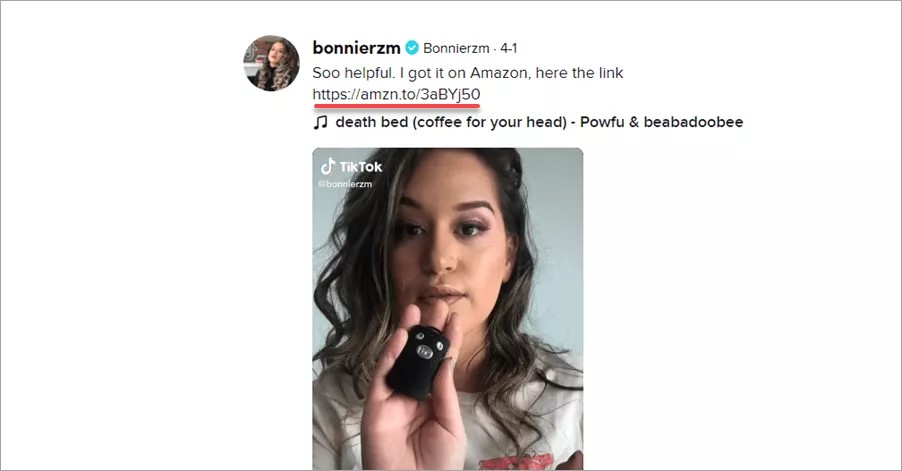 How do I get around this restriction? There are several ways available:
in your personal profile, you can link a Youtube channel or an Instagram account from 2020. Already here you can post more information and convince the client;
multi-link services: hipolink.net, linktr.ee. And referral link shortening services: Bit.ly, Bit.do, Ow.ly;
publish promo codes. Just contact the affiliate program and make sure that the code is with a personal one ID;
connect your business account. One of the useful features of TikTok Ads is that you can publish clickable links to any sites, including affiliate links, in your personal profile.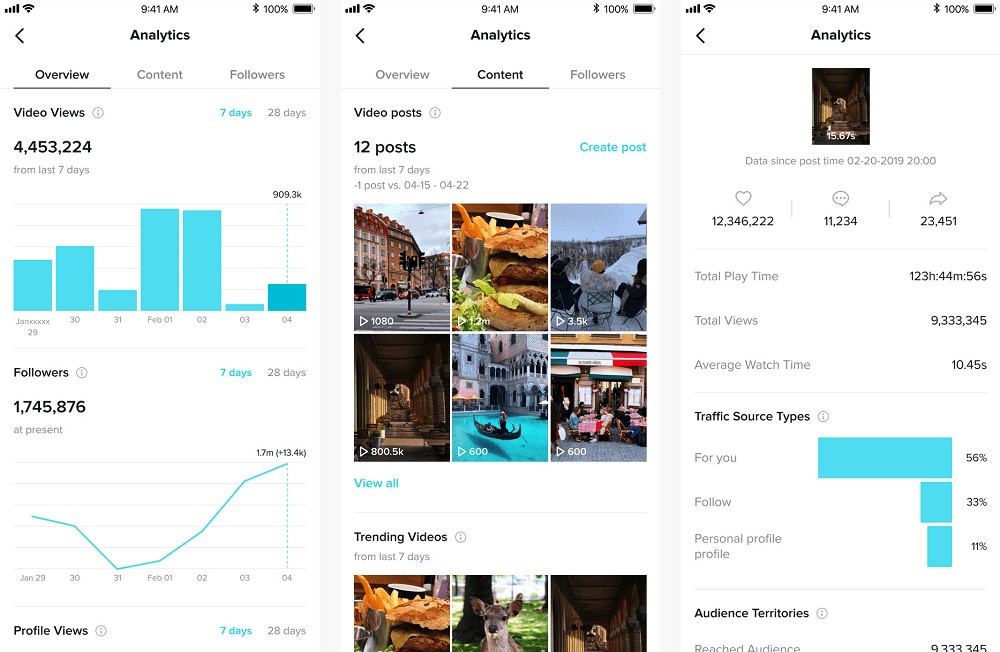 If you plan to use paid advertising in the future, the promoted account will allow you to reach more users and get some of the traffic for free by publishing commercials in the account as regular stickers. Recently, the service offers a PRO-account option. This is a free feature that will make the analyst and other tools available. You can enable it in your profile settings.
How to promote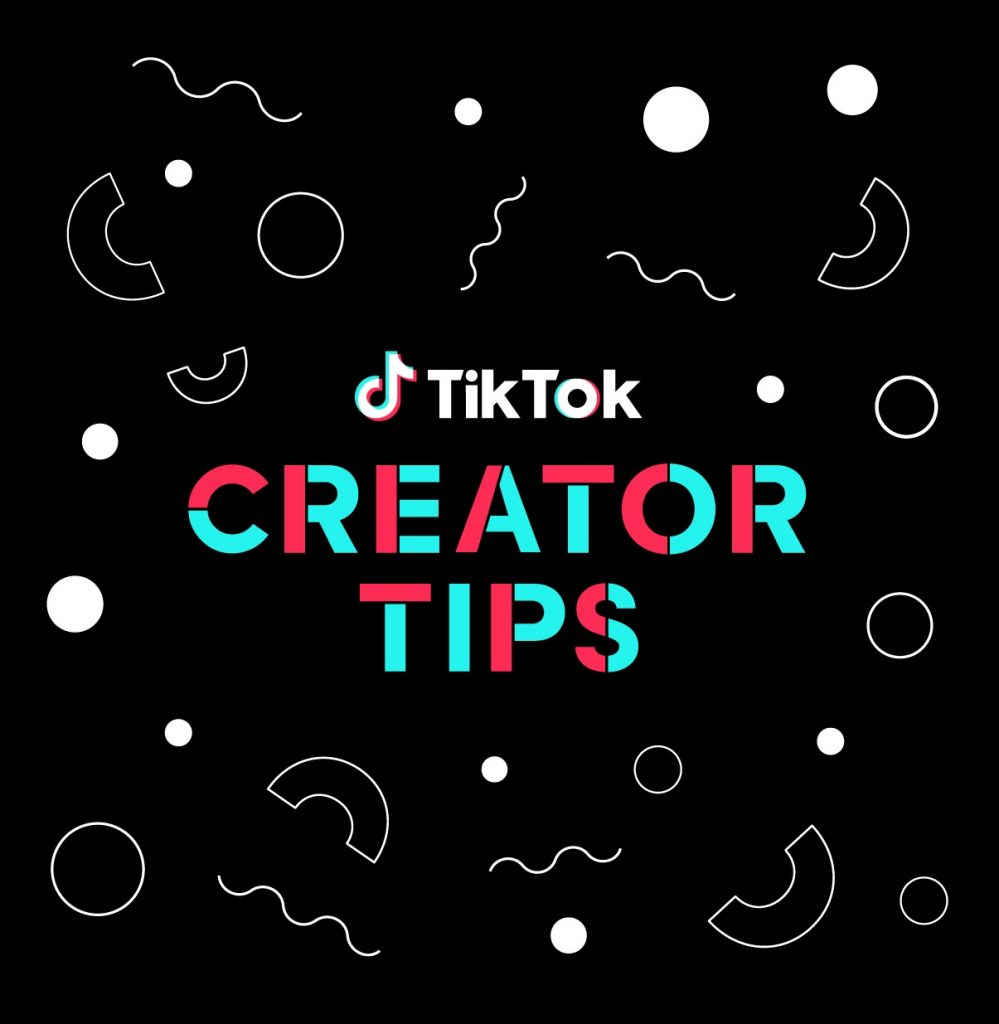 To promote your account, it is important to follow the basic rules:
the more videos, the more traffic, publish content at least once a day;
do not spam, dilute commercial video stickers with other videos. For example, participate in challenges, watch trending videos, and create similar content (the entertainment niche has the most views: practical jokes, dancing, lipsink);
interact with the content of other users in a similar niche – the Tick Tok algorithm will reward you with an increase in views;
use hashtags;
invite your audience from other social networks.
With Tik Tok targeting, everything is perfect. The system automatically selects recommendations based on subscriptions, recent views, likes, and geolocation. Therefore, if you correctly identify the topic, the content will reach the goal. But it is important to fill in the information about yourself correctly at the registration stage, choose the type of activity, niche.
Advantages and disadvantages of organic promotion
The main advantage is that you can reach a large user audience without spending on advertising. Here the rules are clear, the built-in editor allows you to shoot cool videos without effort and professional knowledge.
The main drawback is that it is not possible to insert clickable affiliate links, which significantly lengthens the path of attracting a client.
Read our article "Best free traffic sources for affiliate marketing".
Paid advertising on TikTok
Not so long ago, it became possible to create a Business Account (until 2020, this was only available manually for large brands). Tik Tak For Business allows you to run any ad (previously, you could only In-Feed Ads).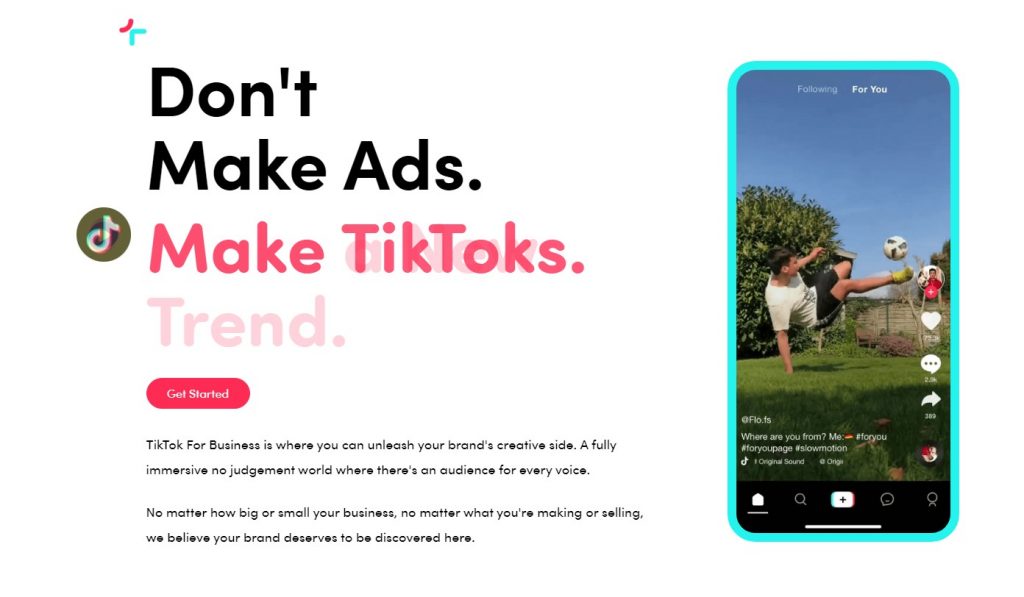 Several formats are available at once:
TopView Ads – this ad allows you to get the undivided attention of any user. These are full-length (by TikTok standards) ads up to 60 seconds long, which run in full screen while using the app;
Brand Takeover ads – short videos (5 seconds on average) that appear when you launch the mobile app;
In-Feed Ads – an analog of native advertising. These are video ads ranging in length from 15 to 60 seconds that appear in the "recommendations". For the user, such ads fit into the feed and look like normal content, which improves interaction;
Hashtag Challenge (Branded Hashtag Challenge) – challenge your users and see how they support your idea. This format is not very suitable for arbitration (very expensive) and is designed for global promotion, brand promotion;
branded effects are another way for global promotion. Create unusual footages or stickers and watch the company become popular.
Please note! The business account is not available for all countries. Circumventing the restriction is not so difficult. When registering, specify a different region, such as the United States. 
To confirm the phone number, you can use services with a virtual number to receive SMS messages.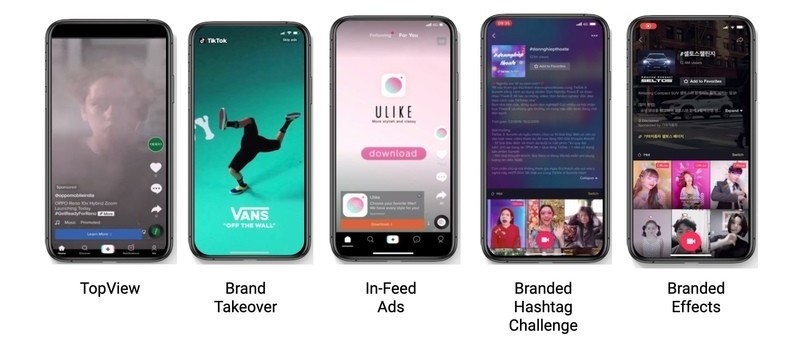 Paid advertising in TikTok, despite the low competition, can be expensive. First of all, for small arbitrageurs. Minimum deposit threshold: $500. The initial daily limit on advertising is $50. But the most unpleasant surprise is Brand Takeover ads, where the cost of the advertising campaign is 50 000 – 150 000 dollars.
Of course, the price includes 5 million impressions. But only large brands can afford such a scale. Similarly for the Branded Hashtag Challenge.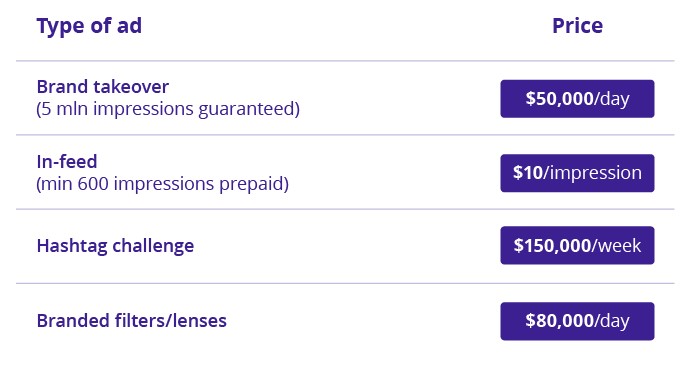 Instagram Facebook and Instagram are still more accessible in most verticals, but working through regular advertising (In-FeedAds and topView) in TikTok is still more accessible than in Facebook or Instagram. In practice, the participants of the LeadBit CPA network save about 35% on attracting a single client. At the same time, it is easy to work with the audience, despite the specifics. The peculiarity is that detailed reviews and long landing pages with figures and facts do not go well here.
On the contrary, it is more convenient to summarize the information with a feedback button. That is why the Ads TikTok For Business platform has received such a response and is appearing in new countries all the time.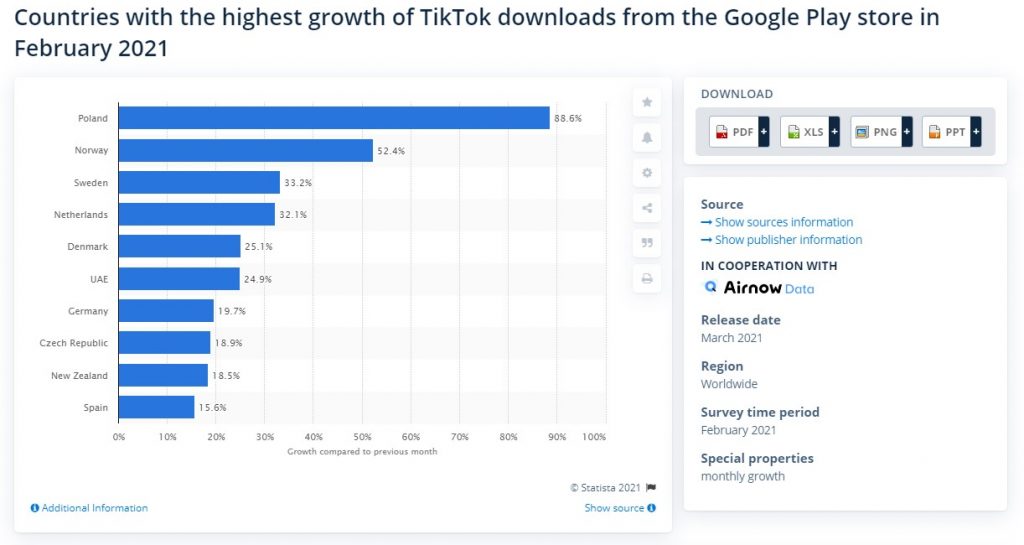 Alternative methods of paid advertising in Tik Tok – through third-party advertising platforms, for example: РСЯ, air.io.
How to launch an advertising campaign
The registration algorithm is the same as in other grids: select the country, specify contacts, type of activity, vertical.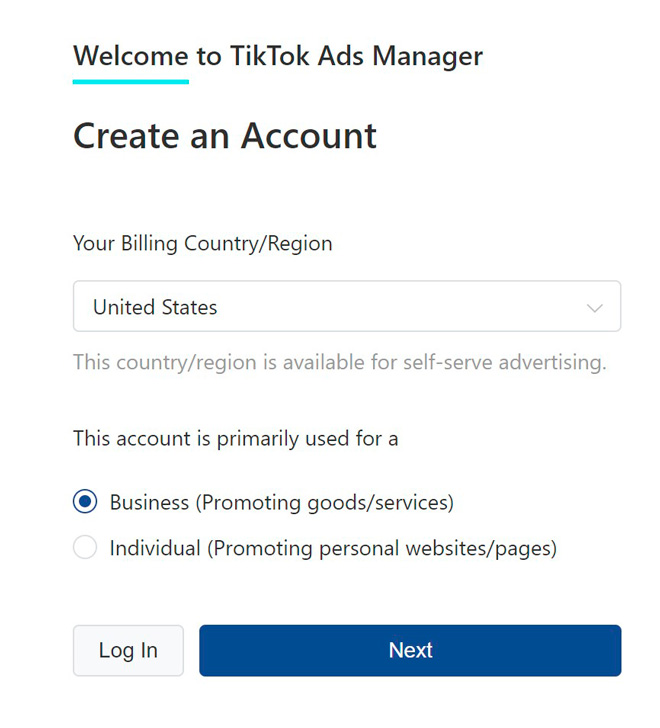 In some GEO accounts, account verification is manual and takes up to 48 hours.
To launch an ad campaign go to the "campaigns" tab, located in the "header" of the Manager, in the work area, click the "Create" button: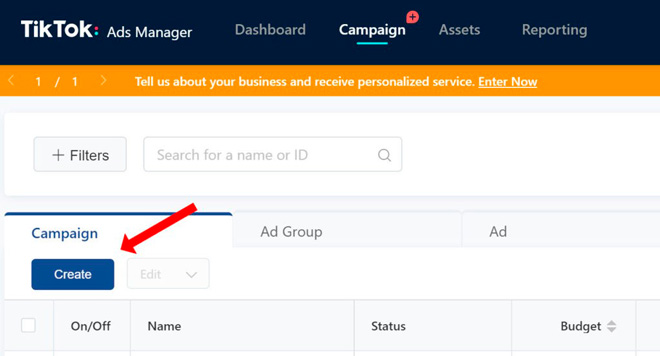 Choose a goal: attract traffic, install the app, get conversions, show as many users as possible.

Select a budget or skip this option – after that, you will see a page for creating ads. Choose where to place your ads: auto (ads will be shown in different apps, where to launch creatives, determines the AI) or choose manually. Set the basic ad settings: promotion type, target URL, title, profile picture, options for interacting with content.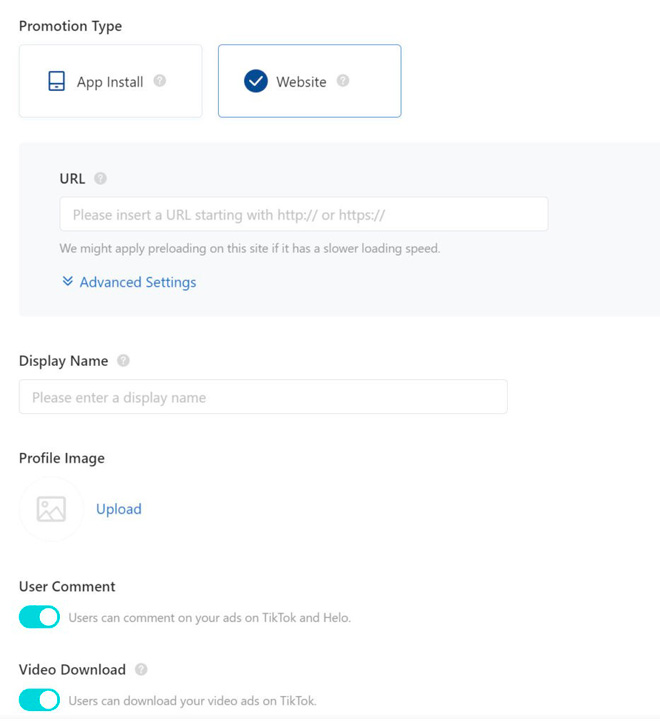 Automatic ad optimization – the system generates presets based on previously added content. Several presets will be created, after which the AI will select the most effective ones. Targeting settings: GEO, Audience, age, gender.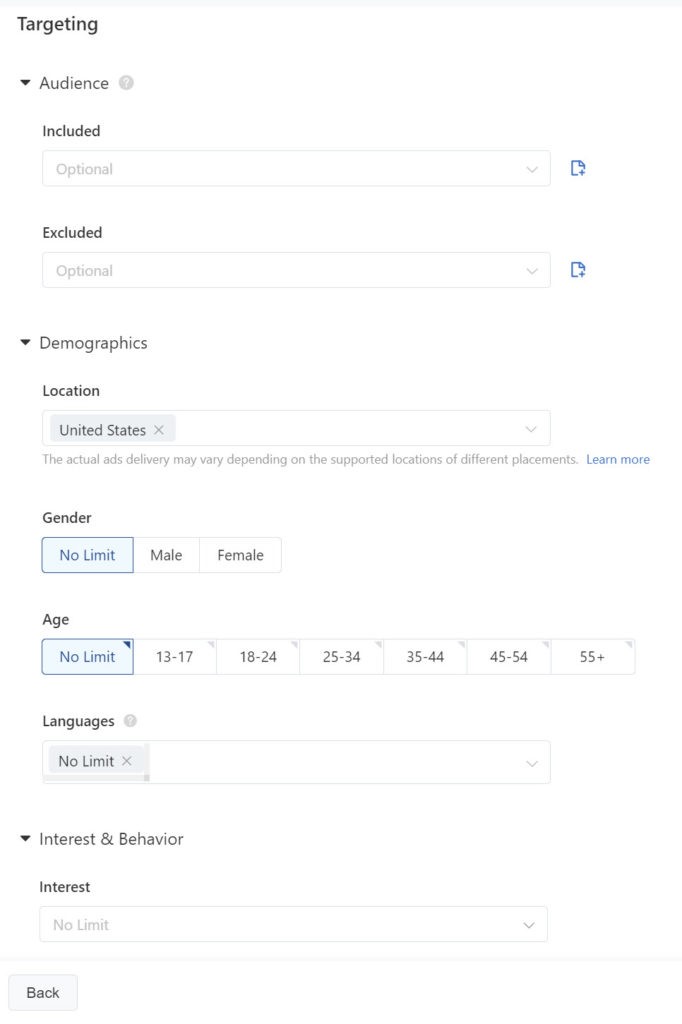 Set a budget, set up bids. Create a creative. You can upload a ready made video or add a picture text and entrust the generation of content AI TikTok.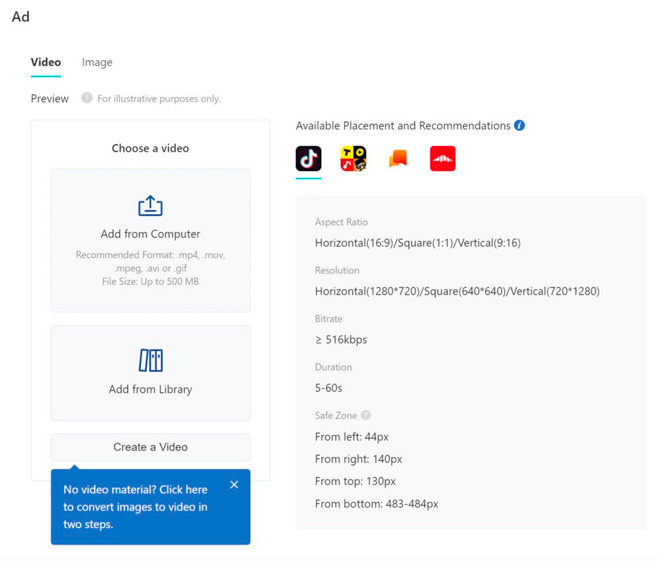 After that, it remains to wait – the ads are manually moderated.
Pay close attention to the statistics. In TikTok, the audience is not yet fully formed and traffic drawdowns are possible. If you let everything go by itself, it's easy to drain the budget.
Statistics can be monitored through the built-in tool, but third-party services provide more opportunities: Appsflyer, Tune, App Metrica, Kochava, Adjust, myTracker, Voluum. This way you can manually run A/B testing and see a detailed portrait of the audience.
Advertising from bloggers
Another way is to order ads from popular bloggers. The method is more suitable for promoting large brands, although it can also be used for arbitrage. You can find popular ticktockers who are willing to place ads on your site at:
The price depends on the niche, the number of subscribers, GEO.
TikTok Affiliate Marketing Case Study
There are many examples of successful ticktockers who earn money on arbitration on the Internet. For example, Rachel Meaders. Having gathered an impressive audience, she connected an affiliate program from Amazon.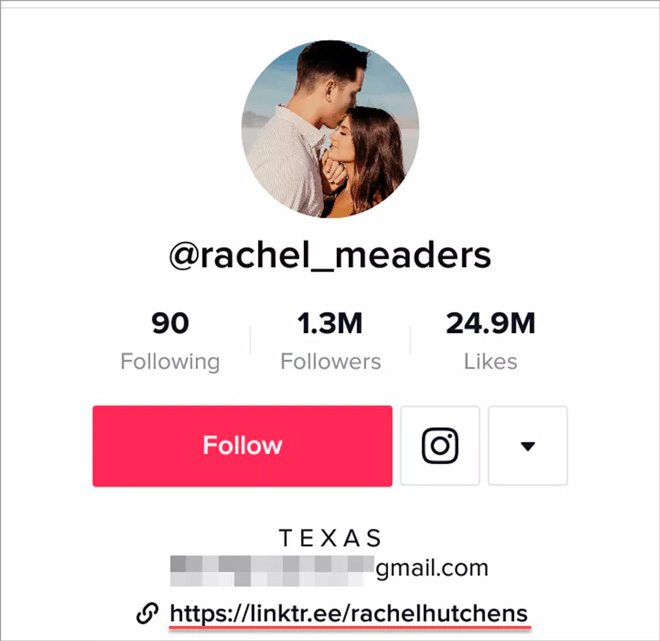 The main direction of the channel: short videos about useful little things that you can buy on Amazon. To redirect users, it uses the service LinkTr.ee. Payouts depend on the specific product.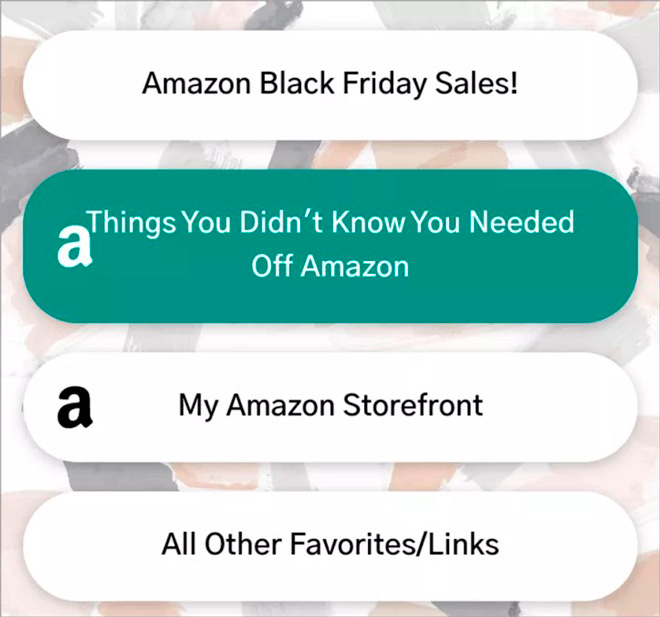 Among the youth audience, gambling advertising is excellent. You can also promote it through organics and do not care about the moderation of ads.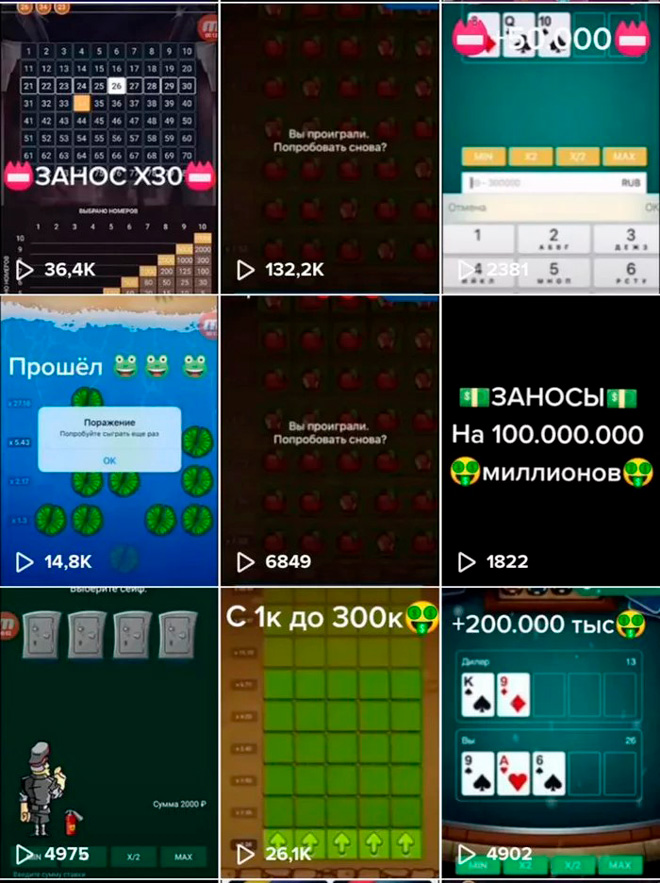 For example, the user Solomon creates short videos with demonstrations of various mini-games. Nine videos without problems scored more than 200 thousand views and brought 1410 dollars with zero advertising costs.

Conclusion
TikTok – a cool platform, the results of working with it will definitely surprise you if you do everything right. There is a specific traffic here, so a special approach is needed. The necessary tools are already in place, arbitration paths have been laid, and an understanding of how and what to do has been formed. And so far, there is no high competition among arbitrators. If you start arbitrage in Tik-Tok, the time has come, as well as the paying audience has caught up.
FAQ
1.How much can you earn on Tik Tok?
As with other traffic sources, there are no restrictions. It all depends on the vertical, your investments. For example, for dating, the payback (ROI) of the coolest arbitrageurs can reach up to 1000%, which means that every $100 invested in advertising will bring $1000. But on average, a good indicator is in the range of 70-130%. Given the size of the platform and the inactive use of marketers, the system allows you to wrap almost any amount. And you don't have to invest your money.
2. What is a Pro account and what benefits does it offer?
PRO-account – this is an option from Tik Tok, which gives the user advanced functionality: tools for statistics, increasing popularity. You can view analytics, just like Google Analytics, for your account and competitors shares. The feature is free and available to all users. You can enable or disable it at any time in your personal profile in the "My Account" tab.
3. How to get targeted customers with Tik Tok?
A few tips: do not advertise head-on, start advertising with intrigue and only then tell us about the promoted product, use concise landing pages for one or two pages.