A good affiliate marketer always strives to constantly update their list of reliable platforms. Yes, many work with a single one, that suits them in all respects. But no one will refuse to check out a new ad network (AN), evaluate its prospects or even switch over to it entirely. The Leadbit team is also constantly searching for platforms with good prospects. Today, we'd like to introduce to you a candidate from our "gold" list – PropellerAds.
This AN can rightfully be placed at the top of the industry. A project that has a direct impact on the entire area of affiliate marketing as a whole. A player that sets the rules, like Central Banks do for Forex trading. A billion ad impressions per day, coverage of 195+ countries, полный including the entire list of TIER 1 states and a large number of TIER 2 countries. These are just basic figures that make it possible to fathom the project's scope. Useful features for both seasoned professionals and inexperienced newcomers.
But even an effective tool will be useless in the hands of one who doesn't know how to use it. One has to learn the strong suits of a given AN to properly set up and "aim" the ad campaign (AC). It's important to determine the vertical, offers, targeting and the settings that work best with PropellerAds. And that's exactly what we're going to do. After reading this article, you'll be fully capable of launching your ad campaigns on this platform.
A short summary of PropellerAds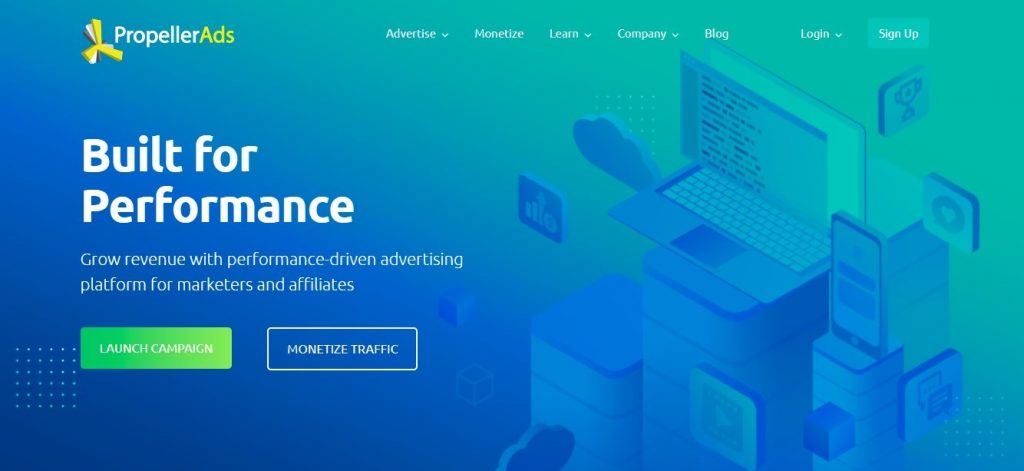 Let's kick off with some dry facts about the platform.
| | |
| --- | --- |
| Date of establishment | 2011 |
| Balance replenishment methods | UnionPay, WebMoney, Wire Transfer, PayPal, Skrill, ePayments |
| Minimum budget necessary to launch an AC | $100, but the above mentioned services set the minimum deposit amount an $1,000, therefore, that should be considered the basic entry threshold |
| Languages | English and others |
| Current number of active advertisers | 32,000+ |
| Referal program | Starting 5% + bonuses following a level gain |
| Tech support | Full consultation and assistance for clients, contats: email (contact.us@propellerads.com) and the "live" chat in your account |
| Minimum traffic entry threshold | None |
| Payout models | CPM and CPA, derived variants – CPL, CPC |
| Website | propellerads.com |
PropellerAds features
Now let's, with a bit more detials, but still briefly go over the main features of this platform. What can it offer an affiliate marketer?
GEO. Very wide coverage. 195+ countries, and not a hodgepodge made from 3rd world countries, but prime regions with clients ready to purchase goods and services. White-hat offers will be perfect here.
The number of websites is also up to par. 32,000+, with each one verified. The project regularly "cleans up" that list, identified websites that advertise gray-hat offers and removes them from the list. At the same time it adds new prestigious websites in order to raise its status. But this is a double-edged swrod – you won't make bank on adult offers here. Sharp mods wil identify gray-hat traffic flows or 18+ offers in literally a couple of days the campaign is up and ban its owner.
PropellerAds are fully compatible with AdSense. The client can use contextual ads and, for example, PropellerAds push-notification simultaneously on the same page. Don't forget about Google's policy, that considers more that 3 PopUps on a single page to be too much. Such resources will have their search rating significantly reduced, which will take a toll on the flow on natural traffic.
Adblock doesn't block PropellerADS. Thanks to the project's technologies, as well as to the narrow sphere of ad formats, the user will always see your ads, even if they have Adblock-е enabled.
OnClick PopUnder. The project's main ad format, which provides an almost 100% guarantee that the user will see the promoted website. Remember that a no-alternative click provides the highest conversion rate, granted the user is warmed up and part of the target audience. Fortunately, the AN has a bunch of tools to intricately set up the visitor flow, so you'll have no problem locating the traffic layer you need.
The best verticals for PropellerAds
The AN claims that it's suitable for any vertical. Naturally, besides the ones the service prohibits, namely, adult. Gambling, according to PropellerAds, doesn't count as a gray-hat vertical.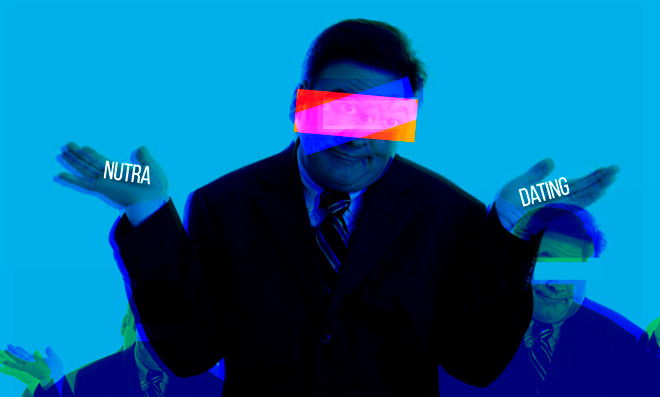 Despite their confident assurances, we conducted our own analysis. Based on its results, we can say that the network genuinely is near universal. It's capable of generating traffic for different verticals. Still, some do better than others. That's why we've compiled our own sort of rating of the best verticals to promote on this platform.
Gaming. Nearly ideal. And most of the traffic is mobile, which is great for gaming offers, since it means that leads are easier to get. If you focus on smartphone games offers, this can be a full-fledged competitor to In-app channels from specialized services. The best choice would be to use both options simultaneously. Browser games also find a great audience response, and even actual serious gaming industry releases for PC and consoles fit in well. Don't forget that the traffic is of premium quality, and TIER 1 countries are the main buyers of console games. Naturally, working with such offers means you'll need to fiddle around with the targeting settings buy clicks at a pretty steep (due to the competition) price. Fortunately, Smart bidding lets even a newcomer hold their own at an auction, without having to overpay enormous sums, all the while retaining valuable users;
Finances, Forex trading, binary options. Buying cheap traffic is easy – doing the same with expensive traffic is a lot harder. Financial market leads are often experienced traders or PAMM investors. Their price per click is high, but offers from brokers and dealing centers often have very "tasty" rewards. Correctly working with this target audience is an art, not the best choice for a starting out affiliate. But if finances are your thing – then PropellerAds will prepare an excellent targeted channel for you. Plus, they purchase user flows from trading knowledge bases, websites dedicated to distributing trading software, stylized as trading bots, for a rather lucrative price. PropellerAds lets you relatively cheap drive traffic in the form of newbie traders to digital options. Serious traders don't deal with them at all, after all, you can't even sell binary options, just get some expiration profit. That's why it's a good spot for beginners;
Nutra. Standing proud in 3rd place. This vertical works great at There is room here for promoting both expensive offers of new genuinely high-quality products and low-cost goods that captivate people with their pseudo-uniqueness. Both beauty and health products find an excellent response;
Cryptocurrencies. For the sake of convenience, let's include both cryptocurrencies and blockchain offers. Ever since Bitcoin found its "second wind" and video card prices spiked thanks to miners, new blockchain technology projects have been springing up left and right. Crowdfunding is currently at the top in terms of relevance, tokens are being bought up at an alarming speed. PropellerAds offers you the most sophisiticated target audience, one that knows what it's doing. Which is why it can be easily converted into leads;
Dating. Dating is popular in America, Canada, Europe. The bulk of the traffic comes from these regions. Dating finds a good response, but fighting for expensive clicks in this segment is not something we'd recommend. PropellerAds are a decent option if you want to find high-quality dating traffic, but definitely not the best out there;
Gambling. Also worth your time. Generally, gambling and betting offers are often labeled as gray-hat. That's why you're forced to turn to specialized resources or niche traffic sources. The traffic quality there leaves much to be desired, the audience may be warmed up, but isn't always solvent. PropellerAds, on the other hand, will send deep-pocketed clients to your gambling offers. Though, it's still difficult to turn a large profit, since the payouts here don't always cover the high click costs.
Depending on how accurately you set up your AC, you can also do well with travel, sweepstakes and e-commerce offers. Although, the relevance of these verticals on the platform raises questions.
Just in case you forgot, adult offers are prohibited in any way, shape or form.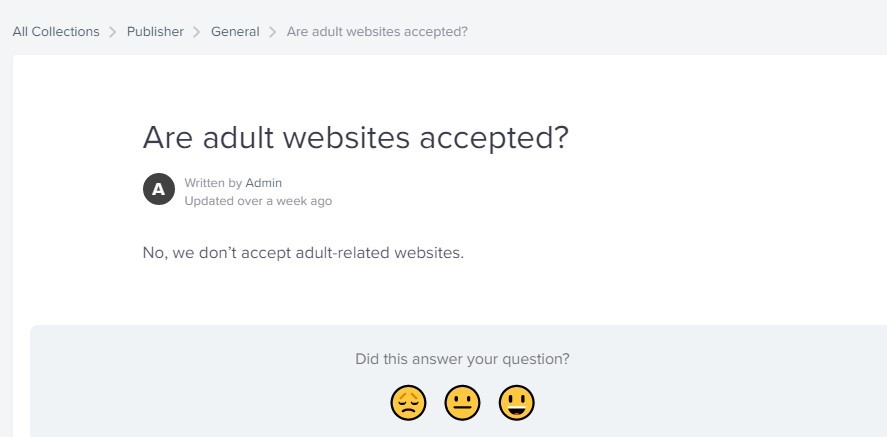 PropellerAds: Pros and Cons
Let's go through the key advantages and disadvantages of the AN in question, as well as its unique features that make the platform stand out.
PropellerAds pros:
Reliability. A fundamental advantage. The network has been on the market for 10 years, there's but a handful of reviews that talk about payment delays or unfair bans. And even they look a lot like fakes written by the network's competitors. The platform is regulated by CySEC who initially worked with brokerage agencies – that's why they identify unscrupulous companies so easily.
Enormous coverage. Traffic from the main regions that are interested in white-hat offers.
High quality traffic. The network cooperates exclusively with verified platforms, 1st and 2nd world countries make up 90% of its traffic.
Versatility. We gave our assessment of the verticals in question, and it slightly differs from the opinions of the developers and site managers themselves. But despite this, we still managed to find many verticals that genuinely work great with this service.
Lots of affiliate marketing tools. You can create ACs on your own or turn to PropellerAds managers for help. In which case the advertiser only needs to monitor and supervise.
You can read more about affiliate marketing tools here.
PropellerAds cons:
the basic entry threshold (when making a deposit through payment systems) is $1,000;
should your account get blocked, all the funds you had on it become frozen. There's no refund policy and definitely no compensation for lost profits;
the selection of ad formats is narrow, at least compared to many of the network's competitors. Although, this isn't always a bad thing, especially if push-notifications and PopUnder suit you 100%.
We tried to be as impartial as possible, but we could not find any more downsides. The platform is genuinely good if used wisely.
So what exactly makes it stand out from tens of its competitors on the same level and from thousands with less coverage? First off, the numerous tools designed to make the affiliate's job easier. Nowadays, everyone tries to move towards innovations, but here you're offered lot's of stuff – Smart bidding, S2S conversion tracking, your own customizable macros, automatic optimization, retargeting, a user showcase with detailed statistics of the average bid by country.
Second, PropellerAds has its own approach to educating the affiliate. Many services just throw together a couple of guides in a blog and maybe advise the client. PropellerAds, in contrast, is a whole database of knowledge that allows you to learn the subtle art of affiliate marketing from the ground up. Their managers are ready to teach you, give you examples, design an AC on their own. That's why this challenging platform is ideal as a basic stepping-stone for a beginner who is ready to dive headlong into the world of affiliate marketing.
Types of ads in PropellerAds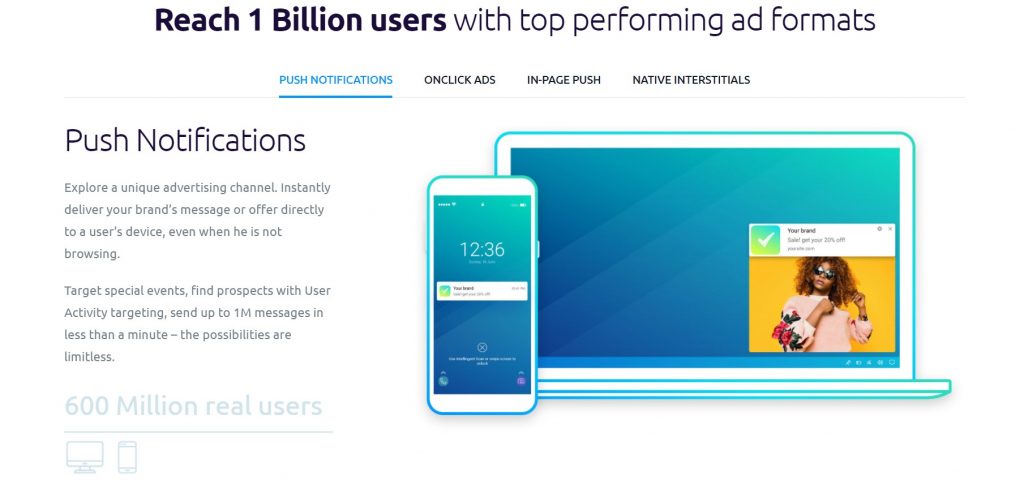 PropellerAds offers both in-page push-notifications and native ads. But all that is supplementary. The service focuses its three key formats:
Interstitial. A built-in ad format the display of which is triggered for a short amount of time by specific user actions. Basically, it's just a big banner, but its main feature is that, due its size, it shows the creative in its full glory. Banner blindness doesn't apply because it just physically can't be ignored. That's why, granted the creative is well-designed, its performance is impressive. It's also used a type of native ad. Extra points for the variability of the content. It's not necessarily a static picture, it can have text and video clips. It makes sure the marketing message gets across to the user;
Push-notifications. This method shows absolutely no signs of losing its relevance. 100% clearly visible, easy to perceive, unobtrusive. Clients (given that they agreed to be shown push-notifications) are usually warmed up and are in a good mood, nobody forced them to click, just slightly nudged them into the direction of a good offer. PropellerAds' push-notifications work great since most of their traffic comes from mobile devices. And push-notifications get sent to the user's device even when they're not looking at the display, the screen is turned off or is using the phone for something completely unrelated;
PopUnder. This is a more aggressive ad format. The ad cannot be closed just like that – clicking on it sends the client to the landing page. The banner covers most of the page, preventing the user to view its content in its fullest, making sure they won't ignore the ad. Naturally, the conversion rate for PopUnder is lower than that of push-notifications. But you also get a lot more transitions.
Payout models
PropellerAds offers the client various ways to pay for the purchased traffic. Here they are:
The standard model, you pay per 1,000 impressions. Accordingly, this is a good option if your ads get high click-through rates. Consider using this model, if preliminary tests show 1+ clicks per 1,000 impressions.
Pay exclusively for ad clicks. This method is preferable if the ad on its own is not too catchy. Or if the competition is fierce, or just the creative isn't too impressive. By the way, this format is used only for PopUnder, push-notifications and interstitials.
SmartCPM, SmartCPA. Special models that imply that the final bid is balanced automatically, as well as the choice of a reasonable price. You yourself won't need to adjust the bid or determine the cost all the while keeping an eye on market fluctuations. Works exclusively for PopUnder.
The "tastiest" model. You pay only for converted leads – people that have performed the target action. Sounds like a dream, calculate the CPL price, compare it with how much the offer pays and rake in profits without needing to constantly monitor the situation. But there are still certain nuances. First of all, the platform pays only a percentage of the total number of clicks, the better the campaign performs, the higher that number. Everything else works just like CPA. The other nuance is that to connect the CPL model, you'll have to first hand over your AC to PropellerAds employees for testing. If they confirm that the test showed a high conversion rate, the model will be available for you. If not, then, well, it won't. And this testing requires a budget.
Targeting
The quality of the traffic depends on how profound and accurate your targeting was. The better the affiliate identifies the target audience, the more warmed up the attracted users will be and the higher the conversion rate.
Another important point is how easy to figure out the settings are – settings that are too complicated quickly weed out newcomers, since they just fail to properly use them.
PropellerAds have struck the right balance between complexity and efficiency. Users can configure traffic by:
Device type. You get the two traditional options – mobile and desktop devices. Don't forget that most of this AN's traffic is mobile. And it converts better in general;
OS. Lots to choose from: Windows, Linux, MAC OS, just to name a key few. A more exotic option is Chrome OS. For mobile traffic, in addition to the standard iOS and Android, you get Symbian and Windows Phone;
OS versions. After you choose an OS, the program will offer to target a specific version, if necessary;
Browser type. the list includes all browsers;
Internet provider, Internet connection type;
GEO. White and black lists are available, you can select the most preferred regions and cross out inconvenient ones.
Tools

PropellerAds is an innovative AN. It offers an impressive arsenal of supplementary tools capable of significantly simplifying the creation of ACs, monitoring and setting them up and other aspects too. Using these tools isn't a must, but after evaluating their effectiveness, it's best not to skid over them. These aren't training wheels for the newbies, but rather genuinely effective mechanisms to make your job as an affiliate that much easier.
Auto-optimization
A tool that allows you to shift the routine responsibility of analyzing the effectiveness of the AC to an AI. The AI studies in real time the behavioral patterns, analyzes which zones have the highest conversion rate and which areas are underperforming. Depending on the settings, the AI can make recommendations for you to assess later on, or simply disable ads in the GEOs that bring less profit.
PropellerAds has two types of auto-optimization programs: CPA Goal 2.0 and Target CPA. The first one regulates the balanced bid, disables unproductive locations with push-notifications and PopUnder. The other one works with push-notifications and interstitials.
User Activity
A special tool capable of dividing all incoming traffic into three categories – cold, warm and hot. The program analyzes each user, records the number of PopUnder ads shown to them, as well as the vertical they were promoting. And based on that it gives verdicts on how well the user is familiar with the topic, how often he uses services or buys goods similar to the offer, whether he is suitable for such an offer in general.
Traffic showcase
The online service monitors both the maximum bid and the balanced one. You can make the bot target a specific GEO, payout model, OS and other parameters. An excellent analysis tool that allows you to roughly calculate the optimal bid cost for specific targeting aspects before launching an AC, which allows you to understand what sort of budget you'll need.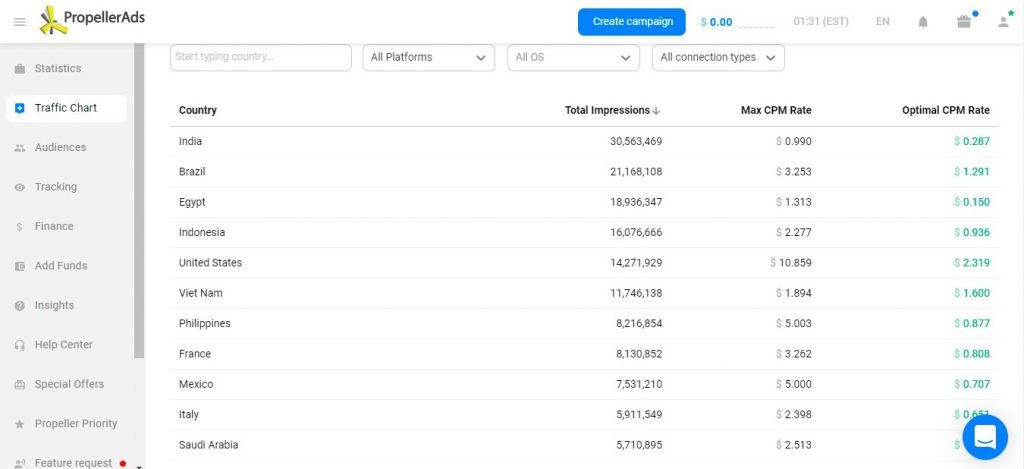 Guide: how to create an AC
Enough theory, let's move on to practice. We'll go over how to create your first AC on this platform. Don't forget that you can make the AC yourself or order it from the project's managers. The second option is expensive, not the best choice when you're just starting out. At least not until you've studied the service in detail, tested out a few ACs, assessed the results.
And even with a more or less decent budget (the one beginner affiliates usually have) it's still just too expensive. The exact price depends on the specifics of the order.
So let's focus on making your first AC manually.
We start off by going to the "Campaigns" tab in your profile. Once there, click "Create a campaign". By the way, you can find this option in the top panel regardless of what tab you're in.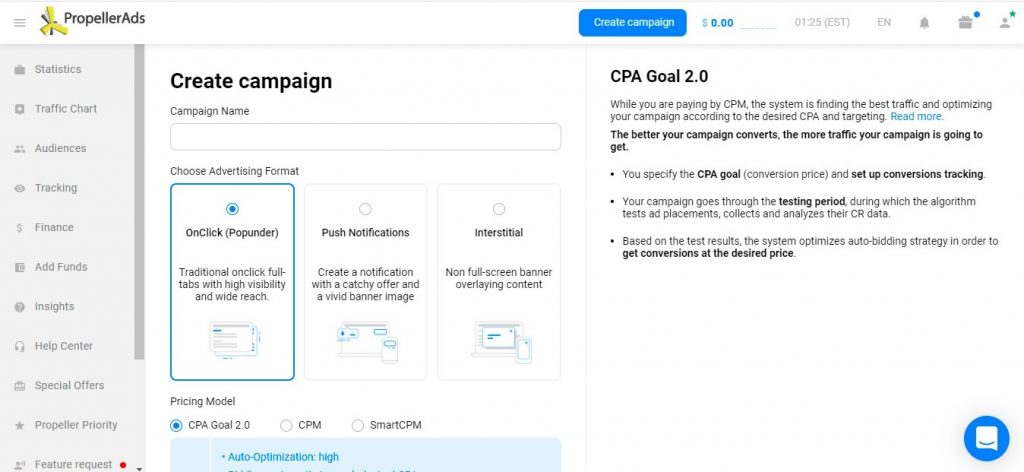 Now, enter the basic parameters of you campaign:
the AC's name. It doesn't really matter what you call it;
the payout model. For a test campaign, choose the model that fits your affiliate strategy. The most common choice would be CPC;
the offer's link;
the display frequency. This is the time span within which a single user will see the creative. The best choice is 24 hours. Any less will lower the CTR, more – you risk losing quality trafic.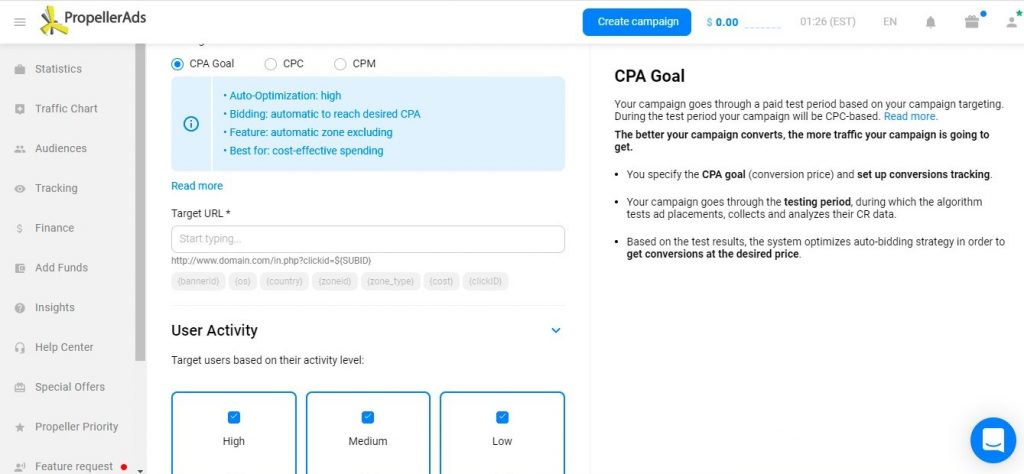 Next, we create the ad. The best format to start off with would be push-notifications. Naturally, if your AC relies heavily on a different ad format, feel free to choose that one.
Push-notifications consist of an icon with a title and the main image. So, find 2 images, one for the icon to hook the reader's attention. And the other (main) one located at the bottom. It's best to provide all the information in the title, it is better not to overload the visuals with too much text. A short passage, a loud slogan, a picture confirming the statement. Considering the traffic PropellerAds drives, flashy and colorful creatives are unlikely to perform well. You need something laconic, but with its own style.
Make sure not to exceed 720 kb. The main image is limited to 720×480. Try to focus on this size, push notifications in the service are large, the loss of image quality will be noticeable.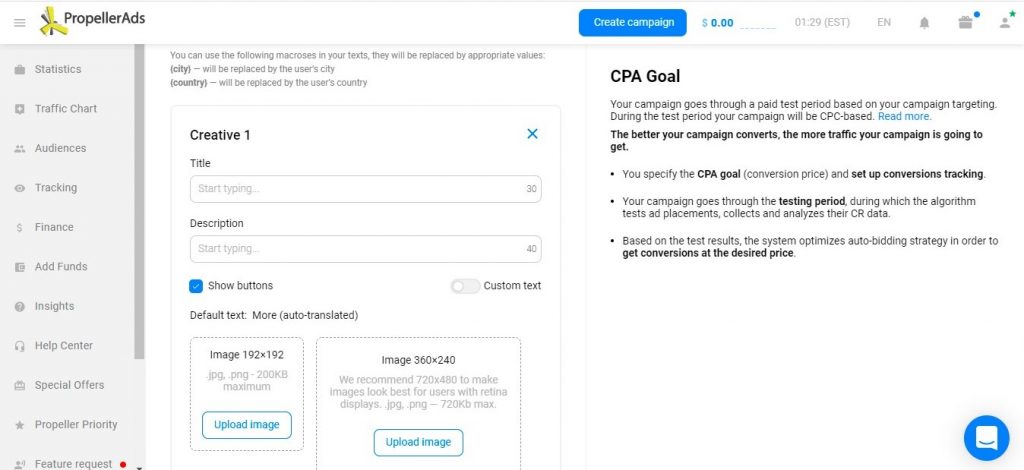 The next step is targeting. First, we set up the GEO. If necessary, choose a country or a list of states, and if you need a sorted target audience, narrow the coverage down to the city. There is an option to choose even small towns, which is very convenient, although local offers are pretty rare.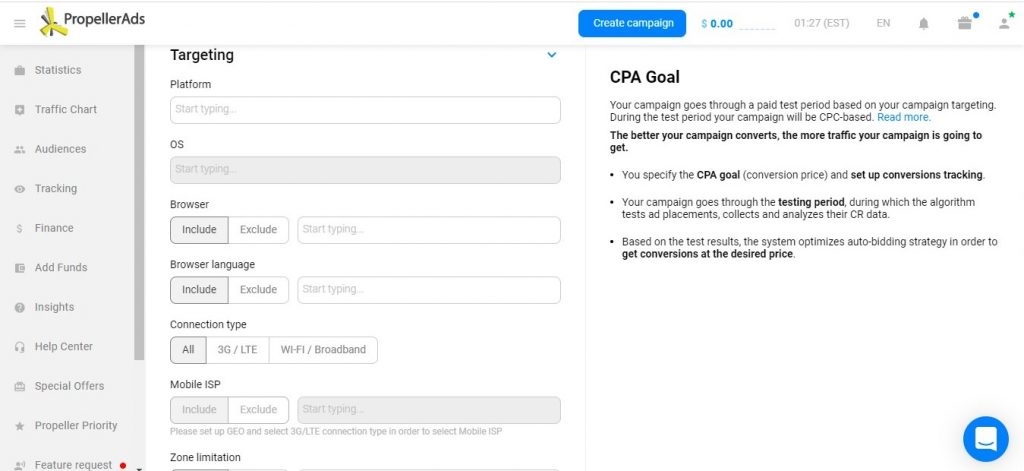 Determine your cost-per-click and set the display time for the ad. It depends on the offer, but we're usually interested in a morning, day or night audience.
Next, set daily and absolute limits – the funds the service will spend per day and during the entire run of the AC.
Next, fiddle around with the settings we talked about in the "targeting" section. Save your settings as a draft or just proceed to launch the AC.
After passing moderation, all that's left is to monitor your campaign and make occasional adjustments. Keep an eye on statistical data in the "tracking" section. Here, you can find all the info on clicks, CTR and expenses. Statistics will help you study the regions where the conversion rate is sagging or, on the contrary, is surging. There's more than enough data for a novice affiliate marketer to dive into.
But no one's stopping you from connecting a 3rd party tracking service if it provides you with more info or you're just used to it. PropellerAds use server-to-server postback. The integration URL is also in the "tracking" section.
Cases
Now for a few examples from our experience working with PropellerAds.
Dating in Australia
This is how we verified that the platform is suitable for dating offers but there are better options .The idea was to focus exclusively on Australia. The traffic quality here isn't exactly premium, so expenses won't be colossal, while the vertical is quite popular in the region.
The offer didn't pay much, you got $27 per deposit. Despite the fact that after registering, the probability of the user making another deposit was close to 1%, which is not too bad on its own, the project itself was able to promote the dating offer quite well.
The original budget consisted of $20 daily. The first two days were devoted to testing and adjusting the campaign. Initially, the focus was made on push-notifications and PopUnder ads, but later on it was decided to dump the latter. The test showed that push notifications converted much better.
The original plan involved using 5 creatives, but again, tests showed that only 1 was generating significant clicks. So we ended up using only 1 push-notification creative for the whole campaign.
We input the following settings:
model – CPC;
push-notifications;
1 impression every 24 hours;
GEO – all of Australia;
device type – mobile devices;
OS – any.
10 days of active monitoring yielded disappointing results, $200 investment led to only $189 in revenue. Add to this the test expenses – negative net profit. An adviser from PropellerAds came to the same conclusions we did – expensive traffic from megacities ate up clicks, while having the same conversion rate as cheaper regions. We decided to cut Sydney and Melbourne. The next 10 days showed a pleasant revenue stream, $200 costs – $405 revenue. Based on the results, the budget was increased to $30 over the next 20 days. The total is $600 in expenses and $1,053 in income.
Summing up the 30 day AC's results:
budget – $1,040;
revenue – $1,647;
profit – $607;
ROI – 58%.
Cryptocurrency in Canada
PropellerAds sure can drive traffic to cryptocurrency offers. And that's saying something – not too many platforms can boast something like that. Despite the fact that the topic is well-known and trendy, many users are still wary to invest in cryptocurrencies.
We accepted an offer from Bitcoin UP, our initial GEO were the US and Canada. The offer paid very nicely per deposit – $300. And taking into account the expensive GEO, the daily budget was $100. The audience was first sent to a landing page to get nice and warmed-up. The first 10 days revealed a negative net profit, $1,000 costs – $300 revenue. The reason was found immediately. First, the landing pages weren't optimized for the GEO. Second, The US converted less and cost more than Canada.
Settings:
model – CPC;
push-notifications;
1 impression every 36 hours;
GEO – USA and Canada;
device type – desktop;
OS – Mac and
After stopping driving traffic to the US and editing the landing page a bit, the next 10 days resulted in excellent results – $2,700. Over another 10 days, the income dropped to $1,200. The reason was that the offer had already started to "dry out", having almost completely used up all of its initial potential and amassed its base of users. So, we decided to conclude the AC.
Results:
budget – $3,000;
revenue – $4,800;
profit – $1,800;
ROI – 60%.
PropellerAds promo codes
For all those who have made it this far – a promo code that becomes available after registering with our affiliate program. By the way, we also got lots of other cool stuff for affiliates, you should drop by some time.

FAQ
1. Is this platform expensive affiliate marketing-wise?
The platform is quite expensive if you use all the features it offers. A test campaign for CPL requires a budget, managers also don't help you optimize your AC for free. If you target only TIER 1 countries or if you go for the "premium traffic" setting, the price is pretty steep.
At the same time, if you stick to your niche and focus on a decent but not premium audience, then you can find leads for practically any vertical. If you pick "fatcat" offers, you are likely to get swooped into a war, competing with other affiliates for expensive clicks. The pay on such offers, though, is more than decent.
2. Is this platform suitable for novice affiliate marketers?
It is, this is a great place to start out. Most features are both simple enough for beginners to grasp and have enough advanced functions to be of use to seasoned affiliate. Don't forget that PropellerAds is also a knowledge base that allows novice affiliates to get their feet wet. That's why this service isn't just suitable for beginners, it's recommended they use it as their first stepping stone into the world of affiliate marketing.