TikTok is used as an ad platform more and more often. And more and more marketers are switching to it. This includes not only major brands that can afford huge ad budgets (after all, TikTok's requests for some ad formats are simply catastrophic), but also small businesses, single affiliates and webmasters with not the largest resources, and even those who are just trying to learn affiliate marketing.
But when you switch to TikTok, you have to accept local rules. The ad formats here are somewhat peculiar, based on creativity, trends and deep immersion into the atmosphere of a social network in order to be on the same page with a potential audience. Plus, TikTok mostly uses video advertising, and not everyone had time to get thoroughly acquainted with its features, and quit using banners, teasers and ad posts.
In this review, we will analyze video advertising in TikTok in depth. Let's see how TikTok ads work, take a look at examples of successful ad practices, study the technical features and terms of use.
About TikTok platform
This is one of the most downloaded apps at the moment. And in some quarters, the number of downloads beats all existing records.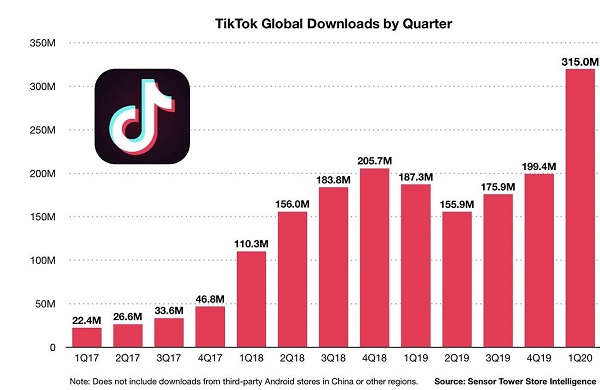 There are 1 billion active users per month, impressive CTR and conversion figures, for example, the hashtag challenge format shows an average of 8.5% CTR. However, many marketers still have doubts, because the audience of the social network is too young. The meaning of negative reviews boils down to the fact that young people are not interested in many offers that designed for the older generation. Yes, it's logical.
But, firstly, several clear niches have long been formed in TikTok, which work just fine. They make up the majority of affiliate marketing offers, and remote businesses today. Movies, gaming, music, investing in ventures, training, digital goods, food – is that not enough? And these are just some of the popular niches in TikTok. And the audience is not 100% youth now.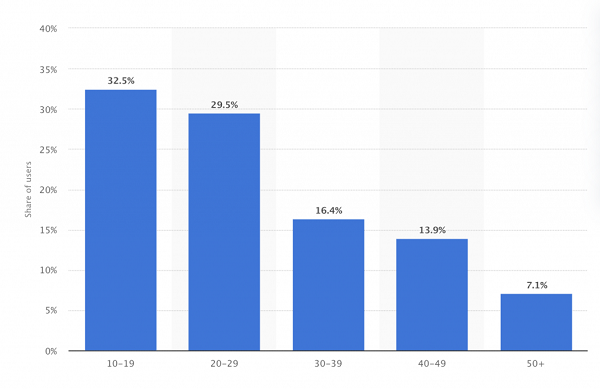 Almost 30% of the users are fully solvent already, more than 16% belong to the most solvent category. And over time, the numbers will only grow. Generation Z doesn't stand still, yesterday's 17-year-olds will become 19-year-olds in a couple of years. And soon Generation Z will become the most numerous in the USA. With age, their solvency will grow, but interest in a constantly updated social network is unlikely to fade. And TikTok will tell you about his achievements better than me.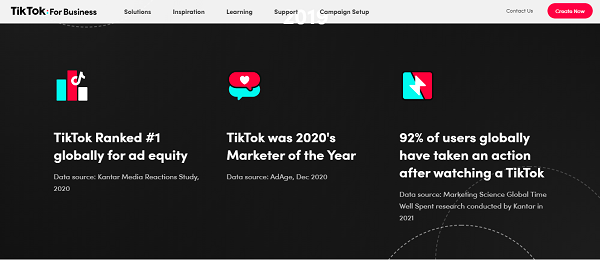 Let's get to the point.
Video ads in TikTok
The whole concept of marketing in TikTok is based on the video format. And the content consists of videos only. No posts, articles, static images are used. Yes, you can promote a creative image through the partner app feed, but not through the social network itself.
And using this format alone, the platform has created a wide range of ad options that vary in their nature, effectiveness and principles of action. Some of them are only suitable for large brands (due to specificity and cost), some are quite good for small business owners and affiliate marketing on TikTok, while others are exclusively for the content creators themselves, the account owners.
The most interesting thing is that no matter what type of creative you choose, no matter what audience you target, you will need to follow the same recommendations. TikTok is a unique platform that is filled with a single vibe. And those who act within this vibe get into the mood of their audience, whatever it may be. And those who go beyond it miss a lot and get an extremely low CTR, making the ad campaign less effective and the bet more expensive.
Take a look at the preview ads on YouTube, look at the stories on Instagram. Both are video ads, but they are so different from the usual ads in TikTok. And they definitely won't work in this social network.
We'll  consider what works today. But first we should review all technical issues so that every reader fully understands  what they are dealing with.
Video ad formats in TikTok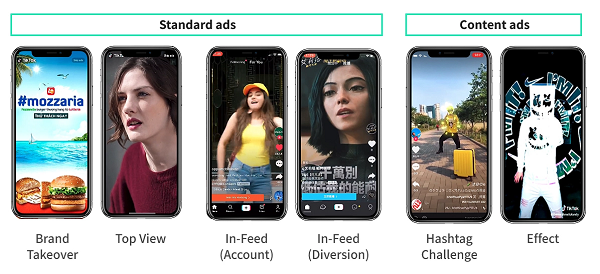 Let's briefly review this aspect. For those who want to go deeper – there is a separate article in our blog with a complete analysis of all types.
Common ads in the feed. The simplest popular type. They are shown when the user scrolls through their feed. The main feature is the possibility of a native effect. The ad itself does not differ too much visually from the standard content in the feed, except for the call-to-action button. Thus, it's in the interests of the advertiser to make the creative as similar as possible to the usual content that the user finds interesting. This way they will be more positive about this information, even when they find out it's an ad
This type of ads is shown to the user when they open the app. And that's where the key differences end. But the delivery is obviously more accurate. At the same time, the range of ads is smaller (only a couple of places for active user per day, regardless of the niche), therefore, the cost of this type is much higher. It is often used by brands, and not the smallest ones
Brand Takeover. An option for large brands that allows you to become the first content that the user sees in the app for the day. So, the delivery range becomes even smaller – 1 per person. The price is very high, but the efficiency is also high. As the TikTok marketing department correctly emphasized, "the first in the feed, the first in the thoughts"
Hashtag challenge. This type allows you to organize a whole range of ads that set conditions for users. Fulfilling the condition of the trend, they become part of the challenge, and, at the same time, of an ad campaign. A large and expensive event available exclusively to major brands
Ads that allow you to combine videos by popular content makers and ad integrations. A fairly new mechanism that not all marketers understand
Placement of video ads in TikTok
Where is the best placement? A person who has not worked with this social network will reasonably answer: in the feed. And they will be only partially right. In fact, TikTok has a different placement, so be sure to take this into account when creating your ad campaign. The following placement options are waiting for you in your personal TikTok Ads Manager account.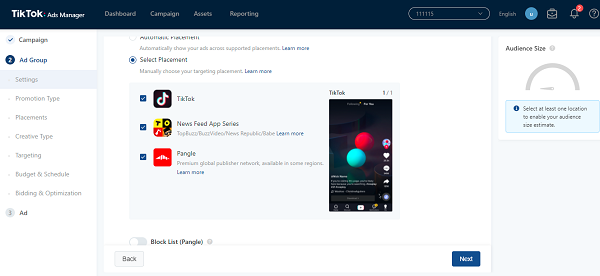 As you can see, the video can also be placed in the news feeds of partner apps, and there is an impressive number of them already. And the placement can also be selected via Pangle, based on, first of all, the peculiarities of the advertiser's own region.
Each specific type of ads is limited to its own placement. Some are available only in TikTok, others may appear in the partner app's feed. Some are also promoted through story feeds, others only through news feeds, there are many nuances. Thus, choosing a certain format, you should first make sure that you are satisfied with its placement. However, you can always use the usual videos in the feed, which have a very affordable price, and their placement is global.
Technical characteristics of video ads in TikTok
The main questions asked by advertisers looking at this social network are often of a technical nature. How long should a TikTok video be, can a TikTok video be longer than 60 seconds, what kind of extension and aspect ratio is allowed.
The interest is understandable, advertisers want to understand whether their standard video ads (prepared or created according to a template) fit this platform. But these questions are fundamentally incorrect.
Creatives designed not for TikTok won't work. As the developers remind, don't make videos, make tiktoks.
To make creatives, you can use the workshop of the social network itself, which is just made for the creation of those very tiktoks. Therefore, with such a tool it is much easier to achieve the necessary vibe, which we discussed above. Plus, it's a great knowledge base and tutorial.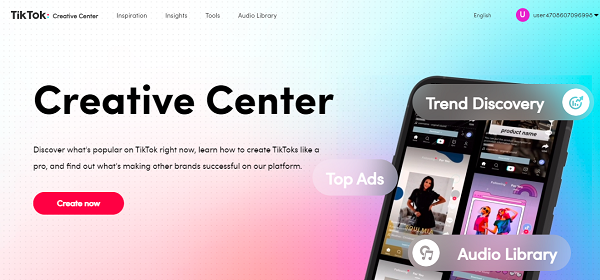 We will move on specifically to the technical characteristics of the creatives announced by the social network. In the TikTok feed, the advertiser can place the creative itself with a display image, name of the brand, product or app, as well as attach a description with up to 100 characters to it. In partner apps, the composition of the ad is the same, except for the display image.
The acceptable aspect ratio is 1:1, 16:9 for everyone, and the ratio of 9:16 is also allowed for the TikTok feed. The minimum resolution is 960*540 for vertical ads and 640*640 for square ones. For partner feeds, vertical video requirements are different – at least 1280*720, square – unchanged. Consider the minimum resolution if you want to promote one creative through all the placements at once.
As for duration of the video in TikTok, it's is not that simple. The official duration is 5 to 60 seconds. But the developers recommend shortening the video to improve user perception, as well as the effectiveness of creative. If the main message is placed after the first 13 seconds, then there is a high probability that the ad will be simply closed earlier. Therefore, the recommended duration is 5 to 13 seconds. As for another placement, the developers do not set a limit, but they still advise you to fit in 60 seconds.
The minimum allowed bitrate is 516 kbps, but the size is limited to 500 mb.
Besides, the developers establish three basic rules that are not mandatory, but recommended to follow:
Use sound. That's so simple, but right. Silent videos are so much out of the general style of the social network content that the user is likely to start checking the speakers, suspecting they broke
Upload videos in high resolution so that users won't have to strain their eyes to see small details
Localize your creatives. It will be extremely ridiculous if the client does not like the ad, because they simply won't be able to understand it. Consider all GEOtargeting options, and localize creative options for all major target audiences.
Intelligent Optimization Tool
This is one of the new tools that allow you to easily adapt any video to the format used by TikTok. It changes the aspect ratio, resolution, size, etc. If you have good workpieces, but just don't have time to manually remake all the creatives, trim them, change the bitrate, and so on (or you just don't know how to do it), then this tool will be able to fix the situation quickly.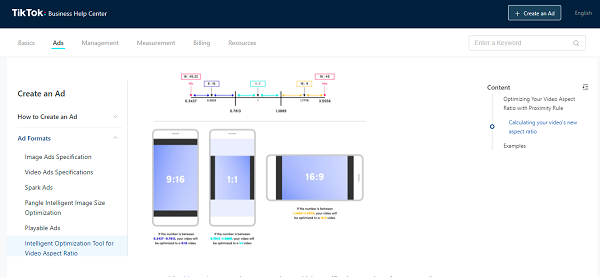 Just take into account the aspect that we talked about at the beginning. TikTok videos have a special structure, concept and vibe. The tool will help you with the technical parameters, but not with everything else. So, first decide whether your workpieces are suitable for this social network in terms of presentation and content, and only then proceed to editing. Plus, if the video is too long, then its main selling points will be placed later than necessary and after cutting of the video, you can either lose them, or deform the structure.
The most effective video ads practices in TikTok
We have finished studying the technical side: formats, placement, characteristics. But how to turn your videos into effective ads that will have a sensational CTR is still unclear. Well, let's go through the most popular and effective practices of video ads in TikTok. But let's clarify right away that nothing is set in stone. The schemes work, but in a social network, any option that falls into the current mood will work. This is the most important thing.
Closer to users
The essence of this method is to create an ad mostly of amateur quality and nature. Of course, without flaws, but also without professional delights. Simple camerawork, shooting by 1-2 people, a first-person view, visual elements common among content makers (for example, a step-by-step enumeration of video stages in the form of text).
This way, the user is immersed in a familiar environment, and you can easily convey your offer to him. Plus, it is worth minimizing the amount of brand symbols, making them distinct, but not bright, not too aggressive. An example is a set of ad campaigns by Hellofresh. They like to make creatives in the form of step-by-step cooking recipes that are so common in TikTok. The same applies to the whole "food" niche.
Informative and useful
Marketers have realized that it is difficult to get the user interested in advertising only, especially if they have no desire to buy anything right now. But giving useful and necessary information in the format of ads is an easy way to interest even those who are not interested. Given the extensive targeting of TikTok Ads Manager based on the user's interests, you may well give users manuals, guides, recipes and tips specifically for this niche. For example, how to take care of the skin, how to properly build a kennel for a dog, how to grow the most beautiful roses to make all the neighbors jealous. Submit an ad already during the training. It is clear that a full-fledged manual can't fit a minute-long video. But with a quick change of frames, constant text accompaniment, step-by-step structure, you can easily give a small and accurate guide in 10-15 seconds.
Plus, there is also the effect of "gratitude". The user can subscribe to the account or click the link simply to thank the content maker for a really useful advice/lifehack.
Maximum focus on music
A method based on high-quality synchronization of musical accompaniment and actions on the screen. Combine bits and actions on the screen – you can look at the example of movie makers to understand what it's about. It is noteworthy that such content is also highly appreciated by users, top moviemakers who create various MV or AMV have millions of subscribers.
But, this method has a nuance, you will need to hire a real professional to process the video. An ordinary marketer will definitely not be able to do this. In fact, some brands have been cooperating with famous moviemakers on a partnership basis for quite a long time.
Use trends
The most effective method at the moment. Almost a third of all TikTok videos are trending. Trends have become so popular that there are channels with million-plus subscribers that consist entirely of trending content. And surprisingly, trends in TikTok work equally well both for ad purposes and as an ordinary channel content.
All that remains is proper targeting. It causes is a little confusion, as different people like different trends. And targeting by tastes may not match the elements of your targeting by interests, behavior or GEO. Thus, you have to choose the types of trends that will satisfy your target audience. And here you can't do without tests and experiments.
The main rules of effective video ads in TikTok
We looked at examples of effective practices. Now let's figure out how to make a video that your target audience likes. It would seem that there are key recommendations, there are methods – what else is needed? Newcomers to this platform are often satisfied with such a set of parameters. However, their creatives don't get the expected response. And the reason is that they often break one of the key rules of this platform, formed on the basis of statistics, examples of successful and failed cases.
These rules are:
Vertical videos and the length of creatives. I have already mentioned that it is fundamentally important to follow the recommendations of TikTok developers about video length. Yes, a storytelling format, which is now actively developing in TikTok, implies very long ads. But in all other cases, consider that 15 seconds is your limit. The same applies to vertical positioning. Yes, square videos are allowed according to the technical regulations, but you should not use them
Arrange the main action in the first 3 seconds. That's how much time the user needs to decide whether to swipe the creative or watch it to the end. Submit the most interesting right away, distribute the potential budget so that 80% of it is used on the first 3 seconds
Everything important should be in the center. The user interface often covers the corners and edges of the display, if there is something really important, the user won't notice it
Related captions. This is a classic, TikTok users are used to videos, where some of the information is presented with the help of caption on the sides or on top. Don't forget about hashtags
Pick the music. This is 50% of success. Seriously, TikTok users pay great attention to the background music. The service has acquired a commercial library where you can find thousands of free songs. Create your own lists of favorite music files. Plus, try to use music of a single style in each creative
Try to entertain the user. This social network consists of 95% positive or humorous content. There is no place for drama here, leave a stylish noir for YouTube, the audience of TikTok won't understand you
Invest in creatives. This is not a platform where you can save money on the ad itself. Often there is a situation in which a marketer spent money on a good landing page, bought subscriptions to the best trackers, designers, invested a lot of money in the ad campaign itself. And considering the costs, they decide to save money on creative. This is the wrong approach. Yes, indeed, it can be done for free on your own. But it should be done well. Either pay professionals, or invest your own resources (time and effort) to make it. Average creatives in TikTok are completely useless.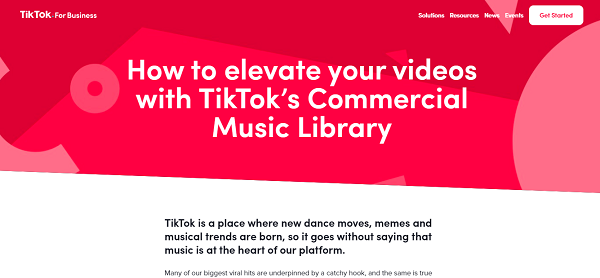 New video ad features in TikTok
And now let's briefly go through the news, announcements and presentations from TikTok, which in one way or another will affect the effectiveness of videos in this social network.
First of all, it's necessary to analyze the news that TikTok, after making an agreement on cooperation with Shopify, continued the practice, focusing on a new partnership with e-commerce companies. Representatives of the social network assure that TikTok is moving towards full integration of brand product positions into the app. Then the users will be able to make purchases without leaving the social network, which will have a positive impact on the user experience. And it's obvious that if you don't need to click the links to buy the thing you like, and you can click the icon directly in the app instead, then transactions will be made more often. TikTok is even going to take over the delivery functions.
Accordingly, the effectiveness of video ad from e-commerce brands and marketing affiliates in this niche will increase significantly.
TikTok also introduced the "instant page" to advertisers. In fact, it's just a new way to submit a landing page, but it loads 11 times faster than the standard one. Accordingly, the user simply won't notice the transition itself.  This will also have a positive effect on the dynamics of clicks on ads.
And the final plus is the shop window, which allows you to put a product with the entire description on the screen without closing the current ads. The user will be able to decide for themselves which product to evaluate.
Conclusion
Video ad in TikTok is constantly being improved. The number of internal formats is growing, the placement options are expanding, new technical capabilities and tools are emerging. It already claims to be a leader among all formats on any platforms. What will happen in a year of such development? Well, I don't think it's worth waiting that long to find out. It's better to start promoting your TikTok account now.