TikTok is turning from a social network exclusively for children and teenagers into a full-fledged platform for all ages. At this stage, the prevalence of generation Z over other age groups is still observed. But the advantage is far from global, plus, now the main audience is quite solvent people aged from 18 to 24. And if you look at the popularity indicators of the platform, you can see that it is not far behind Instagram. Therefore, we have the TOP 2 or at least the TOP 3 popularity among social networks. Accordingly, ad capabilities of the platform will interest any affiliate or marketer. We get to know more in this review. We offer you a complete advertising guide for TikTok.
About the TikTok platform
A relatively young social network has already broken all records in the Asian region,  competitors. And now it is slowly moving to the European and Western regions. 2 billion of downloads confirm this.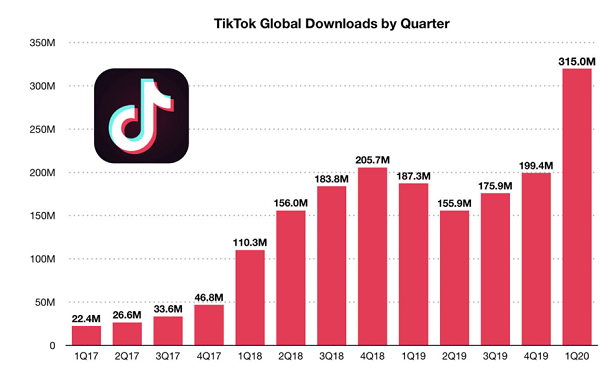 Moreover, TikTok have shown significantly higher growth rates of app downloads and new user registrations than Facebook and Instagram at the beginning of their development. And they, by the way, didn't have such a strong competitor as social networks from Meta Platforms. Thanks to these facts, TikTok confidently takes the lead among the most promising social networks and ad platforms in 2021.
The feature of TikTok is that users open it constantly and spend a lot of time there. According to statistics, the young audience spends an average of 80 minutes a day on TikTok. And considering that a person is awake for about 16 hours a day, you can understand how much time is spent scrolling the feed.
Thus, advertising in TikTok is very effective. With such an online service, you can easily show your creativity to each part of the selected traffic, even if there is significant competition. But, by the way, there is not so much of it in TikTok. The fact is that many affiliates and small marketing agencies haven't yet fully learnt this platform. Conservatism and faith in the usual sites played a bad joke on them. And we wrote about how it's a promising platform and gave tips on working with it here.
In TikTok, most advertising campaigns are promoted by big brands. And their offerings are usually thematically inconsistent with those of affiliates and marketers of smaller projects. Thus, there is no direct competition. And where there is less competition, the rates are lower. As a result, advertising in TikTok is still cheaper than in Instagram or Facebook, even if the average CPC statistic is even higher. We simply forget that the average and the median are different things. And thanks to TikTok's huge TIER 3 audience, the cost is much lower, because the statistics are mostly collected from TIER 1 countries.
TikTok today is:
1 billion monthly active users
141 countries
39 languages
2 billion downloaded apps
Solvent audience
Statistics says that the prevalence of the 18-24 group is gradually becoming less obvious, more and more users under the age of 34 are being registered, which is promising in itself for any advertiser.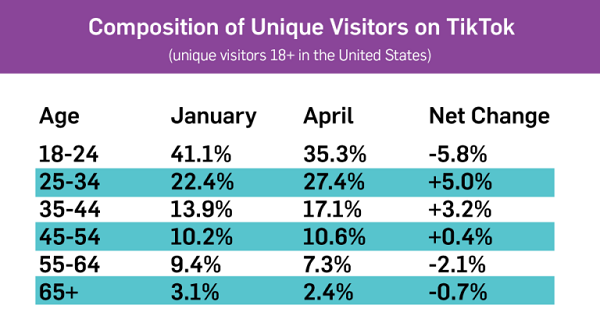 Even in the USA, over time, more and more people aged 25 to 34 and 35 to 44 become members and active users of the TikTok social network. And advertising on this platform is worth trying at least for a test.
TikTok Ads Manager
This is a tool that is used to create, configure and track ad campaigns in TikTok. And let's be honest, it was created in the image and likeness of Facebook Ads Manager. But at this stage it is behind its competitor. This can't be called a clear dis advantage though, because almost no one can reach the subtleties of targeting settings and the possibilities of taking into account various factors of Facebook's brainchild. Moreover, for a new social network that has not fully formed as a complete concept, the tool for setting up an ad campaign is impressive.
All work with the ad campaign will take place directly through TikTok Ads Manager, for registration in which you will need a business account in TikTok.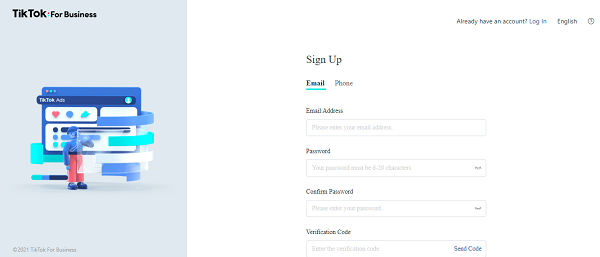 Advantages of TikTok Ads Manager:
Convenient and simple management
Understandable even for beginners
Extensive targeting capabilities
Effective tracking
Ad formats in TikTok
Before we go directly to the guide for creating our ad campaign, we need to figure out what ad opportunities the platform provides, and understand which option to choose for our business. It's worth noting that, unlike alternatives, the format can really change the whole essence of the campaign. These are not just different types of creatives and different placement, they are basically dissimilar tools. Therefore, pay close attention to the choice. We will soon release a separate review in the blog with a detailed analysis of each format, its effectiveness and scope of use. In this guide we will go through briefly, and you can learn more about it here.
Ads in the feed. The simplest and the most popular ad format in TikTok. Short videos that the user sees when he scrolls his feed. The developers themselves recommend not trying to create standard ads, but imitating videos in TikTok. Thus, the ad will have the same vibe as the content of the feed, so users will respond favorably to ads
Top View. The same video, but placed in the most viewed segment
Brand Takeover. This ad is placed when the user opens the app strictly once a day. Given that a platform user can't see an ad a second time, its cost is often higher. As for efficiency, this is an open question, which we will analyze in detail in the review of TikTok ad formats.
Hashtag challenge. An almost unique invention of TikTok – advertising, which allows you to create ads within the framework of an existing trend, the conditions of which are stipulated in advance by the event. TikTok users tend to study tons of videos dedicated to the trend they like, and even accept ad content with no less enthusiasm than usual. This is evidenced by the response rate reaching 8.5%, which is simply huge numbers, considering the spoilt nature of the modern user
Brand filters. Various kinds of effects in ads the allow you to individualize the brand or personalize the offer. It is mainly used by large projects whose ad campaigns are so lengthy and massive that they really allow you to form your own memorable style.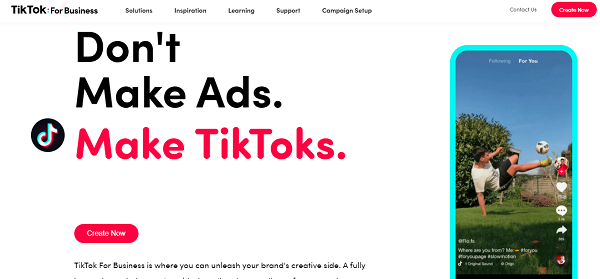 Stages of setting up advertising in TikTok
We'll now go directly to our step-by-step guide. We have dealt with all related factors, understood the prospects of the site and the audience, and studied the ad formats. It's time to create an advertising campaign. And first of all, we are going to need a business account to launch TikTok Ads Manager. Further work will go through this main tool, as well as with other TOP networks, for example, Facebook Ads Manager for Facebook and for Instagram.
But first, I highly recommend you to install a Pixel from TikTok on your website, if you don't work in the field of affiliate marketing. As with similar social networks, TikTok Pixel allows you to track all the statistics of users who came directly from this platform – what pages they visited, what actions were taken, whether they purchased goods or not, and so on. This way you will be able to assess not only the effectiveness of advertising in TikTok, but also the correctness of the selected targeting settings. If you redirect traffic to someone else's offer, then you won't need such statistics, you will need to use other tracking methods.
So, the first step of the guide is to create an ad campaign and choose a goal. Open TikTok Ads Manager and select the appropriate option.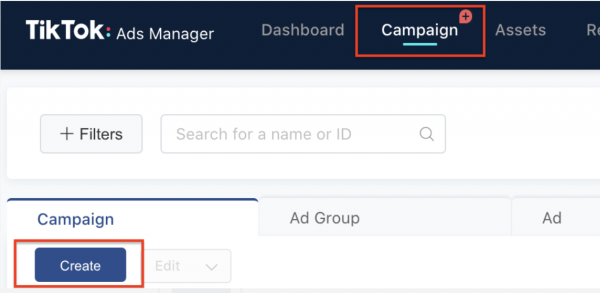 We should give a name to our new campaign. Remember that names also go through the moderation procedure. However, we will talk about moderation in TikTok separately (in another review). For now, we will just note that it is not as strict as in many modern alternatives.
Goal selection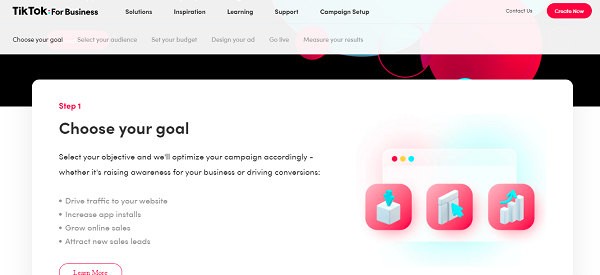 An important stage that will affect the entire ad campaign. The user corrects targeting, selects a suitable audience, the order of impressions, correlates the ad campaign with the behavioral factor of the audience. TikTok offers a choice of three main goals in impressions, as well as two goals for specialized ad campaigns. In general, they are similar to FB, you can compare by reading this guide. Let's go through all of them:
Maximum impression. A common goal that is suitable for large, but at the same time new brands or when a new product from an old brand appears. The point is to maximize impressions when the target audience has not yet clearly been built. Roughly speaking, your creatives will be shown to everyone who fits the description of the target audience at least to some extent
The choice for those who buy traffic from TikTok purely to their website. Such a goal stimulates further actions on the target site, and is suitable for lead generation
The main goal. If you want to target the selected target audience as accurately as possible, is suitable for affiliate marketing in most cases. It is also recommended to use this goal for beginners, as well as for those who are only testing the platform so far.
App installations. Specifically, if you promote your app or offer installations, mobile gaming. It can't be said that such offers have a lot of features and nuances, but still it is not necessary to promote the installation for the purpose of traffic. Statistics shows that the conversion rate will eventually drop by an average of 0.03-0.05%;
Video views. The goal is suitable for those who put a lot of effort into creating ad creatives. If you understand the very essence of TikTok, create videos in a popular, trending format, use sparkling humor, cool effects, and so on. Then the value of the video itself increases, so the main thing is to draw attention to this creative, which will attract new followers. And the follower base will become the basis of traffic. Also, the goal is suitable if you just promote your account for subsequent monetization, and are sure that the content on the channel will interest your target audience
Targeting in TikTok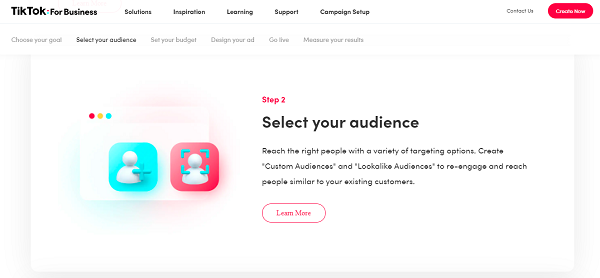 That's our favorite part, and the most important one in any tool for creating an ad campaign. The targeting settings, their breadth and effectiveness are the main drivers for the successful ad campaign. After all, in most cases, the most important moment is the exact match with your target audience. Then not even the most profitable offer will succeed, because you are offering it to someone who needs it.
TikTok Ads Manager offers targeting settings similar to those seen in Facebook Ads Manager. The audience is again divided into two types: custom and lookalike. Let's quickly explain how it all works.
The custom audience is formed in two ways. First, is to manually choose all the settings, and TikTok will then find traffic according to the specified criteria. The second is to upload our own list based on visitors to our site, users of our app or those users who have already interacted with our advertisements in TikTok. Accordingly, we will be able to address our ad exclusively to those people in whom we are confident, to those who have already got acquainted with our offer, which means they are ready for further offers.
And the second type of audience in TikTok is lookalike. This is an automatic selection of traffic by the service, which by some criteria is similar to our user audience. In other words, just a way to scale traffic. It is used like this – we direct traffic from the site, but we have only 2-3 thousand registered users, and we want our ad campaign to cover the whole selected region. Therefore, we scale traffic through a similar audience. Imagine you are beginner in targeting. You know the exact audience, for example, residents of a certain city, users of a certain app, but you can't correctly form criteria, you simply scale the audience that you know.
By the way, an important clarification. You will be able to use the functions of downloading the user audience from external sources only after the total length of your ad campaign reaches 30 days.
Well, we have sorted out the types of audience, now let's see what targeting settings are offered when creating an ad campaign in TikTok.
Demographic factors:
Gender
It is not possible to specify exact values, only age ranges and if you choose an age group of 13-17 years, then your offer will be additionally checked by moderators manually
The main languages in the world are represented
Here the settings are extensive. Not as extensive as with the major players in the field, but still worthy of respect. You can narrow the regions, as well as specific cities and even smaller settlements
Devices
Interests and behavioral factors:
A huge number of categories and each of them includes dozens of internal categories. Sports – active sports – team games – football, food – food and drinks – cocktail making. There are plenty of options, but we immediately note that you should not be too inspired by the opportunities provided. After all, each new item, especially if the category is narrow, seriously restricts targeting, which will affect both the amount of traffic and its cost
This section is entirely based on what type of content the user likes. All interactions with the platform, all the videos viewed, are analyzed, but only for the last week or two. You can also target the type of user's impressions of the video, whether they liked it, whether they watched it for more than 7 seconds, whether they left a comment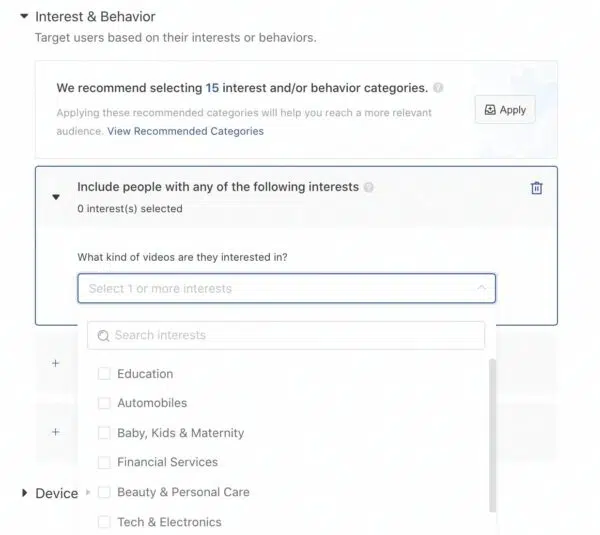 Yes, if you analyze all the targeting features, then the functionality of the settings seems pretty mediocre, especially in comparison with other major social networks. But in practice, this simplification has a positive effect. Given the fact that TikTok, in principle, gathers a specific young audience, it is usually enough to go through GEO and interests in order to more or less accurately choose the target group. Additional targeting functions significantly affect the bid price. I came to such conclusions after compiling a guide on advertising in TikTok. At first, the narrowness of the settings also confused me a little.
Setting the budget of the ad campaign in TikTok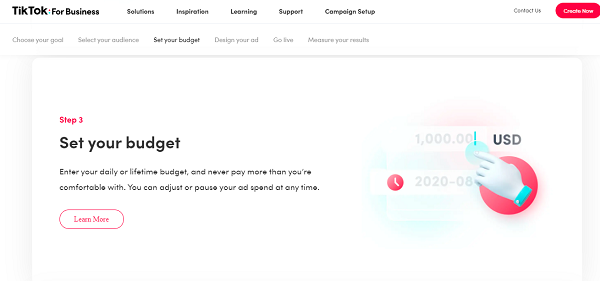 When setting an ad budget in TikTok, you have the opportunity to make it unlimited. However, it is highly discouraged, especially if you do not use restrictive orders.
The first thing to do is to set the budget for the entire ad campaign. And it is best to put it in minimum figures, let's say for 2 weeks. If the tests are successful and the campaign goes well, you can increase your budget. This way you will definitely avoid serious overspending, in case of incorrect bid settings.
The second step is to set the type of budgeting. Three functions are available –conversion, clicks and maximum reach. Conversion is purely for targeted clicks, that is, showing ads exclusively to those people who can definitely become a lead. Accordingly, the total volume of traffic is narrowing, which means that the remaining audience will have to fight financially, buy it from competitors at a high rate. Yes, this is a more expensive approach, but the conversion rate is expected to be higher.
The second option, clicks, are the usual ad settings in TikTok – balanced impression of the target within wide boundaries. This is perhaps the most suitable option for a beginner or a test and the cheapest one. Finally, the third way, reach, is suitable for brand promotion.
It focuses on maximum reach, showing  ads even to not quite the target users, in an attempt to familiarize them with a new offer or even a type of offers. It is also a method of identifying a potential target audience using such a massive and very expensive test.
When creating an ad in TikTok, you can also choose a daily budget. It depends entirely on the impression periods of your creatives. If you decide to show them to the audience during the daytime, and even more so in the evening, when the number of visitors is the biggest, there will be a huge amount of traffic and the budget can be increased. But when you set up the impression at night, the budget should be limited. In principle, the scheme is simple – if you are not afraid of competition, are ready to fight financially for clicks or are just confident in the effectiveness of your creatives, you can configure the activity of an ad campaign at the peak of online in TikTok (taking into account the time zone of your audience). Otherwise, choose time with moderate online.
Payment form and bid setting
The CPC model is mainly used. CPM is applied only if you have selected the function – maximum reach.
But there are many variations of bid management. There is also its own Smart bidding, which transfers bets to the AI. It focuses on your budget and the number of competitors for a given type of traffic at the moment, raising or lowering the bid price within the established limits (always use limits, otherwise the system may lose too much of your money with a spike in competitor activity). There is also the lowest cost strategy. It not only manages bids, but also markets entry periods to minimize costs while maintaining traffic flow. However, tests have shown that the system really minimizes the budget, but the traffic flow is seriously reduced.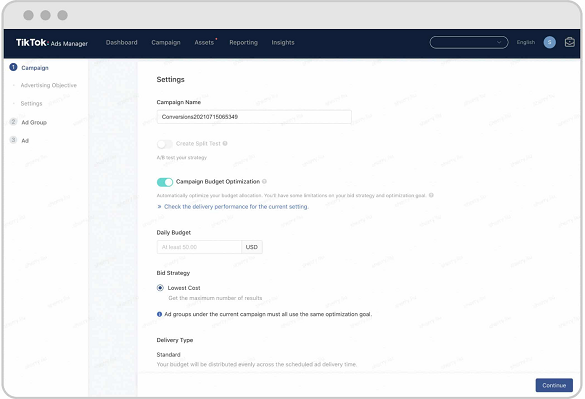 Creating and posting creatives in TikTok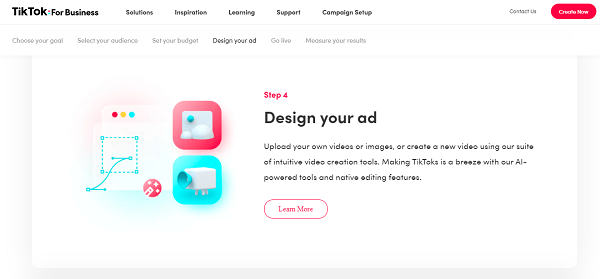 TikTok offers you make a creative either in the form of a video or in the form of a banner. The second way is a static picture, which can be enlivened a little with various animated effects, shining and flickering. But I'll be honest, banners in TikTok work mediocre. After all, this is a 100% video platform, and users come here to watch videos. Yes, examples of successful banners are not rare, but global statistics say that they are far behind another format – video advertising.
You can make a creative either in person or on another platform, or in the editor of TikTok itself. By the way, he is worthy of all praise. Not only is it easy to learn and fast to use, but it also has effects that create stylistically recognizable TikTok videos. Therefore, it is a pleasure to work with it.
Remember that the inscription takes a significant part of the creative, you can place up to 100 characters of text. The restrictions are strict, so if you want to run subtitles from below, then move the inscription as high as possible so that it doesn't cover the main action on the video. And also remember that at the bottom you also have a section with hashtags and a call to action button.
It is important to remember which platform you are on. TikTok video ads are not like their Instagram counterparts or variants when working with Google Ads. This is not a preview ad on YouTube, it works by completely different rules. Therefore, the standard form of ads will be out of place. Try to get into some trend, or even mimic a common content format. And not any format, but the one that your target audience likes. It will be especially easy to do this if in the targeting settings you focused on the behavioral factor of potential leads, that is, studied the content they liked.
Automatic ad creation
This is a simplified function that simply selects your most popular videos from the channel, determines their placement and shows the generated set in the form of an ad. Is the function worthy of attention? If you want to promote an account directly for any monetization method, and you don't want to make a separate creative, then why not. It saves time, you don't have to go deeper into statistics, study responses to your videos, choose the most promising. In all other cases, the function is unnecessary. You will do it better with your hands, believe me. Moreover, full-fledged ad campaigns are rarely formed to promote the channel, unless it becomes a kind of point of sale of traffic from each video to an external source.
The launch of ad campaign and the cost of advertising on TikTok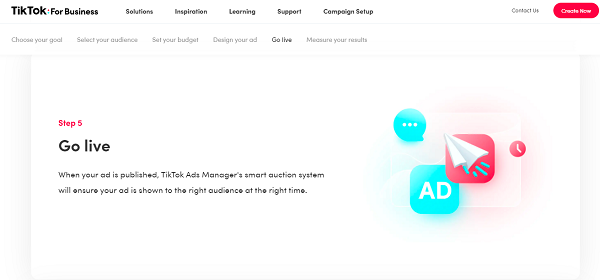 It remains only to launch our ad campaign to collect primary results. But we should also add that the approximate cost of advertising can be estimated in advance. At the moment, TikTok is almost equal to Instagram in terms of the total official cost of advertising. But considering the specifics of the audience, as well as the level of competition, the rate is not growing as much as in other promoted social networks. As a result, the final price will often pleasantly surprise you. Where Smart bidding on Instagram will turn your modest $1.5 per click into $15 during peak hours, TikTok will increase the bid by a maximum of 50-70%. Therefore, in the end, an ad campaign may well be much cheaper. But, again, it all depends on your targeting settings. I'm only talking about the influence of the competition factor.
Testing and tracking of an ad campaign in TikTok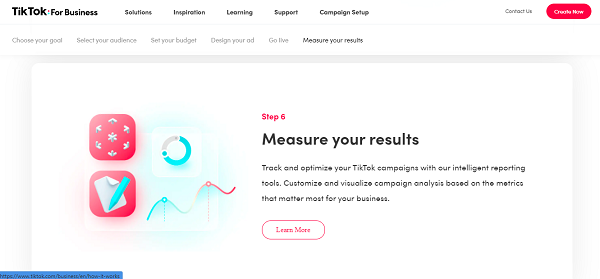 Tracking is an important part of an ad campaign. It is difficult to achieve good results without tests and analysis of the collected information, refinement of the ad campaign. However, TikTok solves this problem quite well. Yes, the system doesn't have the functions of a full-fledged tracker, but it will be able to collect information specifically for analyzing statistics of your ad campaign without any problems. Plus, you can upload your reports from the tracker to the TikTok Ads Manager panel, adding new information.
Tracking goes according to almost all the main parameters – gender, country, city, device. You can also track the most promising periods of the day, if you don't have limits on the hours of entry into the market. The tool also provides standard comparisons of payment models effectiveness. Statistics are calculated both as a whole and for individual ad campaigns and single creatives. You can also choose an ad group for tracking. Having collected complete analytics, you will easily understand what changes need to be made to the ad campaign in order to increase its efficiency.
Practical recommendations for ads in TikTok
We will finish our full guide on setting up ad in TikTok with a small series of tips from our experienced affiliates who have already tried out this platform:
Update creatives. TikTok itself recommends changing your creatives at least once every 7 days. And I must say this is still not enough. It is better to change creatives every 4-5 days. TikTok audience gets bored very quickly, don't let them.
Always use sound. "Mute" ads do not work in TikTok. By the way, that's the problem with banners
Subtitles are invaluable. TikTok users are used to the fact that the basic information of the video is presented in a text version, so give them what they're waiting for. Always add explanatory ad inscriptions to the video
Use only optimistic ad. In pursuit of style and aesthetics, some marketers make their creatives gloomy. This practice doesn't work in TikTok
Don't make long videos. They won't be viewed, no matter how good they are. 15-30 seconds is more than enough
Conclusion
TikTok is the future. And it's worth getting acquainted with advertising on this social network right now. Otherwise, one day the market will force you to do it, so it's better to make such a decision on your own terms. Our full guide on ad in TikTok describes the main practical aspects of launching your add campaign. We will consider various nuances of advertising on this social network in separate reviews. See you soon!