Instagram is becoming one of the largest advertising platforms. And any affiliate who hasn't got the chance to work with it should get that experience as soon as possible. After all, this social network's potential is simply enormous. You can promote almost any offer here. The most popular affiliate marketing verticals feel right at home here. You can even promote gray-hat offers, naturally, with the help of certain tools. Since blatant 18+ content or unlicensed gambling are taboo here, so are gray-hat nutra offers. Then again, mods here aren't as strict as in affiliates' favorite Facebook. Although cloaking professionals manage to successfully operate even in Zuckerberg's realm.
In this review, we decided to talk in detail about the Facebook Ads Manager, through which you can place ad creatives on Instagram. About its features, advantages and disadvantages. And most importantly, we will provide a detailed guide on how to work with this tool. And we will also assess how efficient it is.
Why Instagram is a good affiliate marketing platform
Over 1 billion monthly users, 7 million active unique members every day who consume a mind-boggling amount of content. And this is just the tip of the iceberg. Instagram allows you to work with your main audience in almost any field. Not with all of it, like on Facebook. No, most Instagram users belong to the 18 to 45 age group. True, this sets limits for particular offers. For example, nutra products are tailored to a more mature audience. But at the same time, this is the "tastiest" layer of users. They're young and ripe, solvent and looking for new opportunities, not suffering from excessive conservative and orthodoxic values. Just perfect.
That's why currently 76%+ of professional marketers and affiliates are also using  Instagram to promote their offers. The platform is second only to Facebook. Well and Google, but the search engine isn't one unified platform. So that technically doesn't count. As for its other competitors, Instagram has long left them eating its dust. Despite being younger than almost all of them.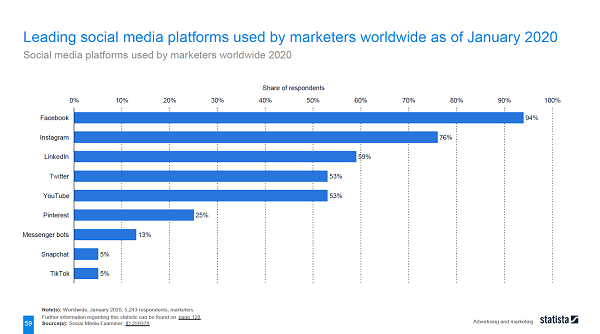 And this is another key feature – constant development. The social network is growing by leaps and bounds. The coverage and user engagement are steadily increasing. And the value of the segment is also increasing.  All this makes choosing this platform a no-brainer.
Facebook Ads Manager в Instagram

What's Facebook Ads Manager? It's a special tool that lets you aim your ads at a specific audience. From the stage of creating an ad campaign, extensive targeting to designing the creatives themselves and their placement. And what's more, Facebook Ads Manager also allows you to thoroughly monitor the result. Not at the level of regular ad network tools, but as a full-fledged paid tracker, if not better.
Facebook Ads Manager stands out primarily thanks to its targeting capabilities. This is its strongest suit. And one that's most needed in such tools. But extensiveness is always a challenge for beginners. True, properly utilizing all of Facebook Ads Manager's features isn't easy for a newbie affiliate. Our little guide here will help you cover the basics and get to launching your first ad campaign on this platform. Still, Instagram introduced alternative targeting for this category of affiliates. You can upload ready-made contact lists or target the audience of a specific 3rd party website and after that just scale it with the help of an automatic tool.
"But what does Facebook Ads Manager actually have to do with Instagram?", asks the beginner affiliate. The thing is, since Facebook is basically the owner of Instagram, it decided against creating a separate tool to launch ad campaigns through and just use the currently existing (and smoothly running) one. Some marketers even recommend using Facebook Ads Manager to create a single ad campaign for both social networks. Just transfer your AC setting for FB to Instagram. This is technically possible, in which case your ads will be displayed to users from the two social networks simultaneously. But we strongly discourage using this approach. After all, the audiences on these platforms are completely different, both in terms of age and interests.  Even if a person visits both social networks, they log on to each one with different moods and different goals. And identical creatives and slogans won't serve to fulfill their task. We believe that you need to set up individual ad campaigns for each social network.
Creating an ad campaign for Instagram through Facebook Ads Manager
Now them, let's move on to the actual guide on using the tool. Let's take a look at how an ad campaign is created. Which settings and parameters are especially important and which won't really have any effect on the final result. But we'll also go over all the capabilities of this system, which has been called the best targeting tool as of 2021.
How to link an Instagram account to Facebook Ads Manager
First of all, we need Facebook Business Manager. This is what allows you to link your Instagram account to Facebook Ads Manager. To do this, just go to the "Add account" tab in the "Settings" section. Technically, you can skip this step. You'll be able to launch ads on Instagram even without a business account. Just link a normal FB page. But this will seriously limit your possibilities. Fewer ways to manage your many ad campaigns and the targeting settings are significantly more restricted. Meaning, there's 0 point in this. Especially since making a business account takes a couple of minutes at most.
In a general sense, Facebook Business Manager – allows you to manage the entire ecosystem of your business, accounts, ad campaigns and access levels. And Facebook Ads Manager is a tool designed with the sole purpose of creating targeted ads.
That's why we are going to need:
a business account;
a FB account;
an Instagram account.
Once all the key parts are covered and everything's connected, we can log on to Facebook Ads Manager and get to creating our first AC. Select "Create new ad" and proceed. But first, while we haven't got to the actual settings yet, we need to name our ad campaign. And unlike in ad networks, here, the title also needs to pass moderation. So make sure it reflects the essence of the campaign. Affiliates who are used to working exclusively with ad networks often make a mistake at this part.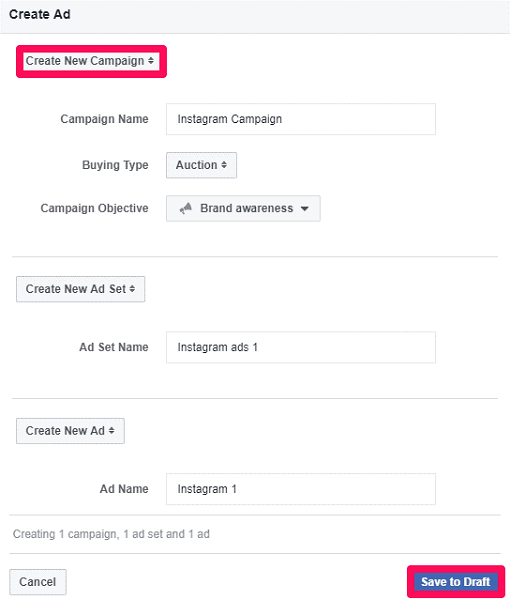 Choosing an objective
The first step we need to take to create an Instagram ad campaign is to select our end-game objective. And remember – for Facebook Ads Manager this isn't just another random checkbox. This is quite a significant targeting parameter, which will determine the relevance of ad impressions to certain social groups.
If you decide to just skip this step altogether, Instagram just won't even launch your AC. So carefully go through the list and choose the option that suits you the most.
The goals are all divided into three classes, with each of them having several sub-categories.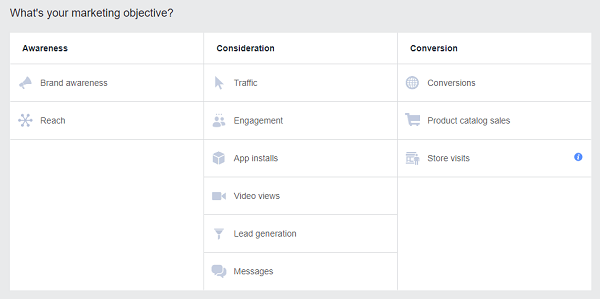 Let's go through them:
Brand recognition. This goal is suitable for young companies that have just started out on their path to popularity. This way you can become familiar to the user, let them get used to your name, logo, its color scheme. Obviously, this goal is absolutely worthless to the affiliate. We are looking for conversions, offer leads, increasing brand awareness is the responsibility of the company's marketing department, not yours;
Coverage. The objective here is to show your creative to the largest number of people possible. And this is a decent choice if you need to quickly spread info about discounts, promotions, offers in popular segments that are unique to the market. Especially since this is the most optimal goal for a stories-based ad campaign. Though the main drawback is obvious. The targeting settings barely affect the relevance of the impression. After all, Facebook Ads Manager will be trying to cover as much traffic as possible. And we will inevitably get empty clicks that will take quite a bite of our budget, without necessarily increasing the number of leads. Not the best goal;
Traffic. Now this is our ideal option. Yes, almost every offer involves the user going to the advertiser's landing page. But often it all depends on the client's subsequent behavior. Whether they will perform the target action (register, make a purchase or deposit) or not. And if the landing is high-quality, we can go ahead, configure narrow targeting settings and drive traffic straight to it. This will be the best strategy. Basically, this can be your default choice (at least 50% of the time), unless you have another specific objectives;
Engagement. The user going to your Instagram account to perform whatever action. This can be appreciation in the form of a like, a comment on your post, them viewing additional materials that aren't the actual ad they clicked on. Technically, not a bad option if you're using a single ad account to promote a dozen offers simultaneously. You create a sort of online store, receiving a cut selling other people's products. Or you simultaneously promote a bunch of offers from one vertical, say, nutra. Many affiliates create a special account for such purposes, like, "Health". And redirect their visitors to various offers. But if you need the account itself solely to access Facebook Ads Manager, then this hardly makes sense;
Installing an app. This looks like the ideal option for installs. And there's plenty of offers in this vertical. It's also a great choice for mobile gaming, as for the size of this vertical, you can check it out in our offer catalog. Even at a glance it's obvious that there's an enormous number of offers in this category. With very decent payouts. But there's a serious downside. To select this goal, the application you are looking for must be in the official market. And a good half of adult games aren't. Plus, some installs also aren't present on markets. Therefore, choose this goal only if the offer works through official channels;
Video impressions. Again, you need a video for this. And of a high enough quality to outperform the advertiser's own landing page. Unless you've got one, this goal isn't for you;
Lead generation. In reality, this only sounds good. This isn't classical CPL in the full sense. More like a built-in form is added to each click. And this is an Instagram not the advertiser's landing page form. Technically, you can pick this one if you work through the SOI model. Or if you're looking to create a client database to later target only your warmed-up audience. In all other cases – steer clear;
Conversion. Good, because in this case you're paying strictly for sales. But don't think there aren't serious limitations here. By far not all offers can work with this objective. You need to connect the site to go through Pixel. And if the landing belongs to the advertiser, doing that is impossible. Sure, if you're working as an agent or retailer, you can sell directly from your website. But how many affiliates operate like that? Practically none of them. Meaning that conversions are also not the best choice.
As you can see, Facebook Ads Manager offers a ton of different goals. But for a person engaged in affiliate marketing, their choice is seriously restricted.
Distributing the budget and driving traffic
Now we need to select the total and daily budget for our campaign. This parameter isn't too different from the usual settings in ad networks. But a few interesting points are still worth covering:
you don't have to set a daily budget. In this case, you're leaving it to Instagram to decide how much to spend on whatever day. The exact algorithms are unknown, but practice shows that during peak hours the budget is drained a lot faster, as you would expect. But it's still unknown what the influence of other factors amounts to. The smart AI seems to be more than competent, but we still recommend to distribute the budget yourself. There have been cases of the bot draining a monthly budget in a day justifying it with God knows what. It's also a real kick in the privates if the offer itself has a daily limit and doesn't accept any more traffic after a certain number of leads;
you can set the exact display hours, as well as set an hourly budget. If you do, during periods of activity, the ad will be displayed more often, and when the flow of users wavers – less often;
you define the display period by days for each specific ad individually.
We also got a couple of recommendations for calculating the budget and actually driving the traffic:
do not launch an untested campaign. Allocate 2-3 days and a budget worth 2-3 lead payments;
make your campaigns last at least 20 days, Instagram's audience needs time to respond to your ads. You'll start seeing decent results in about 10 days. And since the audience is enormous, your offer won't burn out as fast as it would in ad networks;
don't be afraid to change your daily budget after the campaign launches;
the site is quite large and financially demanding. So trying to work with it for less than $400-500 makes little sense.
Targeting
Finally we can move on to Facebook Ads Manager's strongest suit. There are legends about how much more advanced the targeting on Instagram and on FB, is compared to the possibilities of alternative platforms. Let's see if they hold any water.
Facebook Ads Manager targeting capabilities:
GEO. The tool allows you to target literally any spot in the world. From megacities to small towns. Plus there's zip targeting. You can include a specific region or part of the country in the coverage. You can pinpoint the targeting. It lets you include specific cities and towns in a region as well as exclude particular ones;
age group. The range is extensive, from 13 to 65 years old. But this isn't even necessary. You'll still need the upper limit for some nutra or finance offers (say, special loan conditions for senior citizens). As for the lower limit, you'll find little use for it. Offers usually prefer users over 18. You can segment the audience down to a range of one year. Naturally, doing that will significantly narrow down your traffic, but there are specific offers where this feature will come in handy;
sex. Standard stuff;
detailed targeting. This is an internal category that gives you access to some additional settings. First of all, interests. This is a compilation of data based on info uploaded to Instagram. About the person's family, house, workplace. About their official status, certain events in their life and much more. And behavior is a combination of analyzed behavioral data. What goods, movies, music, ways to relax the person prefers. Are they a gamer or an outdoor person, do they read about health or psychology, are they a fitness or fast food lover.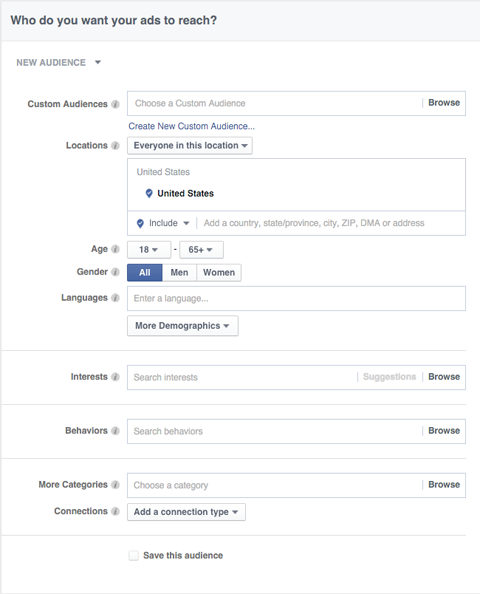 In addition to these basic targeting settings, Facebook Ads Manager allows custom traffic to be targeted as well. This is a direct upload of you client database that you acquired from previous offers via parsing. The tool can also get you the addresses of your website's visitors. You need to connect Pixel for that. And it doesn't just gather user data but has its own user settings. Exclude specific pages, gather the data on only the most recent visitors or on the contrary – the website's long-time followers, etc.
Moreover, this entire individual audience is easily scalable. You just need to use the Similar audience feature. It will immediately identify all Instagram users who have something in common with the customers on your list.
This is a convenient way if you have a rough idea of what kind of traffic you are looking for, but don't want to set the settings yourself, in fear of making an error or simply to save time.
Types of ads
Instagram has a ton of ad formats, each of which has proven its effectiveness. For whatever task, you can find an almost perfect format. But for someone who's never worked with FB, instead partnering up with affiliate networks or other traffic sources, the types of ads here will be a bit unfamiliar.
Stories. The brainchild of Snapchat, which has spread across all other social networks. But Instagram is the one that managed to implement it the best. Its users really love stories, they potentially have a positive attitude towards them, so they are genuinely ready to watch an ad in the form of one. The user encounters it in their feed whilst scrolling through regular stories of the accounts they're subbed to. And for complete native integration, use popular filters and effects. That way the client may potentially not even notice the story they're watching is an ad. At the bottom of the pop-up ad there is a button that leads the user to an ad account or directly to the offer's landing page;
Instagram panoramic ads. It's also often called "carouser". It's basically just a compilation of creatives that follow one another. But this format lets you acquire a firm hold over traffic. If the person found the first creative interesting but felt that it "didn't tell the whole story", they'll go out looking for the ending. In a certain sense, it's an entire mini-landing page or at least a pre-landing;
Videos. Limit – under a minute. This format is a bit longer than stories, but there aren't any significant differences. So unless your goal is to promote a video (a film about the product, a clip, etc.), with the ad video essentially being a trailer for it, better to just pick stories;
Shopping ads. It's basically just a part of a product block that's launched directly into the feed. No point in hiding anything here or trying to lure the user in with a mystery. Instead, place the product itself square in the center and a short selling comment next to it. At the same time, Instagram allows you to create a full-fledged product catalog on your account. An excellent choice for e-commerce affiliates. In this case, the product ads must refer to the catalog-account, with users going to the 3rd party website with the offer from said account.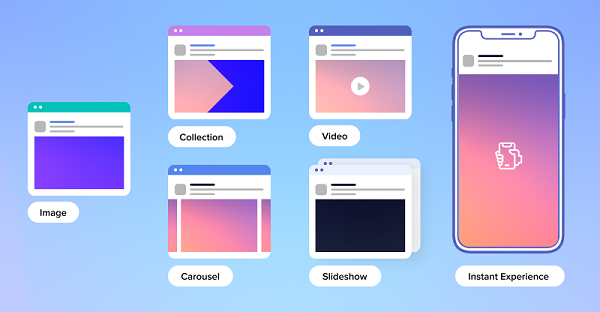 Designing and uploading a creative on Instagram
The Facebook Ads Manager does not provide a tool for designing a creative. But there are a lot of options for editing one. That's why upload the base for the creative in advance (don't forget about copyright). It's best to choose open source creatives, or custom-made ones. This also applies to videos.
There are different requirements for creatives for different types of ads.
panoramic posts, as well as news-feed images. maximum size – 30 MB, no more than 600 pixels. Supported formats: JPG and PNG;
stories. Resolution up to 1080×1920, length up to 15 seconds. And the maximum size here is very large – 4 GB;
video. The resolution is slightly lower, the threshold is 1080×1080, and the length is up to a minute. Size limit – no change, 4 GB.
At the same time you choose separate goals for each creative. And also one of the call-to-action buttons. Call, go to a profile, order, learn more, use, download and so on.
The entire set of filters and effects, which users have on this social network,  is available. So don't forget to retouch the creatives to match the current trends of the social network. And new trends in affiliate marketing in general also need to be monitored.
At the same time, native ads are currently becoming an increasingly popular choice among influencers. There are thousands of such options on Instagram. The main thing is to find a blogger who's profile's topic is similar to yours. And the network has enough doctors, psychologists, athletes, (sports and business) coaches, reviewers of all stripes and colors. Therefore, finding a suitable candidate is easy. However, always pay attention to the pay rates. As the influencer's sub count grows, so does their price tag, exponentially. Therefore, affiliate marketers are advised to use the services of micro-influencers.
Also, the give-away format is still popular. It is a type of drawing between the account's subscribers. According to the terms, all subscribers of the page must subscribe to everyone who's hosting the give-away. Not a bad way to promote an account, but is not suitable for an offer. In case later you are planning to work from this profile with many offers in the same vertical.
Handling customer questions
Even if you created a profile literally a day before the launch of your advertising campaign, you cannot leave the former empty. After all, Instagram users are used to clarifying various issues right on the network itself. Until they receive answers, they will not click on the link. This means that there will be no leads either.
What are the most popular questions:
terms;
time limits;
how to participate;
whether the participation is legal, or the goods, or the offer;
how to get a discount and when to expect special offers.
There is also a list of objections for various offers that clients usually resort to. And you will also have to answer all these questions. The more gray-hat the offer, the more objections you'll get. I doubt you're dying to stay online 24/7 and role-play as a consultant. Therefore, the most logical choice is to automatically answer questions and work out objections with the help of a large FAQ section. Upload it to your account. Some affiliates even make an ad link from their creative lead to the FAQ section instead of the advertiser's landing page. We do not know for sure how effective this is, as no tests were carried out on this matter. Therefore, we will not recommend it. But such a method exists.
There should be a FAQ section in any case. Moreover, it should be as detailed as possible, answering all the questions that may arise. The account itself cannot be left empty either. Add articles similar to the offer, possibly images from the advertiser's website. Otherwise, an account with just a FAQ section will look too suspicious and gray-hat.
Manage multiple Instagram ads with Facebook Ads Manager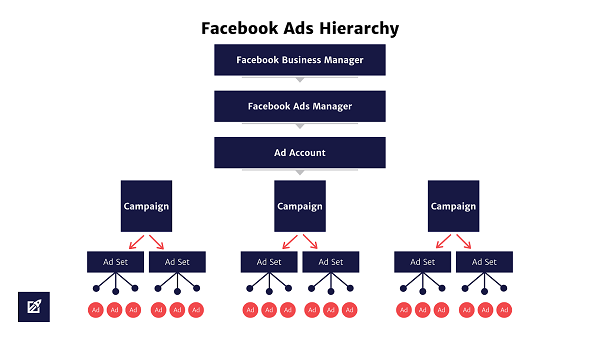 Having an FB business account allows you not only to create advertising campaigns on Instagram, but also to manage several of them at once. Basically, this is its main purpose.
To go to a specific ad in the AC, you just need to open "accounts", select a specific campaign, go to a set of ads and select the one you are looking for on the list. On its page, you will see the entire data flow, efficiency, number of clicks, percentages. There you can also stop displaying it or replace the creative.
In other words, it took us 3 clicks to get from the topmost point of our structure to the smallest creative in the AC. The management is insanely easy. And with such convenient tools at your disposal, simultaneously managing dozens of ad campaigns suddenly becomes a very real possibility.
Tracking in Facebook Ads Manager
The capabilities of the tool are more than comparable to those of specialized programs. And if the tracking tools of ad networks, with rare exceptions, do not provide comprehensive data for analyzing and processing your advertising campaign, then Facebook Ads Manager can genuinely do just that.
On the tool's dashboard, you can find all active and archived ad campaigns. You can modify any of them at any time and re-launch them on Instagram. Sorting is also extensive – by date, price equivalent, efficiency.
Therefore, for analysis, you can select the campaigns with the highest conversion rates and work exclusively through them. Identify the patterns that influenced success and implement them in the next AC.
For each specific ad campaign, you can examine an enormous number of indicators.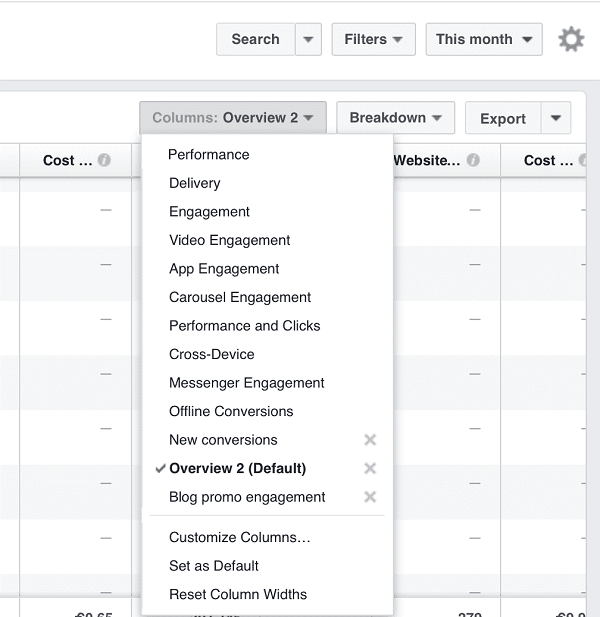 We won't cover each one, otherwise the article will double in size. But let's go over the main ones:
efficiency. Here we check the percentage of impressions for a competitive request, the number of clicks, the level of relevance of the creative to the chosen targeting settings, and other indicators;
the price aspect. How much the whole thing cost, how much a thousand impressions, each click and the approximate price of an already successful lead cost;
percentage of video views. As well as the price level for those who watched 20-100% of the video sequence;
the number of user responses, how much the initiation of each message cost;
differences in the cost of a click from the unique (first) click;
the number of people who saw the creative;
the number of people who are sure to remember the creative.
Thanks to such comprehensive data, it is already possible to get full analytics, to understand the cost of a click, lead, impressions, and how many people have learned about the offer.
You can also get full statistics by region, age group, sex and other settings that influenced efficiency. It is useful to exclude zones or social groups to achieve greater success.
Particularly noteworthy are the detailed statistics, which show what has changed after the campaign was adjusted. How accurately the new settings have reflected, how much the indicators have changed. This is how you can very subtly track the relationship between your actions and the conversion rate.
Video instruction on how to start advertising in Instagram through Facebook Ads Manager
Pros, cons and our assessment of Facebook Ads Manager for Instagram
Traditionally, let's start with positive aspects:
convenient management of multiple advertising campaigns;
unique targeting options;
fine-setting the campaign through goals;
convenient formatting of creatives;
an easy way to scale contact sheets;
extensive tracking;
variable setting of budgets;
a lot of options to form the structure of the AC.
Now the negative aspects:
there are practically no individual features specifically for Instagram;
complex setup even for average-skill level affiliates, it will take a beginner over a day to get the hang of all the features;
few options for the Smart rate setting system. In fact, it cannot be adapted for yourself, only activated;
somewhat vague influence on the specific relevance of some parameters (some goals, categories of interests and the behavioral factor).
As for our assessment, on a ten-point scale, Facebook Ads Manager deserves a solid eight. Difficult, but incredibly precise targeting and relevance customization. Management of all ACs at once, it is easy to transfer successful elements from one AC to another. There are not many ad formats, but each one is quite variable.
The main complaint is that all this functionality remains not fully understood until you have worked with at least a dozen Instagram campaigns. In other aspects Facebook Ads Manager for Instagram is really effective and deserves its popularity.
Expert Tips for Working with Instagram through Facebook Ads Manager
In conclusion, a few practical recommendations from our experts who have worked closely with the tool and the social network:
don't sacrifice trends for uniqueness. If you're trying to design a unique creative that will grab people's attention, don't forget about general stylistic trends on Instagram. If your creative is too different, it won't be received well;
remember that people come on Instagram primarily for fun. This is not LinkedIn, where every second user is waiting for your business proposal. Even special courses, trainings, although in demand, are not too popular. In short, people here want to consume new content and buy something interesting;
focus strictly on mobile traffic. Don't forget that 98% of users access the social network from their smartphone. Forget about promoting offers for desktop traffic;
try to use giveaways and contests. This is a popular theme on the platform. Advertising with such subtext will be able to attract traffic to your account. And from there, redirect it to the offer. Or you can drive it to the pre-landing (which is designed as like a competition) right from the creative;
if possible, try to respond to comments on your account. Instagram users love getting feedback. And communication with users can increase the conversion rate by a noticeable percentage.
That is all you need to know about launching ACs on Instagram using Facebook Ads Manager. Each affiliate learns all other nuances personally, after tests and launching a couple successful campaigns on this social network.