A good source of traffic is the most important element of affiliate marketing. After all, that's where your income comes from, an offer alone won't make you a penny. Moreover, the traffic source you use determines your ROI and whether or not you even manage to cover your expenses.
And it's safe to say that practically every affiliate marketer with at least 6 months of experience in the sector has tried a little traffic source called Facebook. After all, who doesn't know the most powerful traffic channel suitable for almost any need. You know what they say: you can sell both chocolate bars and passenger airliners through Facebook. Here, you can find demand for any sort of product, a virtual Eldorado.
But we know that not everything is as rosy as it seems at first glance. And Facebook is not always the most suitable traffic source, or at least not the only one. The Leadbit team conducted an in-depth study of the most popular and effective alternatives to this social network as platforms to be used to promote offers in the future. And today we decided to share the result of the research with our participants. Check out the best alternatives to Facebook.
How Facebook advertising works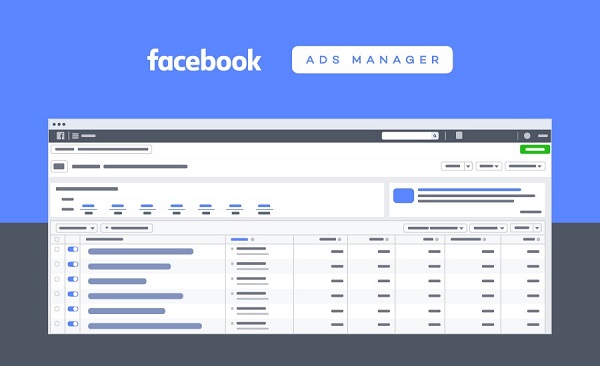 The social media ad market is currently incredibly large. It's worth reaches $8.4 billion, with over 37% of that amount coming directly from Facebook. Moreover, this social network usually "houses" the most active and solvent audience out there. 73% are people aged 18 to 44. But the tastiest layer are men and women aged 25 to 35, they're the group that more than anyone else prefers to make any financial transactions online. And on this social network, this category accounts for almost 30% of users. Now think about this: the total audience of the website is 2.8 billion monthly users. In other words, we have access to 840 million users who just happen to be the most premium and solvent clients on the planet.
Naturally, this is Facebook's main advantage – the fact that there you can find an enormous audience suited to every fancy.  Here you can find a client for any sort of offer, as long as you properly configure the targeting settings.
And now we smoothly transition on over to the second advantage of displaying ads in this social network – the extensive targeting. Yes, socially, it is perhaps the most thorough of all possible options. As for the technical aspect, setup by device, browser, OS – Facebook gets outplayed by top-level ad networks that focus on such features. But when it comes to social targeting, age, interests, hobbies, tastes – good luck trying to compete with Facebook.
And it's no surprise, after all the social network gathers data and generates reports on user behavior itself. This is the website's main function, people here do what they like, chat in groups they enjoy, see ads that are relevant to their interests. Facebook compiles all the feedback and draws up a virtual portrait of each user with their preferences. Plus, don't forget about the ability to simply link your ads to those of your competitor. In other words, your ad is displayed to anyone who made a purchase or just visited your competitor's page. Naturally, in this case, it's best to either "out-design" their creatives or make the client a more lucrative offer. But we're getting too deep into details.
Besides these two aspects (coverage and targeting), Facebook attract affiliates thanks to its amazing analytical options that don't involve 3rd party services. The project itself uses Pixel to provide comprehensive tracking of the entire behavioral factor for both the entire volume of traffic in total and specifically for leads. And both reports will be useful for making edits to the ad campaign.
Why look for alternatives to Facebook ADS?
This is the part where you say "well if everything's so cool, why do I even need any alternatives?" An experienced affiliate marketer already knows the answer to that question. They already got burned by the, let's call them, negative aspects of working with FB. For everyone else though, we'll break down the answer.
Very high competition. As we said, almost every affiliate marketer has worked with FB at one point or another. Can you imagine how many affiliates promote their offers through this platform? And don't forget direct ads from brands, bloggers and small projects promoting themselves on Facebook and other ad formats. And many of them will be your direct competitors. It is almost impossible to find a low-competition sector in FB;
A bunch of restrictions. Everyone's aware of FB's policy. Anything even closely related to a gray-hat area is taboo. At one point the website just banned all dating offers, not bothering to even check whether they're mainstream or adult. You can imagine the situation if "grayer" verticals. So around half (if not more) of all offers are already a no-go. What can you do in this case? Either use cloaking, but that's always a double-edged sword. FB mods have got pretty good at identifying cloakers, and the system's algorithms never stop evolving. Or just abandon gray-hat verticals altogether, which isn't much of a solutio. Especially, if you specialize specifically on them;
The price. Let's not forget that Facebook is one of the most expensive platforms out there. The average cost-per-click here reaches $1.72. But this is taking into account the fact that many affiliates stick to the lowest price in areas where the level of competition isn't as fierce and there's still some room to breathe. But in a vertical like gaming, get ready to get traffic for $5 per click, and not even in a premium, but a rather average zone. Basically, even if you usually work exclusively with TIER 1 traffic and understand that you need to pay good money for a lead, in Facebook, the final cost can surprise you;
No desktop traffic. Or rather, a minimal amount of it. Mobile traffic takes up %98.3. Naturally, for most offers, this is quite pleasing. But some offers (albeit rarely) are tailored specifically for desktop users. And if that's the case, Facebook traffic will be useless. Unless you use it to promote the brand as a whole, to subsequently turn a profit on type in traffic. But that sounds more like a job for the marketing sections of the brands themselves, not for an affiliate marketer.
And putting all your eggs in one basket is not a good idea anyway. Every qualified affiliate marketer, even one that prefers to focus on a specific traffic source, always has multiple alternatives.
The best alternatives to Facebook ADS
Now let's move on to the best alternatives to Facebook, what they are and how exactly they are different from the reigning social network.
Social media
Remember we mentioned that the social media ad market is currently at $8.4 billion. And that Facebook takes up 34% of that market? Then who are the other 66%? Let's take a look.
Instagram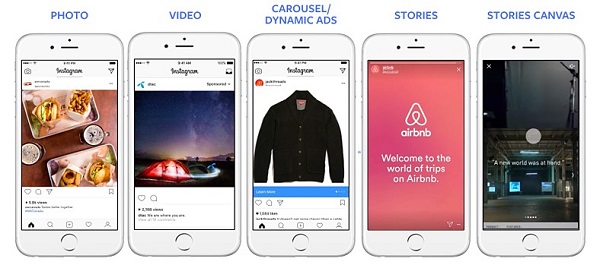 Some affiliates believe that this platform is inseparable from Facebook. And to some extent they are correct. But when we view these 2 websites as ad platforms, there's still plenty of differences to be noticed. For example, an entirely different focus, here, only a particular type of goods and services will perform well. For example, Instagram is often used to promote innovative products and various health and entertainment-related goods. Mobile apps also perform well. The audience of this social network is considerably younger (compared to other entries), which is reflected in its preferences. Meaning that if your offer's TA is aged 22 to 34, this is the prime platform for you.
Especially since Instagram gets insane volumes of traffic – 1 billion monthly users. And what's nice is that there's plenty of ad formats. Text, image-based and audio ads have proven themselves well, with the reigning champion being Stories. They get massive views, and occasionally get better CTRs than other ad formats. There are other advantages and features of affiliate marketing in Instagram, we have already written about them.
Why this is a good alternative to Facebook:
a more affordable price.With an average cost per click of $ 1 vs $ 1.7, the platform ends up being much cheaper. And if we talk about highly competitive areas, then Instagram's average is $3 perclicks, and Facebook's – as much as $5. You turn a nice profit when launching large-scale campaigns;
a young audience. Which is crucial for promoting offers aimed at young people;
interesting ad formats;
TikTok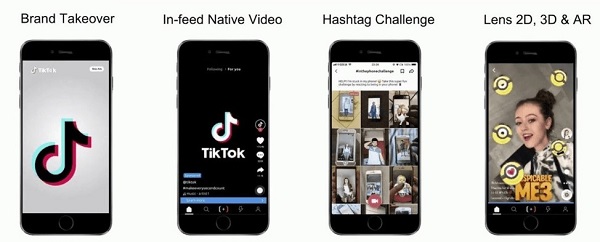 This new platform that emerged in 2019 has already managed to attract an impressive number of regular users. It currently has 800 million users a month, only 200 behind Instagram. But there's still a fly in the ointment – 60% of all users reside in China. And if your offer isn't specifically tailored to the Chinese audience, the volume of traffic you can attract rapidly goes down.
On the other hand, competition for American or European users isn't as stiff here, making the cost-per-click considerably lower than in Facebook. And best of all, unlike Instagram, TikTok users rarely register in both social networks at once.
Take note! Then again, this isn't a good option for micro ACs, since the minimal ad budget you'll need here is  $500, with the daily budget being $50.
Why this is a suitable replacement for affiliate marketing on Facebook:
a completely new platform that your direct competitors may not yet have moved to;
multiple ad types. The main format – news feed ads, has a native element, as well as the first ad format, where the ad is displayed above the regular feed. You also have the option to promote goods via hashtags and use full-fledged brand tools, like filters and stickers, which are freely distributed by users;
a great way to get your offer across to the Chinese audience. And given the unwillingness of Chinese users to "venture outside" their own Internet sector, this is quite the rare opportunity.
Twitter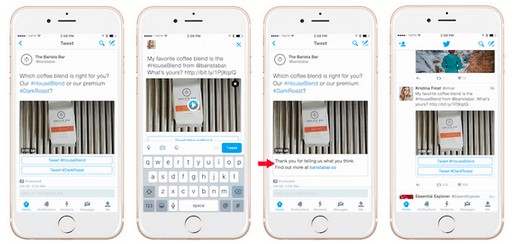 A great alternative for Facebook, allowing you to secure lots of European traffic. Almost 40% of users are from Europe, that's a serious figure. With 430 million total monthly users.
Plus, it's practically the only platform that allows you to efficiently collect traffic using hashtags. After all, on Twitter, hashtags actually work, they aren't just there for show, people actually use them to look for specific information. Which is why promoting your offer through a hashtag or two is a great idea.
Another key feature – extensive targeting. Doesn't quite reach Facebook's level, of course. But more extensive than in any other enty on this list of alternatives.
Why this is a suitable alternative to Facebook:
the average cost-per-click is considerably lower – $0.3 – making it the perfect option for people with modest budgets. Plus the traffic here is of pretty good quality. True, not too many Americans but plenty of Europeans. And that covers both TIER 2 and TIER 1;
the audience is mostly over 27 years old. Again, if your offer is tailored for an older audience. An especially good choice if your TA is aged 40+, you'll get more than enough traffic in that case;
you can build entire campaigns using just hashtags;
there's no minimal budget requirements;
includes the automatic promotion feature for $99 per month. A way to test campaigns or just promote them if you're a beginner.
YouTube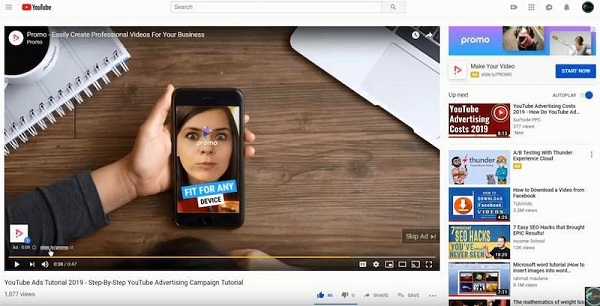 A colossal platform with a billion users per month. And what's amazing – with an insane number of search queries. Second only to Google. YouTube users are incredibly active. They often watch videos each time they visit the site. In other words, there are practically no "empty visits", each visitor consumes a certain amount of ad content. And by the way, there are plenty of ad formats to choose from here, mid-roll, over the video, overlays, and so on.
And coincidentally, video ads in general are the trend in 2021. Over the past couple of years, the number of views has only increased, the website was even forced to lower the video quality to prevent the servers from crashing.
Plus, you can both monetize your content through Youtube's ad system and promote offers of direct influencers. And there's thousands of them for each country, meaning you can pinpoint-target your TA.
Why this is an excellent alternative to Facebook:
an advanced ad format, Facebook has yet to introduce anything similar;
bloggers have their own devoted audience;
you can promote offers through your own channel.
Social resources
Now let's move on to the next category of Facebook alternative services that can complement your ACs or even completely replace FB. These aren't exactly social networks, though they have a lot in common with them. And the best part is that they are also great ways to get traffic. And each of the services we cover below is still doing great in 2021.
Pinterest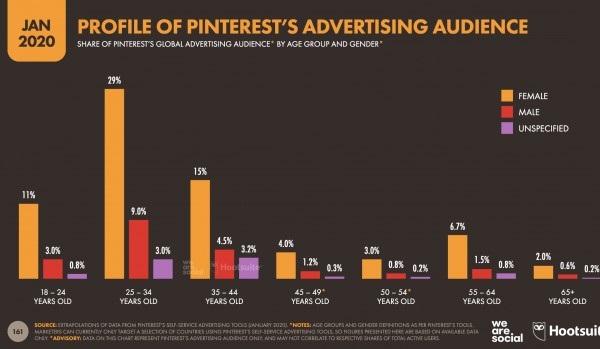 320+ million users per month, the absolute majority of the audience is female, and the key age group is 25-34 years old. Add to this non-typical interests of the TA. Interiors, landscape design, art in all its forms, literature, cinema and music are the frequently discussed topics here. So what do we get? A high-quality platform for a whole range of verticals. Household goods, travel, renovation, sites for watching movies and listening to music. And this is also a great way to promote personal blogs.
Yes, this isn't exactly the prime source for traffic for financial, gambling or adult offers. But there's no better place to promote a handicraft offer or even a furniture store.
True, this is more of an add-on to Facebook, rather than a full-scale alternative. But if you promote offers from the above-mentioned verticals, good luck finding a better platform for them.
Pinterest can become an alternative to Facebook because:
it has effective ad formats. There are icons and video ads as well as a separate lineup of ads for apps;
it is great at promoting goods and e-commerce items;
competition here isn't as stiff, compared to Facebook;
the financial entry threshold for ACs is low. You can start with literally $5. Which is why this resource is often used by beginners without major budgets. By the way, there is a whole article about affiliate marketing without investment on our blog.
Reddit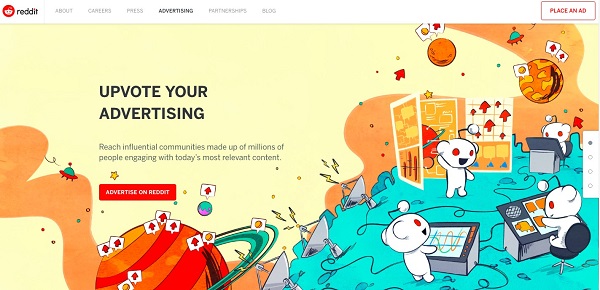 This site, unlike the previous one, is tailored to a male target audience. Sure, women also visit it, but 69% of users are men. Meaning, here you can very productively promote offers that you wouldn't be able to on Pinterest. Remember how we said that gambling and financial offers don't really suit the previous platform? Well here they fit just fine, you can even add dating to the list. Except this website, just like all similar projects, has strict rules regarding adult content.
Basically, Reddit can serve as a complete alternative to Facebook for many verticals. But again, it's main advantage is the low level of competition. With a bid of $4-5, you're guaranteed to "skim the cream" off of the premium layer and GEOs. Whereas on Facebook, even with such a bid, you'll have to  make some serious effort to outdo your competitors.
This is a real alternative to Facebook because:
offers aimed specifically at a male audience perform great here;
overall, setting up targeting for an ad campaign is more simple, so even an average-level affiliate can get the hang of it;
the level of competition is lower;
the TA rarely coincides with that of Facebook.
Quora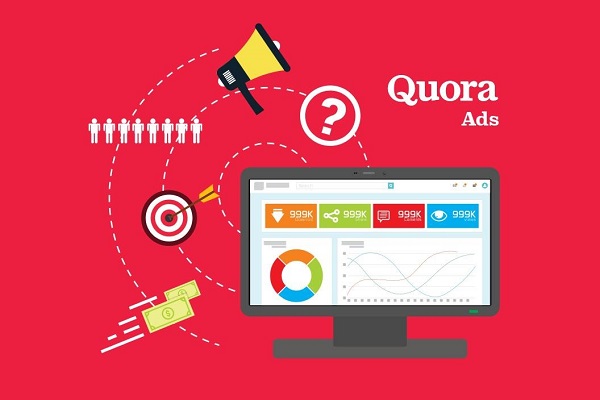 Quora's advantages are out in the open. Like 300 million unique monthly visitors, as well as a completely unique ad format. We aren't talking about the usual image or text ads, which are also present on the website, by the way. We're referring to ads in the form of answers. A) this format inspires trust, has a native element to it. B) it's simply cheaper than other formats. And C) few affiliates use it, meaning the level of competition isn't as fierce.
The only downside is that this technique is primarily intended for brands, even small ones. Meaning, it will be quite a challenge for an affiliate marketer to promote an unpopular offer. But they can also just use regular banner ads.
Quora is a suitable alternative to Facebook because:
the service features a unique ad format;
the audience comes to the resource with a clear goal – to get information, so it is often demanding, warmed up. If your offer is to some extent a direct answer to their question. For example, where to borrow money without interest? Where to meet a girl? How to get rid of excess weight? Plenty of classic offers come to mind;
medium price segment, good for modest budgets.
Snapchat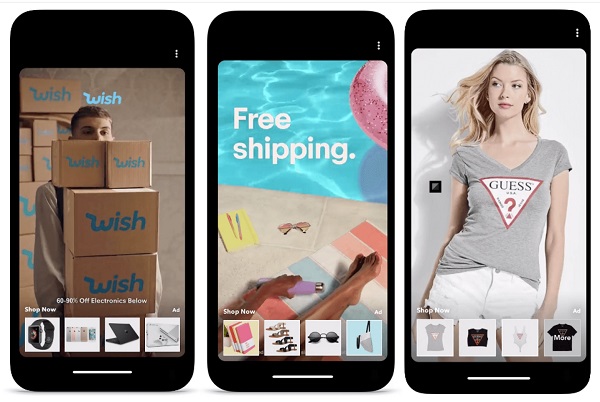 This is one of those resources that is filled with young people. Its main audience is – gen Z. There's also plenty of millennials, but not nearly as many. This site will allow you to fully concentrate on your young target audience. Moreover, all of this traffic is entirely mobile. Even offhand, multiple gaming and app offers come to mind. And just in general – there's an abundance of offers tailored specifically to young people. Although people under 35 are considered to be a less solvent audience. Though they aren't really ones to shy away from spending money on personal entertainment, the way you present your ad is vital.
And that's exactly the part where affiliates run into problems – they fail to understand how the platform works. Which is why they can't organically embed their ad.  Technically, Snapchat isn't a social network, it's a messenger that uses images and videos instead of regular text. And yes, this was the birthplace of Stories.
Why Snapchat is a good alternative to Facebook:
ad campaigns are easy to set up, you won't need that many skills. Despite the unusual approach. Typically, affiliates fail to understand what creatives and ads perform well on the platform, because they don't understand the way it works. But the setup itself is intuitive, just give it a try;
a young TA that responds well to specific offers;
an effective Stories ad format.
LinkedIn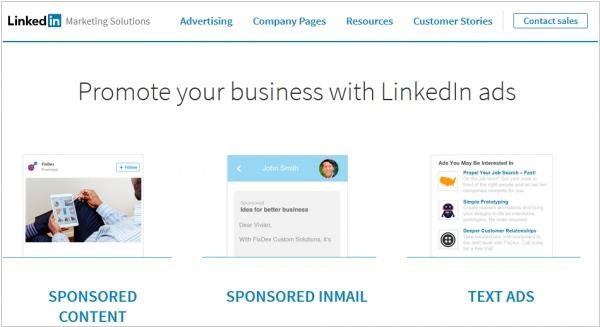 Everyone knows that Facebook allows you to drive traffic to small projects just as well as to promote serious brands. And just in general, it can amplify your brand awareness, get it into the game, so to speak.
At the same time, Facebook works great in the B2B segment. But most of the alternatives we listed above are hardly capable of that. Except maybe Instagram and Twitter.
But LinkedIn is, in principle, one of the best solutions for the B2B segment today. A turnover of $8 billion. An enormous audience of 310+ million active users, each of whom is a specialist with the authority to make decisions. By which we mean they're a potential client of a commercial offer.
The sale of online goods, educational courses, virtual services – these are most in demand on the platform. But there is a drawback and it's a big one – the cost-per-click is appropriate, on average around $5 if the competition isn't as stiff. 3 times higher than on Facebook.
Still, this is a good alternative to Facebook since:
the service is currently trending, people talk about it;
the best way to search for B2B traffic, a lot more efficient than Facebook in this regard;
the service is filled with real professionals that can actually afford your offer. Empty clicks are possible only if the affiliate screws up the targeting settings;
a wide variability of AC settings.
Amazon

This entry doesn't really need a special introduction. Amazon is the world's largest online retailer. And that greatly enhances the effectiveness of its ads. It's simple, when a person visits Amazon, they are 90% planning to buy something. They might not have decided what specific product they need, but they're motivated to purchase something nonetheless. Plus, they're open to suggestions. Something along the lines of "I have money, show me what I can buy with it".
Plus, ads here are placed in a special section next to the product. The algorithm shows the user ads similar to the goods they're looking at. Or it uses the cross-selling technique. In other words, the user is offered to purchase a product (your product) that serves as a direct complement to the one they were looking for. Mouse – mousepad.
Yes, the biggest drawback is that this platform is only for goods and e-commerce products.  But the turnover of these verticals is enormous, which is why they're enough for many affiliates. Plus, don't forget that, unlike Facebook, you can promote your own virtual store here. And that's exactly what many affiliates do. They choose high-quality and stable offers, and then sell those goods under their personal brand as agents. And this brand is not a seller, as such, it's a sign of some critic, who offers customers only tested and high-quality goods. A peculiar strategy, but it requires serious investments, both in terms of finances and time.
Amazon will become your alternative to Facebook because it:
is the best e-commerce website;
has an incredibly wide coverage;
almost all the traffic is paying and warmed-up users. Thanks to this, the CTR can reach impressive levels;
the average cost per click is 5 times lower than on Facebook, around $0,35.
Google Ads as an alternative to Facebook
Now we're getting to a full-fledged alternative to Facebook, because to work with Google you will have to dive deep into the service's features. And the search engine usually can satisfy all you ad campaign-related demands. The most popular formats are search and contextual ads. The first is displayed as an ad above the search results of a specific query. In other words, all you need to do is study a suitable semantic core that correlates with your offer. Launching contextual ads is a bit trickier. Basically, it's getting your ads displayed on Google's partner websites. Ad networks work in a similar manner. You can also launch ACs through Google's services – shopping, maps, Play Market and others.
There's plenty of variability, but setting it up is incredibly complicated. Even Facebook with its deep targeting doesn't have anything on Google ads. Which means that professional testing and analyzing skills are an absolute must here. Without them, you're very unlikely to launch a highly successful ad campaign.
But experienced affiliates often switch from Facebook to Google, because the conditions are similar, while the cost-per-click is often lower. And in terms of audience coverage, the world's most popular search engine is definitely top of the list. Sure, clients are rarely warmed up here. But you can target almost any sort of online user wherever in the world. And if the campaign is pinpointed at a certain group, and the budget isn't too small, you can easily "skim the cream" off of traffic.
After all, Google gets over 4.5 billion hits every day. That figure is nothing short of mind-boggling. But such a large audience implies that you'll need to go the extra mile when setting up targeting. If on Pinterest maybe 10% of users will be suitable for your offer, here – you'll get 0.001% at best. That's why you must aim for pinpoint accuracy, lest you start driving useless traffic that won't get you even a single lead.
Google can serve as a good alternative to Facebook because:
it has the widest audience coverage in the world;
the average cost-per-click is $0.64 – 2.5 lower that Facebook's;
there's a bunch of ad options, if you have a big budget but lack experience – search engine ads, if vice versa – contextual ads. And media ads on Google's services is not a bad choice either;
the search engine is constantly evolving, improving its algorithms. And if you take the time to get to know the system, you will be able to reap the fruit of your labor in the future. Since everyone sooner or later is bound to try Google.
Ad networks
Now let's talk about ad networks that every second affiliate uses. Unlike social media and other social resources – ads are these platforms' raison d'etre. They're made up of platforms that drive traffic and advertisers – affiliate marketers and brands – that buy that traffic. But for what price and how high is the traffic's quality – that's up to the ad network itself.  Some of them are strictly niche-oriented, they focus on getting traffic for a specific vertical, others are more general. And what's nice is that they are often considerably more flexible than Facebook. Meaning you won't need cloaking to promote gray-hat offers, be it adult or gaming content.
Please note! Downright black-hat stuff is still taboo for respectable ad networks, keep that in mind.
PropellerAds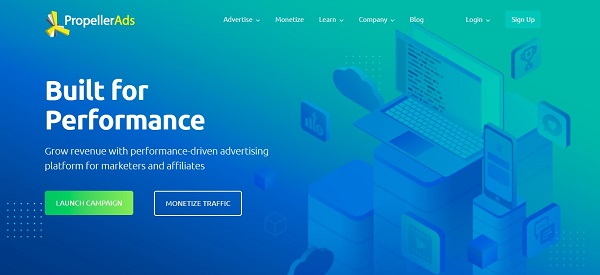 One of the leading networks that works with push notifications, popunders and partly native ads. You yourself can choose the type of ads which to use in your AC. But let us just give you a tip – give push notifications a try. Since statistics show that in this AC, push notifications perform the best. Not in terms of CTR, of course, after all, popunders have almost a 100% CTR. But push notifications convert a lot better because the format isn't as aggressive and irritating, yet the user is guaranteed to see it.
On a separate note, you should ask the AN about its tool. SmartCPA here is perhaps implemented better than in any other network. And you can genuinely trust it, so if you're a newbie, this tool will save you from draining your budget on competitive bids.
Why PropellerAds is a good alternative to Facebook:
easy AC setup;
covers almost all TIER 1 and TIER 2 countries;
a convenient Smart system;
the average rate for the premium segment is lower, but the overall rate is higher.
MGid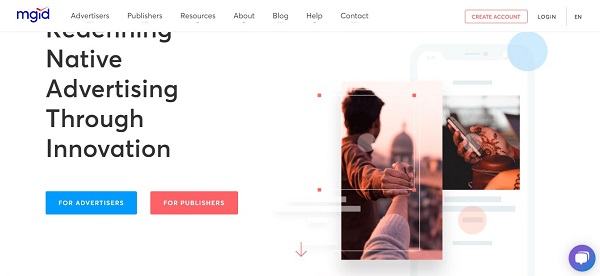 And MGID is one of the leaders in native advertising. Which is exactly what Facebook lacks. After all, native advertising effectively combats the main scourge of all affiliate marketers – banner blindness. Yes, native ads are more expensive than other formats, but the conversion rate you get covers these expenses no problem.
The point is that your ads will be placed on relevant, thematically-appropriate websites, fit organically into the design and look like a direct recommendation from the website itself. Native ads are an especially good choice if they're placed on a micro-influencer's blog. Since their authority among their readers will serve as a guarantee that the latter will follow the affiliate link.
Once again, when it comes to native ads, targeting is key. After all, the transition is guaranteed by the native element itself. But an irrelevant user will simply end up draining your budget and not turning into a lead. make every effort to cut off all irrelevant users. Basically, this is one of the reasons why native advertising is so expensive. After all, when you narrow down the audience, you inadvertently make the competition for whatever "remains" more fierce.
The website can serve as an excellent alternative to Facebook because:
it offers extensive targeting settings;
it operates with multiple ad formats;
drives the highest-quality native traffic.
Clickadu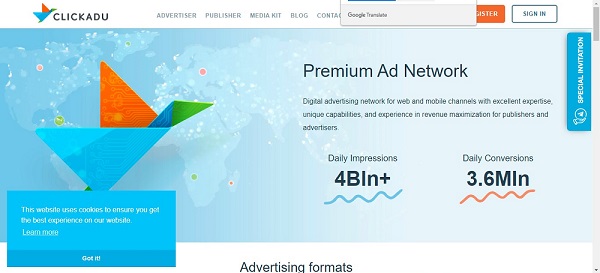 This network proved itself back in 2014. A real old-timer. Moreover, over the years this resource has been constantly evolving, eventually incorporating almost all the most effective advertising formats. At your service are text messages, push notifications, popunders, instant messages, in-pages, video ads and much more. A competent affiliate marketer will be able to design an AC for almost any format here. What's even better, this service supports practically all verticals and has flexible rules.  Meaning that you can use this platform to promote offers that Facebook won't let you to.
Quite a good alternative that can be used for gray-hat offers or just in conjunction with Facebook in order to increase audience coverage.
What makes Clickadu a good choice:
the service's audience is quite large;
the cost in almost every segment is lower than the same one on Facebook;
plenty of ad formats.
Video about why you should find an alternative to Facebook Ads and what services can replace it
Conclusion
As you can see, there are many alternatives for Facebook. You shouldn't limit yourself to a single traffic source, even if you're completely satisfied with it at the moment. The website could very well ban your vertical the next day and you'll be forced to quickly re-orientate yourself to a new sector. Or some new profitable offer just won't get enough leads on Facebook. In which case, a preemptively prepared "Plan B" of alternatives will become your meal ticket, allowing you to avoid stagnation and instead constantly reaching new income heights.
As for Facebook's drawbacks we mentioned at the start – we've found a bunch of sources that are free of them. But they have their own ones. In other words, we aren't urging you to immediately delete your Facebook account and completely switch to these alternatives after finishing this article. The more active sources you master, the better. And only tests and experience will tell, which option is more profitable for you personally.