«Instagram goes to a new level».  Marketing news resources have been full of similar headlines for the past 5 years. And indeed, the social network is constantly breaking records, getting closer to its «older brother». And its just «warming up» now. After all, according to experts, Instagram has not yet reached its peak popularity.
It is simply criminal to ignore this platform now. It shows the highest productivity in almost all areas of marketing. Instagram is a new brand promotion, maintaining the popularity of an existing one, Instagram, buying high-quality traffic – it's also earning money on your own blog – you know where to turn. Almost any business can be scaled with the help of this social network. Earlier we said that Instagram is good for buying traffic, but this is only one side of the coin. In fact, this resource is good in principle for everyone who earns or plans to earn online in any way. It is like an international market, open to beginnings of any level. And in this review we will find out everything you need to start absolutely any advertising campaign on Instagram, no matter what goal you pursue.
Who will benefit from advertising on Instagram
The platform has a billion-dollar audience. Yes, over 1 billion monthly users is the highest indicator. But it is not this factor that brings her to such sought-after positions among marketers around the world. Let's take a look at how this audience is divided.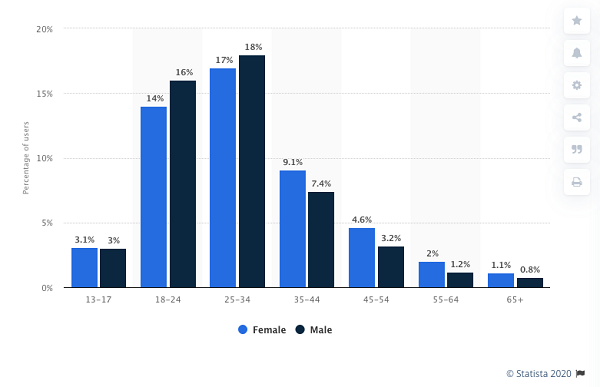 What are we observing? A few important points:
there is almost parity between the male and female audience. And this is very rare. Usually one of the audiences prevails on the resource, so advertising offers aimed at a minority work poorly. Immediately we see universality;
the main percentage of the audience is the age group from 25 to 34 years. That is, those who most often make commercial transactions online. They are not as conservative as the older group, but already have a significant flow of their own financial resources, which they spend online;
a large percentage of the young age group. Which indicates the possibility of promoting any goods and services of the modern sphere. Novelties of the gaming industry, applications, devices, equipment and so on. An audience that is interested in almost everything new;
the minimum percentage of the audience that does not buy. Children, as well as conservatives in old age.
As for the purchasing power itself, we look at another chart.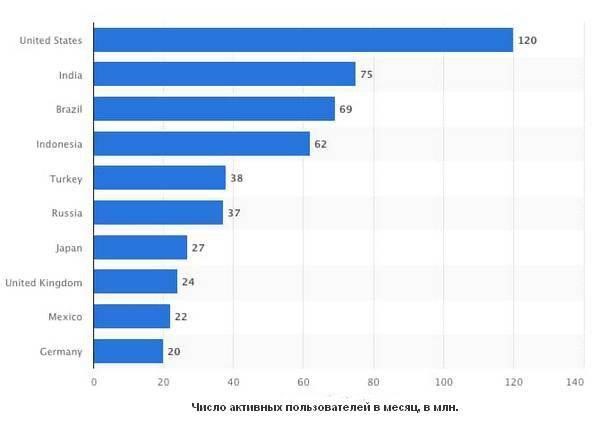 120 million users from the USA. There are 24 million from the UK with a population of 68 million. More than one in three residents of the country. And the situation is similar with all European countries. Yes, the TIER 3 audience also remains significant. But compared to other sites, there is a huge amount of premium traffic. Accordingly, the competition for each click from TIER 1 users is significantly reduced. And as a result, it becomes cheaper. At the same time, if you work exclusively with a TIER 3 audience, you will also easily find your client here.
That's what universality means. An audience for any marketing needs, and with a certain psychological attitude. Users on Instagram are used to making purchases online, the social network itself actively promotes commodity-money relations through its tools or, in principle, on the Internet. Instagram members are used to buying, used to paying. And what is no less important, they are used to seeing advertising, they understand that this is a convenient tool not only for marketers, but also for themselves. There are no intrusive teasers that put pressure on the psyche of pop-ups or popanders. This relaxes, allows users to take an interest in the proposed advertising.
Who will be able to promote their business here? Let's figure it out:
affiliate marketing. No problem, a huge audience, all levels, a benevolent attitude to advertising, what else is needed;
brand. Increase awareness, tell about new products;
micro-brand. An ideal platform to convey the benefits of your brand to a small social group. Instagram makes it easy to avoid competition with major brands by reaching out to its narrow target audience;
the influencer. Both large and micro. All levels. Knowing the basic marketing techniques in Instagram, even a beginner will be able to promote at least up to the starting 10 thousand subscribers;
the businessman. It is very simple to sell your product through Instagram. Accurate targeting, the ability to work with client requests directly. Plus, it is an advertising and news resource and a store in one person. And this truth is relevant, both for large businesses and for the smallest ones. Even if you are engaged in manual modeling of soap seals, you will be able to sell your goods to customers in this social network at a high price. Read about the most profitable niches in Insta here.
Tools for advertising on Instagram
Now the social network provides as many as 3 options for launching advertising campaigns. And offers 3 tools for this. This is the Instagram application itself, which has some capabilities in this regard, the Advertising Center, which appeared quite recently, and the good old FB Ads Manager.
Moreover, in fact, the application and the Advertising Center are just simplified versions of FB Ads Manager. So to speak, variations for beginners. Instagram developers understand that more and more people are using their site as an advertising platform. But not all of them have significant experience in targeting on the Internet and managing their own advertising campaign. Therefore, they try to satisfy all the demand, even for beginners. Well, that's reasonable. But we strongly recommend starting your acquaintance right away with FB Ads Manager. Otherwise, you will not be able to bring the AC to maximum efficiency, because you simply will not have the technical capability to do so. Even if you are just starting to master the field of affiliate marketing and advertising on the web, it is better to start right away with tools with full functionality. Complex settings can be skipped, it's better than not having them at all.
In any case, no matter what method you use, you need to connect a business account. Or link an existing business account in FB with your Instagram profile.
It is noteworthy that in addition to launching the AC directly, the business account will also allow you to track comments under your Instagram posts and even respond to them directly from the FB page. What is the difference between each of the tools, let's figure it out.
Instagram app
With this tool, you can promote a post or story. Just click on «promotion» next to the post, specify your target audience without deep settings and the AC starts. At the same time, you do not have several creatives in the conditions of one campaign, there are no groups of target audiences, each post is its own micro-AC. Convenient and fast, so now more than half of all newcomers who just want to draw attention to their page use this feature. And they lose money. To understand this, just look at the disadvantages of the tool:
there is no possibility to choose the interests of the audience, demographic settings are narrowed;
you can't set up such an audience;
minimized GEO settings;
only storis and graphic ads are used;
reduced tracking capabilities.
What is the result? We simply will not be able to accurately target the right audience, launch various creatives to test their effectiveness and easily move them inside the AC, use 80% of advertising chips, apply a full set of formats.
Instagram Advertising Center
A more functional tool, but again, this is a simplified version of FB Ads Manager. You won't be able to disable placement, but in return you will get a full set of goals. Limited, but it's something. You can work on a set of leads, the promotion of the page as a whole, and not a single publication. There is an option – to promote the AC for messages to the account, transitions to an external resource. Even brand promotion by location (however, within only 80 km ― 49.7 miles).
In the tool, you can already save your audiences that you set up earlier. And also fully create ads with a title, creative, transition option. Not just to promote the post, but to create a full-fledged AC. Even a Pixel is connected if you pour on an external resource.
But again:
narrowed targeting settings;
less goals;
less settings by interests and demographics.
FB Ads Manager on Instagram
A full-fledged version of the ad targeting tool. All functions are fully available, deep targeting by GEO, interests, technical factors of the device, behavior. And also the use of scaling your audience from the contact list or after parsing. In principle, this is one of the most advanced mechanisms to date. Minus one, it's on the surface – high complexity. All the functionality will be useful only to a professional. If you have not worked with Instagram before, and even more so, have not been engaged in ad targeting settings, then a good half of the possibilities will be incomprehensible. But it is better to start learning right away than to simplify the initial stages by fixing mistakes.
Budget and cost of advertising on Instagram
The cost of a click or a thousand impressions per mile on Instagram is quite sparing. On average, it is around $0.5-07. With the provided audience level, as well as relative to the same FB, where you will have to pay as much as $1.4 – the benefit is tangible. Of course, if you target premium traffic, which is more than enough on Instagram, then the click can grow to indecent sizes. But considering the fact that Instagram is considered one of the best sites for the final CTR, expensive clicks pay off on expensive offers or products. Therefore, focus on the right traffic, not on its cost.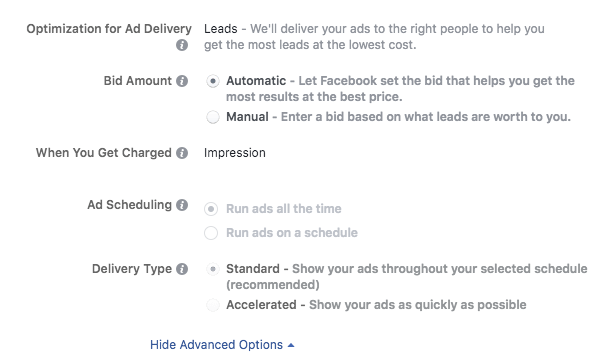 Separately, it is worth analyzing how the actual cost of a click on your creative is formed. There are two factors here.
First – your bet. That is, you adjust its range yourself. And the price competes with the offers of competitors, who gave more – he will show his creativity. If you are not a professional in analyzing the price aspect of a click, you can trust the Smart system, which will independently adjust the bid depending on demand. But this is only at the initial stage. After all, as practice shows, a person always copes with this task better. Another thing is that for this you will have to monitor your advertising campaign constantly. And this is problematic if you have around two dozen AC at the same time.
Second – this is the relevance of the ad. Your CTR, the more often the user clicks, the better. After all, if you tuned in to this audience, and the client was really interested in your ad, that the targeting was correct. And Instagram appreciates this, it wants to show users the ads they are really interested in. Therefore, the quality of creatives and UTP (unique trade offer), the level of elaboration of descriptions and titles, and most importantly, the correctness of targeting allows you to allocate your budget more efficiently. You will simply win a competitive click even at a lower bid if your ad is more relevant.
Types of advertising on Instagram
Now let's go through all the marketing levers in this social network. And there are a lot of them here, and many differ not so much in format as in the message itself. And selecting the right type is a task that requires a thoughtful approach. We will try to explain in general terms for what purposes this or that type is most often used.
Official advertising opportunities
This is a paid advertisement that Instagram itself offers. Legal, well-perceived, moderately effective. And only it is configured directly through the FB Ads Manager. For unofficial types, this tool is not needed.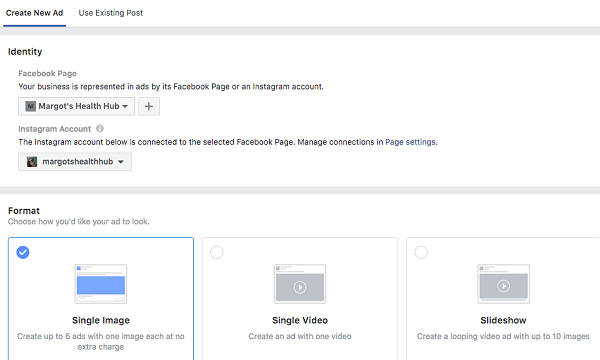 Static images on Instagram
Perhaps the most common option. But it is not a fact that it is the most effective. To some extent, this format is already somewhat boring. However, at the same time it has become so familiar that it is static advertising that users perceive most easily, there is a developed associative series of how to walk through the product shelves on the market.
It is a display of a static image in the user's feed. Usually this is a title, an offer or a description of the product, its visual demonstration or just an accompanying picture. It's simple, but it works fine.
In this way, you can advertise almost anything. From goods and services, to a personal page, seminars, a website, sports events and so on. But this type is best suited for the promotion of goods. And preferably new ones, you won't promote the whole catalog like that, but a unique novelty is easy. News advertising is also going well, for example, promotions, discounts, new offers from the brand, and so on. Although, in principle, the format is one of the most universal. And also simple ones. Therefore, it is recommended to start the test run with static ads.
Stories on Instagram
And this is already the business card of Instagram. Although the authorship belongs to Snapchat, but Instagram uses this format more effectively. The ad is shown in the story feed, and this is a very popular placement. According to statistics, up to 500 million users surf storis daily. Many people visit Instagram solely to scroll through stories, to find out what's new with their favorite influencers. Accordingly, this is an ideal way to demonstrate your news. Yes, "news" is the key word here. Through storis, it is recommended to promote a novelty, and not a regular set of offers. Moreover, their life span is limited. I don't want to create a new creative again, so this is a one-time advertisement, sharpened for a certain period.
Perfect for promoting your page, in principle, this is the main goal. But as a commercial advertisement, and even just getting acquainted with the offer is not the best way. It is more logical to attract attention to the account in this way, and from there direct traffic wherever you want.
Plus, stories provide an excellent springboard for visualizing creativity. A lot of effects and filters will allow your imagination to run wild, stand out in style and taste among competitors.
Carousel/panoramic advertising on Instagram
This is a way to combine a whole series of advertisements into one common array. A series of promotional images or videos that scroll through one after another. The effectiveness of each subsequent one becomes higher if the previous one interested the user. Therefore, it is strictly recommended to use the strongest creatives in the series at the beginning. Otherwise, the next turn will simply not reach.
This format is used in two ways. The first is advertising a series of products at once. It is not the most effective method if you demonstrate non-unique/interesting products or offers. In this way, it is easier to hook a user with a single creative, and then transfer to a catalog on an account or an external site.
The second method is more interesting – the disclosure of one advertising offer in several creatives. It turns out a complete story, some use it even in the form of storytelling. It is suitable for promoting an interesting offer or product that is worth showing from different angles, revealing a lot of its capabilities or applications. For the promotion of an external site, it also looks good, you can tell everything about it at once, because the number of creatives in the series is up to 10.
Video ads on Instagram
The video format is gradually replacing static images. And this trend is visible not only on Instagram, but also on all other sites. The video catches better, but it is more difficult to create it, and the cost of placement is higher. The main rule of use is effective only when there is something to show. If you have a good video sequence, then the method is productive.
At the same time, there is a hard limit on Instagram videos, no more than 60 seconds, but during this time it is quite possible to convey all the main theses. Suitable for brand promotion, product package, applications. A good way to promote new promotions and contests. But to promote personal blogs in video format is not the best idea. And for an ordinary product with a single offer, this is not too logical.
Reels advertising on Instagram
The new placement for advertising is the Reels feed. The method is still experimental, it appeared quite recently. But so far, the conditions are incredibly pleasing. Since fewer users see this ad, because it's not a regular feed, Instagram has established some indulgences. And most importantly – a low cost per click, as well as a very wide coverage in relevance. That is, it is more difficult to get to an audience that will be considered irrelevant for the ad. As a result, the equilibrium CPC is 5-6 times less than in similar advertising formats on Instagram. But due to the experimentation, there are limitations.
the format is only available in some countries;
the list of advertising campaign goals is limited;
not all advertisers have access to the function in principle, the logic of choosing developers remains a secret for now.
Slideshow/Ring gallery on Instagram
Several static images representing a single magazine, slide show. In the format there is a title ad   – cover, as well as 3 tabs inside. The cover is needed to attract attention, the famous A from the AIDA method. Therefore, you need to work out the cover especially carefully, this is a kind of your landing page title.
In principle, the ring gallery looks good for e-commerce. Affiliates in this niche have long chosen this format. It is suitable for serving at once a series of products that are related to each other by common features. Of course, you can also promote one offer using a slide show, but this is not too effective in terms of price/quality, overpay. Therefore, we recommend just a few similar products or offers.
Trading ad on Instagram
In fact, the same static picture, but allowing the lead to go directly to the product. That is, to an external site where the purchase will be completed. It is convenient if the product itself is really in demand, if it manages to sell itself and additional "dancing with a tambourine" is not necessary. Or, in cases where you are targeting your own verified audience, which already knows perfectly well where the trade link will lead them.
In principle, it is obvious that the format is suitable exclusively for direct sales of goods and only them. Even services are better to promote in other ways.
Unofficial advertising opportunities
But Instagram itself does not offer you these types of advertising. You do not pay for them directly to the site itself, but at the same time their effectiveness is often not much and loses to standard ads through FB Ads Manager. However, they are even more demanding of niches, not every one of them will work. Yes, there is practically no fuss with technical targeting settings. But you will have to adjust to your target audience by other means. And they are, to be honest, even more complicated. The analysis will have to be carried out by you personally, and not by FB Ads Manager.
Advertising from Instagram influencers
Ordering native ads from influencers is a great alternative to Instagram's paid features. And at the moment, this choice is becoming more and more popular. However, there are a couple of nuances here. The first is that it is logical to promote either a brand or your own account in this way. For the promotion of ordinary product offers or affiliate offers, the option is not the best.
The second point is pricing. With the increase in the number of followers of the influencer, his prices increase exponentially. Therefore, if your budget is not bottomless, it is better to focus on micro-influencers. The effectiveness of a dozen similar advertising orders is comparable to buying a post from a major influencer. But the cost is much lower. On average, you can afford to buy a post from a blogger with 10-20 thousand subscribers for a price of $50-100. Advertising for a millionaire can cost up to $10 thousand. The difference is obvious. Yes, the coverage of a millionaire at first glance is 100 times greater than that of a micro-influencer. But the loyalty of the audience of small bloggers is an order of magnitude higher than that of millionaire accounts. Therefore, the efficiency is approximately similar.
As for targeting, before ordering advertising from an influencer on Instagram, it is important to study his audience very carefully. After all, these are all the targeting settings that you have. Therefore, read the posts from the account, look at the comments, study the followers, try to draw up a portrait of a potential blogger's target audience based on these data.
Mailing to direct
This is already an illegal method of promotion. Instagram bans for this, as well as for cheating subscribers, likes. Moreover, the ban will not be shadow, but quite real, the account will simply be blocked. If you are going to promote an offer through automated mailing to yandex.direct, remember that the account itself will live a week at best. Therefore, prepare spare parts.
Gifs and mutual promotion on Instagram
An effective method, but it works exclusively for account promotion. Giveaways allow you to organize general sweepstakes between subscribers of several influencers. In fact, the traffic database is exchanged, all followers of one account subscribe to all the others participating in the giveaway. The price issue is the cost of the prize itself in the drawing, which is purchased in a fold.
Mutual promotion is the exchange of advertising posts in favor of each other between several accounts. The same advertising, only not for money, but on the principle of barter.
Setting up an advertising campaign in Instagram
We have already familiarized ourselves with the possibilities of Instagram, we are moving on to practice. Let's go through all the stages of creating our first (or next) advertising campaign.
Choosing goals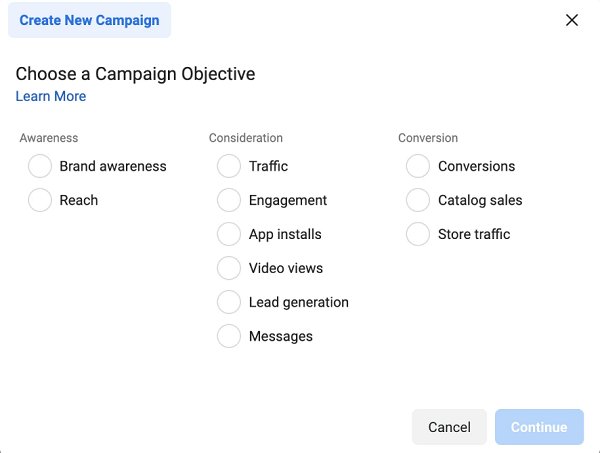 This parameter affects how Instagram will select targeted traffic for your ads. It also correlates with the calculation of the relevance of your advertisement to the selected audience. The specific algorithm of influence is not disclosed, but tests show that it is better to determine the goal accurately. Otherwise, the AC does not demonstrate the expected effectiveness.
brand awareness – is an option for promoting a new brand that has not previously appeared on the market;
reach – for this purpose, your creatives will show the maximum number of users, even if the ad is not quite relevant;
traffic – to drain traffic to an external resource. If you work in traffic arbitration or are engaged in agency sales;
engagement – and here, unlike "coverage", your ad will be shown only to the most relevant audience. Accordingly, the total number of impressions will be less, and the bid itself will be higher;
installing applications and watching videos – explanations are unnecessary. Choose if you are promoting an app or video. Not an offer through video advertising, but the video itself;
leads – when the ultimate goal is to get a contact. Often to form a hot base for subsequent work with it;
conversions are a good option for offers, search for traffic that is likely to perform the action chosen by the advertiser. Registration, purchase, account replenishment and so on. But the system works very crookedly, and the rate increases catastrophically;
messages – search for traffic that will ask a question in direct.
Targeting methods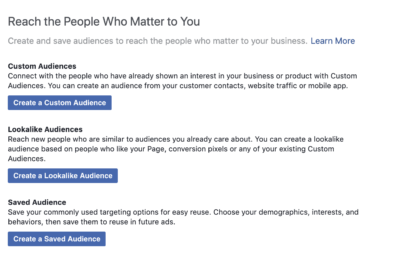 Instagram, or rather FB Ads Manager, offers a huge selection of targeting options. First of all, it is worth paying attention to the general settings. There are a lot of parameters offered here:
extensive GEO up to the locality, exclusion of problem areas, selection of locations by zip code, and so on;
all the main technical parameters of device targeting;
demographic settings, age, gender;
the choice of categories of interests, and up to the narrowest. Conditionally, you can set up the promotion of RPG-fantasy games for people who have been assigned the tag of interest "RPG + fantasy". You don't even need to invent anything;
behavioral factor. Those who are fond of work, football fans, music lovers and so on. With the help of a mix of interests and behavioral factors, you will be able to accurately target a narrow social group.
The second way is your own audience. You can upload your parsing list or contact list, pump out the audience from your site and target the AC exclusively for it. Thinking in this case becomes rare. After all, you know exactly the prepared list of the audience. And with the help of the third function – a similar audience, you just scale your list. Instagram itself determines the key nuances that unite all the people from the list, and looks for exactly the same.
We define our target audience
We talk a lot about how to target your target audience. But a beginner will ask the correct question – and how to find her, this very target audience? That's right, we're getting ahead of ourselves a bit. Before we start targeting, we need to identify the portrait of our client. This is a set of traits and characteristics of a person that make him more interested in our offer.
To identify your target audience, there are two well-known methods. The first is personalization. Identification of the main signs of a social, demographic and geographical nature. Where the potential client lives, what gender he is, how old he should be, what salary he has, so that he can afford the goods, and so on. Methodical work, but very accurate.
The second method is considered less accurate, but sometimes it turns out to be even more effective. This is an analysis of the client's portrait from the point of view of solving his problem. Sounds like Jobs To Be Done. A striking example is the delivery of healthy-food to the offices of middle managers over 30 years old. They want to eat healthy food, but they don't have time to cook it. Here is the problem, and here is the solution.
Creating the selling basis of our AC
Targeting on Instagram is an important part. But even if we tune in to our target audience very precisely, our offer still needs to be sold. The user will not buy it, simply because he saw it (except in cases of 100% falling into need). We need to prepare a selling base. And it is built from several components:
This is a unique trade offer. An idea that distinguishes our offer from all others on the market. Something unique. At least a trifle, but such as no one else can offer. Faster, cheaper, with additional service, with a personal analysis of each request and consultation, and even with a colored smiley as a gift;
appeals are headlines. The main part of the ads that attract attention. Unlike visual information in a creative, text information is usually divided into two parts. Title and text. And if the elaboration of the text is less important, then the title itself should cling. Just beware of clicking. Its effectiveness has long been in great doubt;
lands and prelands. The main selling text that should convince the client of the profitability of your offer. It requires a deep study of all the points. After all, land is a whole chain of triggers, each of which leads to the next. A ribbon of arguments that only work together. You get tired at work – you sit in an uncomfortable position for 8 hours at the computer – there is simply no time for the gym – it's expensive to hire a masseur – our massager will help – it works better than others, because (argument) – and it's also cheaper – and by the way YouTube star Logan Paul says this about him (quote) – when ordering within an hour you will get a discount. The general meaning, I think, is clear.
Remember that if you are targeting several types of target audience, prescribed in the settings in the conditions of one AC, then each group needs its own set of selling tools.
Creatives for Instagram Ads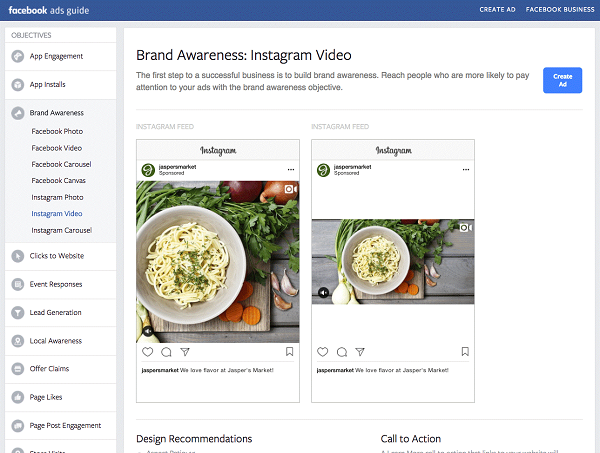 It cannot be said that Instagram is a platform with the most severe moderation. But she still closely monitors the copyrights for photos and videos. After all, the platform itself is built on photos, so creatives will also need unique content. No, when using images with an open license, there will be no sanctions. Even a shadow ban will not follow. It's just that the choice in this case is usually very limited.
You can use the services of free refinement to unicalization or simply order content from artists and photographers. In extreme cases, photo stocks are also suitable. All this is allowed. But just taking creatives from the network is not the best idea.
Remember also that there is a certain photo style in Instagram. Before proceeding to the creation of a creative, view at least a hundred similar advertisements. Pay attention to minimalism (along with brightness, such an oxymoron), the absence of semitones, certain photo angles. Try to copy trends, here you don't need to surprise with uniqueness. The images are standard, the text is non-standard. This is the main key to success on Instagram.
Parsing of Instagram audiences
Now let's focus on this point. Parsing is the collection and analysis of a larger amount of data in automatic mode. In relation to Instagram, it is a way of forming a list of users who fit the specified criteria. The information that is openly posted on the user's profile or posts is used. This is a fundamental point, parsers do not hack accounts, do not get access to classified information.
But how is parsing better than Instagram's own targeting function in the end? Honestly, absolutely nothing. Moreover, even the most powerful parsers lose to FB Ads Manager. What are they needed for? It's simple, by deepening targeting with FB Ads Manager settings, you increase competition and bid. And targeting the right audience becomes simply more expensive. With the help of a parser, you can download a list of users who fit the portrait of a potential target audience for free or relatively cheap. All that remains is to upload the list to the Instagram service in order to optimize the AC for an "individual audience". If desired, it can also be scaled using a "similar audience". Yes, we sacrifice targeting accuracy, but we gain a lot in the budget for the Republic of Kazakhstan, because the rate as a result seriously decreases in value.
Analysis and optimization of the AC in Instagram
So we have identified the target audience, finished targeting, created creatives and landing pages, created an account – it remains only to launch the AC and wait for dividends. So? Not really, after the launch comes a period of analysis and optimization. With the help of competent monitoring, we will be able to understand the vulnerable points of our AC in a timely manner. Maybe certain GEO convert traffic poorly, or some categories of users are not interested in our ads, there are some creatives that work worse than others.
Having noticed these vulnerabilities, we optimize our AC. We remove problem areas, social groups, creatives. We bring new ones in their place, see how they behave. And so on until all the settings show their productivity in practice.
This period takes the nth amount of time, depending on the quality of the initial settings, potential coverage, duration of the AC, lead limits (if any), budget and a host of other factors. But often it turns out to work out the basic optimization in a couple of weeks. This period is enough to evaluate the effectiveness of all tools.
Instagram provides us with extensive analysis methods right through the FB Ads Manager. You can analyze:
coverage;
relevance;
price;
frequency of impressions.

Applied tips for working with advertising on Instagram
And now a few practical recommendations.
Animate and decorate. This is Instagram, they don't like boring creatives here. Make them more vivid, challenging, but without slipping into vulgarity. Use animation elements, add various effects and filters. Be careful with the amount, but at the same time a completely empty creative without visual decorations will not catch users on Instagram;
use any options of questionnaires and contests. Instagram users love interactive;
don't forget about hashtags. Each of your ads, each post should be provided with appropriate thematic hashtags. But without fanaticism. 4-5, more than enough;
try different advertising formats. If you are not satisfied with the results of the AC, maybe it's not the settings, and not the platform itself. Try to test other formats, maybe you just initially chose the wrong option;
engage all available tools (both built-in and third-party) to create creatives, analytics, ad placement – we wrote about them in the review;
feel free to collect and use reviews from satisfied customers. Publish them, keep reports for clients. Of course, in order to publish, you must first obtain permission for this.
Case, hand made of silver
And now one interesting case that demonstrates the advertising capabilities of Instagram. And in this case, the case is of a purely standard format. Resale of goods for a more relevant target audience in large volumes. But the result is interesting.
The idea was to resell silver (partially, plus low-grade metal) handmade products to a large market. An affiliate, a member of our service (we will not specify a specific name), living in Sri Lanka, got the goods from a local hawker, who sold them for $15 apiece. Of course, the popularity of silver products in the local market is low, sales were only at the expense of rare tourists. This is the reason for the price, which barely covered the cost of the product.
The purchased array is 400 units. The planned implementation cost is $35. The main focus is on the European client, who most appreciates handmade jewelry. Of course, among the many TIER 1 alternatives, there are enough customers who are ready to purchase a hand-made at such a price. But still there are fewer of them. Therefore, it is not a fact that such a wide GEO targeting will eventually pay off, plus, the relevance of ads will inevitably fall. And this is an additional burden for the budget.
The promotion was carried out through the AC, optimized for the main European TIER 1 countries. The clientele is men/women from 25 to 40 years old. Advertising format – static product ads, storis with demonstration of products on models.
Expenses:
photographer – $150;
models – $200;
ads on Instagram – $2250;
purchase of goods – $6000;
general – $8600.
All products were sold within 63 days.
Result:
expense – $8600;
income – $14000;
margin – $5400;
ROI – 62%.
As you can see, even on such a simple business, you can significantly pay off using Instagram. After all, it will allow you to find a target client all over the world. And any local business can be taken to a new level.

Video on how to use advertising in Instagram
Conclusion
Today Instagram is an opportunity to earn, scale profits, find new customers or get a stream of excellent traffic. It all depends on how you will use it. It is worth introducing a new saying. «If your client exists in principle, then you will find his Instagram».