The TikTok social network is receiving more and more attention from marketers around the world. Rapid development, evolutionary leaps every season, and the constant new features addition (sometimes even unique) compel you to use TikTok as an advertising platform. So you better start mastering the platform now until the market and competitors force you to.
In this review, I decided to dig into the most interesting component  — TikTok ad formats. After all, though it is a single structure, it is made up of many components. Not just a single-use set of formats, but entirely distinct types and placements, as well as requirements for advertisers. That is, specific TikTok ad formats are limited to particular placements and accounts. And figuring out all of these complexities isn't always easy for a beginner. This guide will set the record straight and show you all you need to know.
About the TikTok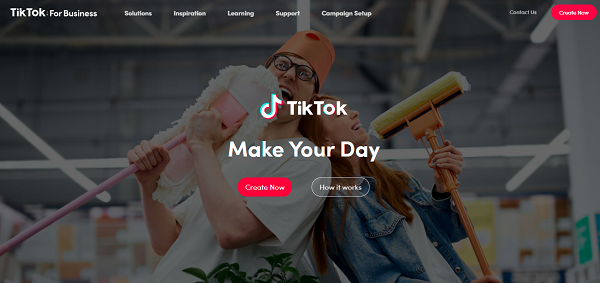 Let's briefly go through the merits and achievements of the social network. We will decide whether you need to promote your brand, product, service, or offer there. What made TikTok stand out against the background of modern analogs?
In fact, TikTok has two main advantages. The first is the rapid development speed, and the second is the constant updating of technical capabilities. This is one of the most modern social networks, so to speak.
Let's now go through some achievements:
TikTok has 1 billion monthly active users;
According to The Verge study, teens spend 80 minutes per day on TikTok, and adults spend around 52 minutes;
According to The Verge study, teens spend 80 minutes per day on TikTok, and adults spend around 52 minutes;
Generation Z accounts for 60% of TikTok users in the US. What does this mean? Prospects! Think about it: this generation is not only creating trends and dictating marketing policy to the whole world, but it will also become the most numerous in the USA in a year;
It is almost impossible to compete with TikTok in its field. Lasso, a Meta Platforms app that was practically a clone of TikTok, shut down, unable to withstand the pressure. And now the Instagram Reels feed has taken over the rivalry, although according to reports, TikTok still wins;
TikTok provides access to 154 countries worldwide, but has a limited list of locations for each specific account;
TikTok can even give credit for an advertising campaign (up to $300).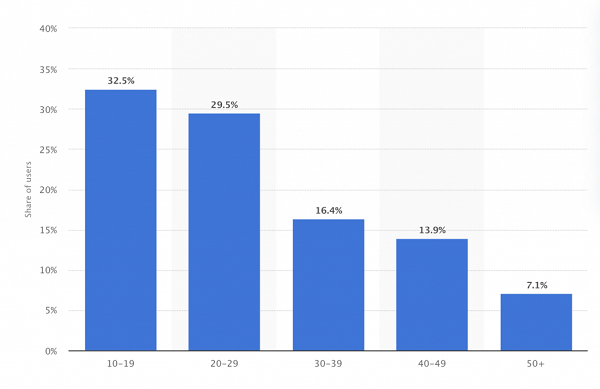 And now, let's take a look at the main age groups of US users. As we can see, there is enough of a teenage and an adult audience. The first is exceptionally good for narrow verticals like gaming, and the second is pretty solvent. But the older generation, on the other hand, is in short supply. So don't try to sell rocking chairs through TikTok.
Advertising tools in TikTok
To create an ad campaign, you need a business account, as well as a TikTok Ads Manager. And now, it's TikTok's turn to copy Meta's developments. After all, the tool tries to adopt all the basic practices of Facebook Ads Manager.
But let's be fair, the tool does not yet reach the functionality of its progenitor. Although, its functions are expanding day by day and sooner or later it may well become a worthy alternative to Facebook Ads. GEOtargeting has recently acquired a DMA, the categories of interests have almost doubled.
The tool does not have a separate tracker, the main tracking functions are built into the AdsManager. And it's worth noting, they are also quite detailed.
In addition, TikTok has gathered a huge information base in its business assistant. There you will find both full-fledged guides, and just an explanation of difficult moments, as well as key rules for using the platform (and there are enough of them).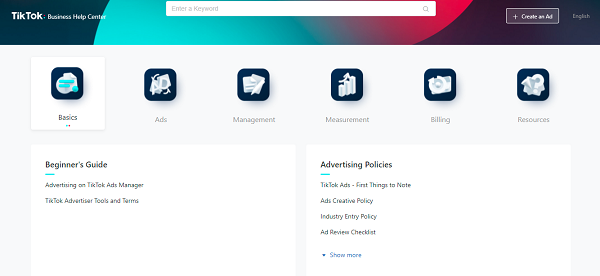 Ad placements in TikTok
Not all newcomers know that TikTok's advertising opportunities are not limited only to this social network. In principle, a business account on the platform allows you to send your ad to many entirely different sites. So, TikTok is really a whole network, which connects many applications at once. However, a significant part of them is aimed solely at Asian audiences. And it is impossible to advertise in it through an account from the US, for example.
However, if you really need to reach an invalid country through TikTok, you can always purchase the appropriate account on this social network. You will find a separate review on this topic in our blog.
So conditionally the entire placement in TikTok can be divided into three large groups. TikTok itself, its news feed, placement when opening the app, and so on (we will analyze this further), feeds in third-party partner apps, as well as Pangle. Let's start with the last one.
Pangle is a huge network that unites more than 100 thousand apps worldwide, but mainly from the Asian region. The service allows you to automatically select a suitable site according to the specified targeting parameters, and then independently places your ad. The principle, however, is not new.
Not everyone knows that if you do not choose a strict placement option in the settings of an ad campaign in TikTok, then your creative can be sent to Pangle automatically. Moreover, the video won't go into the feeds of other partner apps if you don't mark this previously. And yes, Pangle accepts only creatives in the video format.
But partner apps work quite well with static images. There are many of them, but only two can be called key ones. First is Buzzvideos, which is a video file storage and streaming service.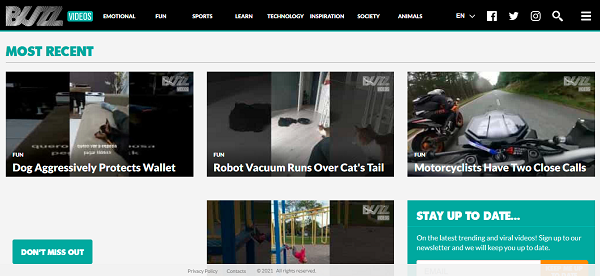 The second service is Topbuzz, which is the same as the first. But, if the first is prevalent both in the Asian region and beyond, Topbuzz is solely for Asians.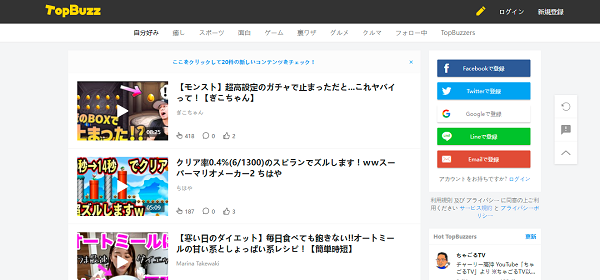 Further, analyzing advertising formats in TikTok, we will also consider the possible placement for each of them.
Advertising formats in TikTok
Let's proceed in order. Moreover, in this review, I decided not to exclude formats that you can use via TikTok AdsManager, but can't place in TikTok itself. They still remain part of the ad capabilities of the tool, so we will take them into account.
Ads in the form of a static image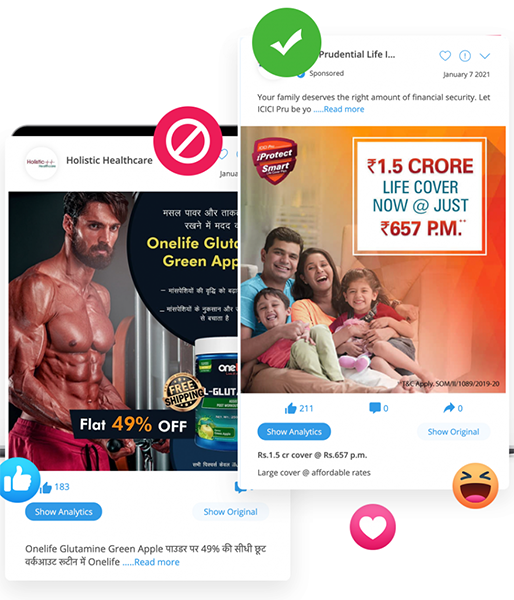 Static images are not used for advertisements directly in TikTok. Yes, you can create an analog in the social network feed by placing an image with some animated effects instead of a video, but this is an entirely different format. However, the advertiser can publish standard banners through TikTok in partner apps.
The developers recommend using up to 100 characters for content on the banner and up to 40 characters for the brand or app's name (or logo). Moreover, t is not advised to take up the central part of the ad. From a marketing standpoint, this is illogical, and it degrades the user experience.
placements. You can use ads in the form of static images in the TopBuzz, BuzzVideo, and Babe feeds;
what businesses it is suitable for. Basically, there are no restrictions. But considering the fact that such banners now have a low response and mainly work in TIER 3, the method is ineffective for large brands. For small apps or marketing affiliates, the choice is not bad, but I would recommend directing the budget in a different direction;
tips for use. Try to shorten the text, otherwise, it may not be displayed correctly on different devices, there is even a note about it in the TikTok knowledge base. And also keep in mind that you will have to work mainly with the Asian region.
Video ads in TikTok
This is a whole group of different formats. And they are already used both in TikTok and in other placements. In particular, in the TopBuzz and Babe feed, and in BuzzVideos they can get to the feed and stories.
In principle, such ads can now be called universal. They are suitable for most tasks and are used by both large brands and small entrepreneurs. But it's worth specifying that you need to determine the placement in advance. If you want to promote your offer via TikTok, you will need a certain style and mood for your ads. Even without taking into account specific targeting settings, you need to adjust the video to the existing format, which is relevant in the social network. But for the rest of the placements, such advertising may be inappropriate. Therefore, promoting one creative for all apps at the same time is illogical and inefficient. If you really want to reach a larger volume of traffic,  customize your creatives for each individual platform.
And, don't forget,  TikTok's main partner apps are relevant exclusively for the Asian region. And this is a rather closed society, which is reluctant to switch to offers on the external, let's say, Internet.
Advertising in feed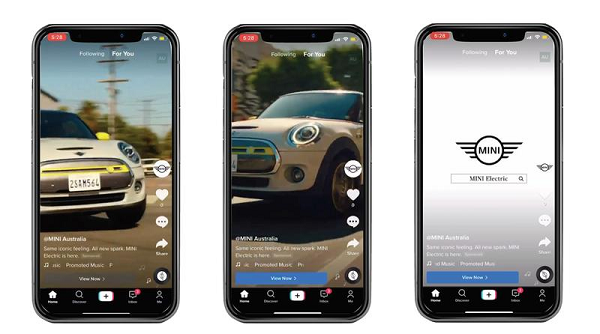 It is the simplest type of TikTok video ad. And at the same time, it's the most common, and perhaps the most productive. This format is picked in 80% of the time. It is a full-fledged video that pops up as an ad insert when the user scrolls the feed. What is noteworthy is that visually distinguishing ad content is often problematic. Yes, there is still a note at the bottom of the page. But, because it's small and sometimes mistaken with hashtags, it is difficult to spot it right away. Thus, if you have a good creative, the user will not even notice they is watching an ad for the first few seconds. And many do not understand this until the end of the video. As a result, you have at least 5 seconds to catch the user's attention, and in most cases even more – up to 10-15 seconds.
That's why this is the recommended video size, cause TikTok itself allows you to load ads for up to 60 seconds. But if you didn't get a lead in the first 15 seconds, you won't get it anymore. Always remember about the correct positioning of ad labels,  as the client interface overlay can simply cover them.
placements. Partner apps and TikTok feed;
what businesses it is suitable for. For almost everyone. In fact, this is probably the only format that lets you advertise anything: either Nutra offers or the sale of passenger airliners. So, everything depends on competent targeting;
 tips for use. Remember that TikTok is a creative platform. And developers try to remind all advertisers about this. As a result, advertising on the social network is as similar as possible to the content itself. Follow the trends, be creative, but do not leave the Overton window, in order not to leave the general style in pursuit of uniqueness.
TopView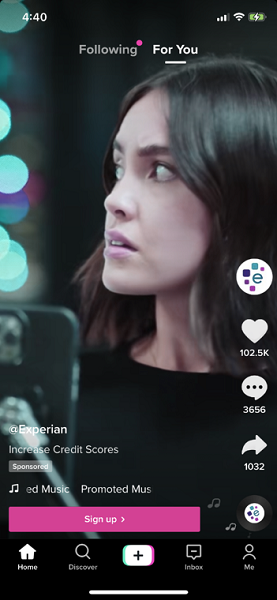 An interesting development from TikTok. In fact, it is the same ad in video format, but only it pops up when the user opens the app. Its main difference is that the delivery to the user is 100%. What's more, this ad is difficult to scroll. Indeed, scrolling through the ads in the feed, it's enough to swipe it up to move on to other videos. And in the case of this ad format, a swipe will take you to the advertising website. Yes, there is an ad skip icon in the top right corner, but it is small and inconspicuous.
It is worth saying that the overall effectiveness of this type of advertising is higher than standard ads. But users can see it each time they open the app. Therefore, competition increases dramatically, indicating the high cost.
placement. Exclusively TikTok and only when opening the app;
what businesses it is suitable for. Mainly for large companies that want to familiarize the audience with their product. And this audience has already repeatedly encountered the brand's products. The option is unsuitable for affiliate marketers, webmasters, or anybody looking to monetize an account.
tips for use. For this type of ad, there are strict niches that are better to adhere to. These are movies and music, gaming, financial services, events. In other verticals, video ads like this may not repay the expenses spent on it.
Brand Takeover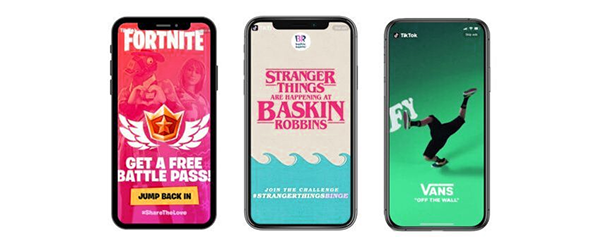 A similar version to the previous ad, but there are some differences. This ad is shown to the user when they opens the app and only once a day. Accordingly, if your bet wins a certain user, you will have no competition in this format for that person on that day.
Such video ads in TikTok are much shorter, only 3-5 seconds. And again, only large and famous brands can strike home. After all, it is enough for them to add their logo, and the user already understands what it is about. Then they say or write a few words to position the product, and that's it: users already know everything. After all, they've dealt with the company previously and know how to get to the main site and make an order for a product or service.
placement. Only TikTok, and only once a day. In its own way, this is the most elite placement option available;
what businesses it is suitable for. For news-related advertising. If the user is not familiar with the brand, the ad will be skipped. Therefore, only for hot traffic, news, new products, new series, compositions, services, promotions, discounts, events, and so on;
tips for use. Narrowing the targeting for such ads is suicide. Given one impression per day for the user and with narrowed targeting, the bid has to be redeemed for hundreds of dollars, and even then, the overall traffic volume raises concerns. Therefore, the widest possible targeting settings are used.
Hashtag challenge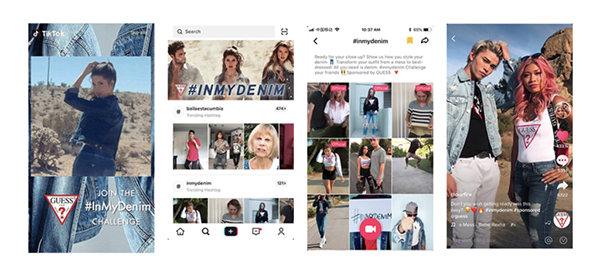 It's a unique type of advertisement that attracts users to promote challenges based on some idea or concept. It has a time frame of 3-6 days, as well as the specified compliance requirements. But, the result is definitely worth the effort. Word of mouth is handy in this situation since many engaged users attract the attention of new ones. And the more people take part in the challenge, the more traffic is drawn unwittingly to the advertiser's source.
With an average conversion rate of 8.5%, this is one of the most effective forms. And no other type of social media advertisements, including those that aren't quite legal, like Instagram giveaways, has ever produced such figures. But the high cost of this ad type makes you think twice about it.
placement. Standard TikTok feed;
what businesses it is suitable for. Brands, not necessarily big ones, can benefit from this format.  However, such ads are not only pricey for affiliate marketing, but they also fail to deliver the expected performance results. It's just not that type of concept;
tips for use.  To create a hashtag challenge, you need to monitor the latest trends very carefully and form a successful and unique idea and one that is relevant to the common spirit.
Spark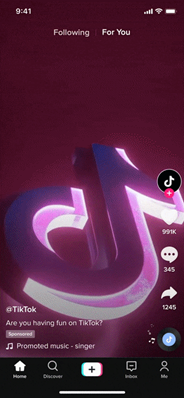 Spark is a new TikTok ad format that allows you to combine the efforts of advertisers and content creators. The concept is that popular content creators with millions of followers often take part in ad campaigns. Spark allows you to promote both the advertiser and creator's videos.  Of course, all the traffic is directed to the advertiser. Moreover, the account owner can record duets with an ad video, which is also beneficial.  It is not directly monetized, but many brand customers can notice an interesting content creator and become their new followers. It turns out to be a fascinating symbiosis. The advertiser receives traffic at a relatively low cost, while the account owner gains new followers.
placement. TikTok feed only;
what businesses it is suitable for. Finally, we have an ad format that affiliate marketers, webmasters, and small business owners can use. After all, it is not necessary to focus on popular TikTokers with millions of followers for interaction. In theory, the system works with absolutely any account.
tips for use. While the feature is being tested, you should try to get the most out of it. After all, the format's cost is still relatively low, and it is apparent that once all format aspects are known, the price will rise. Therefore, at the moment, it is a low-cost option to increase traffic.
Carousel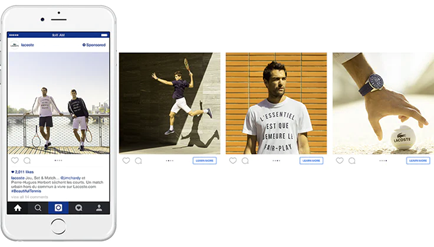 The carousel ad has proven itself for a long time. Its popularity peaked on Instagram, and it was there that the carousel found its use for Nutra and eCommerce advertisements. Yes, you can use this ad type for other needs, like news publications, promotions, and ad services. But, the format is best suited for Nutra and eCommerce ads.
It's a sequence of pictures, the number of which is regulated by the system's rules, that are revealed one after the other. And they are usually used like this: the first pic presents the offer itself, a hook, and a catchy slogan, and the rest, except for the last one, contain product cards. And on the last slide, there is a kind of USP. Of course, this is not the only correct way to use it, but one of the most widely used. By the way, the TikTok carousel can hold up to ten slides.
placement. Only in the TikTok partner apps feed. There is no suitable feed in TikTok;
what businesses it is suitable for. All businesses can take advantage of the carousel. It's also frequently used for affiliate marketing,  specifically, eCommerce. So, in terms of one offer, an affiliate can show several products at once, hooking a user with at least one of them.
tips for use. Always try to include either the main idea or the best-selling product or service in the first pic. The quality of the first slide determines 80% of all creatives' success. Therefore, pay attention to it.
Collection Ads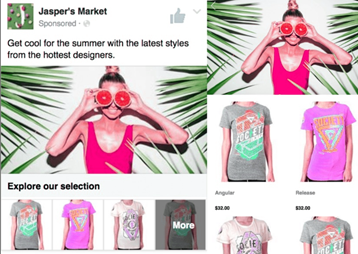 This format is designed to maximize the positive user experience. Collection ads are posts that contain one main video or image above a number of smaller images. Also, this format is characterized by an fast shift to full-screen mode without leaving the app. It allows engaging users with immersive online shopping experiences, which makes it easier for people to find and look through products and services.
It's quite a well-known format that first gained popularity on Facebook and later on Instagram. In TikTok, it appears as an in-feed video ad that leads customers to an Instant Gallery Page, where an advertiser can place product cards, offer details, some nuances and explanations, and so on.
However, you should be aware that it is currently  an experimental format for TikTok, so it is available to a narrow group of advertisers.
placement. So far, only TikTok is planned;
what businesses it is suitable for. As in other social networks, it is mainly used for product offers. There are almost no restrictions on the level. It's a good placement for both large brands and small projects, as well as affiliate marketers;
tips for use. I'd recommend you to actively test it as soon as the format fully appears in TikTok. After all, it shows good results in other networks. So prepare a general product concept and a set of creatives for the gallery in advance.
Branded effects in TikTok advertising
This is not an ad format in the full sense, but rather an additional tool. The ability to create your own unique filters and animated effects. TikTok is a creative platform for creative people, so advertising is appropriate here. Thanks to its own effects, the advertiser can create a style that users will actively adopt. After all, every time people use advertiser's effects, they  will see the link to the owner every time. And the style itself can be made quite recognizable. It is not uncommon for branded effects to become more popular than the brand that released them.
Obviously, that this tool won't be able to generate traffic. The effects still need to be spread via your ad campaign, which will employ the ad formats from the list above. The combination of a hashtag challenge with branded effects looks especially good.
TikTok influencers advertising
It's not exactly an ad format, but it's a full-fledged way to get traffic. Moreover, influencer advertising can become an analogue of official ad formats, fully satisfying the advertiser's marketing needs. But it is still recommended to combine the methods.
The distinctive features of ordering advertising from influencers are as follows:
High level of engagement. Often, users trust their idols much more than faceless ads in the feed. Therefore, users ready to listen to their opinions. And if they consider some offer worthy, then users believe it;
Quick return. You get the primary traffic flow almost immediately after getting the ad integration.  You won't have to wait days to warm up, the ad campaign doesn't last for several weeks/months. In a couple of days, you get all the possible traffic volume, but at the same time, integration usually does not bring new customers beyond this period;
Native effect. With a good quality of ad integration, the user can't always understand whether it's a paid advertising or is it really just a friendly recommendation;
Vague pricing. Yes, there usually are some pricing frameworks for influencer advertising. The number of followers determines the overall market price. But some of the influencers spin a priceout out of thin air.  And it's possible that one influencer with million followers can ask $200 for advertising, while the other asks for $2,000.
When we compare the cost of influencer advertising on Instagram to those on TikTok, the difference is clear. TikTok integration is typically two or three times less expensive. And if we compare it with YouTube, the difference will be 5-6 times with the same number of subscribers.
However, we must admit that, because of the unique style of content submission, TikTok's integration efficacy sometimes falls short of that of other sites.
Professional tips for TikTok ad type selection
A few tips from  our project's participants:
if you are just testing the platform, choose the usual video ads in the feed for this. This is the most popular format, which clearly demonstrates all the platform's nuances;
in 90% of cases, video ads in the feed will be the best solution for small projects and affiliate marketers;
GEOtargeting in TikTok has restrictions on the countries that an advertiser can target from a certain country. This also applies to placements, so not every account can benefit from promotion through partner apps;
whatever format you use, remember that brightness, creativity and  attraction of first 3-5 seconds are important rules for everyone.
Conclusion
It is unfair that with such a variety of formats, almost every ad campaign in TikTok uses only ordinary video ads in the feed. But, on the other hand, this may be your advantage. If you start using Spark or collection ads now (as soon as you have access), you can seriously save money due to low competition.