I've just decided to test adult offers in Leadbit.com. The personal manager has told me the most profitable GEOs for enlargement products and I've chosen extremely popular Maxisize which has been in the TOP of offers for several months. Then the manager showed me the best link for this offer:
Landing page http://de.themaxisize.com + http://blogoplus.com/ms/de/maximus
But I've tested the other pre-landing pages too, which I've chosen building on my experience.
Choice of source
Among the sources which are good at successful working with adult traffic, Traffic Stars is one of the leaders: one of the biggest RTB platform which works with difficult offers well and gives enough amount of traffic. Traffic Stars lets work with different ad formats and types of campaigns. I have no doubts that this traffic source is the best idea in that case.
The biggest trouble was making the black list. The model was quite easy and familiar – wait for 150-200 clicks, if there is no conversion, we turn it off. In general, the permanent monitoring of the sites (it's better in the morning and in the evening) is the real key to success in working with ad networks.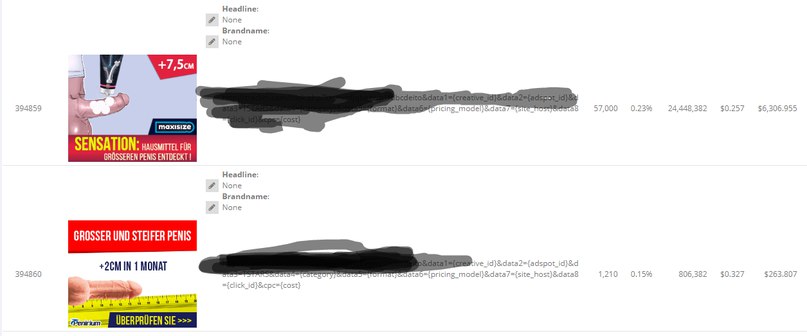 Ad campaign settings
In the beginning of work, I made about 7 campaigns, every campaign has about 2-4 teasers. I have the campaigns as for desktop, as for mobile traffic. I used different approaches but one of the campaigns was more successful first. I turned off all the disadvantageous campaigns and started working precisely with the only one campaign.
The teasers with average CTR had better conversions (0,15 – 0, 20). The campaign for mobiles became more convertible that's why I started to work with it.
Below you'll find some Leadbit statistics to see some important details:

The most attentive of you can notice the difference in the number of clicks between the statistics of ad network and affiliate network:
58 210 clicks via Traffic Stars
9 657 clicks via Leadbit
Everything is quite easy: to facilitate the process of working with statistics and monitoring it via tracking system, I've moved pre-landing to my hosting service. That's why in the Leadbit statistics you'll see the clicks of users who follow the landing page after pre-landing.
The conclusion – you may spend several days or even months, choosing offer and traffic sources before starting to work. But at the same moment other guys will work and earn first millions.
I didn't think a lot, I took the decisions fast using the campaigns which were better in the beginning. I didn't spend a lot of money or time and finally had a nice income.
Make only profitable and successful campaigns!