How to choose the source of traffic if your focus is native ad? How to start working with advertising networks beneficially?
Today we are glad to inform you that the greatest advertising network MGID has some opportunities for beneficial work and enjoyable bonuses for Leadbit's partners.
So first, let us tell you some words about advertising network MGID and why it is the most trusted one.
MGID is a world-renowned advertising network, specializing in native advertising with headquarters in Los Angeles and Kiev, Ukraine. It is rightfully referred to as the global pioneer in native advertising. MGID developed its own technology in 2004 and was fully equipped and providing amazing service by 2008.
MGID's adaptive advertising unit the Native Recommendations Widget garners high levels of engagement. This powerful promotion engine works in conjunction with an intelligent forecasting system that generates recommendations in a fraction of a second. It takes into account the website, user and advertiser's data gathered from advanced formulas and algorithms. These 'data sets' include geography, device, behavior, theme, and much more.
The intuitive MGID dashboard interface offers sophisticated, flexible targeting and tracking settings. This dashboard provides informative tips for each option to ensure success, plus each client can reach an account manager 24/7 in multiple languages.
MGID is the official partner with Voluum, an indispensable tracker service for affiliates and a recognized industry leader. MGID is fully integrated with Voluum DSP.
MGID's latest innovation includes the launch of its video advertising Native Video Recommendation. The beta version of this service is now available and an MGID account manager will be happy to get you set up.
There is no doubts, that MGID is a leading and the most reliable advertising network in the whole world.
Leadbit and MGID prepared some really cool bonuses to set up your first ad campaigns and start working without any problems:
Top up your account $500 and get extra $100. It will let you test more and understand what is really relevant to the audience. Later you can scale up your ads more targeted.
If you have already worked with MGID and now planning to extend your personal geography and use new GEOs with low competitiveness – we are ready to make you happy! Create the flows on Leadbit's offers for GEO: India, Philippines, Thailand, Malaysia, Indonesia trough MGID and get 13% bonus credit by purchasing traffic from these GEOs.
The icing on the cake is the vacation to the Maldives! You have a great chance to bring in the New Year in the Maldives with your family or friends!
All advertisers with $10 000 spending in MGID and 2500 leads approved by Leadbit automatically entered in the draw to win a trip to the Maldives
To top up Mgid from Leadbit account you have to:
Be connected to our Mgid Agency Account. To do this you have to register using this link.
Add your Mgid account to your billing information
Order a top up using our Financial page.
ATTENTION!!! You can only connet to our Agency Account if you registering a new account. If you have an old Mgid account you can't connect it to our agency one. But why not just create new account ? We often do all kinds of promo with Mgid, so it'll be very profitable thing to do.
The period is limited – hurry up!
Let's wrap the things up.
The bonuses, keeping balance and unforgettable trip to the Maldives!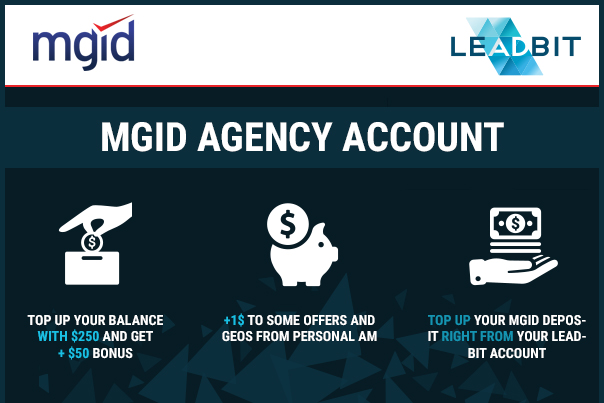 Greatest cooperation of two worldwide known brands Leadbit & MGID.
Take all the benefits of both!