Bulgaria – the state in the Eastern part of the Balkan Peninsula at the Black Sea shore. The national economy is stable, there is some growth of foreign investment threatens lately, profitable industries are expanding – there are no doubts that Bulgarians are solvent. The country is in the list of TOP-20 countries with available Internet – "a gold mine" without competitiveness.
We prepared the detailed review of the target audience and some statistics just to get to the interests of the Bulgarians, to know more about CPA- specificities of this region.
Let's go!
General facts
7 mil – population;
4 mil – Internet users;
3,5 mil – mobile Internet users.
In spite of the small population, the Internet is the integral part of daily life of the Bulgarians, as in the rest of the world.
Everyday patterns of active users in Bulgaria
Social networks – 57%
Search engines – 54%
Mail services – 50%
Music websites – 30%
Sites with some information about goods – 27%
38% of users watch online videos every day.
There is one more local service – vbox7.com for video, besides YouTube. vbox7.com – is a part of the media-holding Nova TV and is as popular as YouTube in Bulgaria. You'll have an opportunity to put an ad on vbox7.com, you can set it up on adwise.bg. Making video-reviews with subtitles is better for CTR but vbox7.com have the right to adopt them.
CPA is becoming more developed in Bulgaria and has leading positions in the Internet advertising but basic sources of traffic are the same.
Here is the list of common CPA-sources:
Contextual ad;
Banners;
Ads in social networks;
Video-content.
Demographic settings
The number of men and women in the Bulgarian Internet is almost the same. Talk about the age, young people in the age 15-34 are more active in web. But more important for CPA 35+ age bracket doesn't give in the youth in mobility. You can set up your ad campaign over this age without any doubts.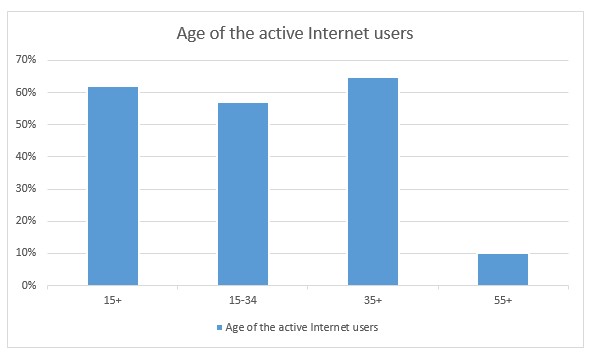 The middle-aged men and women are very precise. They want to know what result and for what price they'll get at the end. Focus on the expected outcome in your promo-materials, phrases like «аз загубих 10 килограма само за един месец!» will have a success. Try to show the price in the teasers, but remember that some networks don't let it.
Devices
The statistics with gadgets is obvious. Mobile Internet is on the TOP in Bulgaria, as everywhere. But TV can compete with mobiles.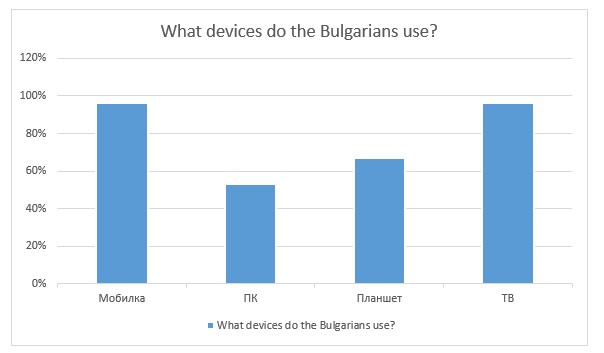 Today people purchase things via mobile more often by 23% than via PC. Don't miss the chance to make a profit!
What do users of the mobile Internet do every day?
81% use social networks;
51% use messengers;
47% shop online;
38% watch videos.
You can test different verticals and try 1-click subscriptions in Bulgaria. This direction is quite effective in Bulgaria.
There are a lot of tools which you can use to affect the audience in Bulgaria. We found some popular Internet-resources to understand its interests:
Online-shopping:
Popular e-mail service – abv.bg. But international services are on top too. Making landings remember that there is no copyrighted content in Bulgaria, most of the articles are just translated in Bulgarian. You won't have any problems with the content, find top-offer, find its profitable pre-land on the other GEO, translate into in Bulgarian and make your ad campaign work without any extra efforts.
Social networks
The leader – Facebook, as usual. 3,4 m of users (almost 98% of all Internet-users) have accounts on FB. This network is more popular among 30-years-old people, but man and women use it equally often.
The second popular social network is Instagram. Women aged 18-35 are active, you may promote health and beauty offers there.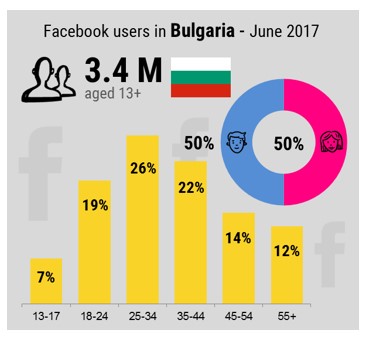 The 5th position of the TOP-industries on Facebook is alcohol, and it's a prove of some problems with it in Bulgaria. Alcohol is available, a range is wide, prices are low. That's why none of the Bulgarians give up the bottle of beer or wine. Alcoholism is more developed in Bulgaria than in other European countries. Problems with virility as a result.
Use it in your touching landings with stories about Eder who had got his wife back and started bright sexual life 😉
And we already have some TOP-offers for this:
It's quite controversial but men in Bulgaria check their appearance, they do sport – jogging, volleyball, and bodybuilding are more popular. And it's almost impossible for them to resist the teasers like 'the real man must be strong" and our TOP-offer RevoMuscle BG – a muscle-building supplement.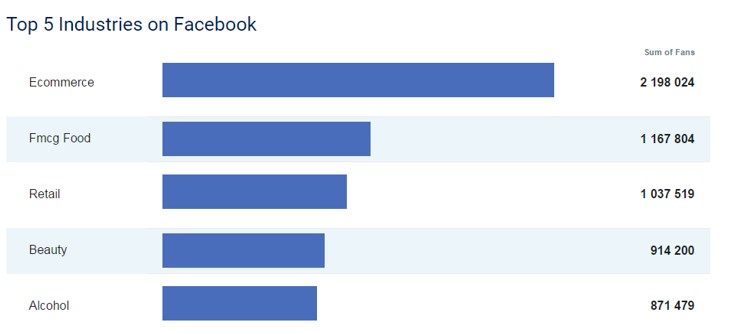 Women in Bulgaria seek to be perfect everywhere, even on the beach, but plastic surgery isn't welcome there, that's why women of different ages try to use all the possible options to keep them young and beautiful.
Our offers are the best for it:
By the way Bulgarian women have healthy hair in youth, it's strange but there are a lot of balding women 35+ in the streets. We bet creatives like "шикозна коса за лев, избирам Hair Megaspray" will be extremely popular :D.
Other social networks aren't so popular as Facebook, they share 2% of users between each other:
YouTube;
Pinterest;
Twitter;
Tumblr.
There are a lot of unfinished offers in Bulgaria. If you want to get enormous profit the first – take TOP-offers from other GEOs, start to control traffic and get the money!
To sum up
Bulgaria is warm and cost-conscious country. The audience is open-minded and an ad is cheap. The profit hunters, welcome! You need some ingenuity and leads are in your pocket!
Profitable conditions from us – qualitative traffic from you!
In pursuit of the Bulgarian leads!
Waiting for you on the finish line 😉