When working with traffic, it is very important to use various automation tools. With their help, you can more competently plan your advertising campaigns.
Many affiliate marketers spend a lot of money on advertising that doesn't give the expected result. This problem is especially relevant for those working with large volumes of traffic from different sources, a lot of ads and different targeting settings.
It is imperative to conduct deep analytics to reduce advertising costs and improve ad performance. This can be done using trackers. In this article, you will learn what affiliate marketing trackers are, how they empower webmasters and which trackers are the most popular.
What's a tracker?
A tracker is a web service or software that allows you to monitor and analyze traffic in detail. It's a powerful tool for assessing various traffic parameters, user actions, and advertising campaign settings.
What is it used for?
The main functions of such software are collecting statistics and working with links. They make it possible to:
track many traffic parameters (GEO, IP addresses, browsers, device types, etc.);
collect statistics and generate visual reports;
manage domains and landing pages;
bypass the moderation of various advertising platforms.
It can be redirected automatically under certain conditions or manually in a couple of clicks without having to change the link itself.
Types of trackers
All trackers can be divided into two types: cloud and server (self-hosted) products. Each of them has its own advantages and disadvantages, so you need to choose based on the specific tasks at hand and your working conditions.
A server tracker is installed on the client's server.Therefore, it will take some skill to install and configure it correctly. Its advantage is that the volume of traffic is not limited, as is the case with cloud tariffs. All you need to do is purchase a license. Among other advantages are quick loading and storage of all data on the server.
The disadvantage is that you need to install a separate server to work in different regions, otherwise it will affect the download speed. And this implies additional costs.
It is easier to work with cloud trackers, since you do not need to deal with servers maintenance and configuration matters. Moreover, they are not tied to a specific region. Therefore, when changing GEO, all you need to do is create a new ad campaign and drive traffic to a new location. The disadvantage of this option is the presence of tariffs that imply certain restrictions. Therefore, when working with a large volume of traffic, it will be more profitable to use your own servers.
Benefits of working with trackers
Using a tracker allows an affiliate marketer to get lots of useful info about their ad campaigns, including statistics about clicks and conversions, all on a single screen. This allows you to identify the most successful creatives, see which sites are unprofitable, filter out bots and other unwanted traffic.
Trackers provide tools for A/B testing and allow you to analyze how effective certain links are. For example, you can see the conversion for the same offer from different affiliate networks.
The advantage of such services is that all the necessary data are collected in one place. You can view statistics in easy-to-understand reports, without having to alternate between tabs to constantly check different data. You can see the expenses and income for individual advertising campaigns or offers.
Another significant advantage is the ability to hide information about the source of the link from the affiliate network. This is especially relevant for those affiliates who do not want to expose their working bundles.
Trackers allow you to get the maximum profit from your traffic by optimizing its redirection. You can separate traffic by operating system, GEO, language, and other parameters. All this reduces costs and increases the effectiveness of campaigns.
Read more about trackers in our article "Trackers for affiliate marketing – overview, features, how to use".
TOP 30+ trackers for 2021
There are a large number of traffic tracking and distribution services on the market. Below is a description of the best trackers that have won the trust of many affiliate marketers. You can check all their features, characteristics, and the cost of use.
Free
It is more advisable for beginners to at first use free trackers. Unlike trial versions, they are not limited in time of use. So you don't have to switch to a different trial version every 14 days. Below is a list of the most popular free solutions.
Peerclick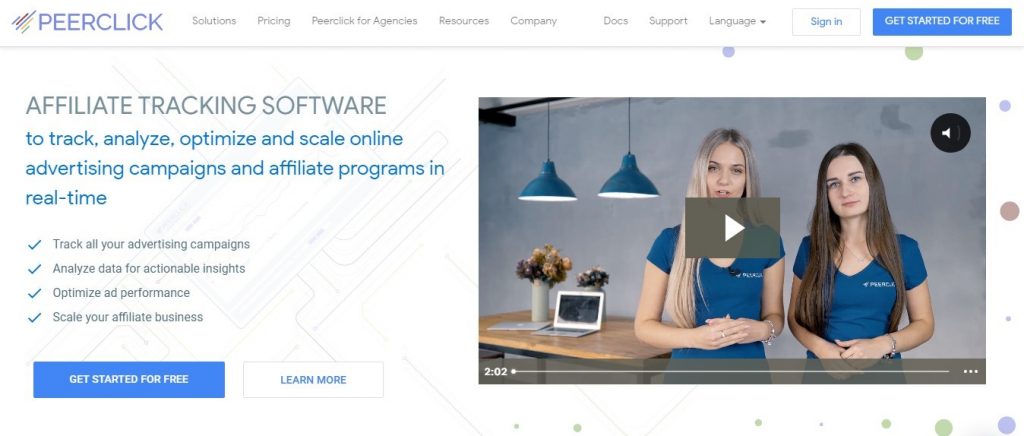 A cloud-based tool for tracking, analyzing and optimizing ad campaigns. It allows you to deeply analyze traffic data and has a wide range of functions that will be useful to every affiliate marketer.
A distinctive feature of Peerclick is the ability to work with very large volumes at high speed. The service allows you to create your own partner networks.
Key features:
protection from bots;
Intelligent DNS Routing technology, which allows you to choose the best route for the traffic;
billions of clicks are processed in a few seconds;
API support;
a quick tech support service;
support for different currencies.
Cost: the free plan includes up to 100 thousand events per month. Paid plans will cost $70-455.
Bemob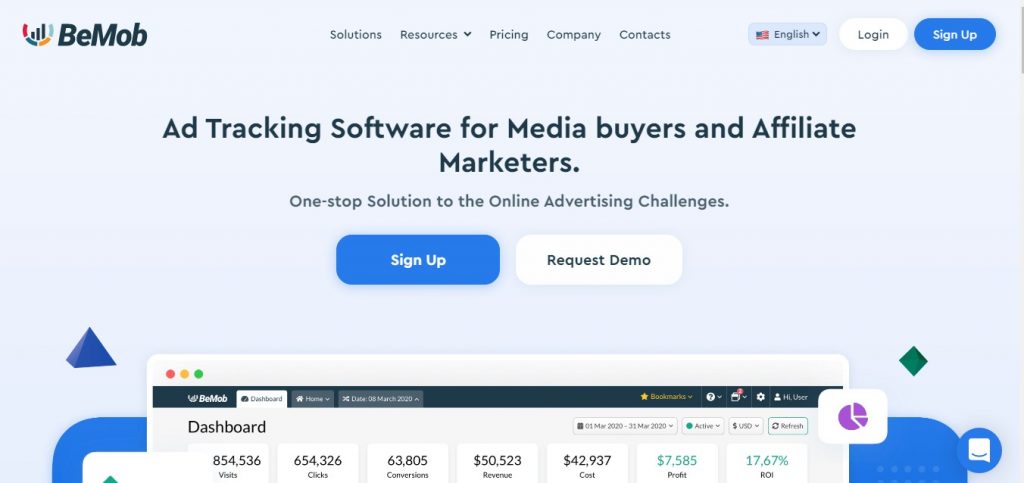 Bemob is a reliable cloud tracker that allows you to work with high traffic volumes without data loss. It has all the standard features and a responsive support team.
Main features:
very fast redirects thanks to powerful Amazon servers;
detailed reports based on different groups of parameters;
the Drill-down tool allows you to get detailed information on the selected indicators;
flexible targeting settings. You can distribute traffic according to more than 30 different parameters;
you can work with Google AdWords and Facebook without using redirect links;
domains receive free SSL certificates.
Cost: three paid plans from $49 to $499. There is a free plan with no time limits, which is suitable for those who work with a small traffic volume.
CPVLab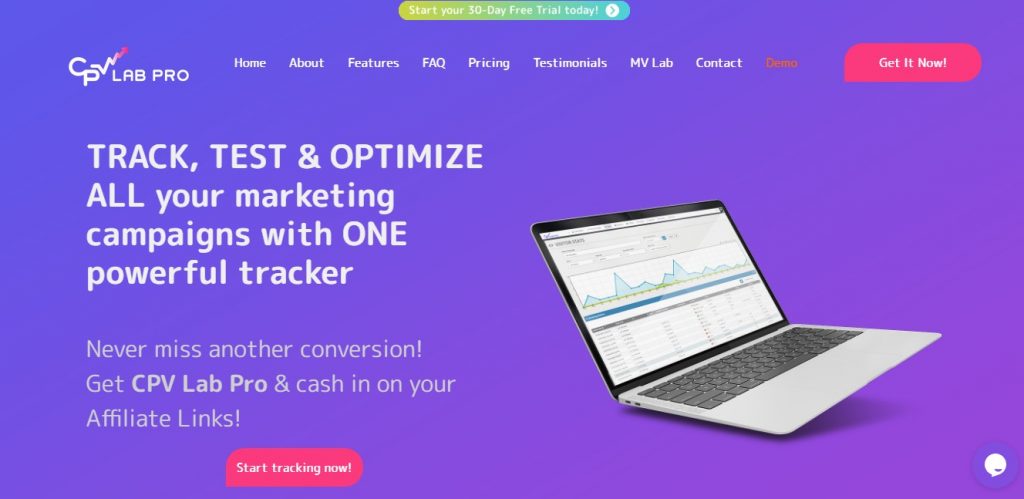 A server program called CPVLab Starter is a free version of the paid tracker CPVLAb Pro. With its help, you can work with traffic unlimitedly using 2 types of advertising campaigns: with a direct link to a landing page and with a follow-up mailing. The paid version supports 6 types of campaigns.
Service capabilities:
supports over 50 ad networks;
you can analyze traffic by more than 20 criteria;
up to 10 simultaneous reports;
antibot filter
LP Pixel function that allows you to work without redirection.
Cost: free. You can also try CPVLab Pro features for free with the 30 day free trial version. Paid plan prices: $ 49-75 per month.
ClickerVolt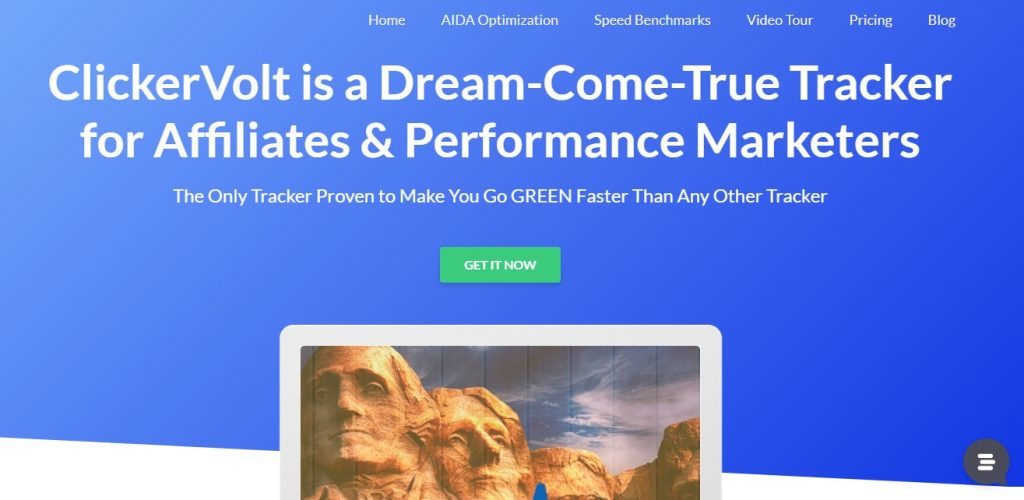 ClickerVolt is a server-type tracker, which is a plugin for CMS WordPress. So, it is quite easy to install it on your hosting.
The difference between this service and its competitors is the use of the AIDA formula. It analyzes the heatmap for clicks and the time visitors spend on pages. These components of the algorithm allow you to calculate the level of interest of users in the offered goods or services.
Cost: free. There are also paid plans that provide technical support and access to other extensions. You can pay for one year of use ($95) or purchase a lifetime license ($289).
Kintura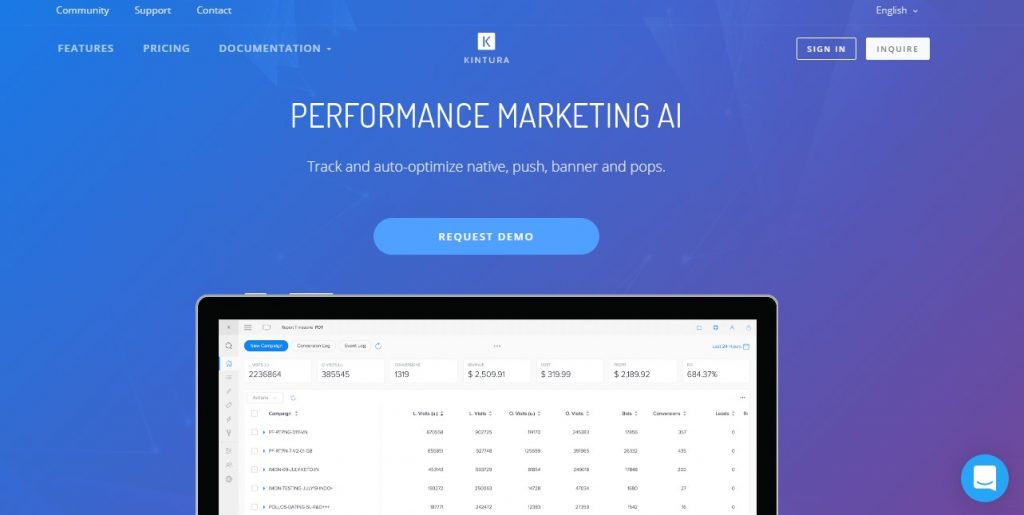 Kintura allows you to work with 1 million events monthly for free. Allows you to work with proxies and filter out bots. Among the interesting features is the AI based algorithm for analyzing user actions Thanks to this, the system can automatically determine the optimal strategy.
Attention! Some difficulties may arise during registration. You will need to indicate personal info, as well as make an access request, since the service uses an invitation system.
Cost: can be used for free. Additionally, there are 3 paid plans from 199 to 999 dollars.
ClickGum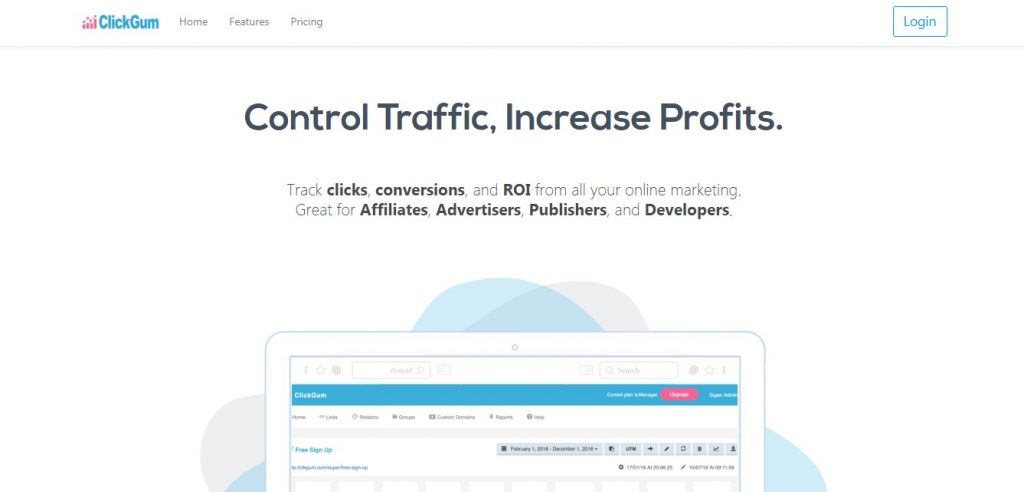 ClickGum is a tracker with basic features for tracking advertising campaigns and traffic flows. The free version retains all the basic features of paid plans, except for tech support. The number of working domains is unlimited. Duration of storing information about advertising campaigns – 1 year.
The service's features:
tracking clicks and events;
detailed reports;
integration with partner networks;
split testing;
detection of bots.
Cost: free (processing of up to 3 thousand views). Paid plans from $9 to $49 per month.
AnyTrack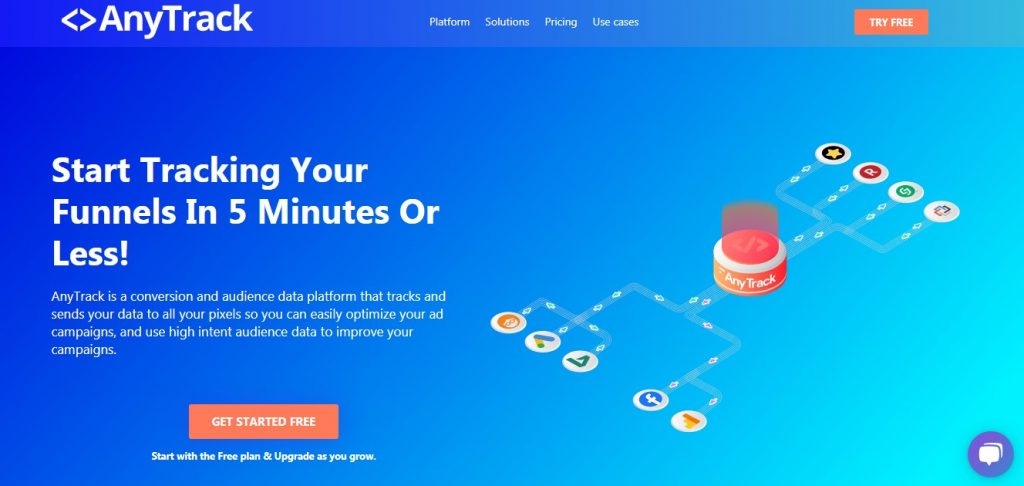 It is not easy for affiliate marketers to track traffic on Facebook and Google Ads, since these sites block accounts when they try to use redirects. You can bypass this by using AnyTrack. This service allows you to receive analytics without the need to connect a redirect.
Key features:
the ability to integrate with various partner networks (more than 50 websites);
interaction with Google Analytics via API;
email marketing services supported.
Cost: free of charge for working with 1 network (up to 5 thousand sessions monthly). Prices for paid services start at $ 50. There is a 14-day trial.
zTDS

Free server software that allows you to distribute traffic by GEO, device type and other parameters. Various filters and flexible settings are available. There is a feature to detect bots to redirect them to white-hat landing pages. This product does not have an official website. You can download it through a Telegram channel called zTDS.
Might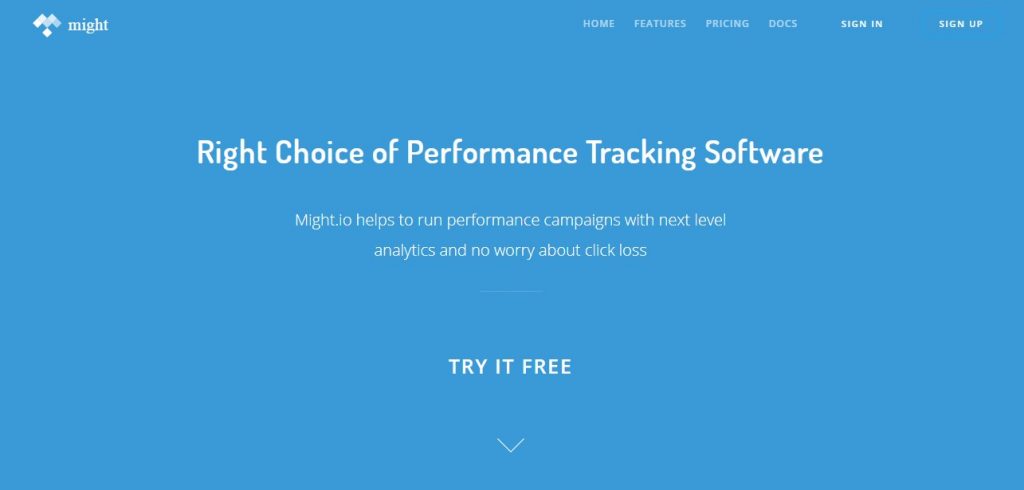 A tracker that allows deep analytics of advertising campaigns. It generates visual reports in real time and makes it possible to redirect traffic according to more than 20 criteria. Using the A/B testing feature, you can check the effectiveness of combinations of offers and landing pages. There is also a multiuser mode.
Cost: the system is currently in beta testing, so you can work with it for free.
Most trackers are shareware. They have one or more paid plans, as well as free trial versions so you can get acquainted with the service's capabilities. Below is a list of the most popular ones.
AdsBridge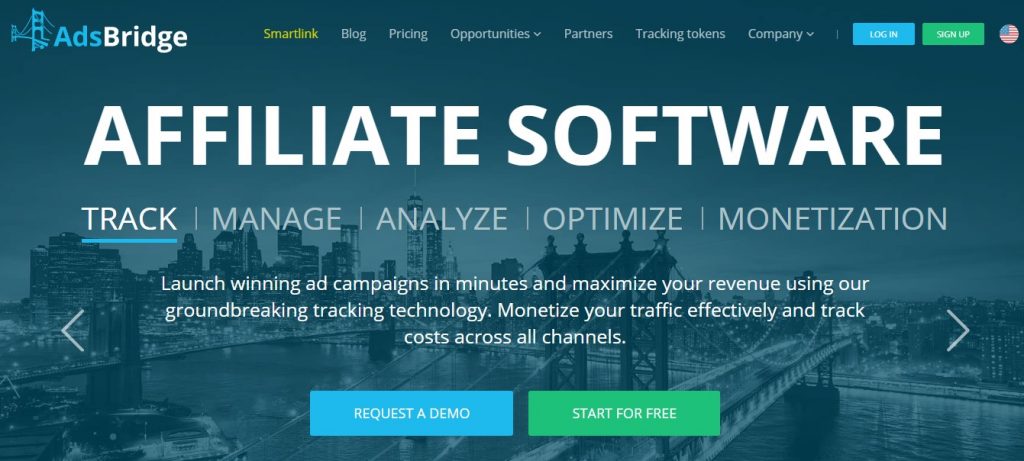 A highly functional, cloud-based traffic tracking platform. Has Smartlink technology. This allows for each visitor to be analyzed and then directed to the most appropriate offer.
AdsBridge is able to bypass the moderation of a number of large services, and also provides very detailed information about the traffic. You can set the limit values, upon reaching which the traffic will no longer be driven to a specific offer.
AdsBridge capabilities:
pixel tracking;
analysis of conversions and ad performance;
convenient reporting system;
notification of events by email;
can be used by a team;
quick redirects;
Landing page builder;
flexible filter settings to filter out bots and proxy traffic. You can set your own rules to get rid of unwanted visitors;
split-testing.
Cost: there are 4 plans from $29 to $379 per month. Offers a 2 week free trial period.
Keitaro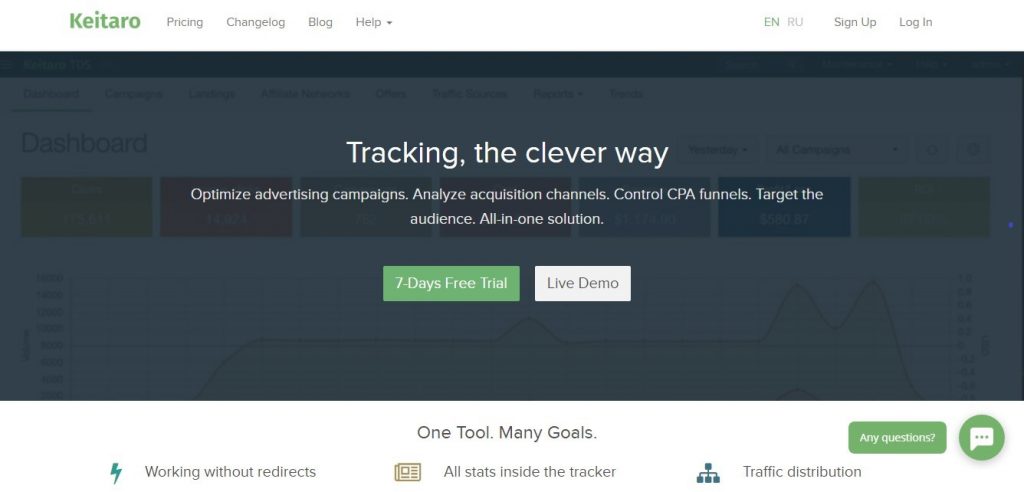 A server-type multifunctional tracker that has a Russian layout. The service used to be a TDS. Now its capabilities have expanded significantly. It allows you to analyze traffic by GEO, source, language, device, and many other parameters. On average, a redirect takes 10 ms.
The information is provided in the form of convenient and easy-to-comprehend reports. You can integrate the tracker with any other services and resources.
Keitaro main features:
ready-made templates for over 100 different networks. You can manually add and configure other services;
its own database of bots, which contains more than 500 thousand entries. The database is updated monthly;
AB testing and funnels. There are several dozen filters that allow you to target landing pages;
reports are exported to CSV and HTML formats;
cloaking tools;
the ability to rotate banners depending on traffic parameters;
flexible work with the tracker. You can perform many different actions, including redirect, view errors, view HTML pages, download third-party content, execute Javascript scripts;
the software is automatically installed on the server;
a quick-to-respond tech support you can contact via online chat, instant messengers and social media.
Cost: from $25 to $70 per month. Offers a 7-day free trial with limited features.
Cpatracker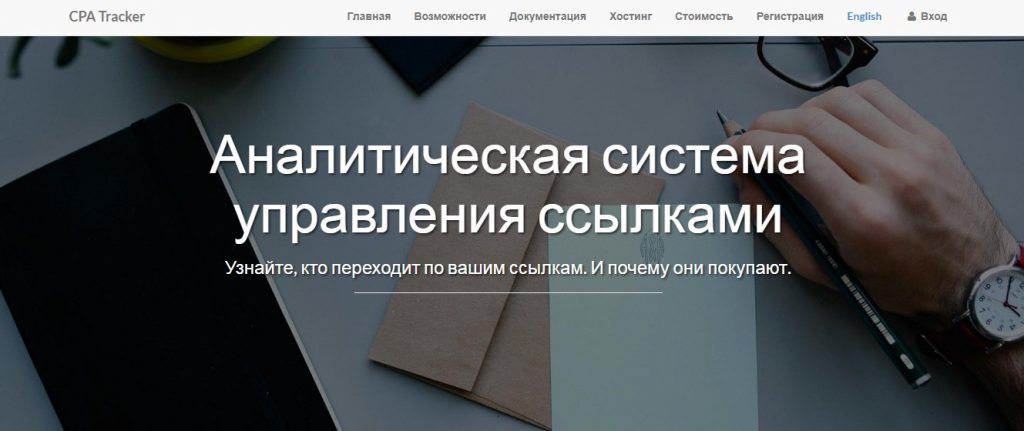 Cpatracker is both a server- and cloud-type tracker. It has an intuitive interface and all standard features. The advantage is the availability of a free plan, which can be used indefinitely. The downsides are periodic inaccuracies in determining users' GEO and sharp spikes in the redirect speed.
Key features:
the ability to work with a large number of sources;
more than 60 ad networks are supported, as well as 90 CPA networks;
visitors are tracked without the need to insert a counter;
you can create short links for the domain;
flexible settings;
analytics regarding the effectiveness of ad campaigns and a conversion rate display by keywords and other criteria.
Cost: there are 2 paid plans for 2.5 and 5 thousand rubles per month. The free plan is limited to 10 thousand clicks per day.
Binom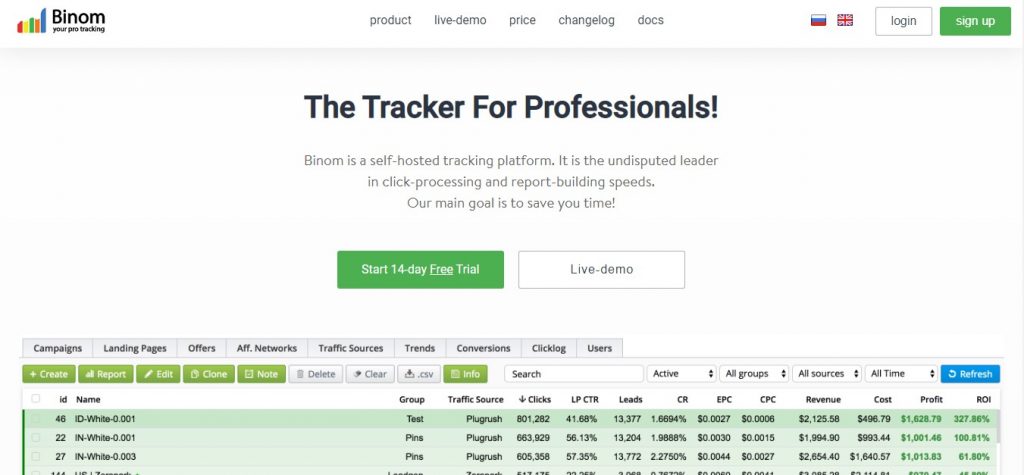 This is a self-hosted tracker with an intuitive interface and many useful features. For beginners, there is a detailed knowledge base with instructions. If necessary, you can turn to tech support, which responds quickly and actually helps out. Clicks are processed on average in 5-7 ms. That's why Binom is considered one of the fastest trackers. Moreover, the processing speed does not drop even when you work with large volumes of traffic.
Main features:
traffic is distributed according to more than 20 parameters;
an event system that allows you to analyze many different metrics;
smart filters;
detailed statistics for each advertising campaign. More than 30 different metrics are provided for a click;
the Smart rotation feature allows you to direct users to landing pages that they haven't visited yet;
in case of system failure, you can always restore your data;
the LP Pixel feature allows you to drive traffic to the landing page avoiding redirects.
Cost: $69 for a yearly subscription or $99 per month. Includes a 14-day free trial period.
RedTrack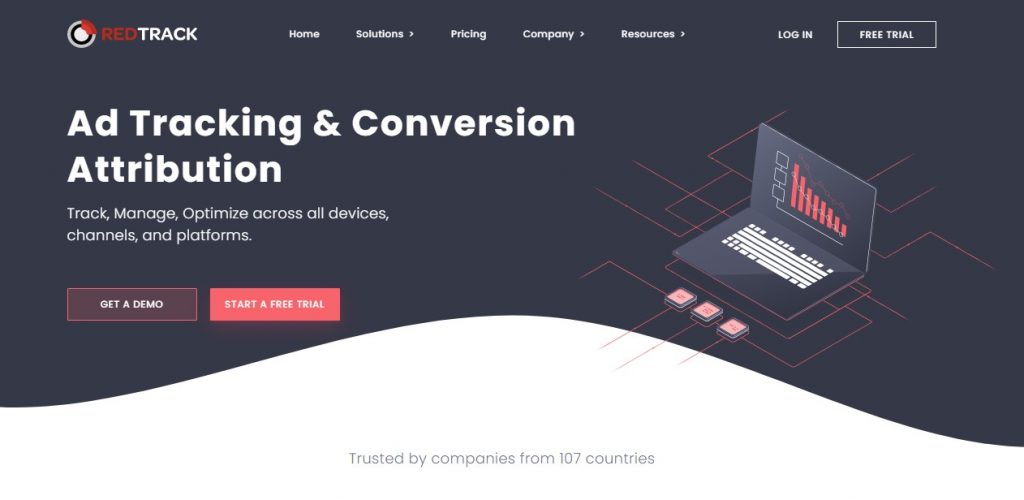 RedTrack is a cloud service that does not lag behind more expensive trackers in terms of its functionality. Its advantages are high speed and a user-friendly interface with 4 languages to choose from for the layout.
Key capabilities:
the work is automated by setting certain rules. If some conditions are not met, the campaign will be suspended;
you can use one account for an entire team as well as give different people different levels of access;
the ability to work with Facebook and other sites without redirects;
detailed statistics on impressions and clicks;
A/B tests to find effective creatives;
proxy filters;
protection against bots and the Fraud Report function, which allows each click to be checked against a variety of indicators to weed out unwanted traffic.
Cost: four plans from $49 to $499. Offers a 2 week free trial period.
Zeustrack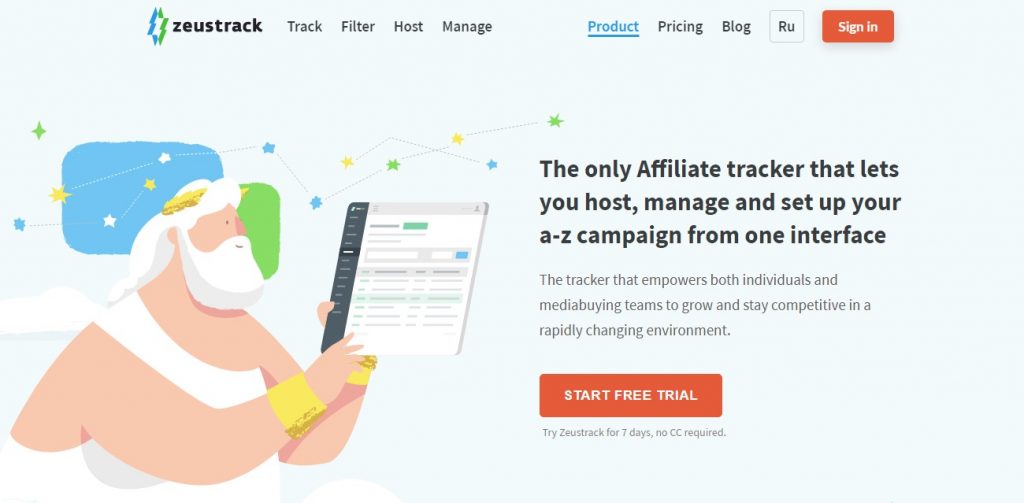 A hybrid tracker featuring an advanced filter system and the ability to manage the server directly from the panel. Installation does not require deep knowledge of the principles of software configuration, since all settings are collected in one interface.
Zeustrack is based on the use of modern DBMS, which achieves high speed. You can track traffic without using redirects.
Main features:
Landing pages are stored in the cloud, so you don't need to reupload them. You can set templates for landing pages and adjust them for different campaigns;
domains and servers are managed directly from the tracker;
multilevel reports;
you can use one account for an entire team as well as give different people different levels of access;
free SSL certificates for domains.
Cost: from 210 to 675 euros. Includes a free trial period.
ThriveTracker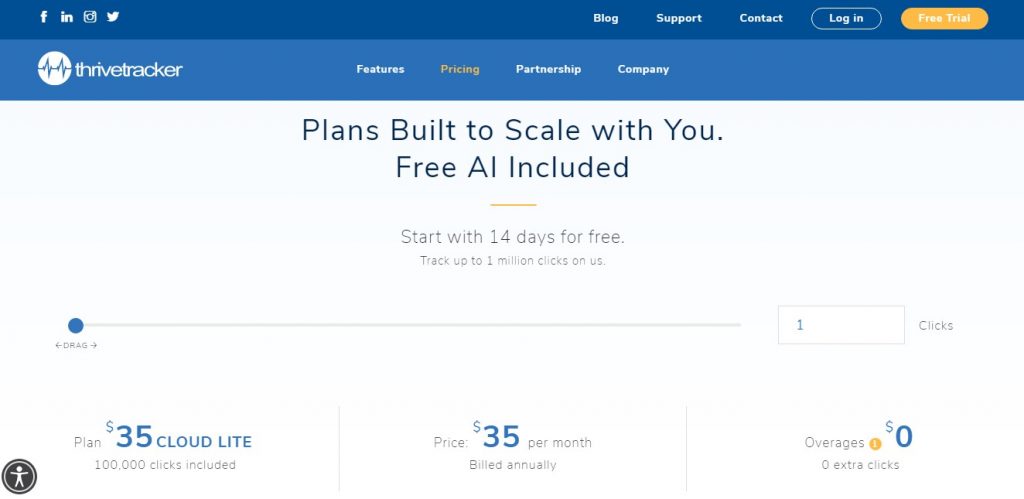 ThriveTracker made it on the list thanks to fast redirects and multi-user access.
Key features:
split testing of landing pages;
bot filter;
support for mobile traffic;
domain management;
detailed statistics with different parameters, including GEO and creatives.
Cost: $35-79. Offers a 14-day free trial period.
Improvely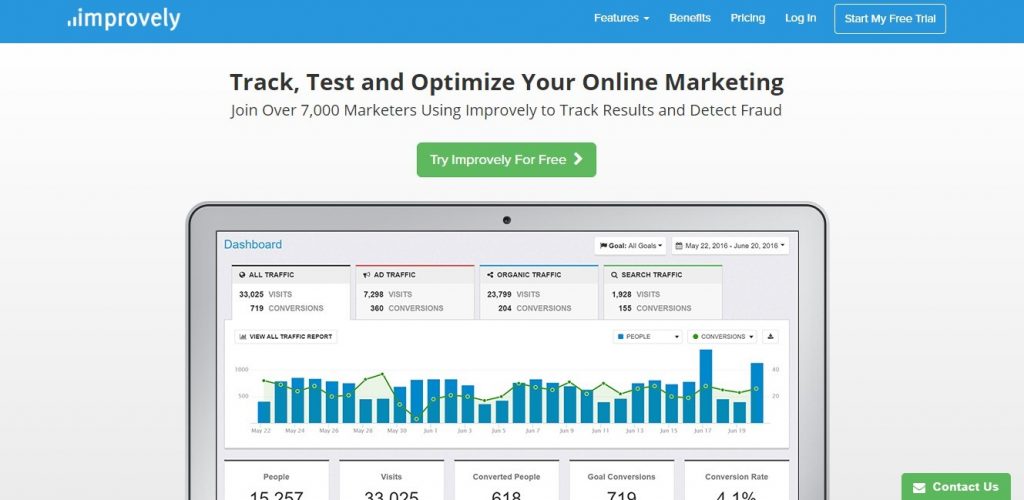 Improvely is a cloud-type tracker with conversion monitoring and the ability to conduct split tests. You can enable email notifications and track campaigns and sites without any restrictions regarding their number. The service's crown jewel is the advanced anti-fraud feature.
Cost: from $29 with a two-week free trial period.
LandingTrack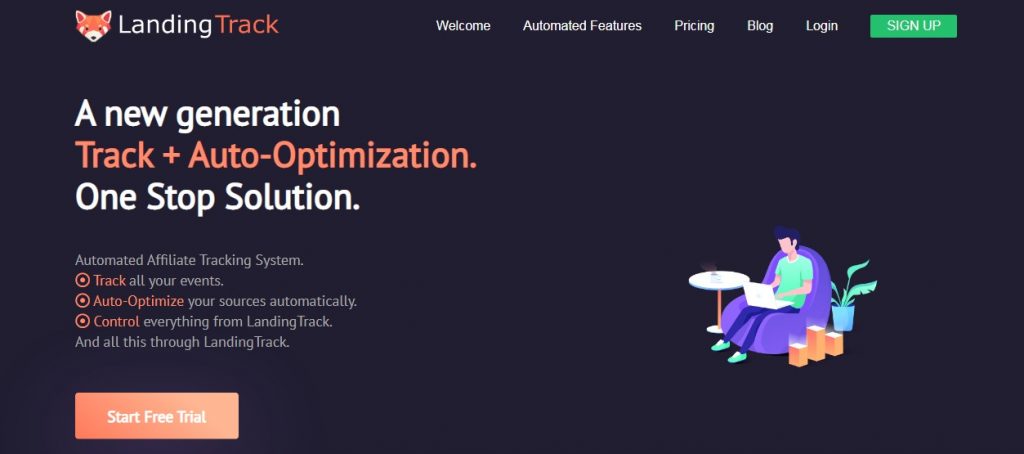 LandingTrack makes it easy to automate the optimization of advertising campaigns by setting the appropriate rules and connecting the necessary sites. The service's features include bot detection, Smartlink technology, real-time reporting, split testing.
Cost: $49-249. Free trial period – 15 days.
ClickMagick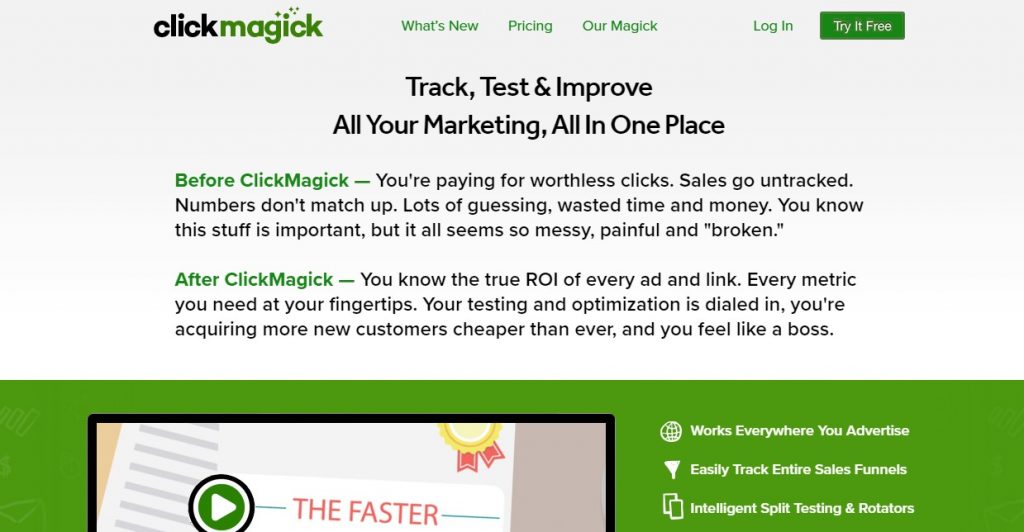 With ClickMagick you can track different parts of your marketing funnel. This allows you to measure conversion and optimize your campaign. The tracker features analytics of user actions and can detect click fraud, bots, cloaking and dynamic links. The downside is that traffic exchanges are not supported.
Cost: $27-97. There is a 15-day free trial period.
TrackWill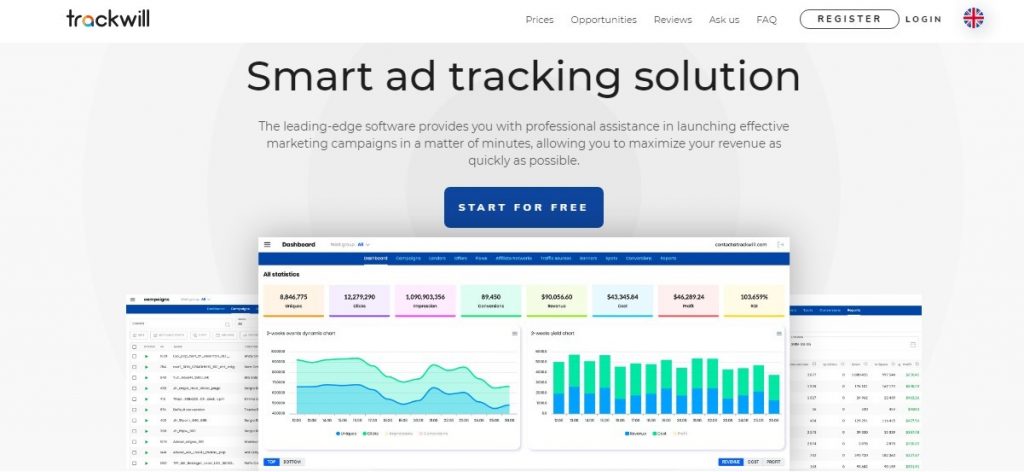 TrackWill was launched in 2015. In addition to the standard features, it allows you to create and manage advertising campaigns. To do this, you need to connect traffic sources and specify which offers to redirect users to. For beginners, training materials are provided.
Main features:
flexible settings
protection against bots;
A/B testing of landing pages, offers and banners;
a built-in advertising tool that allows you to buy and resell traffic;
the Smart Rotations function allows you to direct visitors to different offers through one link, depending on its GEO;
24/7 tech support
unlimited number of domains
the ability to be used by a team
Cost: prices start at $49. There is a 2 week trial period.
Prosper202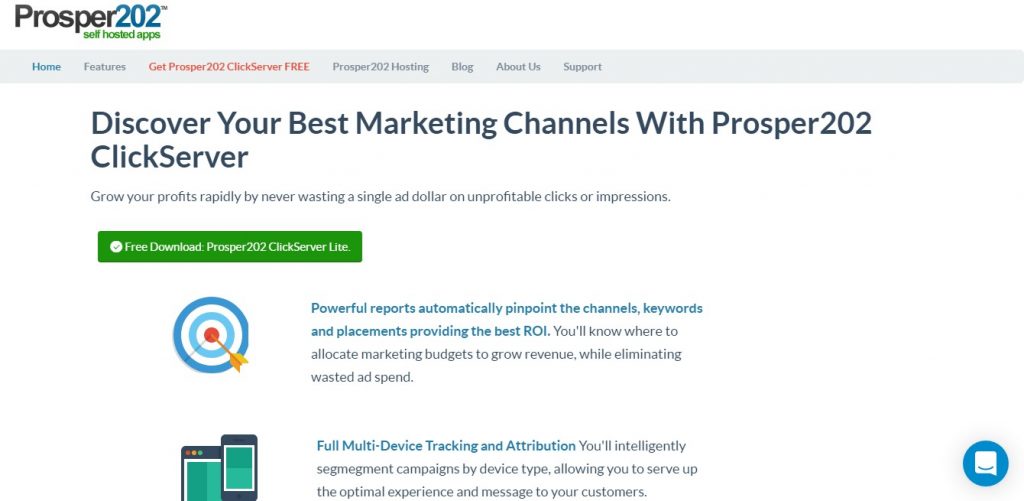 Prosper202 is a popular server-type tracker. Has all the standard features and a number of additional options. Allows you to track ads on Facebook and AdWords. There is a BlazerCache feature that improves the speed of click forwarding. You can track SEO traffic.
Platform features:
detailed reports
A/B testing
the ability to segment campaigns by device type;
a built-in WordPress plugin.
Cost: $99 a month. Free trial period – 14 days.
Pixelk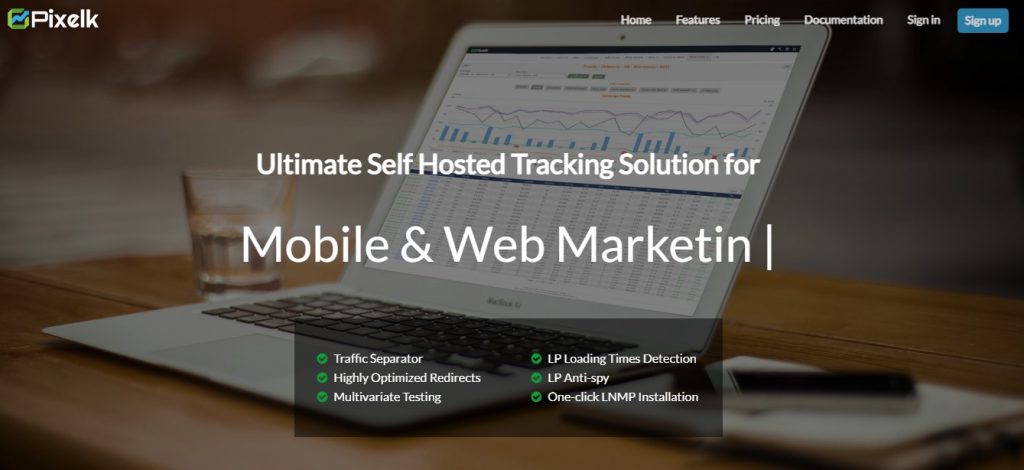 Pixelk is a server-based system for tracking and distributing traffic according to 16 different criteria, including country, device, OS, browser, days of the week, time of day, etc. Includes a multivariate testing function to optimize landing pages.
Key features:
optimal landing page loading time evaluation;
multi-user mode:
cloaking;
LP Anti-spy option to counter creative tracking services;
bot detection.
Cost: $49 a month. A 30-day money-back guarantee and a 14-day trial are offered.
Affise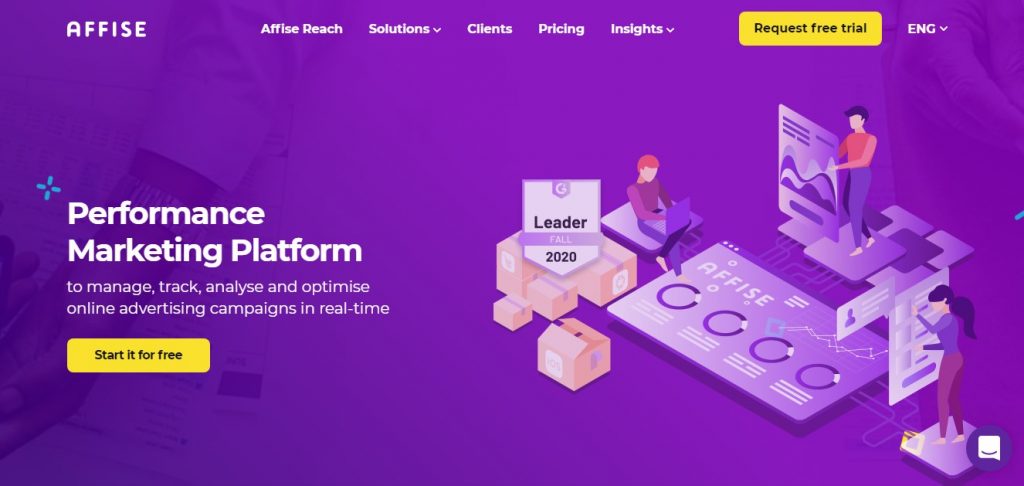 Affise is a platform for advertisers and networks to manage, track, analyze and optimize their ad campaigns in real time. Information is collected on more than 50 different parameters. Among the features, it is worth highlighting a smart targeting system, the ability to customize restrictions, API support, round-the-clock tech support, multicurrency, individual user interface design.
Cost: from $49. Offers a 30-day free trial period.
Paid
The following are services that can only be used on a paid basis. Some of them offer fairly affordable prices, which is why they have become popular among advertisers.
OctoTracker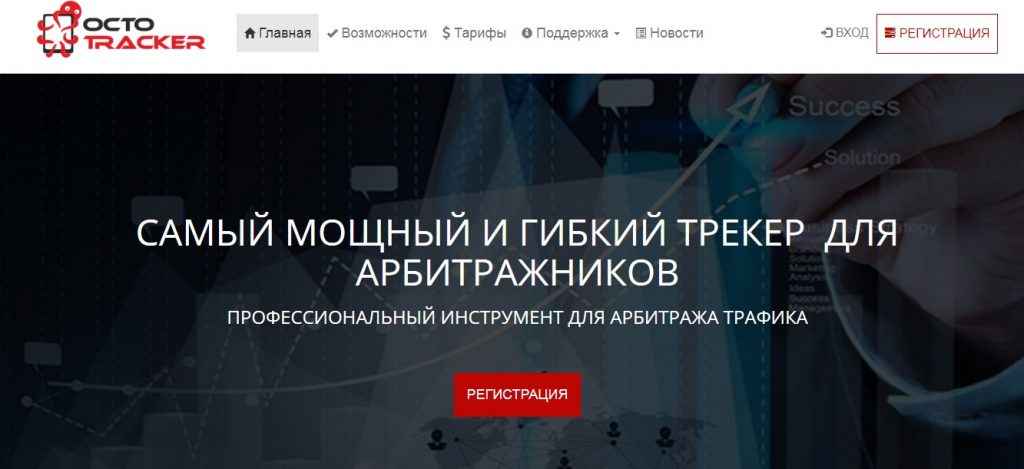 OctoTracker has a cloud version that is suitable for novice affiliate marketers, as well as a server version designed for professionals. It offers all the standard features and allows you to work with any ad networks. Lead statuses are supported. For each lead, you can see at what stage the hold is at a given time. Clicks are processed separately from reports without using databases, which significantly increases the processing speed.
Main capabilities:
the ability to detect click fraud and bots according to different criteria;
more than 60 large affiliate networks with ready-made settings are supported;
detailed traffic analytics;
split testing;
reports are made according to more than 20 criteria. You can group reports by 3 types simultaneously;
in case of failures, data are restored automatically.
The system supports multiple currencies, including the dollar, Russian ruble and Ukrainian hryvnia.
Cost: from 2.4 to 8.5 thousand rubles per month. There is a VIP plan, the cost of which is discussed individually. There is no free trial, but you can try to get access for introduction purposes by contacting tech support.
Voluum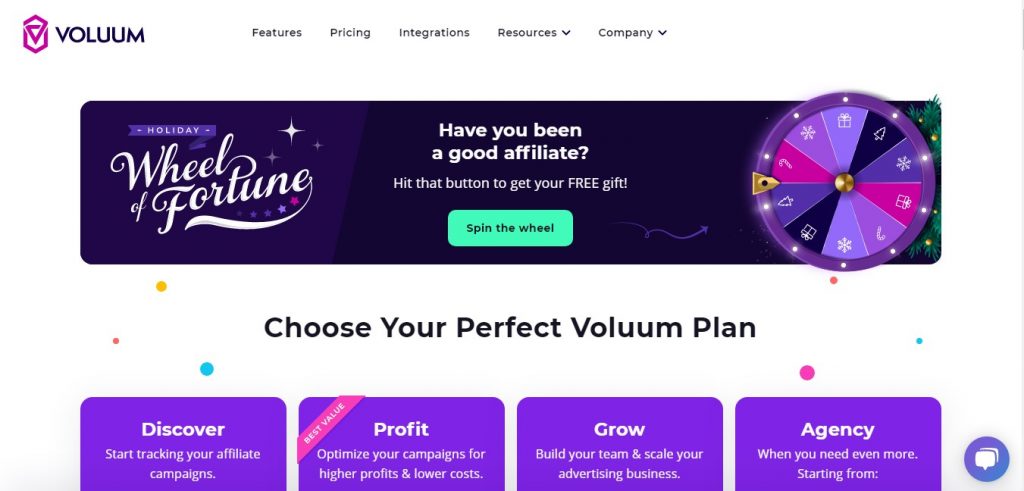 Voluum is a cloud tracker that surpasses almost all of its competitors in the market in terms of functionality. It has been on the market since 2013 and allows you to work with any traffic source and ad format.
Main capabilities:
protection from bots;
you can make up individual rules for targeting, which allows you to effectively segment the target audience;
automated AI ad testing;
analysis of user conversions;
many metrics for impressions, visits and clicks;
PC or smartphone notifications when the settings are changed.
Cost: 4 plans from $64 to $799 a month.
FunnelFlux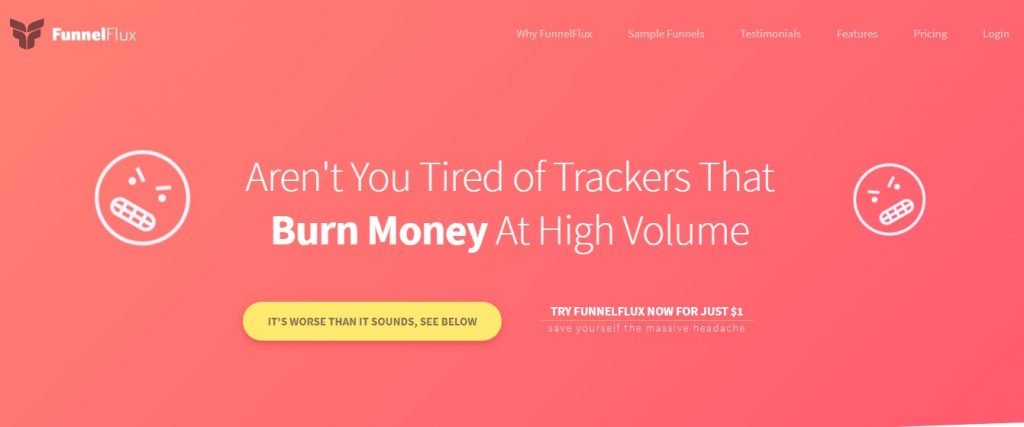 FunnelFlux  is a server-type tracker with basic traffic analysis tools. There is also a cloud version of the service. A feature of the platform is the visualization of conversion funnels. Includes a bot detection function. Statistics are displayed for 60 indicators.
Cost: a monthly plan will cost $99. The first month of using the tracker costs only $1.
ClickMeter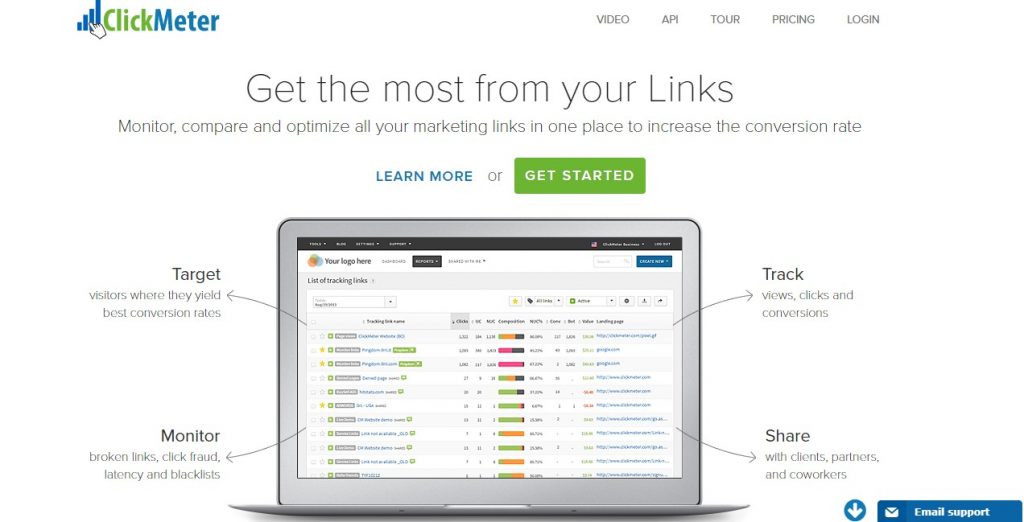 ClickMeter is a service for tracking views, conversions and clicks. Reports are customizable by time zone, language and currency. Optionally, they can be exported to Excel (CSV). Integrated with Adwords, Google Analytics, WordPress, affiliate networks.
Cost: 3 plans from $29 to $349 per month.
Linktrackr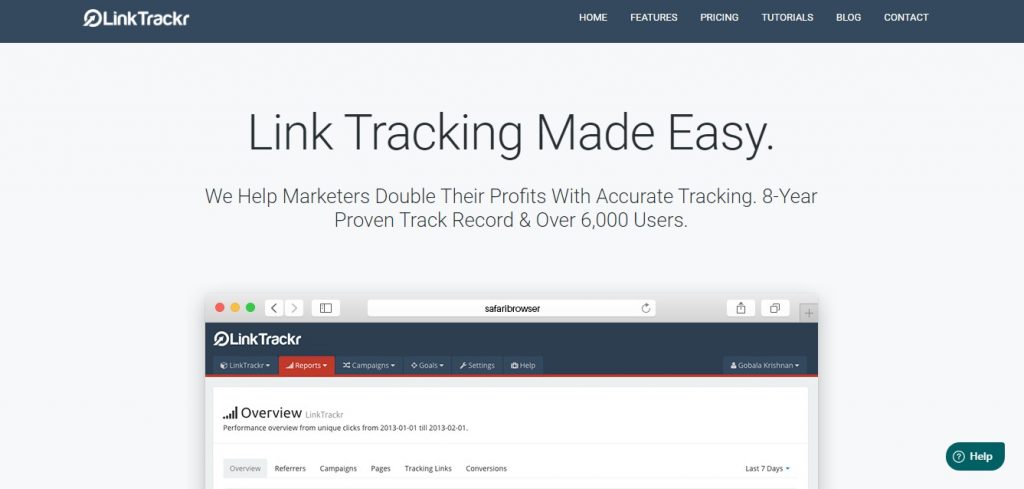 Linktrackr is a cloud tracker that is fast and easy to use. Compared to other similar services, it does not have as many features. But for beginners, the platform's capabilities are quite enough. You can track ads and conversions, create the necessary reports, work with FB and AdWords.
Other features:
split testing;
URL rotator;
cloaking
bot filtration.
Cost: 7-47 dollars per month. There is no trial period but it offers a 30-day money back guarantee.
A fairly fast and easy-to-use cloud service. The number of visits and tracking links varies depending on the plan you opt for. The list of features isn't as impressive as that of other trackers but it's more than enough for a beginner affiliate marketer. You can cloak, monitor ads and conversions. Supports PPC tracking (including Google AdWords and FB).
iMobiTrax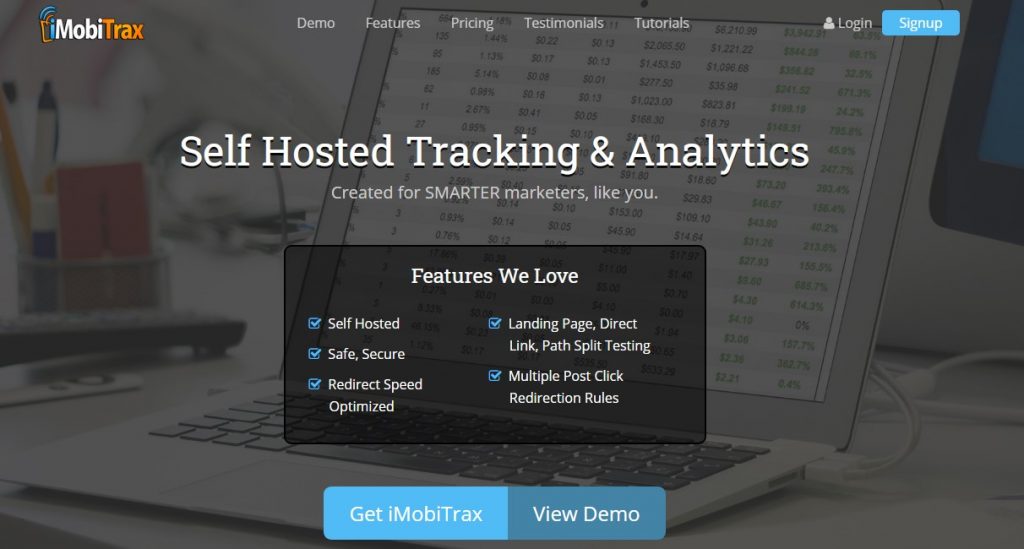 iMobiTrax is a powerful server-type tool for analyzing mobile traffic. Data are collected on more than 40 different parameters. Allows you to redirect traffic by country, devices, operating systems and other criteria. The Lead Gen Capture function allows you to parse and export phone numbers, postal codes, email addresses and other information.
Useful features:
protection from click fraud;
bot detection;
API support;
Post-Click redirection;
split tests;
easy-to-navigate informative reports.
To install the tracker, you will need cloud hosting, VPS or a dedicated server. Setting up the program will take no more than 1 hour.
Cost: $179 a month.
AffTrack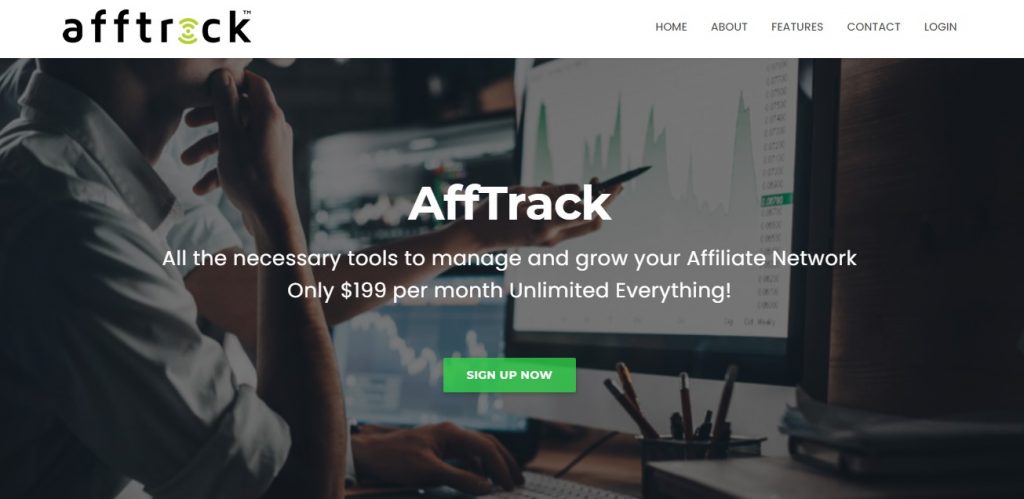 AffTrack is a universal platform for working with affiliate programs. Allows you to track traffic in real time, create easy-to-use reports, analyze conversions and clicks. Includes an option to filter traffic according to individual rules. You can block unwanted traffic. API is supported.
Cost: $199 a month.
Venedash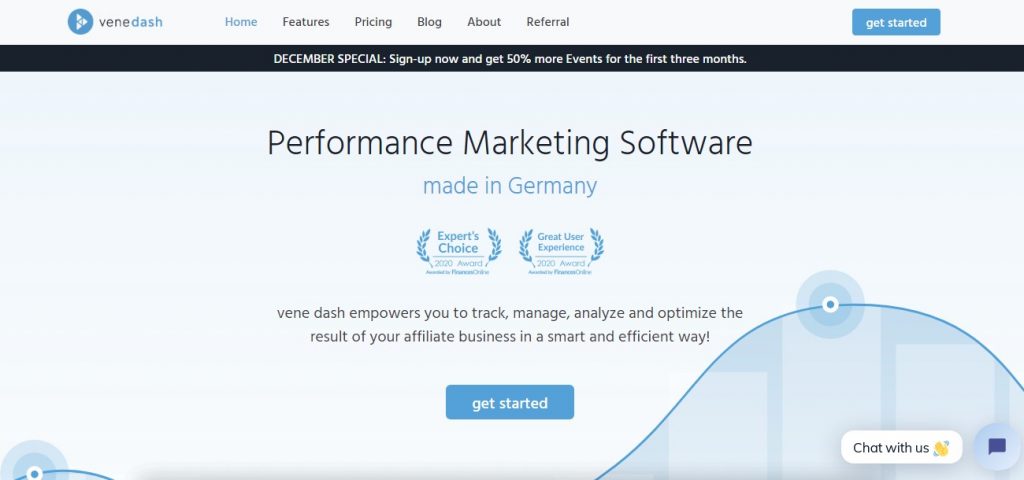 Venedash is a software for tracking, managing and optimizing advertising campaigns. The Smartlinks feature allows you to create smart URLs for the most efficient distribution of traffic according to different conditions, including device type, time, IP, and more. All creatives are stored in cloud storage. A SSL certificate is provided free of charge. You can use filters and detailed reports. You can also use the iOS and Android mobile app for analysis.
Cost: from $199 a month.
Recommendations for choosing a tracker
All trackers more or less have the same basic features. But each of them has certain differences that will be noticeable only when performing certain tasks.
Here's a tip! You should always test out a product before buying it by using the free trial period that most trackers offer.
There's a wide variety of trackers on the market, so testing all products will take a long time. Therefore, the first step is to select several options for testing services.
Criterias of choice:
you need to decide on the type of tracker: server or cloud;
you should evaluate your budget and cross out plans that are too expensive;
you should go over all the features of the trackers to make sure you'll have everything you'll need;
best to think what reports you'll need later on ;
it is important to evaluate the limit of visits, since most tariffs have restrictions in this regard.
Based on these factors, several optimal options should be selected. Then, for several days, you need to test the selected trackers, evaluate the usability of the interface, work with advertising campaigns and reports, and the responsiveness of the support service. This will allow you to choose a suitable plan for further work.
Read our article "TOP 50 affiliate software".
Conclusion
Trackers will be a useful tool in any affiliate marketer's arsenal. With their help, you can quickly distribute traffic according to the specified settings to different landing pages. They also provide conversion tracking so you can identify the most effective traffic sources and targeting settings.
The use of these tools allows for in-depth analytics of advertising campaigns and their optimization. This allows you to get the maximum profit. When choosing a suitable service, you should decide on what type of tracker you prefer and what specific features you require.
Do you want to understand which direction for offers to choose in order to get the maximum profit? Read our article "Most profitable niche for affiliate marketing".