We've already talked about Pinterest's ad capabilities. And also about the permanent evolution of the service, expanding the functionality of a potential advertiser and increasing convenience for customers. And Pinterest continues to stay true to its traditions. A new feature, Pinterest TV, has been launched on November 8.
What is it, what advantages does this option have in comparison with analogues, and most importantly, how to use it for ad purposes, we will talk about in the review.
The importance of video ads in modern marketing
To begin with, let's figure out what this innovation carries. Why the Pinterest TV service appeared in principle.
If you look at modern statistics, it becomes visible that ad in video format is slowly but surely surviving from the market of all competitors. Users' devices are being upgraded, now no one has any problems watching videos. And the Internet speed is increasing more and more.
By itself, the format of video advertising allows you to reveal much more advantages, demonstrate the product, and submit concise information compiled most conveniently. The visual and audio series together increase the informative value of the ad by a significant percentage. And the lead for potential users is becoming more and more attractive. Favourite music, interesting effects, influencers in the frame – there are many possibilities.
And users are getting better at responding to video ads as a result. So, the largest ad platforms are trying to master this genre as much as possible, even if it's relatively new to them.
Let's take examples, first TikTok breaks into the TOP of social networks, which offers ONLY a video ad service. Seeing the success of this seemingly one-sided project, Instagram launches the Reels feed, which completely copies the TikTok functions. And Pinterest is also not far behind, launching a Watch series of videos that are an average option between advertising stories on Instagram and videos on TikTok. By the way, in Instagram, advertising in video format can be placed in different placements, read more here.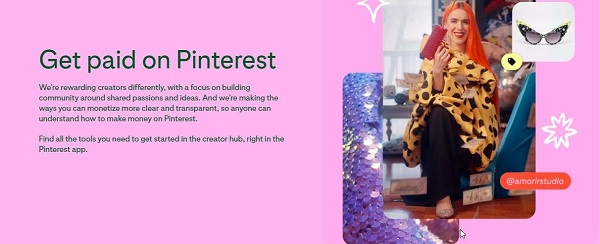 Moreover, also paying attention to the latest trends, Pinterest begins to reward creators. Their work is simplified, and direct ways of monetization are introduced, so the video content in the project is becoming more and more qualitative. But Pinterest is a network for creative people, where creativity is one of the most fundamental functions. Accordingly, the most gifted and skilful creators often gather here. Having decided to take, if not quantity, then quality, Pinterest invests more resources in Creator Rewards and tools that allow you to make a profit from the created content.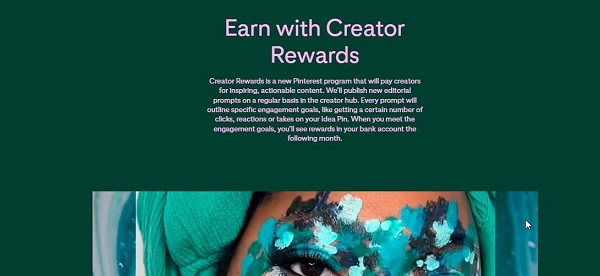 By the way, the project has not just prepared the conditions for monetization, it is also ready to pay creators on its own. The only condition is that the content must be really good. In other words, inspiring, motivating. And the developers themselves inform users what goals they should achieve with his new video. This is the number of likes, views, additions, and so on. And now Pinterest TV becomes the apogee of the chosen path of development.
О Pinterest TV

Since November 8, service has been launched that allows live broadcasts for various brands. The series is released 5 days a week from Monday to Friday. The start of broadcasts is exactly at 15:00 PST.
These are various reviews, news, workshops, online training, seminars and so on. A lot of key topics for Pinterest are covered. First of all, gifts, fashion and style, beauty and health, lifestyle, travel, household goods and much more.
What can I say right away? The fact that this service is more than 50% of an ad nature. After all, Pinterest itself is an ad resource in many ways. People come here for high-quality shopping recommendations, reviews of goods and stores, interesting ideas and inspiration. Accordingly, these are already warmed up buyers who intend to buy. They just either don't know what it is yet or aren't sure where exactly. And advertisers are trying to satisfy this interest, which is also beneficial to them.
Pinterest TV works on similar principles. Half of all shows are aimed at a commercial purpose. Give trading recommendations, show a master class on working with a product (whether it's makeup cosmetics or a new app), and show the features of a specific trading platform. But the main thing is to give an idea, inspiration for shopping.
Of course, direct commercial benefits are possible not only in shows with product recommendations, but this is still the main branch.
Pinterest TV also creates convenient conditions for cooperation between three groups of participants. These:
They are often the creators of a certain show;
Those who can create various videos participate in master classes as experts;
Those who can perform in the frame, attract the audience with their name.
Pinterest TV Trading Opportunities
The essence of Pinterest TV is that this service allows you to make a purchase directly. That is, all trade and other commercial shows are provided with direct links. Users can immediately buy or order any described, voiced or demonstrated product. It is enough just to make the transition. In a way, it becomes a virtual store, with endless creative product reviews, and unlimited ads. And as soon as the next customer makes a purchase decision, he does it directly through the broadcast show.
It is noteworthy that the platform decided not to assume the functions of an intermediary. It's just a lot of technical and legal work. So, all purchases are made on external resources. Yes, an additional transition affects the conversion negatively, but there is nothing critical about it.
However, there are limitations. A separate episode of the show can't last more than 30 minutes. So as not to occupy the ether. This is not Twitch, where a streamer can keep broadcasting for days. The project developers believe that 30 minutes is more than enough for any task. Otherwise, you will start to tire the user further.
Another limit is that only visitors from the mobile app receive the full version of the service. Yes, there are already analogues for the desktop, but they don't allow you to normally use the full breadth of the function, for example, chat. Perhaps the situation will change soon. Or maybe the developers decided to play on attracting attention to the app. However, the vast majority of the project's traffic is still mobile.
Discounts with Pinterest TV
At the moment, every Friday, major brands on the airwave of their broadcasts give discounts. It isn't clear whether this is the decision of the advertisers themselves or whether the developers of the service insisted on it, whether this trend will continue. But, if users are «accustomed» to this format, then interest in the system will increase. In principle, affiliate marketing also often operates with discounts from the offer, so the function can be useful.
Chat on Pinterest TV
This feature fundamentally changes the approach to content creation. Live chat directly indicates that the pre-written script of the episode can be changed at the moment. So, it may not make sense to split the series up to specific timings. After all, the audience's questions themselves can direct the discussion in the other direction, creating a new scenario. And you'll have to improvise.
On the other hand, chat is always an additional selling opportunity for the advertiser. Exactly:
the ability to specify a unique trade offer. If some aspects of it are unclear to some category of people, you can instantly clarify them. Therefore, there won't be a situation when the weak point of the sales funnel is simply insufficient information content on one of the sites;
a way to get instant feedback. This means that you can work on mistakes on the go. And data for future analyses of the effectiveness of the entire structure of the show and even the ad campaign as a whole;
the ability to work out the objections of potential buyers in real-time. Of course, in these cases, at least schematically prepared scripts for dealing with objections should be prepared.
By the way, after the release of the new feature, the company's shares rose sharply. Financial experts predict the growth of up to 34% at medium-term distances.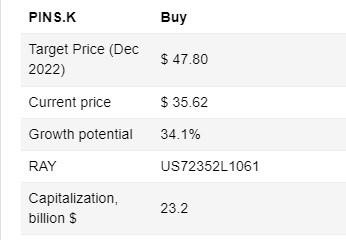 And this only means that the Pinterest TV service will live and expand. Although, at the moment, it's limited for advertisers. Let's talk about this in more detail.
Pinterest TV Availability
Currently, a limited number of advertisers have access to the service. Initially, it was a few selected brands that received direct invites. Now, gradually, the number of participants is growing and access is becoming more open. While the developers are slowly introducing advertisers from among those who have applied and filled out the questionnaire.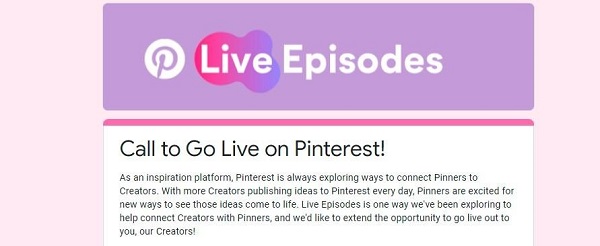 But specifically at the moment, filling out this questionnaire won't give you any guarantees that you will soon be added as a participant. Yes, analysts' opinions agree that next year, at least by the third quarter, the service will become, if not completely open, then at least accessible to advertisers of all types, simply with increased moderation measures. At the start, as we can see, it's rather a beta version, which is still subject to testing.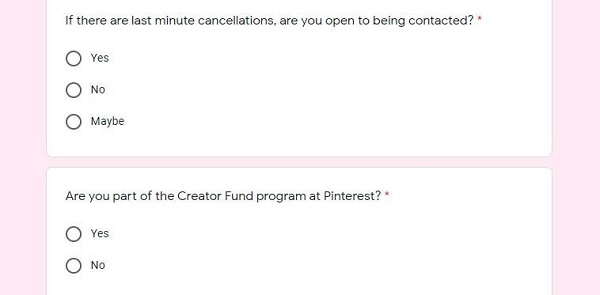 For whom Pinterest TV ad is suitable
Well, since the service will soon become available, it is worth preparing for it. Now, we see that brands get a very high conversion rate from these live shows. Who will be on a par with them to make a profit?
To begin with, it's worth saying that you will still have to meet several conditions to participate:
the possibility of creating full-fledged episodes in the conditions of one series;
quite a large budget;
a long-term project that can be promoted for a long time;
white offer. After all, moderation in the service won't just be serious, every series (if not every episode) will be moderated manually (at least at first).
Who will be able to get a profit from Pinterest TV if all the conditions are met:
creator, content maker. If you have something to share, then you may well win a loyal audience. Monetizing it later is a matter of technique. And Pinterest itself doesn't mind paying for your services and achievements;
brand. The whole service was created initially exclusively for them;
affiliate marketing. But again, remember about the conditions for participation. We need a budget, we need creators. And a permanent, expensive and reliable offer. And considering that we are talking about such a platform as Pinterest, the offer must necessarily be in the e-commerce segment. You simply won't be able to promote other verticals here normally. At least to recoup the investment in the ad campaign;
seller of hand-made products. 100% that they will take a good 15-20% of the total profit of the system. Manual creativity on Pinterest is a permanent trend. And many people come here for master classes on hand-made techniques, methods and chips. The same people who will conduct these training broadcasts will be able to sell their products directly. And the demand for it will be catastrophically huge, if the creator himself, of course, is well versed in his business. So next year, Pinterest TV becomes the main way to sell hand-made products.
Conclusion
The new Pinterest TV service gives a lot of interesting opportunities for the marketer, brands and affiliate marketing. It's a pity that at the moment not everyone can try to work with it. However, when the service becomes publicly available, its popularity will also increase. So far, it hasn't such a large number of viewers. Users haven't yet got used to it, and have not tasted all its advantages.
Over time, we believe that broadcasts on Pinterest TV will become similar to the voice rooms in ClubHouse. Perhaps without such a strong touch of elitism, but no less convenient, in-demand and popular.