Albania – isn't a big country in Western part of the Balkan peninsula, is washed by two seas: Adriatic and Ionian. Also, Albania is side by side with Serbia, Kosovo, Montenegro, Macedonia and Greece. The perfect neighborhood!
The leading industries are service and agriculture. It's quite difficult to get a lot of money from Albanians but you can exactly find the target audience and get stable profit from this low competitive GEO.
Only hard facts!
General facts
2, 9 mil – population;
1,8 mil – active internet-users;
1,3 mil – active mobile internet users.
As we told you before, Albania is the nice option for your profit. The competition is low, there's no huge variety of offers, that means that the audience is yours! Annual growth of the Albanian audience is about 15%, that shows the growing popularity of the internet as the main communication source. .
Devices in Albania
All the users prefer only two types of devices – laptops (48%) and smartphones (49%). The tendency for mobile internet is strengthened, mobiles became more available that's why everybody can use them. Albania isn't the exception.
47% of the Albanians use the internet daily to:
Check the e-mail – 21%
Listen to music – 13%
Use the search engines – 27%
Use social networks – 33%
Look for the info about goods/products – 17%
Watch online video – 32%
Talking about the most popular sites in Albania, you can find some unexpected results. Alexa shows that there are some local sites in top-10:
Of course, Google and Facebook are in the top, don't worry!
Talking about social networks, there aren't many options, that's why the most popular social network is Facebook, more than 1,5 mil of accounts. FB is the main social traffic source, possible amounts of traffic in Instagram and YouTube aren't so obvious.
The age of the audience in Albania is quite older than usual age of the internet users in other countries. The main border begins with 20+. Below in the table you can find the balance between the age and number of users in Albania: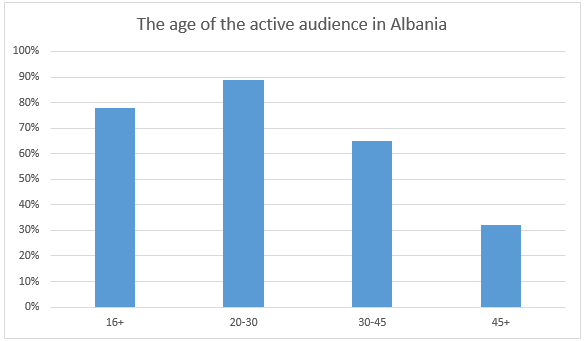 Finally, Albania is the real field for newbies and guru of traffic. You can find different opportunities here. Pay your attention that the biggest part of Albanians are Muslims that's why be careful with your creatives.
Albania can give you the luxury profit! Don't miss that!