Eastern Europe – huge territory, the part of Europe with the low competition on the market, but powerful conversion. We have decided to tell you some details about top countries to be sure that next time you won't have any questions and doubts.
Let's begin, as usual, with some general facts:
271 mil – population
135 mil – active internet users
116 mil – users of the mobile internet
The annual growth of the audience in Eastern Europe – about 350 mil of new users.
Can you imagine what the amount of traffic is that? It's a pity that you underestimate these GEOs.
The list of Eastern Europe countries:
Belarus
Bulgaria
Czech Republic
Hungary
Moldova
Poland
Romania
Russia
Slovakia
Ukraine
We're going to tell you some features of active audience of 6 countries, which usually show nice results, where healthy, adult, beauty products are pretty popular.
Shall we begin?!
Bulgaria
We begin with the hottest point, with hot Bulgarian peppers 😉
It's the state in the Eastern part of the Balkan Peninsula at the Black Sea shore. The national economy is stable, there is some growth of foreign investment threatens lately, profitable industries are expanding – there are no doubts that Bulgarians are solvent. The country is in the list of TOP-20 countries with available Internet.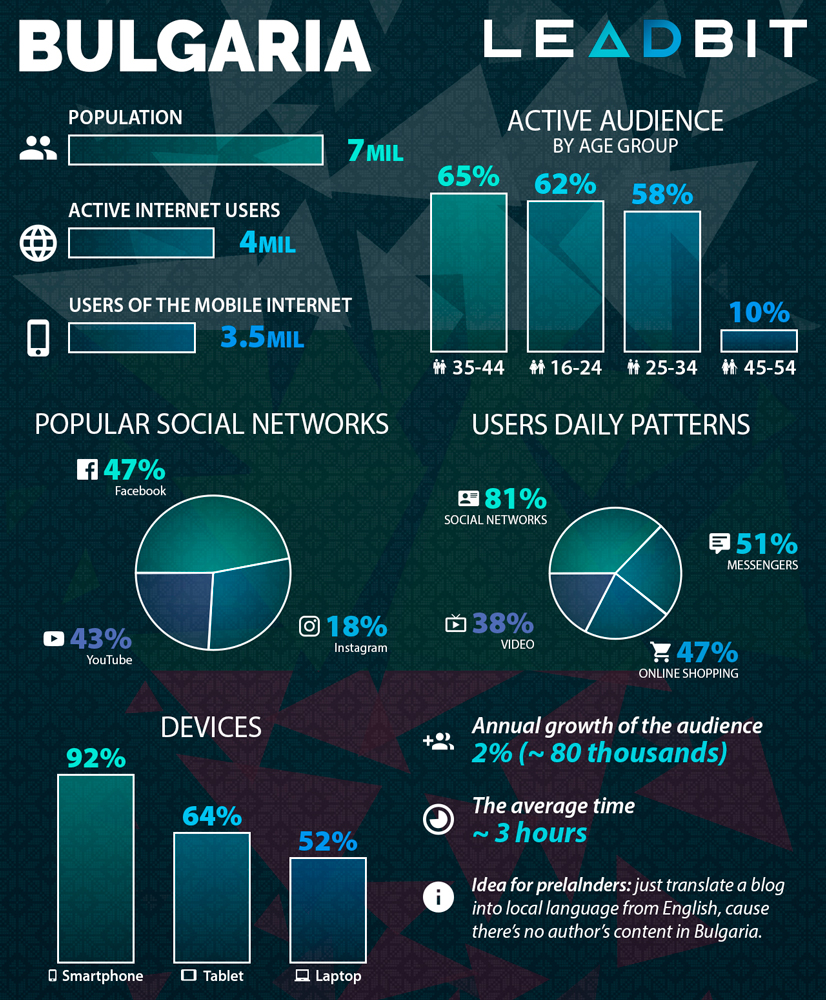 Alcohol is a kind of problem in Bulgaria. Alcohol is available, a range is wide, prices are low. That's why none of the Bulgarians give up the bottle of beer or wine. Alcoholism is more developed in Bulgaria than in other European countries. Problems with virility as a result.
Use this information in your touching landings with stories about Eder who had got his wife back and started bright sexual life 😉
And we already have some TOP-offers for this:
It's quite controversial but men in Bulgaria check their appearance, they do sport – jogging, volleyball, and bodybuilding are more popular. It's almost impossible for them to resist the teasers like 'the real man must be strong" and our TOP-offer RevoMuscle BG – a muscle-building supplement.
Women in Bulgaria seek to be perfect everywhere, even on the beach, but plastic surgery isn't welcome there, that's why women of different ages try to use all the possible options to keep them young and beautiful.
Our offers are the best for it:
By the way, Bulgarian women have healthy hair in youth, it's strange but there are a lot of balding women 35+ in the streets. We bet creatives like "шикозна коса за лев, избирам Hair Megaspray" will be extremely popular.)))
The Czech Republic
It borders with Poland, Germany, Austria, Slovakia. The Czech Republic – the industrial country, where the main industries are the fuel and power, chemical industries, metallurgy and engineering. The Czech Republic has one of the most successful economy in Europe.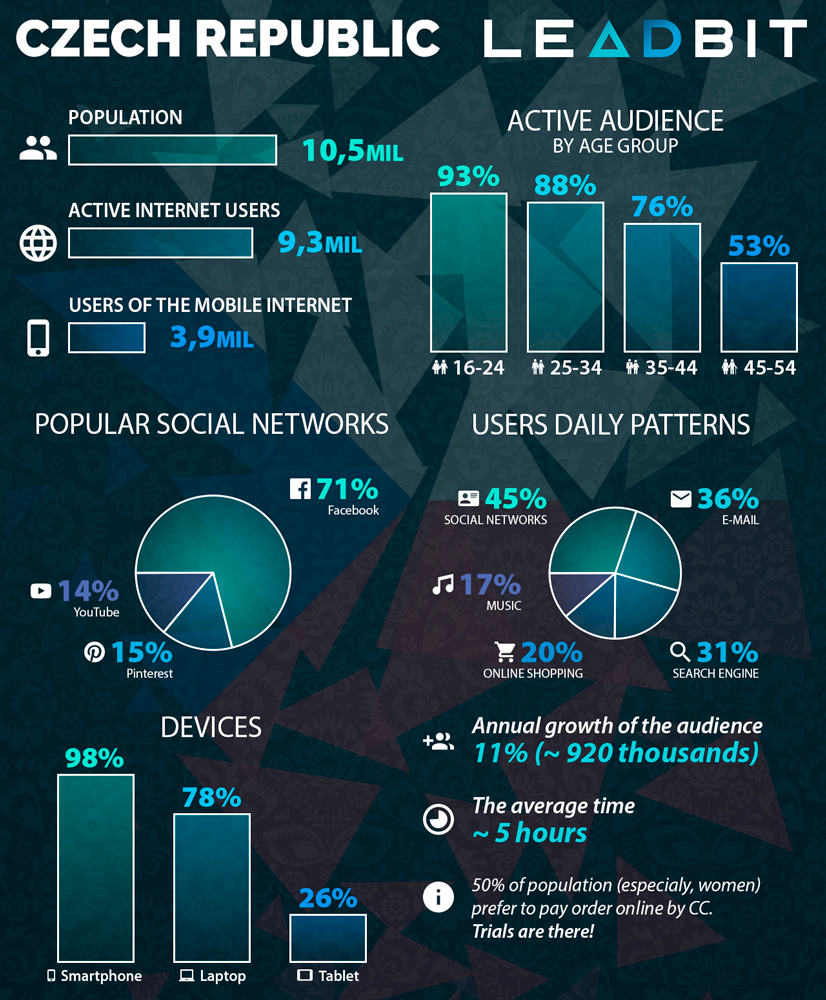 Despite delicious Czech cuisine, the Czechs are quite sportive guys and they always check their health. They'll be just glad to meet Revomuscle CZ on the internet.
By the way, after sport and active lifestyle, all people need to take care for yourself, that's why Recardio CZ will be perfect.
The Czech women are very beautiful unlike their neighbors – German girls. To keep their natural beauty they always need to care their hair, skin etc. In this case, 25+ women surely will be happy with our offers for the beauty:
In addition, the Czechs are economic, family guys and respect the place where they live and the things which they use, that's why such useful goods as Silane Guard CZ, Electricity Saving Box CZ and Dynamite CZ will become popular.
Hungary
Hungary is one of the leading countries in Eastern Europe, the state with fastest growing economies. Its main partner is Germany that's why we can be quite sure about their capacity to pay. It doesn't have any seashores, it borders with Ukraine, Romania, Slovakia, Slovenia, Serbia and Austria. Hungary is the state with fast growing economy, all possible market transformation are finished. Hungary is the industrial country, its main industry is engineering.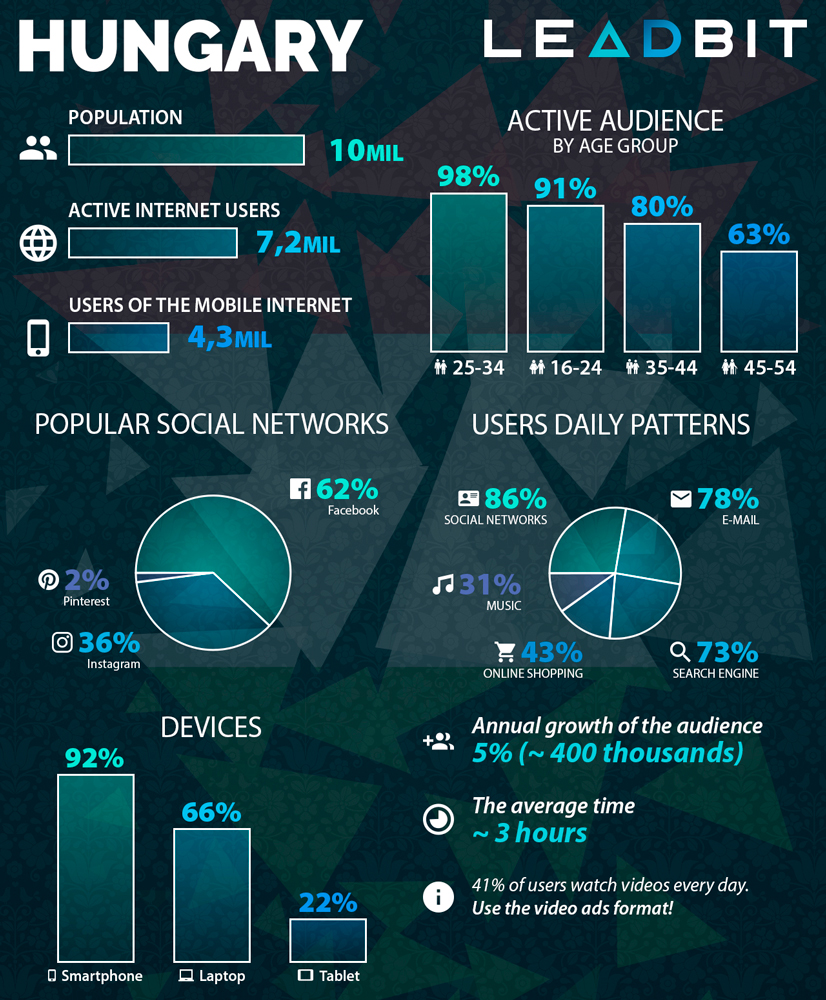 The Hungarians are keen on health and beauty theme, the traditional medicine is well-developed there but the special thing about it is local baths and thermal sources. We already see the creatives like "Weekly baths don't help? Then…")))
Something like anorexia or bulimia are quite popular in Bulgaria. In pursuit of recognized ideals women don't indulge themselves, they don't eat enough even famous goulash (!) to be thin and beautiful. You can use it when you'll make some ads about diet-pill and weight-loss sprays.
The men don't have any diet problems in Hungary but there's quite a low level of leaving that's why most of the men have some problems with alcohol. You can test Alcobarrier then.
Poland
Poland is the state in Central Europe which has the borders with Russia, Lithuania, Belarus, Ukraine, Slovakia, the Czech Republic and Germany, on the north Poland is washed by the Baltic Sea. Poland is the agro-industrial country, the most profitable industries are engineering, metallurgy, textile and chemical industries.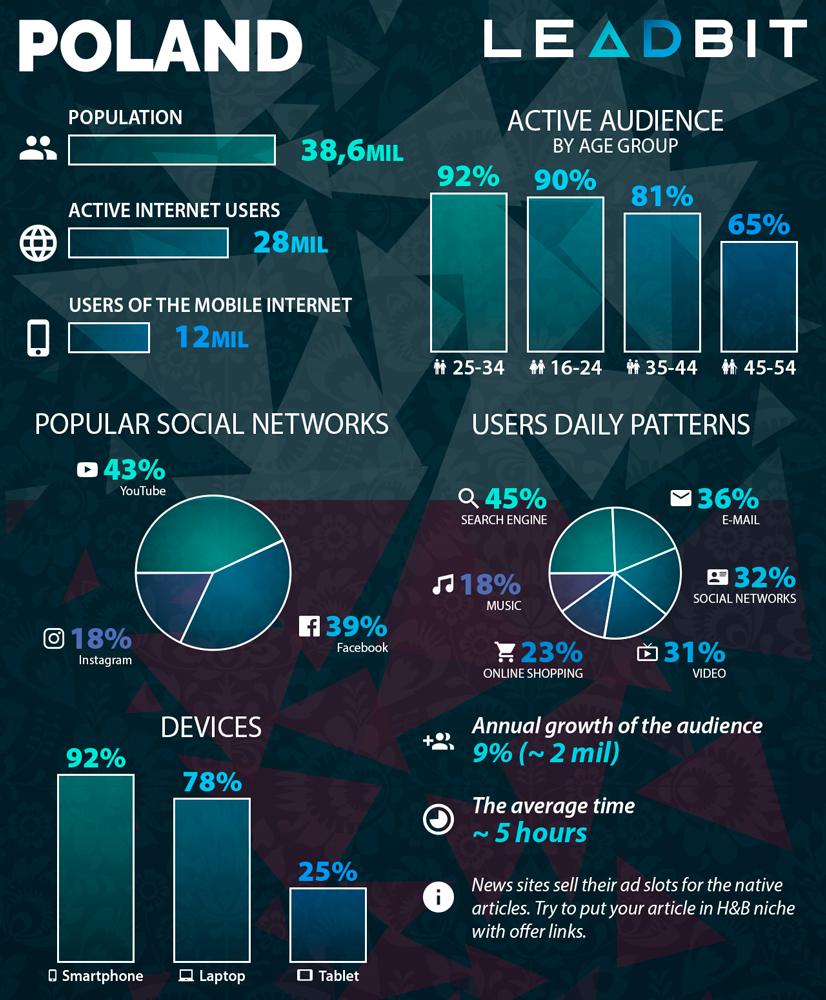 The Polish women are super beautiful women in the whole world. But there are no limits for the perfection. For those who are older rejuvenating masks like Bioretin PL and Collamask PL are the best products! For younger women audience the eternal problems are the problems with their weight that's why 25+ women will be happy with Dietonus PL and Fitospray PL.
Talking about the men, they're not extremely successful in bed that's why all offers for the men's power, starting with Revomuscle PL and finishing Erogan PL, will exactly work. The Polish usually like kidding on the Finns who obviously have the problems with alcohol, but they are good too, that's why don't forget about Alcobarier PL.
For old men and women you need to test working with varicose vain offers, arthritis and other retirement things. By the way, we have a lot offers which are perfect for different ages:
Romania
Romania is the country in South-Eastern Europe, it's surrounded by the Black Sea. Romania is bordering on Ukraine, Hungary, Serbia, Bulgaria, and Moldova. Since 2000 there is an economic recovery, thanks to export growth. Romania is one of the fastest-growing countries in the world, there is a decreased level of inflation. This government has an endless stock of petrol and powerful capacity to develop tourism.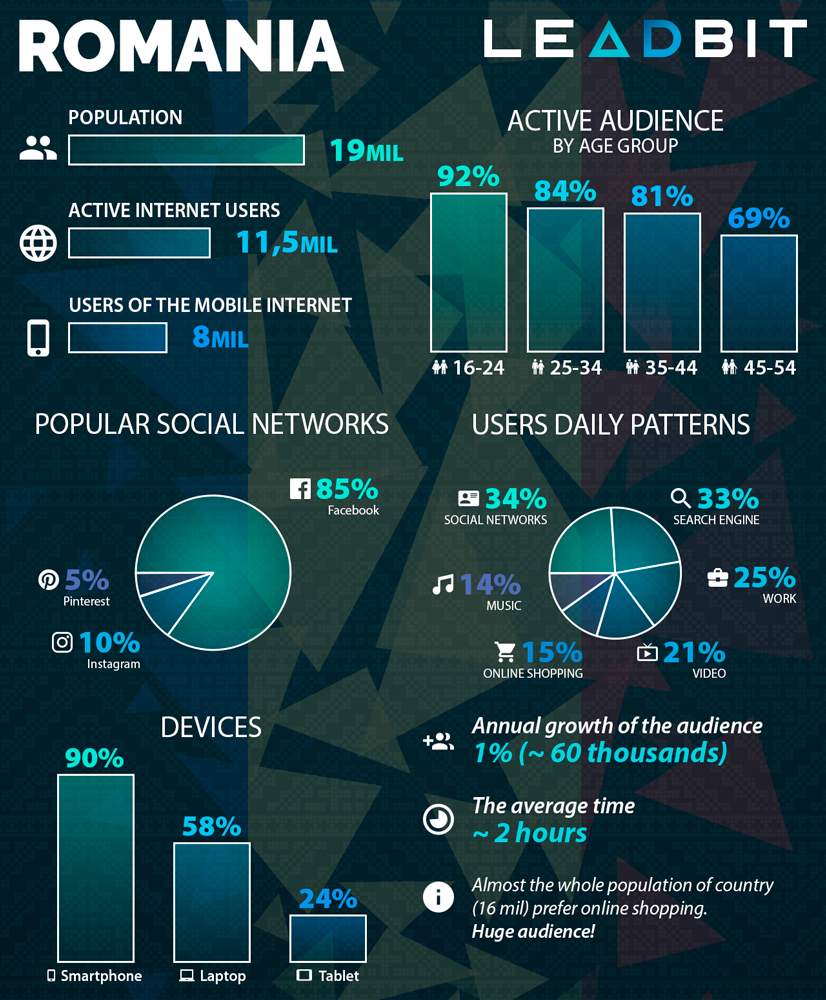 We know exactly that there are a lot of kinds of products which are extremely popular in Romania but health and adult offers are on top. It's not strange because Romanian men are more sexual in Eastern Europe than others. They are ready to amaze not only Romanian women 😉 35+ men are waiting for:
There are some health resorts in Romania but there are more ecological problems, for example, there is dirty water in Romania. That's why the offers such as Bactefort RO will be always in the game.
Also, there are a lot of people who are interested in joints offers and offers which help people to get rid of varicose veins. They are extremely popular among the women 35+:
For several years some offers for a house such as Dynamite RO и Silane Guard RO have super conversions.
Slovakia
It's the unitary state, well-developed industrial-agricultural country. Developed agriculture which is based on technical base and infrastructure. Now the lowest salary is 480 euros.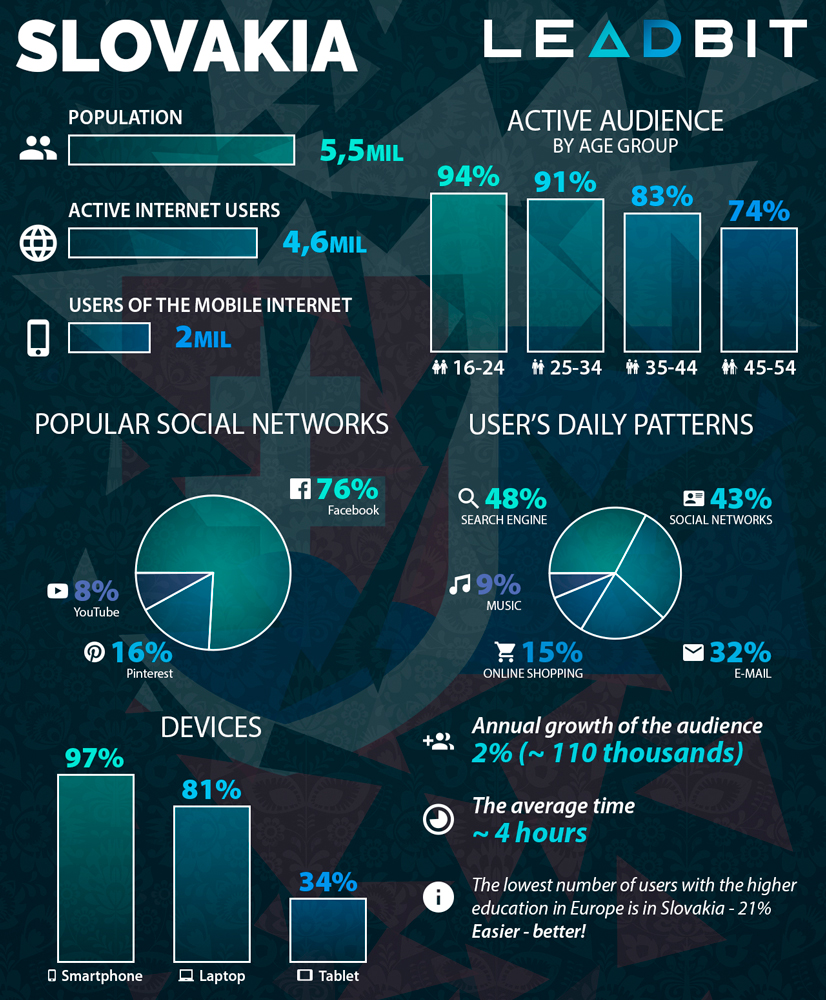 The success in sport means more than career or family success for the Slovakians, they usually prefer sport, bikes and camping. That's why pay your attention to two offers Revomuscle SK and Hondrocream SK.
Talking about problems, local men usually don't have the reasons to be proud. The women will be happy and their problems in bed can be solved extremely fast when they will find Titanium SK.
Continue talking about Slovakian women, of course, they prefer being natural and beautiful at the same time – that's why they need the help of our offers such as:
It's useless to talk more about the audience, the main thing is to try. Eastern Europe is super interesting region with active audience and potentially big amounts of traffic which is need to be used. Make the nice creatives, choose the mottos and get more profit!