People spend almost all day in messengers because it's a comfortable and fast way to communicate.
We talk with our friends, family, follow interesting channels, join chats etc. There is a whole life.
And these apps are really popular in the world: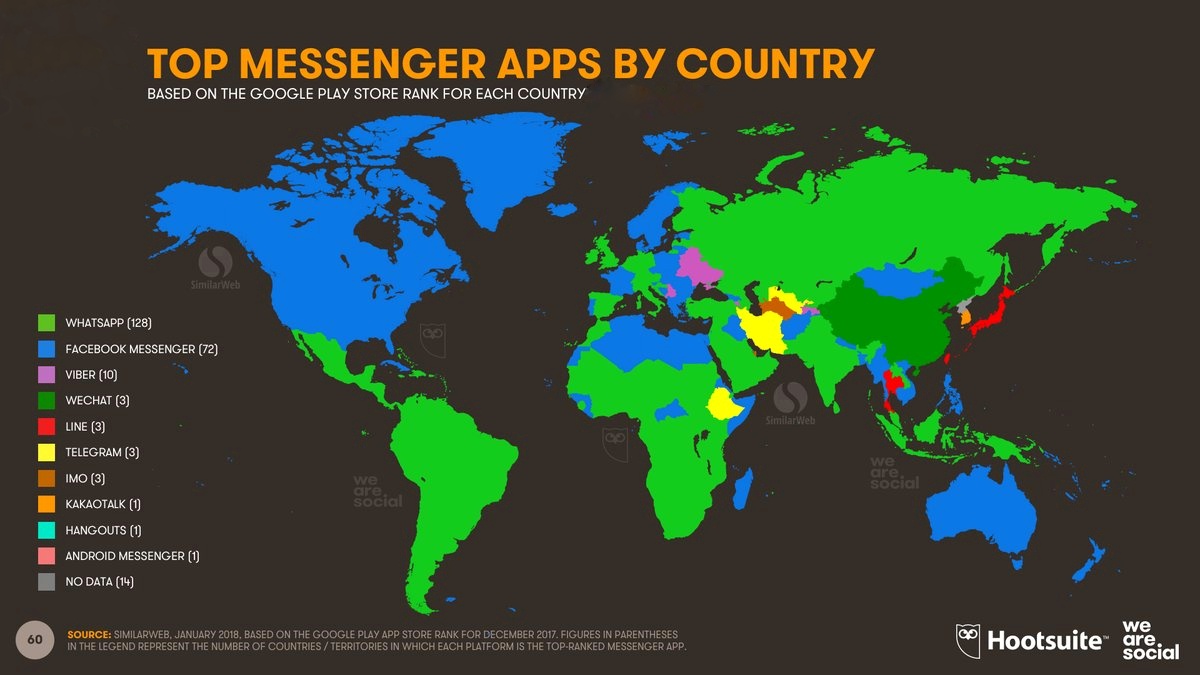 WhatsApp is leading in India, Indonesia, United Kingdom, Turkey, Switzerland, Spain, Singapore, Russia, the Netherlands, Mexico, Malaysia, Hong Kong, Germany, Finland, and Brazil. WhatsApp is so popular because of the simple and comfortable interface, high-speed performance.
People in these countries don't like to use facebook messenger because of information leaks. Also, WhatsApp isn't popular in the USA because of Facebook Messenger which was created mostly for the American audience. Advantages of FB Messenger: you can send messages as usual SMS, it supports chatbots. Moreover, you don't need to have FB account to use the app.
Line messenger is leading the Asia region. There is a social network inside the app. You can start your blog and add comments. Also, you can test promo posts in news feed.
#Interesting fact. Telegram app is popular in Africa. Do you have suggestions about why? Telegram isn't just an entertainment resource, but it also gives information. There are many channels with news WW. For example, all messengers except Telegram are prohibited in Iraq. So people there have no choice.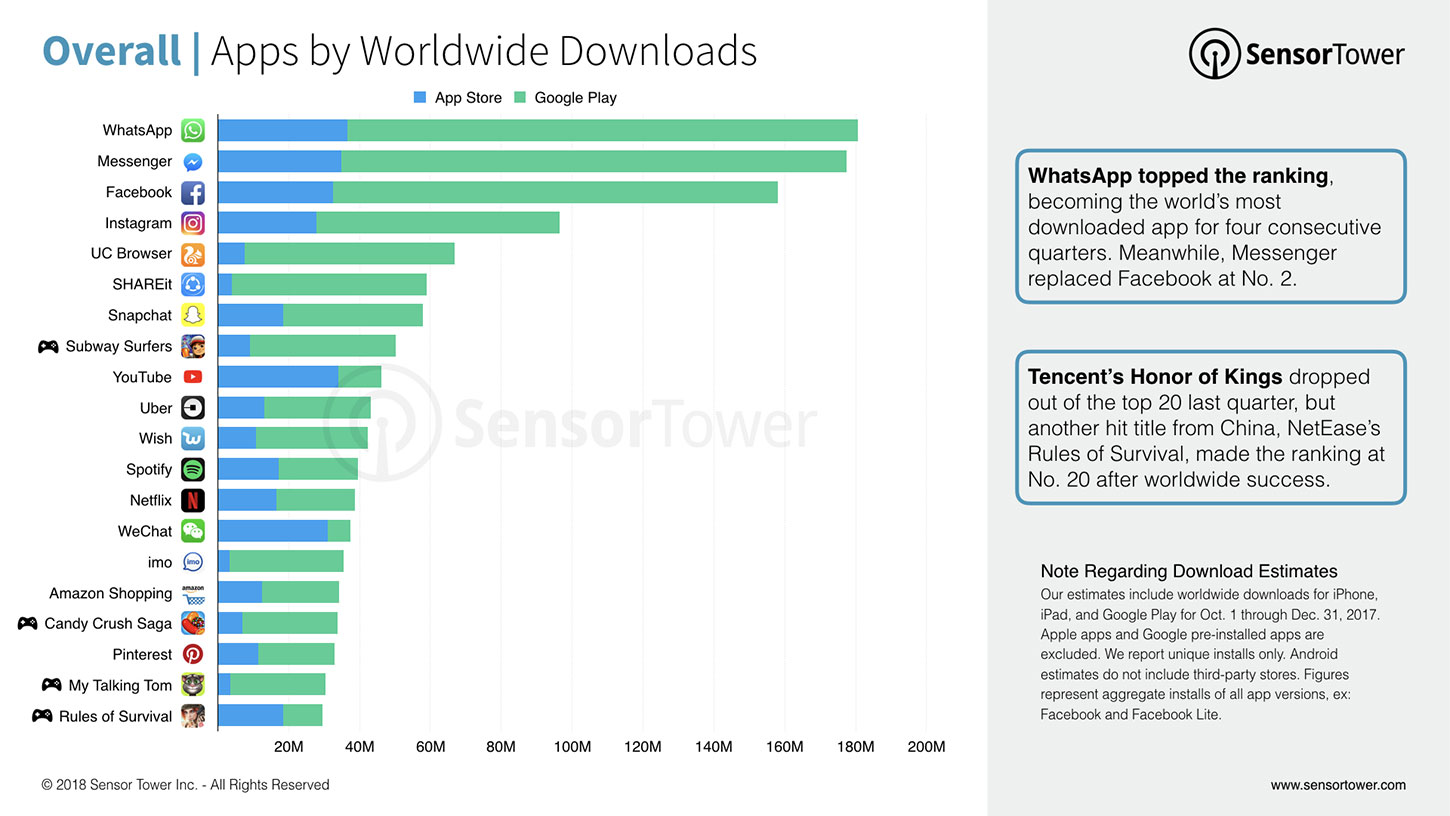 Just a little part of human can buy something from Apple because of the price. So most of them by devices from Xiaomi, Huawei etc. These companies create good devices with good prices. So it's not a surprise that the Android with Google Play exceeds iOS with App Store.
Ass you see a big part of humanity use messengers every day. So don't miss the chance to promote offers on messengers and take profit.
Enough for statistics. Let's talk about WhatsApp.
WhatsApp
1.5 billion users use the messenger, 450 million of them – every day. So now WhatsApp one of the most popular apps on the planet. According to the company, the messenger is used more than 180 countries.
Users send 450+ million messages daily. WhatsApp is the perfect place to promotion on target audience because a big part of people often uses this platform.
Facebook announces advertising in the news feed which redirects users in WhatsApp chat. The user can communicate with the business directly.
Also, Facebook runs own API-interface WhatsApp Business and told that advertisements will be shown in WhatsApp Status.
What does it mean for affiliates?
almost free traffic through WhatsApp Status feature
 opportunity to integrate with API (but you need to sort out this point)
The openness of messages is more than 90% so this resource can be a huge source of high-quality traffic.
Messages for potential leads you can mark as "useful content" etc. to know which way will be more profitable. About prices for per lead: if the client will wait for the answer from you more than 24 hours you will pay for it. All content will be paid for the fixed price ($0.01-0.09).
Also, users can block and control all received messages. Facebook and WhatsApp don't moderate the content which you send so you can promote even adult offers. Soon you can start promotion via WhatsApp Status through Facebook Ads Manager. Example: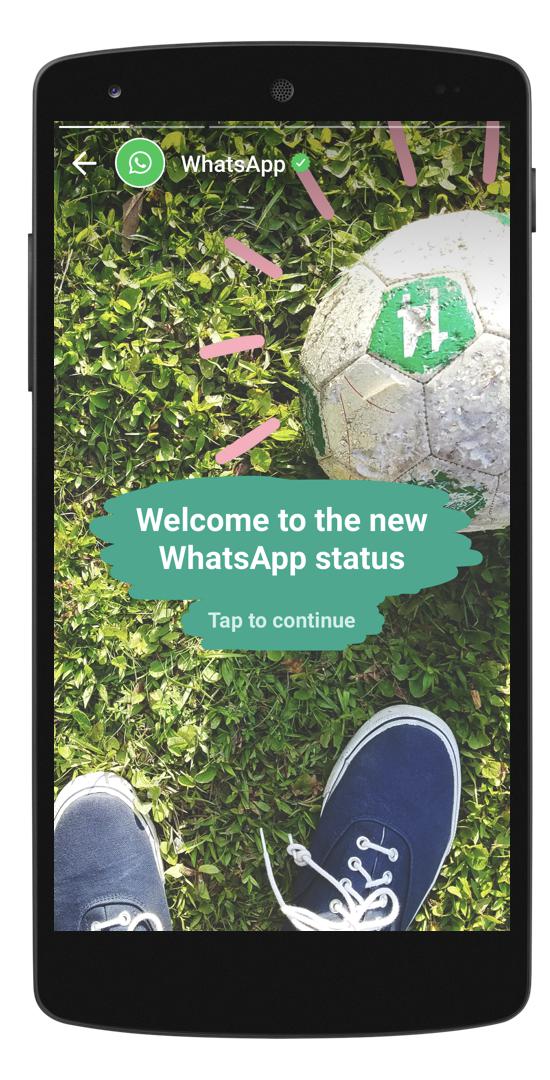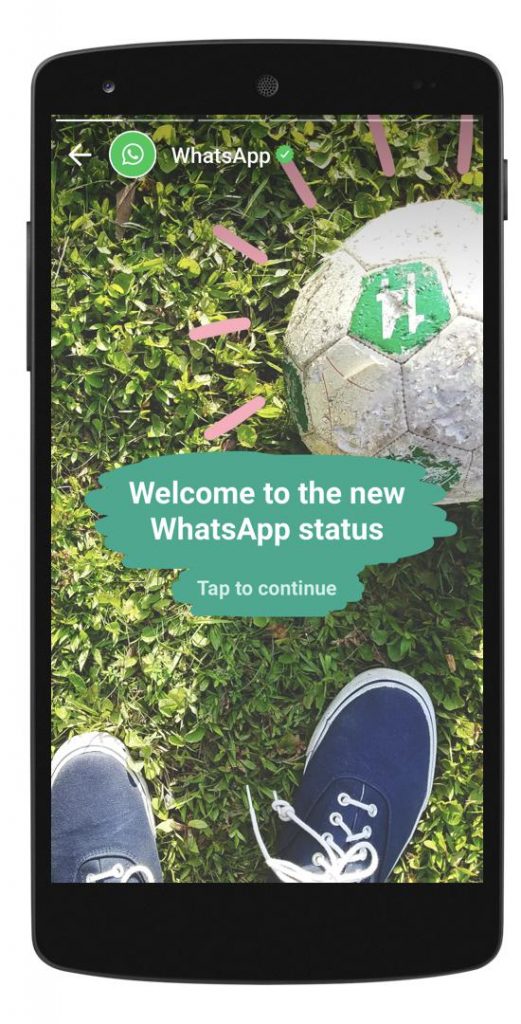 Potential way to promote via WhatsApp
1) Download WhatsApp Business for Android.
WhatsApp Business is available for free only for Android (download on Google Play).
After you install the app and agree to the terms, enter a phone number for your account. It must be a phone number that can receive messages via SMS. Keep in mind that you can't use the same phone number for both a WhatsApp personal and business account.
WhatsApp Business will then send an SMS message to your phone. Enter the six-digit code in the app to verify your number.
Next, type a name for your business. WhatsApp has some guidelines for creating a business name. Keep in mind that you won't be able to change the name at a later date. When you're finished, tap Next.).
2) Fill Out a Profile for Your Business
Once you've created an account for your business, you're ready to set up your profile. Tap the menu icon (with the three dots) in the upper-right corner of the screen and select Settings. On the Settings page, navigate to Business Settings and then select Profile.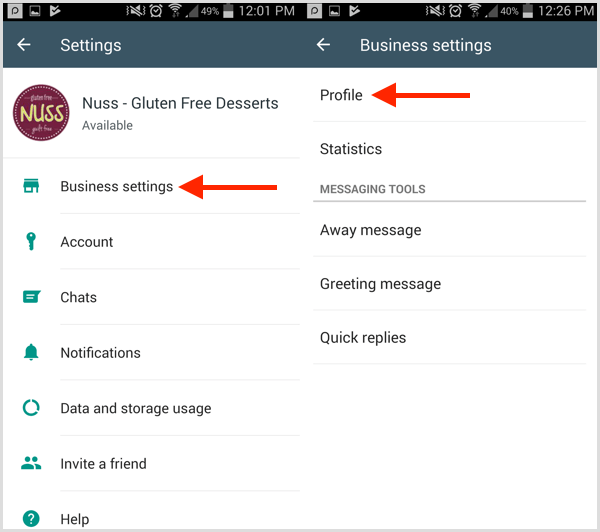 When you fill out your business profile, include information that will be helpful to customers such as offer description, URL for landing. When you're finished, tap Save at the top right.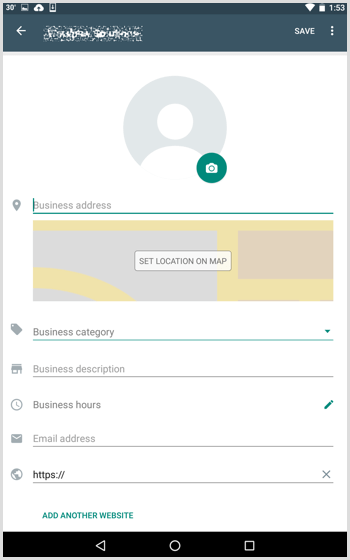 3) Set Up Automated Responses for Commonly Asked Questions
In Business Settings, you'll find options to set up quick replies. Setting up automated messages helps you improve communication with customers and provide the information they're seeking.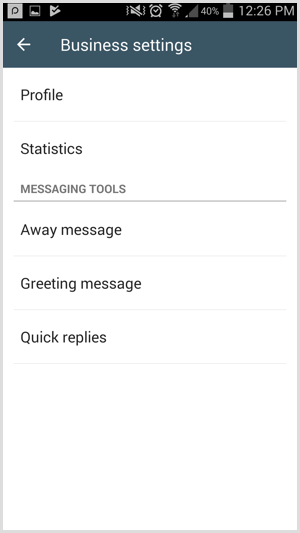 4) Create Labels to Organize Conversations
Conversation labels are a handy feature that allows you to organize your leads for analysis and correct ad settings.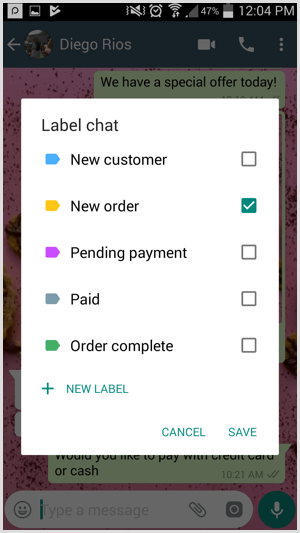 Tip: Keep in mind that WhatsApp business accounts also have the option to use WhatsApp Web on the desktop to receive and reply to customers. It will make your work more comfortable.

How to create an advertisement with click-to-WhatsApp
The first way is standard: you create an ad with a goal to redirect in WhatsApp. Facebook don't moderate your content here, but be careful. After that, you can set automated messages with links on gambling etc. We don't know how long it will be, so take a chance!
Open "Ads Creation"
Check the goal. The needed option is available for 'Message', 'Traffic'. "Conversion (for website)' and 'Engagement Post'
In the "Message Assignment" section, select WhatsApp.
Choose your audience, budget and campaign schedule. You can't make promotion on people under 18.
In the "Customize Advertising" section, select the image, text, and title for the ad.
After viewing the campaign details, click the Confirm button to create the ad.
What will see the user: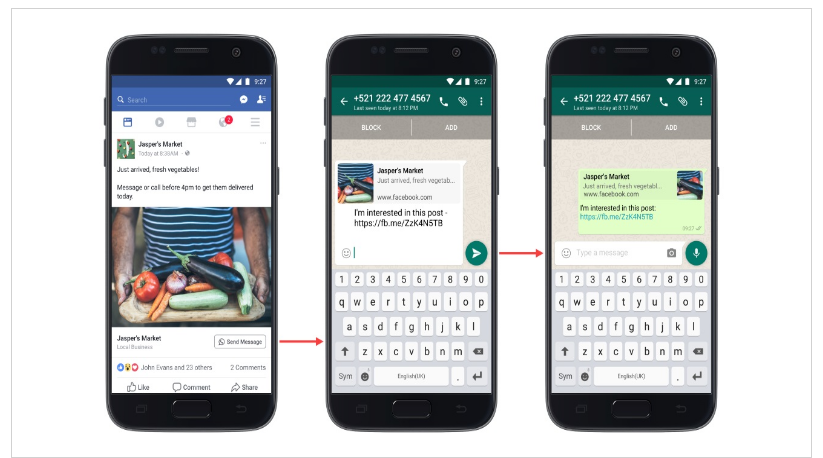 The second way of promotion: when you boost a post from your Facebook page or group, you have the option to add a click-to-WhatsApp messaging button.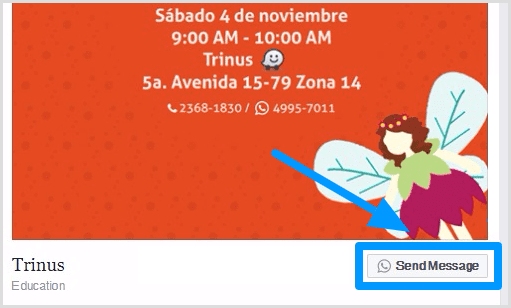 In the ad, the Send Message button will show the WhatsApp logo.
To set up this type of ad, open the post you want to use and click the Boost Post button at the bottom. In the Boost Post window that appears, select Send WhatsApp Message from the Add a Button to Your Post-drop-down list.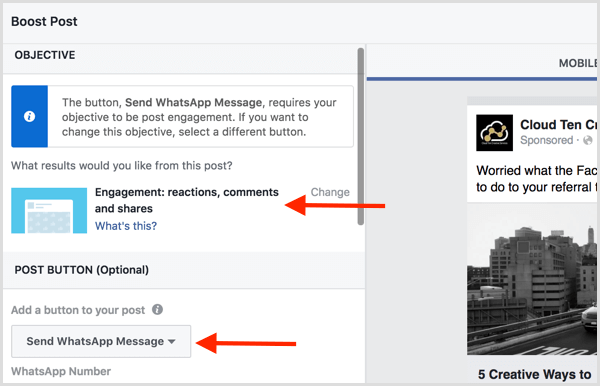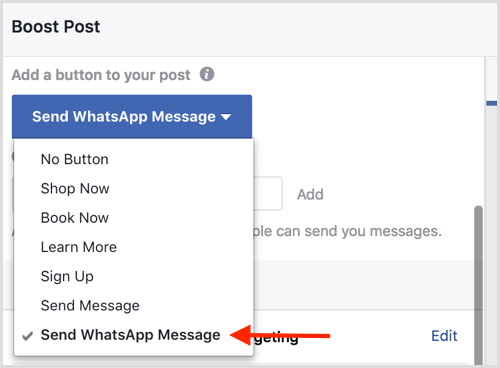 Next, type in the phone number attached to your WhatsApp account. Facebook then sends a 5-digit confirmation code to your phone. When you receive it, enter the code in the pop-up box (shown below) and click Confirm.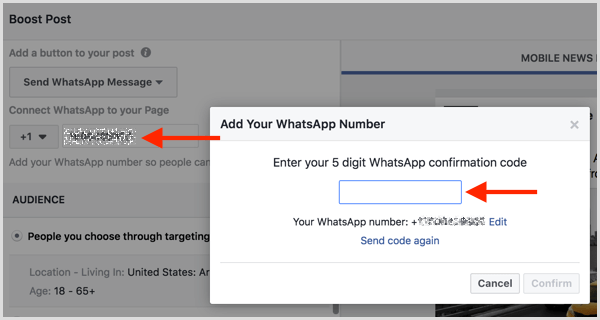 Once your WhatsApp number is connected to your Facebook page, you see a confirmation message along with a green checkmark.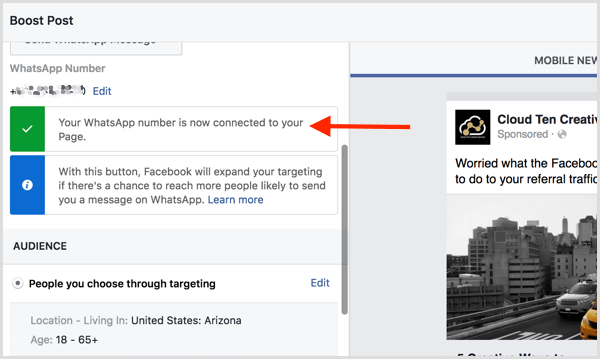 Next, set the targeting, budget, and duration for your ad. Then click Boost to submit it to Facebook.
When users click the Send Message button in your ad, WhatsApp will open on their phone and they can chat directly with your business.
To see a general overview of your customer service performance, open your WhatsApp business account, go to Business Settings, and click the Statistics link. You can see the number of messages sent, delivered, read, and received on the platform.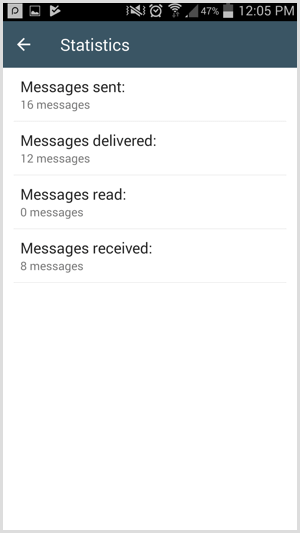 You can't promote offers directly this way. But if the user sent you the message in WhatsApp you can send him everything (adult, gambling etc.)
We took this way of promotion here.
As a variant: this way will help you avoid a ban, problems with pharming and clo@king. And the main point: it's a new source of traffic for affiliate marketing.
Restrictions and sanctions
Messenger users agreed to receive messages while registration. But be careful with the base of numbers because their taking from the Internet is punishable by law. And of course, the content must be within the laws and moral norms
The most important!
Advertising in messengers is a new source of traffic. And there is no clear concept of how to adapt it for affiliate marketing. The one who will find the solution will be rich. We are waiting for your opinion.
So take a chance and promote Leadbit offers for messengers!