Romania is the country in South-Eastern Europe, it's surrounded by the Black Sea. Romania is bordering on Ukraine, Hungary, Serbia, Bulgaria, and Moldova. Since 2000 there is an economic recovery, thanks to export growth. Romania is one of the fastest-growing countries in the world, there is a decreased level of inflation. This government has an endless stock of petrol and powerful capacity to develop tourism.
We are planning to review some facts about Romanian target audience to understand how to work precisely. Get some features about the audience and the GEO.
General facts
19 mil – population
11,5 mil – internet users
8 mil – mobile internet users
Now the internet in Romania is one of the most developed industries.
What do Romanians do on the internet daily?
Use social networks – 34%
Look for some info via a search engine – 33%
Use the internet at work – 25%
Watch videos online – 21%
Look for info about the goods and services – 15%
Listen to music – 14%
One of the most popular industries on the Romanian internet is e-commerce. About 16 mils of people buy something online. There are 2 online shops in the top 10 most popular websites in Romania. The popularity of this sites is confirming that Romanians are active online and have enough money to pay for different goods.
CPA in Romania works well, nutra offers are still popular there and have a high conversion. The most profitable kinds of an ad are:
Video – 39% of users confirm that they buy the goods after watching videos easily
Banner ads – 25% of users
Contextual ad – 19% of users
Social ad – 17% of users
Demographic settings
There is the same number of men and women in Romania. If we are talking about the internet, Romanian men are more active. The youth 16-24 use the internet more often than other. The solvent audience 25+ is active too, you can find the people of different ages on the Romanian internet: young ladies who'd like to enlarge the breast and the retired people who'd like to get rid of problems with joints etc.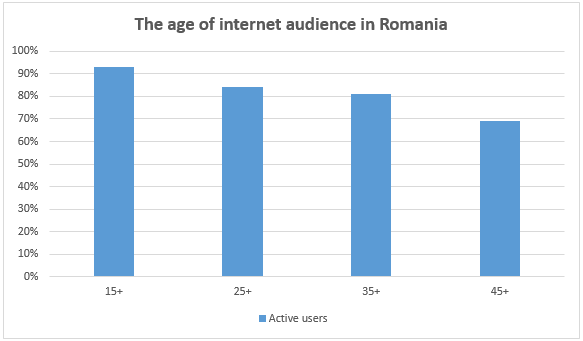 The most popular kind of offers in Romania is Health offers. It means that 35+ audience proves itself quite well. The main opportunity to conquer the audience is the guarantee of safety and quality of offers. Be confident and make sure that you give users enough information about the product in your ad.
Devices
Obviously, one of the most popular devices is mobile, 90% of users prefer being always in touch in Romania. What other devices do people use in Romania?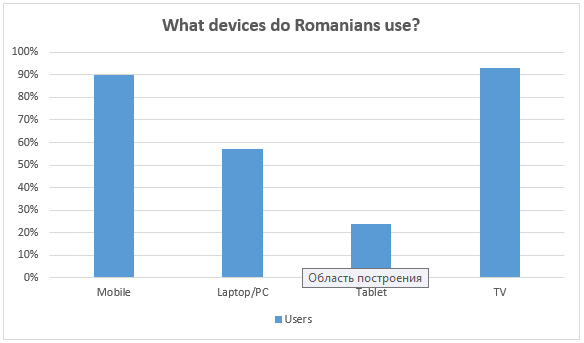 Mostly, people do online shopping via laptops and tablets because they trust in desktop versions of sites more than in mobiles while they are taking the decisions.
Top internet resources in Romania:
Google.ro – search engine (the Romanian version)
Facebook.com – social network
YouTube.com – video sharing website
Google.com – search engine
Yahoo.com – internet portal (email, search engine, news, etc.)
That's ok that FB is on the 2d place of this top. This network is extremely popular in the world and Romania isn't the exception.
Social networks
The unconditional leader is, of course, Facebook. Besides the fact that FB is a quite difficult traffic source, it stays one of the cheapest ways to earn money in affiliate marketing. How to save your accounts and let them live long life read here in our article – https://goo.gl/F4tCnt.

Instagram lets you catch the really big fish. About the million users of Instagram check it every day. It's the nice reason to promote the offers on Instagram.
We know exactly that there are a lot of kinds of products which are extremely popular in Romania but health and adult offers are on top. It's not strange because Romanian men are more sexual in Eastern Europe than others. They are ready to amaze not only Romanian women 😉 35+ men are waiting for:
There are some health resorts in Romania but there are more ecological problems, for example, there is dirty water in Romania. That's why the offers such as Bactefort RO will be always in the game.
Also, there are a lot of people who are interested in joints offers and offers which help people to get rid of varicose veins. They are extremely popular among the women 35+:
For several years some offers for a house such as Dynamite RO и Silane Guard RO have super conversions.
Romania is the nice GEO with a responsive audience and urgent problems which our offers are able to solve 😉 We're happy to increase the rates for your good life!
Stable approve, the rates up to 60%, an active audience – what could be better?
For all health offers, we'll give approve about 60%.
Ask managers for details and get Romanian profit!